NEW RELEASE! Crackenback by Lee Christine
Published:
February 2, 2021
A thrilling tale of snow-bound crime and suspense, from the bestselling author of Charlotte Pass
CRACKENBACK
OUT NOW!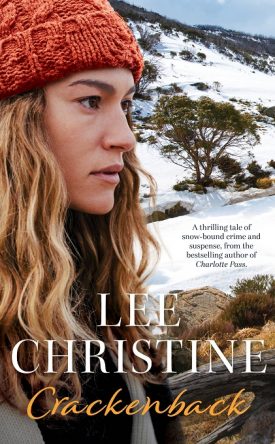 Detective Sergeant Pierce Ryder of the Sydney Homicide Squad is on the hunt for notorious fugitive Gavin Hutton.
After months of dead-ends, the breakthrough Ryder has been hoping for leads him back to the New South Wales Snowy Mountains on the trail of the suspected killer.
Meanwhile, when an injured man bursts into the remote Thredbo lodge managed by Eva Bell, her first instinct is to protect her daughter, Poppy. The terrifying arrival of Jack Walker turns Eva's world upside down as the consequences of Jack's presence become clear.
With a killer on the loose, Jack Walker and Ryder are tangled in the same treacherous web – spun across the perilously beautiful Crackenback Range.
Read an excerpt and read Lee's answers to The 5 Big Questions
BUY Crackenback
A thrilling tale of snow-bound crime and suspense, from the bestselling author of Charlotte Pass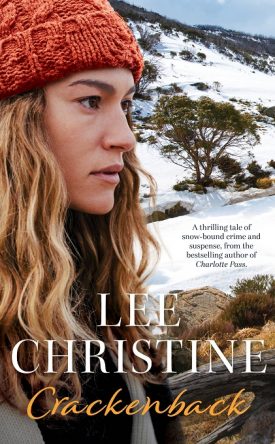 Excerpt from Crackenback
by Lee Christine
This is a flashback scene to Jack in his youth.
Jack blinked, his body relaxed, his limbs tired from days of swimming. He frowned at the blurry face in front of him and then sat bolt upright, gazing at the unfamiliar surroundings.
Sam was standing beside Jack's camp bed in the annexe attached to his parents' caravan. 'Wake up, lazybones,' he said, laughing at Jack's confusion. 'The fish'll be biting.'
Jack scrambled out of his sleeping bag. They'd dressed in preparation the night before so they didn't wake up Sam's mum stumbling around in the dark at dawn. All Jack had to do was find his thongs and he would be set to go.
The annexe was stuffy, but the air outside was cool and salty. Carrying their rods and their pre-prepared esky, they made their way through the darkened park, careful not to trip over any tent ropes. When they arrived at the beach access, Jack switched on the torch. An animal darted across the sandy path to hide in the tussocky grass. Sam laughed and said it was probably the resident goanna. By the time they baited their rods, the first rays of pre-dawn light had appeared on the horizon. Leaving the esky further up the beach, they kicked off their thongs and tramped towards the breaking surf, the sand cool between their toes.
'I think it's low tide, so we should stand about here,' Sam explained, pointing to a darker patch of water beyond the breakers. 'There are some deep holes just out there and dawn is the best time to catch whiting. They feed before sunrise, so there are a lot of them out and about.'
Wading in until he was shin deep in water, Jack cast his line as far as he could, hoping it had travelled beyond the breakers. It would be nice for Sam's mum if they came home with a good catch. Maybe she'd even freeze a few so he could give them to his mum at the end of the holiday. Jack liked Sam's mum. She always said nice things about Sam's dad, like how she missed him when he was away, and how she was looking forward to him being home again. Not like Jack's parents, always bickering about who was better, the English or the Irish. Jack couldn't see the point of it all when they were living in Australia.
Suddenly, a strong wave almost knocked him over.
'Whoa!' Sam yelled. 'Maybe I got the tides wrong. Better get further up the beach.'
Jack pushed his way out of the surf, holding his tackle aloft.
'I'll have to have a think about this,' said Sam as they dropped everything beside the esky. He put his hands on his hips and surveyed the beach, looking for the best spot for them to re-cast their lines.
Jack pulled a smelly piece of seaweed off his ankle and tossed it as far down the beach as he could. 'At least we can see better now.'
'Help! Help me!' came a distant cry.
'Where did that come from?' Sam spun around and looked back towards the caravan park.
'Help!'
'Out there!' Jack pointed at the water where a swimmer was flailing about in the surf. He lost sight of them for a few seconds, then the figure surfaced again.
'Help m—' The swimmer was hit by another wave, their scream cut short.
Jack took off, shedding his clothes as he went. Beside him, Sam was doing the same. 'You go for help,' Jack yelled, sprinting towards the surf. 'I'll swim out.'
He didn't stop when he reached the water's edge, racing through the shallows then diving under an oncoming wave. Surfacing, he dragged in a breath, saw a close set of breakers bearing down on him, and struck out towards the first one. It broke, engulfing him in a surge of white water. He plunged below the turbulence, resurfaced and swam on to meet the next one. A wall of water rose in front of him, its suction dragging him towards the trough. Jack dived deep and touched his fingertips to the sand before the wave began to lift him skywards. He burst through the crest an instant before the wave broke, releasing its energy and thundering onwards towards the shore.
The swimmer was beyond the breakers, a flash of yellow, a hand in the air. Then they sank below the surface. Jack struck out, felt the drag of the undertow and relaxed, allowing the current to carry him closer to the struggling swimmer.
When Jack reached the woman, she was exhausted from fighting the rip. 'Turn over and float,' he cried, fearful she'd drag him under or he'd lose sight of her. 'I won't let you go. Help is coming.'
To his relief, the woman did as he asked. Hooking his left arm under her shoulder, he cupped her chin in his hand and kept her head close to his. He floated beside her, spitting out salt water every time it washed into his mouth.
'What's your name?' he asked.
'Julieann.'
'I'm Jack,' he said, frog kicking every so often. 'Just float, look at the clouds and breathe.'
As he held her up in the surf at One Mile Beach listening to the two jet skis roaring towards them, Jack knew he'd saved a life . . . and it felt good. He wanted to do it again.
It wasn't the accolades, the news coverage, the front-page headlines or the bravery award he was to receive. It was the chance to make plans for a better life, an escape from becoming a third-
generation miner.
When he learned that Julieann worked as a marriage counsellor in Maitland where he was to attend high school, suddenly it didn't seem so bad that he and Sam would soon head off to different schools. Even the extra travel time didn't worry him.
Sometimes, if Julieann had a gap in her appointments, she would take Jack for a milkshake after school. They would often talk for over an hour. She was at the school gate taking photos before he left for his year twelve formal. She came to his graduation from Duntroon, his grandfather's funeral and his father's, and she talked to him at length about cultural identity when his mother decided she needed to return to Ireland.
In moments of reflection, Jack was inclined to wonder where he would be now if he and Sam hadn't gone fishing for whiting that morning. In that moment in time, a friendship had been forged. Julieann Bower was destined to become the greatest influence on Jack Walker's life.
Lee Christine
Bestselling Australian Author
A potent cocktail of danger, high stakes suspense, and crime
Read more about Lee and her books and discover where to follow her on social media
The 5 Big Questions
How long did it take to write the book?
It took me seven months to write Crackenback.
What was the most difficult or complex aspect of writing your book?
The complexity of shifting between the police investigation and the drama unfolding inside the ski lodge was very challenging. Both Eva and Detective Ryder were absorbing information from different sources and I needed to work out who learned what, and more importantly, when, as I shifted back and forth. I wanted the reader holding their breath and wondering at what point everything would converge.
What gave you the most pleasure when writing your book?
Writing Jack as a twelve year boy.
Are you nervous when a new release comes out?
Definitely nervous when a new release comes out. I can't imagine that ever changing.
What's the best thing a reader could do if they enjoyed your book?
Leave a review on Amazon and/or goodreads and tell your family and friends how much you enjoyed the story. You could also suggest the novel as your book club monthly read.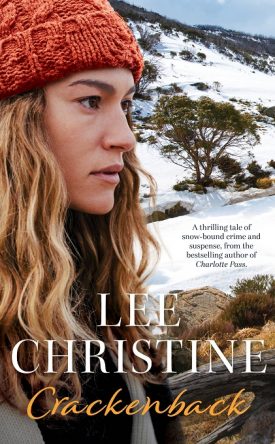 Subscribe below by email to receive our occasional blog posts – and never miss a new book release!
Stay up-to-date on the latest Australian fiction releases and news