NEW RELEASE – Snowy Mountains Promise by Alissa Callen
Published:
February 1, 2023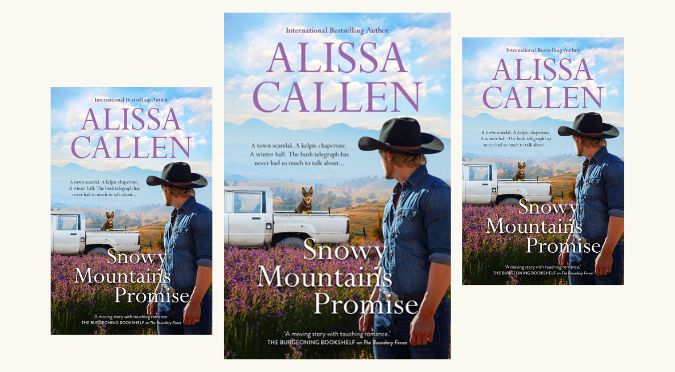 A town scandal. A kelpie chaperone. A winter ball. The bush telegraph has never had so much to talk about…
OUT NOW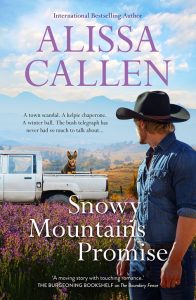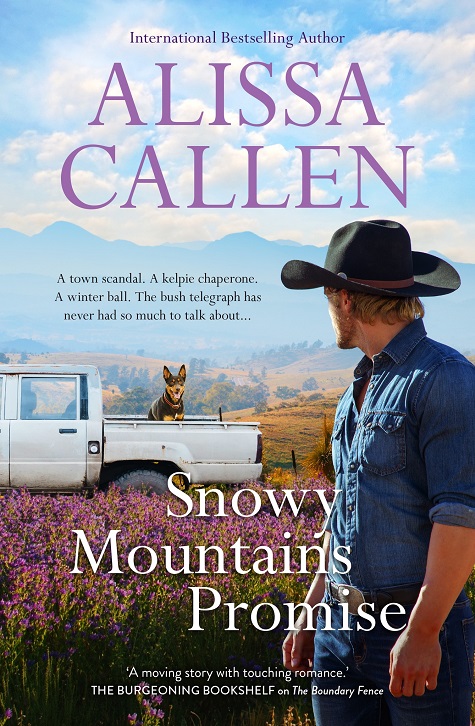 Hettie Burbrook is the first to admit she's happiest when flying solo through the outback skies. After her hobby of photographing farmers lands her a book deal, it provides the ideal cover story to visit small-town Bundilla. But every photograph brings her closer to uncovering the answers behind why she is really in the mountains…
Deer farmer Taite Lancaster is as strong as the tempered steel he welds into lifelike animal sculptures. Unlike his father, he will never allow feelings to break him. But when the old school friend of his twin sister lands on the airstrip of their high-country station, he knows he's in trouble. Hettie is the one woman he can't forget.
While determined to keep to themselves, between dog races, a ute muster and a winter ball, Hettie and Taite are forced to face how much they need each other. And when a long-buried scandal erupts into the present, relationships and lives are threatened.
Can a man who locks away his emotions reveal his vulnerability before the mountain snow melts? And can a woman intent on righting a decades-old tragedy listen to her heart before history repeats itself?
A delightfully charming rural story about love and healing from bestselling Australian author Alissa Callen.
Read an excerpt!
BUY Snowy Moutains Promise
Paperback. eBook. Audio.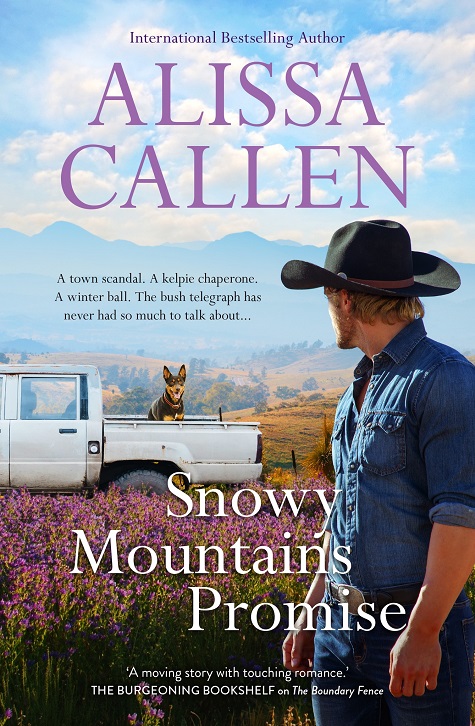 Excerpt from Snowy Mountains Promise
by Alissa Callen
Hettie Burbrook was many things—introvert, redhead, pilot, chiropractor, photographer—but something she'd never been called was unprepared. Thanks to her childhood, she always had a Plan B, and usually a Plan C.
It didn't matter that beyond the front propeller of her Cessna light plane the late afternoon sky had darkened to a stormy grey or that the visibility of the high-country airstrip wasn't ideal; her landing would be textbook. She'd double-checked the weather, the state of the private landing strip and allowed extra time to perform her pre-flight checks.
Shoulders relaxed, she looked to her right to take in the novelty of the rugged snow-capped peaks. Her usual views, even in winter, were of red dirt, dusty scrub and ribbon-straight gravel roads. Her duffle bag held the only woollen jumper she'd owned for the past three years. Warm clothes weren't exactly a necessity when treating her outback clients for sore backs and knees. Just as well her online shopping purchases had arrived before she'd left to fly south. She had enough thermals to keep her cosy in an arctic freeze.
Her lips curved as she studied the pristine blanket of white. High above the world, with only herself for company, was her happy place. Here there was no loss and no expectations she didn't have a hope of fulfilling. Here she could be who she was, freckles and all. Here she was as free as the far-off eagle who drifted in slow circles within a thermal updraft.
The green flash of the wing tip light refocused her thoughts and brought reality back in a rush. Her smile died. She'd soon be on the ground and the respite flying had provided from the hollow anguish inside would end. It had been a fortnight since her surprise visit home to Woodlea and life had irrevocably changed.
She took a last look at the serenity of the mountains before concentrating on her descent. As the plane flew lower, the once distant landscape formed into distinct shapes. Below the snow line, timbered slopes gave way to the sweep of a large open valley. Deer grazed on the far side of a meandering creek, while on the other side horses galloped, their heads tossing and manes rippling as they raced the plane.
Hands steady, she guided the Cessna towards a cluster of corrugated iron roofs. A white aviation windsock fluttered on the edge of Glenwood Station's airfield. Beyond the cleared space, a farm ute was parked beside a shed that would act as a hangar for the plane. Brenna had made it back from Canberra. It had been far too long since they'd caught up face-to-face. Except as Hettie fully focused on the figure leaning against the ute, her breath caught. Brenna wasn't so tall. Which meant …
She briefly closed her eyes. As prepared and organised as she was, there was one person who never failed to throw her carefully curated world into chaos. Brenna's twin brother, Taite.
The man below tipped his head towards the plane and despite the distance between them it was as though she were staring directly into his intense blue gaze. Her stomach swooped like it always did before her chin angled. Enough. Her teenage-crush days were long behind her. There was no excuse for still feeling so hyper-aware of Taite. Brenna would be running late and Taite had come to meet her. Just like he always did, he'd then make himself scarce.
She looked away. There had been a brief time when Taite hadn't avoided her, but no good would come of revisiting the memories that refused to recede no matter how often she banished them. She could guarantee she wouldn't have ever been on Taite's mind. It had been two years since she'd set foot on Glenwood Station. In the week she'd stayed all they'd had was a short and casual conversation. This trip would be no different. After all, she was simply an old school friend of his sister.
Hettie settled back in her seat and made a precautionary pass over the airstrip. After she'd chosen a tree to mark her maximum touchdown point, and she was certain the plane's noise hadn't scared any kangaroos onto the airstrip, she turned the Cessna and readied for landing.
When the wheels touched the solid earth, instead of making her feel grounded, all she felt was adrift. If the stakes weren't so high, she'd never have come. Seeing Taite again, even if only for five minutes, would refresh all the feelings that an alphabet's worth of plans failed to control.
The Cessna reached the end of the airstrip and as Hettie taxied towards the hangar she gave Taite a wave. It wasn't her imagination that he took a moment to uncross his arms and return her gesture. No doubt he'd been in his shed working on a metal sculpture when Brenna had asked him to greet her. At least the dog on the back of the ute seemed excited at her arrival. The black-and-tan kelpie's tail hadn't stopped wagging.
Once inside the hangar and the front propeller had done a final loop, Hettie squared her shoulders. She could do this. She had to do this. It wasn't as though Taite was unfriendly or hostile, she was just invisible. She cast a quick glance over the shapeless jeans and navy jumper she wore. The irony wasn't lost on her. As a child, with her curly red hair and bright blue eyes, a name she always had to spell and a well-publicised family tragedy, she'd attracted attention. Years later she continued to do everything possible to go under the radar. Now here she was wanting Taite to notice her.
Movement flickered out her right window and she took off her headset before unclicking her seatbelt. Wind rattled the tin of the shed surrounding her. The storm had to be getting close. Taite had moved to secure the Cessna by hooking a rope to the tie-down ring beneath the right wing. Hettie grabbed her duffle bag and opened the door to help. Icy air rushed over her, chilling her skin and whipping her loose hair into her eyes. When she could see enough to climb out, Taite had attached the left tie-down and was striding towards her.
She braced herself for the impact of seeing him up close. The storm that would soon lash the mountain landscape was nothing compared to the emotions gathering within her. If possible, Taite's shoulders appeared broader beneath the heavy oilskin, his stubbled jaw more defined and his set expression even more inscrutable. He wore his dark-blond hair longer and the rebellious ends curled in tousled waves. Her grip on the duffle handle tightened. His mouth though was exactly as she remembered.
Alissa Callen
USA Today and International Bestselling Author
Rural and Small Town Fiction
Dusty roads. Secrets. Romance.
Read more about Alissa Callen and her books
BUY Snowy Moutains Promise
Paperback. eBook. Audio.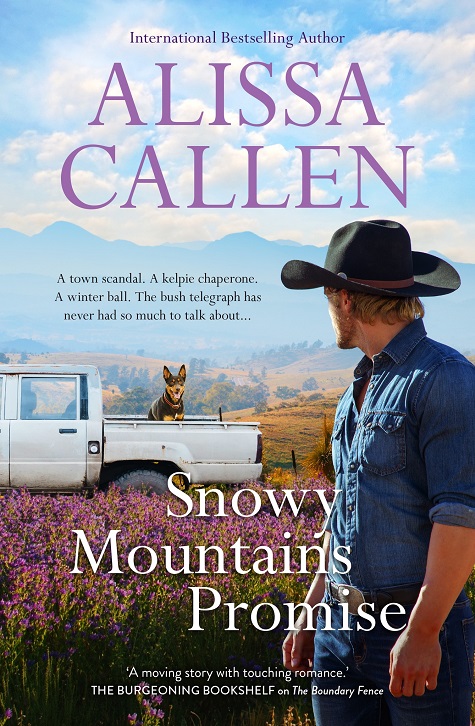 We hope you're enjoying our Book News 
We'd love you to follow us on Facebook & Instagram
And never miss a new book release!
Stay up-to-date on the latest Australian fiction releases and news