Writing Goals 2022 with Penelope Janu, Lily Malone, Pamela Cook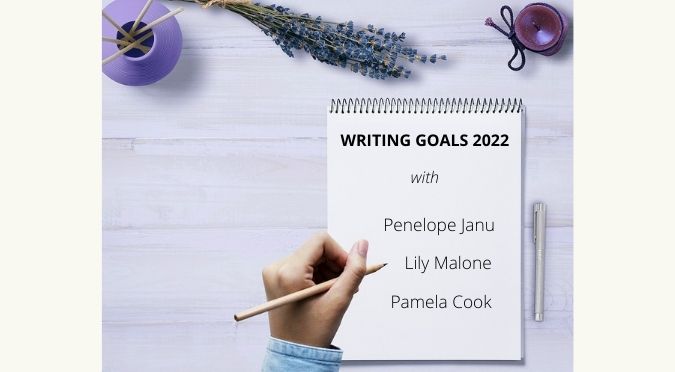 Our last Writing Goals 2022 blog post and it won't dissapoint 
Penelope, Lily and Pamela talk us through what's happening now and what's next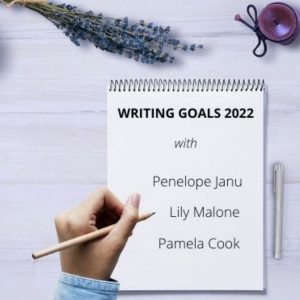 Penelope Janu
Australian Prize and Award Winning Author
Adventure and romance … fresh, fun fiction
My last two rural fiction novels, Starting from Scratch (2021) and Clouds on the Horizon (2022), were both released in early January. This is generally a good time for readers to relax and enjoy a new book, but a January release date makes for a busy December and January for a writer. And that is why I am planning a complete break from my laptop in July this year (more on that later).
Last year I wrote another rural fiction novel, working title Shelter from the Storm, which will be my January 2023 release (you might see a pattern emerging here…), and while that manuscript is with my publisher and editor, I have commenced the next novel. It's still in its early stages, but I am really enjoying getting to know the lead characters and delving into essential research to make them, and their story, as authentic as possible.  Last week I researched the ethical treatment of production animals, and this week I'm talking to a couple of veterinarians about anaesthesia and pain relief. I love the research process, but one can easily get trapped down rabbit holes!
April 1 this year sees the re-release of another novel, a romantic comedy called On the Same Page. This novel, about a writer of romance and a publisher, is set in Sydney and has quite a few characters that make me smile whenever I think about them. I can't wait to share this book with readers in April.
Now for my writing break! Last year, one of my daughters left Australia to work as a lawyer in London (notwithstanding the pandemic, she is having a wonderful time!), so my husband and I have an extra incentive to travel back to the UK this year. There will be some time in London, and then we plan to travel to Scotland where my aunt and uncle have a farmhouse, a magnificent vegetable patch and a beautiful garden. When she was a child, my mother kept her ponies, Bluebell and Skylark, in the stables adjacent to the farmhouse, so there are many lovely memories to share. After our stay, my husband and I will attempt yet another long walk, this time across the highlands of Scotland. And much as I'm having a break from writing in this period, it won't stop me thinking about writing, because the male lead in my current work in progress is a veterinary specialist, who happened to grow up in the highlands of Scotland.  We will walk around two hundred kilometres through the countryside, averaging 22km a day. Some days we walk less kilometres—but the hills are generally steeper. The scenery will be breathtaking, and it's always a pleasure to put down our day packs in the evenings. An early dinner at a pub or small hotel, and early to bed (though I'll definitely find time to scribble notes in my journal before I go to sleep).
Finally on writing plans, I hope to attend the Romance Writers of Australia's annual conference in Fremantle, Western Australia, in August. It will be wonderful to catch up with writing friends and colleagues—to learn from each other and to socialise. Then, renewed and refreshed, back to finishing my book featuring the highland vet!
Penelope
Read more about Penelope Janu and her books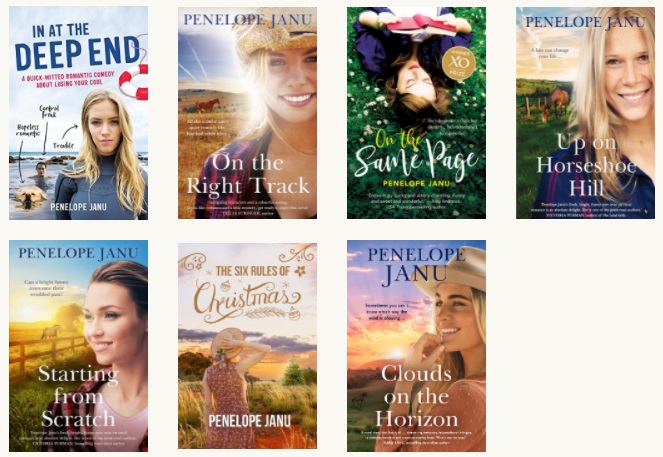 Lily Malone
Australian Fiction Author
Contemporary. Country. Australian.
*ahem*. Lily clears throat loudly.
I, Lily Malone, do solemnly swear that so far in 2022 I have written 1666 words on a new story. The story has no name, and the 1666 words are very rough draft. However, those are the only words I've written on anything (at all) in probably six months! So I'm calling them #winning.
I think most of the reason I haven't been writing is that I've just exhausted all the words after a hugely busy writing year in 2021, and a very emotionally-draining life away from writing during 2021 also.
In 2021, I released my self-published crime/mystery book called THE WATERHOLE in November. So I was busy with revising and editing and then producing and promoting that title. At the same time I was writing and editing my new Chalk Hill rural romance: THE VET'S COUNTRY HOLIDAY with Harper Collins (out 30th March).
Releasing two books in six months these days is a tight schedule so I figure I need to give myself a break. I'm allowed to be taking time out from writing.
I never write much in school holidays anyway, and this year (summer of 2021/22) those school holidays were extended because my family got caught out in WA's closed Covid border and our two week holiday for Christmas (to see my husband's family in South Australia) extended out to a 7 week holiday because we couldn't get home.
Our holiday was wonderful – but the stressful scenario at the end when we were concerned about getting our kids back to school, and my hubby back to his work, and me potentially trying to begin a new job – all that turned into a massive mind-headache right at the end.
Anyway, we are home now, but life in West Australia is now one that the rest of the country know all too well: rising daily Covid cases. Friends becoming sick and isolating. Masks everywhere, testing regimes, and restrictions.
I am now trying to plan events around the launch of THE VET'S COUNTRY HOLIDAY and facing capacity limits at venues, and that is proving difficult – although thanks to some gritty local business people who are prepared to 'solider on' – I am sure I'll be able to do some launching and celebrating!
Right now, I don't know what will become of the 1666 words on story with no name. There is an idea in the back of my mind about the characters, and eventually I think I will just knuckle down to time at the writing desk and those words will morph into something with magic.
Meanwhile, the reaction to THE WATERHOLE has been heart-warming… and encourages me also to explore crime writing moving forward. The anticipation from readers about THE VET'S COUNTRY HOLIDAY also warms my soul.
I can't wait to see what readers think of Izzy and Elliot and their return to Chalk Hill 😊
Lily
Read more about Lily Malone and her books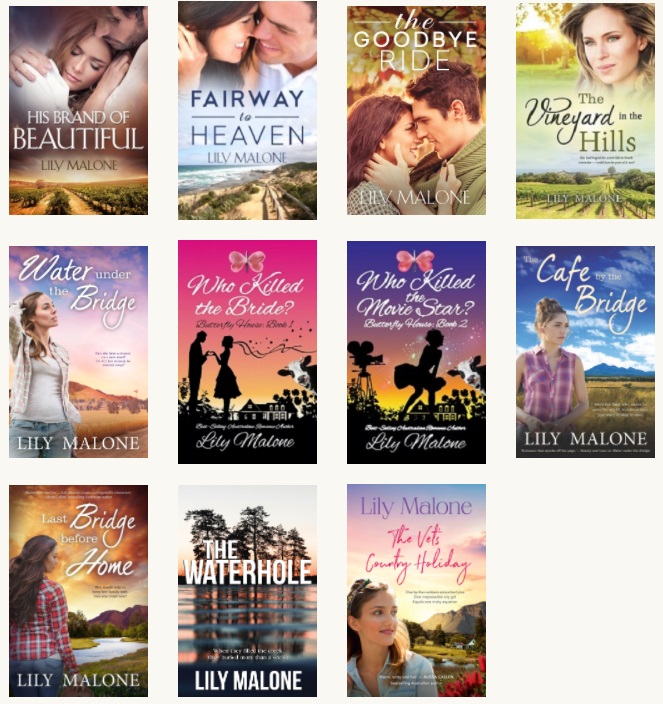 Pamela Cook
Australian Author writing page-turning women's fiction set in escape-worthy places
How good is the beginning of a new year? An empty calendar stretches out before you like an endless possibility, the blank pages of your diary are begging to be filled, and inspirational posts about new year's resolutions abound on the internet. In those last few days between Christmas and January 1 you make plans and dream dreams, and list the goals you're itching to tick.
And then by March, it's chaos!
Sound familiar? Well, if it does, then you and I are peas in a planning pod. Even though I did achieve a great deal in 2021, I set the bar even higher for 2022, even enrolling in a Scheduling Bootcamp, which I have to say was very useful, even if I am already way behind schedule two months down the track. That's what the optimism of a clean slate does and while I may have been over-eager, establishing goals is still a highly motivating exercise.
Over the last few years, I've tended to put my novel writing too far down the priority list, below my teaching and mentoring work, and my podcasting passion, Writes4Women. But after some soul searching, I realised I have to shuffle my priorities. I'm a writer first and foremost and my daily schedule should reflect that.
So, my main writing goal for 2022 is to complete the revisions of my current manuscript, Because You're Mine, a women's fiction title about parental alienation, and either find it a home with a traditional publisher or publish it myself. I'm very close to achieving the first part – it's now being beta read by some wonderful writing buddies. And it will be off to my agent by the end of March.
Then it's time to start the next one. I have a few ideas for another women's fiction novel and my second goal is to have it to third draft stage by the end of this year.
In December it will be the tenth anniversary of my debut novel Blackwattle Lake (2012). I have an anniversary project underway which may result in another rural fiction novel, but I'll keep the details to myself until it's more fleshed out.
On the family front we have a new grandbaby arriving in August and a wedding in November, so the second half of the year is set to be pretty busy, which is fine by me.
I hope your 2022 is shaping up nicely despite the very ordinary start we've had with covid lingering and both national and world events making it hard to push through the gloom. If you'd like to check out my most recent release All We Dream, you can find the eBook on special for the month of March at Amazon.com.au for only $1.49, and you can check out the print version along with my other books at pamelacook.com.au
Thanks for reading and for your support of Australian authors. We couldn't do it without you!
Pamela
Read more about Pamela Cook and her books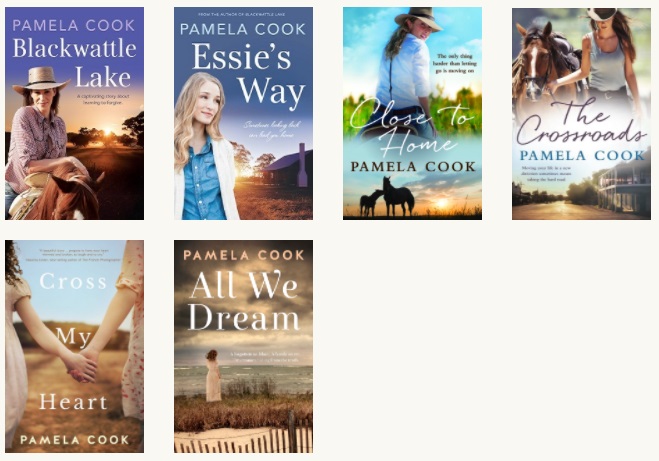 This is the 6th and last in our 2022 Writing Goals blog posts. Take a look at our Book News page to find the others, and thank you, as always, for following us and enjoying our books. You truly are awesome supporters and followers.
If you're new to our website we'd love you to follow us on Facebook & Instagram
You can also subscribe below by email to receive our occasional Book News blog post – and never miss a new book release!
Stay up-to-date on the latest Australian fiction releases and news