Writing Goals 2022 with Kylie Kaden, Kaye Dobbie, Cheryl Adnams, Jennifer Scoullar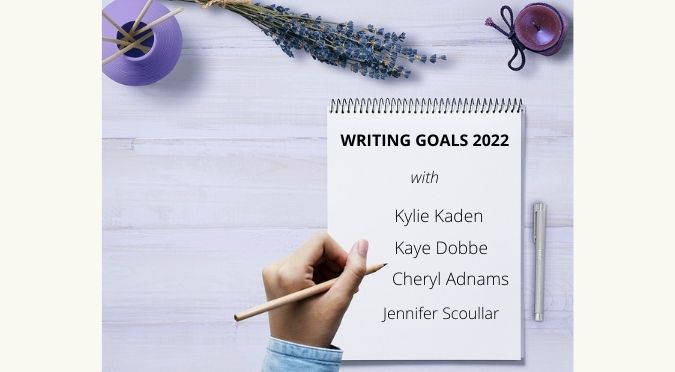 We're still writing and still reaching goals, although sometimes other life events happen and we need to regroup, rethink, and recharge before carrying on
Bestsellers Kylie, Kaye, Cheryl and Jennifer let us in on their goals, their plans, and how they're doing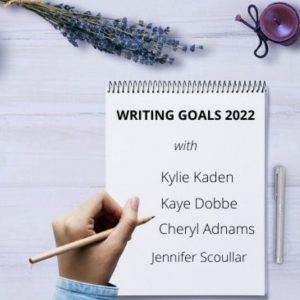 Kylie Kaden
Internationally Published Australian Author
Suspense, drama, romance, and domestic noir
Goals. They're good things to have, I hear, but that was before the world changed. Now I think many of us plod along, pivoting as we go, hoping to wait it out. And I recon that's enough. Or is that just me?
I started the year of the 2's all dewy-faced and optimistic.  But with all the covid-ness still lurking, and a dose of rain-bomb to unsettle the year in the South-East coast (among other awful world events), it's feeling a little like 2020 (too).
We've all lived through the social impacts of 'long covid', and I've found being less engaged with life really does make the muse harder to coax out of the shadows. But alas, I've got the product of the comparatively-less-sucky 2021 to showcase (the launch of One of Us in May) which makes me feel as though something productive has come out of all that navel gazing.
For many of us, the last couple of years have been whittled away in contemplation, reimaging what it is we hold dearest. My soon to be released Domestic Thriller -– which is all about marriage and children and the friendships that get us through both, is a product of that. Because isn't life all about connecting with people? Unconsciously vetting new friendships, gathering a clutch of humans that you can be the most authentic version of yourself with (if only because it takes the least amount of effort to pull off). So that's my hope for this year.
And you can't expect the world to give you what you want if you don't ask for it, so goals, writing or otherwise, there shall be!
In 2022, I'll be cooking up #Book5, which I've prepared earlier (or rather, blurted out in one intense summer break), editing it to within an inch of its life, and foraging for themes in the mess.  I'll be promoting One of Us, chatting to readers, trying to sound like I'm all over this gig, and I can't wait for readers to meet Rachael and Gertie. I'll be talking to fellow writers at events such as the CYA conference (which has a grown-up book focus too, now!). I'll be helping my three boys navigate life in a post-covid-normal world.  And if I had to say there was a theme in all that chaos, it would be exactly what the downtime made me realise with astounding clarity – that it's our relationships with our fellow humans (fictional or otherwise) that make life sing.
I hope 2022 is full of the sound of your own song, whatever that may be.
One Of Us is out May 3rd with Pantera Press and Bolinda Audio, just in time for Mother's Day!
Kylie
Read more about Kylie Kaden and her books

Kaye Dobbie
Multi-Published, RuBY Award Finalist Author
Captivating historical and contemporary family sagas
This was supposed to be a quieter year for me but I seem to be busier than ever. The problem is I am writing under more than one name, although I have cut back. I have had to. I am a slow writer so it takes a long time to craft a book and make it as good as it can be. I would hate to publish something that disappoints my readers.
My next Harlequin Australia release is in August. The Keepers of the Lighthouse is a Kaye Dobbie book with a dual timeline set in Tasmania. The cover is beautiful and very classy I hope you'll agree! [See Coming Soon page for Kaye's new cover reveal.] The book is available for pre order now. The themes are a little dark, but once I started writing I just had to let the characters tell their stories. The setting in Tasmania is on an island in Bass Strait, and I did some fascinating research on lighthouses and the people who looked after them in these wild, difficult places.
I'm not sure what is happening after The Keepers of the Lighthouse is on bookshelves, I haven't given it too much thought. As I explained, I write under more than one name, and as Sara Bennett I am currently busy writing a three book series for a US publisher. This is Regency Romance in the style of Bridgerton and although it is a while since I have written in this genre I am very much enjoying it. I have just finished Book #1, writing and edits, and now I am on to Book #2. No titles as yet, but they are due for release from 2023 onwards. And Sara Bennett has a shiny new website, if you want to take a look.
I also self publish as Sara Bennett, but I've been too flat out with the current books to do the many things I had planned for this year. I thought I could fit in a novella but turned out I couldn't, so that has had to be delayed. I also write Paranormal Romance as Sara Mackenzie, and I had big plans for this year but once again I have had to put them on delay. I wish I was a faster writer, I wish I was a plotter rather than a pantser, but I just have to work with what I am.
Finally, I run a contest on my Kaye Dobbie Facebook page every month. I pick a comment at random and send them a book from my backlist. If you want to enter take a look.
Kaye
Read more about Kaye Dobbie and her books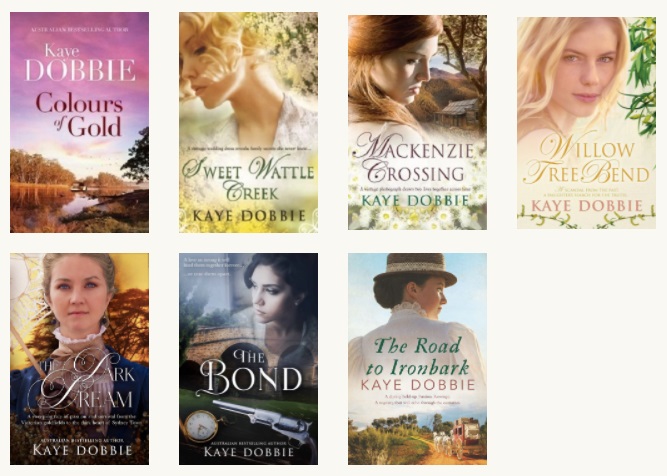 Cheryl Adnams
Australian Author of contemporary rural romance and more recently, historical Australian fiction
Like so many, the last few years have been a challenge for me. 2022 isn't starting out much different. In October 2021 my father was diagnosed with Multiple Myeloma and after a short battle (although it felt much longer) he passed away earlier this year. At the same time as all that was happening, I was also buying my dream house by the beach and we all know that buying a house is one of the most stressful things you can do as an adult. So, as you can imagine, with these two huge life events, writing was not high on my list of priorities throughout that period.
In 2021, for the first time in my writing career, I was lucky enough to be offered a two book deal with the fabulous Harlequin Mira Harper Collins Australia. The first book, a World War 2 story based in Australia, is done and dusted and sitting with the publisher and due for release in 2023. I still have copyedit and proof reading and, of course, selecting the fabulous cover art to do for that book but the finish line is in sight.
The second book, which I need to deliver to the publisher by December, has been sitting at about the halfway written point since about middle of last year. In the weeks since my father's passing, I have been actively trying to retrain my writing muscle and to remind myself of what it is like to write and enjoy it. Slowly, I believe that writing muscle is starting to flex again.
This current work in progress is an Australian historical based on a once in a lifetime flood event. Well, in the last weeks we have seen that "once in a lifetime event" quickly replaced by the devastating storms and floods along the eastern seaboard of Australia. It's heartbreaking to watch, but I can admit the stories and vision coming out of these floods has given me new insight into what my characters must have gone through and the devastation and loss they would have felt. I hope now that I can tell the story with the appropriate compassion and emotion required to do it justice. Research is important to writing historical novels, but capturing the deep emotions of the characters doesn't come from research, but from witnessing the human spirit, heartache, strength and determination. And I truly hope this crazy weather event is over soon for all involved.
Cheryl
Read more about Cheryl Adnams and her books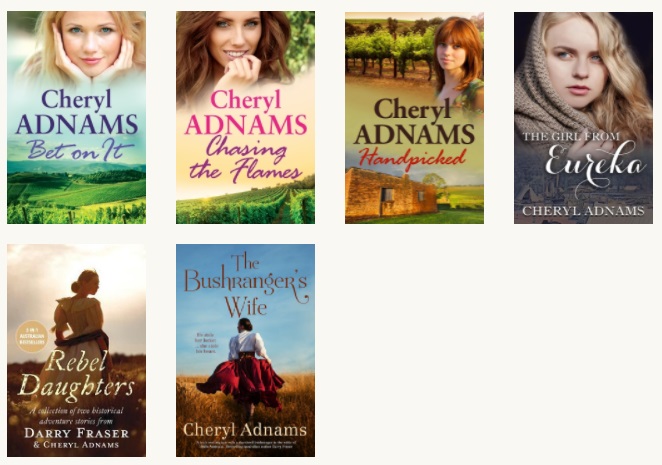 Jennifer Scoullar
Bestselling Author of Australian Fiction
A love affair with the wild…
The first exciting thing happening for me in 2022 is that my new book, The Mallee Girl, will be available in less than a month's time – an April 12th release. It may be a brand new story, but the seeds of this novel were planted a decade ago. That's when my first book with Penguin, Brumby's Run, was launched at the Melbourne Writers Festival.
Brumby's Run is an unusual love story, set in the magnificent mountains of Victoria's Upper Murray region – real Man From Snowy River country. It's about a young woman who discovers that not only is she adopted, but that she has a critically ill sister in hospital. A city girl finds herself running her sister's cattle station high in the Victorian alps. The sisters' heartfelt relationship with their horses is the lynchpin of this novel and the book is still a solid seller.
Fast forward ten years, and I'm about to release The Mallee Girl – not quite a sequel to Brumby's Run, but certainly a linked story, set in the same world. Some of the same characters appear, and in both books, brumbies aren't merely used as some sort of romantic backdrop – they're front and centre to the story. Both novels also explore the themes of how secrets damage families, and of how the truth, however painful, allows healing to begin.
The Mallee Girl is a modern take on rural romance, and it explores very current issues ­– the sort of issues not usually found in a rural romance. Prejudice, domestic violence and terrorism all find a place. However the overarching theme of this book is about a woman finding her courage. It was deeply moving to write Pippa's story of transformation.
Publication of The Mallee Girl isn't the only exciting thing happening for me on the writing front in 2022. I'm madly writing a new novel for Penguin Random House, which will be released in April 2023. Once again, it's a modern take on the rural romance genre. It's also another linked story, including a character and a landscape from Journey's End, one of my favourite novels.
Kingfisher Country ( a working title that's bound to change) is about Del Fisher ­– a star country reporter who thinks she has it all. She's just become engaged to the man of her dreams, and has scored a plum job as an investigative journalist at Sydney's Daily Telegraph. But life has a way of turning ambitions on their head. Del's perfect future is about to be derailed by an unimaginable betrayal. You'll have to buy the book next year to find out how!
In the meantime, I wish readers everywhere a happy, healthy and safe 2022. May this year's to be read pile never run out!
Jennifer
Read more about Jennifer Scoullar and her books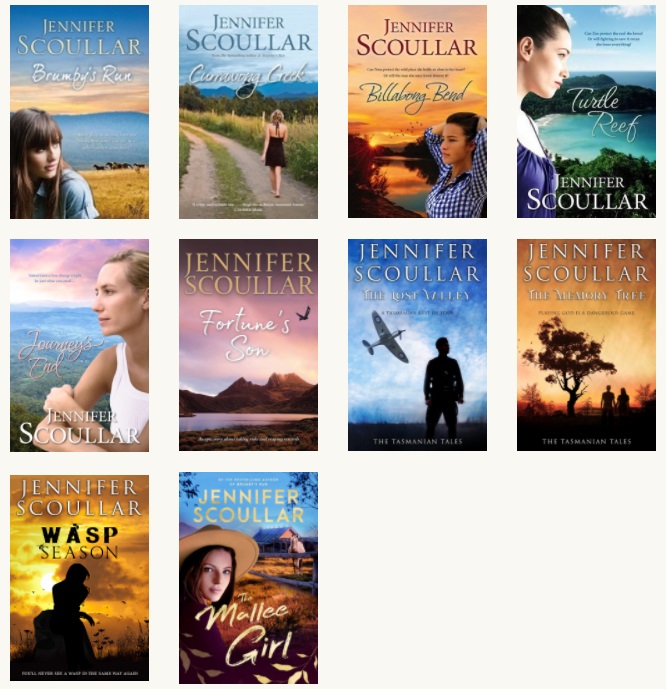 Don't miss our 6th and last Writing Goals 2022 blog post coming up shortly.

We hope you're enjoying our Book News 
We'd love you to follow us on Facebook & Instagram
Don't forget to check our COMING SOON page for 2022 releases up for pre-order now
You can also subscribe below by email to receive our occasional Book News blog post – and never miss a new book release!
Stay up-to-date on the latest Australian fiction releases and news