Writing Goals 2022 with Fleur McDonald, Michael Trant, Leonie Kelsall
Published:
February 8, 2022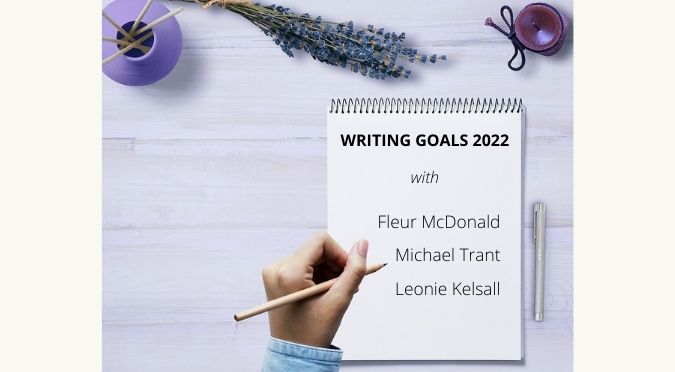 It's that time of year again. What are our writing goals for the coming months?
Fleur McDonald, Michael Trant and Leonie Kelsall tell us what they're up to…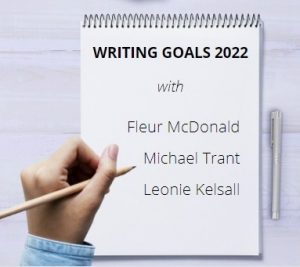 Fleur McDonald
Bestselling, Multi-Genre Author
Capturing imagination through stories
I'm not one for maths. Which makes writing a really good profession for me! And, you would think there isn't any maths at all tapping out words on a keyboard.
But this is a myth!
I've been told a few times, that the only way to make good decisions is to base it around facts.
I know I've said before that I have three deadlines this year and when I stopped and looked at the facts around that statement, I found I had the three deadlines between 9th Dec 2021 and 30th June 2022.
When I started NaNoWrMo last year I decided to write two books simultaneously, week about. So, book 20 was being written one week and book 21 the following week and so on and so on. A week is enough time to get into the characters, plot and setting and become immersed back into the pages.
All of that sounds great, doesn't it? Until I worked out that I only had half the time I thought I had because I was writing week about! That spurred me on to work out how many days I had to write each book.
Every book requires about 80,000 words at a minimum. I usually work on about 87,000 to 91,000 words per book.
Back to facts, I have 90,000 words to write in a silly number of days for book 20, so I've divided 90,000 into those days and come up with the amount I need to write per day to get the book finished on time.
Having done this for all three of these, I've decided that I'll be looking forward to taking a month off in July, when I hand them all in.
Funnily enough, it's not daunting. The projects have been broken down into small bite size pieces, so I'm keen to get cracking and write a few more books for you all! Wish me luck!
Fleur
Read more about Fleur McDonald and her books
Michael Trant
Australian Rural Fiction Author
Telling stories about rural life. From the family farm to a thriller with a ruthless and cunning chase.
The last time I wrote down my goals was in 2019, and they were pretty simple. Get an agent, get something published. By the end of 2019 nothing had changed, but I had stuff on people's desks so fingers crossed.
In 2020 Alex Adsett read some fantasy stories I'd been working on. She passed, but liked my style and wanted to know what else I had, so I sent her a manuscript that had been sitting in the drawer for a while. It sat in her drawer for a while too, but eventually she read Where Wild Dogs Roam, loved it, and signed me up. Goal number one was finally crossed off.
Four weeks later so was goal number two. In an absolute whirlwind of emails, I signed with Penguin for a two-book deal, with Wild Dogs to be out in February 2022. Bloody Hell.
And here we are, with Wild Dogs hitting the shelves on the 1st of February, and me madly trying to get the second book written. Which makes the goals for 2022 pretty simple; write the next bloody book. We're working on June delivery, so we'll see how I go. I do work better with a deadline so hopefully it all comes together. I'd also like to write something that makes a third book (and fourth) an attractive option for Penguin. That'd be nice. Terrifying, but nice. And finally I want to return the favour to all those writers currently spruiking Wild Dogs for us. When yours launches I'll be doing the same, for sure.
I wasn't certain if these goals I keep sending in were ever going to come to anything, but they did, so a big thank you to everyone who helped get us here.
Michael
Read more about Michael Trant and his books
Leonie Kelsall
Bestselling Australian Author
Home, Heart and Heroes
We're almost through another Aussie summer – I admit, I'm counting the days to autumn. Is it anyone else's favourite season? I live in the Adelaide Hills, so we get to enjoy frosty mornings followed by crystal clear days coloured by the beautiful falling leaves. I eagerly await the first opportunity to stoke up my wood fire – though I don't look forward to the wood supply charges quite so much! My house is all high ceilings and cold tiles or wooden floors, so it takes a LOT of heating. But it's worth it – the fire is directly alongside my writing desk, so perfectly positioned for hunkering down and getting some writing done. Autumn also means camping out at the farm, rugged up against the cold with mulled wine around a camp fire.
Speaking of writing, I have PLANS for this year! I have four more book contracts with Allen & Unwin, for rural fictions set in the Settlers Bridge district, to pair with The Farm at Peppertree Crossing and The Wattle Seed Inn. Next book off the shelf will be The River Gum Cottage, available for pre-order probably around May, so you've just time to catch up on the first two! Here's the blurb for the new book:
The River Gum Cottage
Sometimes, home isn't a place: it's a feeling
In her early twenties, Lucie Tamberlani had it all: with qualification is both business management and natural therapy, she was set to take over the bookwork at the family strawberry farm in South Australia. But the unexpected fallout from a relationship sees her flee to Melbourne, raising her daughter alone. Summoned back to the farm after her father's death, Lucie must find a way to deal with not only grief, guilt, and the betrayal that forced her away – but with the fear of losing her daughter.
Jack Schenscher is doing it tough: caring for his aged grandparents and running their wheat farm while trying to pursue a dedication to eco-farming and sustainability on his own riverside acreage leaves him with little time and even less money. With the death of his business partner, he could lose all he has worked toward. Yet when he meets Lucie, can he set aside one passion for another?
Both Lucie and Jack must discover that home is wherever the heart is.
 I've already had a sneak peek at the gorgeous cover for The River Gum Cottage, and can't wait to share it with you.
As some of you know, I also write as Laney Kaye, and this year I'm trying various routes (shh, it's all top secret!) to bring out some more titles to add to the dozen or so I already have under that name.  If you check under 'books' on my website you'll see a few of the Laney Kaye titles that are available in Australia in print, and if you search on Amazon, you'll find the rest (there's quite a range of genres!)
I hope you have an exciting, explorative, energising year of reading ahead of you!
Lee x
Read more about Leonie Kelsall and her books
We hope you're enjoying our Book News 
We'd also love you to follow us on Facebook & Instagram
Don't forget to check our COMING SOON page for 2022 releases up for pre-order now
You can also subscribe below by email to receive our occasional Book News blog post – 
and never miss a new book release

!
Stay up-to-date on the latest Australian fiction releases and news