Writing Goals 2022 with Fiona McArthur, Sasha Wasley, Meredith Appleyard
Published:
February 12, 2022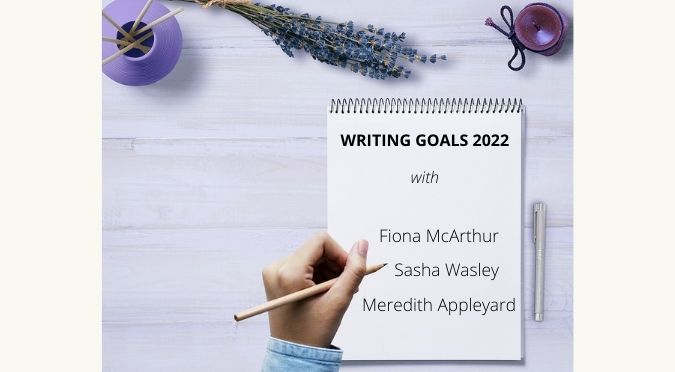 What are our writing goals for the coming months?
Fiona McArthur, Sasha Wasley and Meredith Appleyard tell us what they're up to…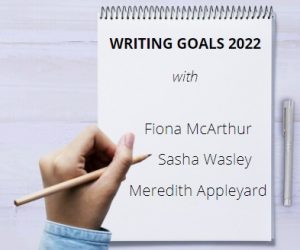 Fiona McArthur
Multi-Published International Bestselling Author
Good Medicine…rural/remote Australia…heartwarming romantic drama
Hello dear Australian Fiction Readers, happy reading to you and it's that time again to talk about Goals and what's in store for me over at FionaMcArthurAuthor.com in the next twelve months.
My word for the year is Serenity – as in Feel the serenity – and did you love the movie The Castle as much as I did? …We've just bought a two-tiny bedroom writer's office in a Lifestyle Village on an ocean creek (transitioning still between there and the farm which may take years). I've started to walk along the beach for sunrise (it's a six km round trip to the break wall) before writing in the mornings when I'm there and I love it. My goal this year is more balance between deadlines and delight in the other times.
Writing wise, I've just finished (today) THE BABY WHISPERER for TULE Publishing US out 9th June 2022 – number 3 in the Outback Babies series with Barbara Hannay, Trish Morey, me and Kelly Hunter in that order. If you enjoyed the Outback Brides Series, you'll love these heart-warming outback baby stories set in the ex-gold-rush now wedding-venue town of Wirralong, Victoria. That was my first book to finish as a writing goal for 2022. Done and dusted. And I love it. It's so cool when a book takes off and pulls you along with it. Maybe it was the beach walks?
Next there's a lovely prequel into my long-awaited Time Travel Midwife Series – out in a box set of other novellas in May 2022. So excited about this one and I've been waiting to play for so long. Fun to come.
For Penguin Australia my next big book is THE OPAL MINER'S DAUGHTER out 1st September 2022 set in Lightning Ridge and isn't that a fun place to visit and meet wild and wonderful people. Can't wait for the cover for this one. We enjoyed a research trip of a lifetime and made new friends in the Ridge. My editor loved the new book so much there will be a Ridge book 2 to follow at some stage. Yay! The next book is due on Nov 1st and will start writing that soon. Big goal for the year to finish that one.
There's a fun medical romance for Harlequin – which I always enjoy so much – and 3 more Indy-published books somewhere along the way to appear for you so a busy year.
Otherwise, I really hope to get out and meet more people this year. Readers, writers, beach lovers and fun lovers. There's The Write Now Festival in Lake Macquarie in March, and the Grenfell's Booklovers Festival in September, a panel at RWA in WA in August, and more to come. And that's me so far… I wish you smiles, wellbeing, and wonderful reading pleasure with all our fabulous Australian Fiction Authors.
xx love Fi
Read more about Fiona McArthur and her books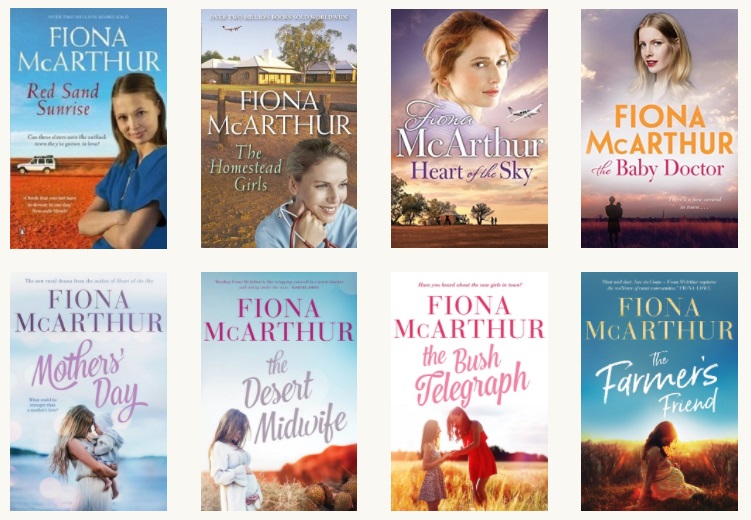 Sasha Wasley
Acclaimed Australian Author of Dear Banjo and Spring Clean for the Peach Queen
Writing stories of passion, family and Australian society with characters who live and breathe
Thanks AFA for the opportunity to share my 2022 goals and plans!
So, this year I have two books coming out (eep!). My adult title, A Caravan Like a Canary, will be out on 29 March 2022 and will be in bookstores and department stores all over Australia. This will follow my 2021 release, Spring Clean for the Peach Queen, which got into lots of hands and TBR stacks across Australia last year (thank you!).
The other 2022 release is still kind of 'secret squirrel' but I CAN tell you it is a middle grade book for kids aged about 8 to 13 years and Book 1 will be out in August 2022 under a pen name. That's all I can say! *zips mouth reluctantly*
As for goals, this year I'll be editing my 2023 title which is a WWI historical novel. I'm SUPER excited about it! It's completely written and edited and almost ready for submission to my publisher, Pantera Press. I will also be working on books 2 and 3 of the aforementioned middle grade series.
As for new projects, I have been seized by a young adult paranormal story about a group of YouTube ghost hunters who get more than they bargained for! I cranked out 10,000 words during January and I'm really enjoying the twisty turny nature of the story. I am also rewriting the first half of another adult contemporary fiction and contemplating a sequel to the historical coming out next year. I have so many ideas kicking around in this crazy head, it can be hard to settle on what's next.
I also have the goal of doing some writing workshops, attending writer's events and festivals, and supporting friends' and WA writers' book launches wherever possible. I will be doing a residency at the Katharine Susannah Prichard Writer's Centre in August and I am mentoring my first aspiring author, as well as helping a previous copywriting client edit his next book.
SO BUSY! But in heaven being a full time author at last.
Thanks again and I look forward to catching up with some gorgeous readers at events very soon.
Sasha
Read more about Sasha Wasley and her books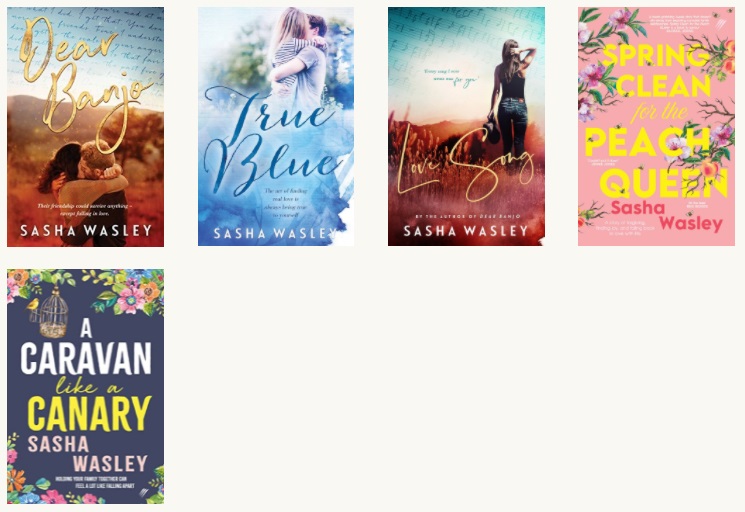 Meredith Appleyard
Bestselling Author of The Country Practice and the warmly received All About Ella
Using her experience and fascination of providing health care to rural communities in her stories
Greetings. This time last year I wished for a less disruptive year, and while for me there was less upheaval, 2021 certainly held its own challenges.
All About Ella was delivered to you on 1 September 20221 as promised.  I did get to many libraries in SA which was great. But it was weird to see so many masks instead of smiling faces, and I missed the smiles.
I'm sure they were behind the masks! However, it highlighted to me how much I value and rely upon non-verbal communication.
Looking over the past year's goals, I have achieved them. Perhaps the most iffy being the daily word count… If you remember, I was going to aim for as many words as I could each writing session and try to improve on it each day. Some success, but it's a work in progress.
Here are my goals for 2022:
Complete the editing process for Becoming Beth (The WIP from last years' goals; previous working title: The Committee)
Continue current WIP. Book number 8 with a working titles: Daisy & Kate. I hope this title sticks because I love it!
Break out the bubbles for the release of Becoming Beth, scheduled for 1 September 2022
Enjoy my holiday at the beach in April (can't wait!)
Keep active and well, and catch up with friends as often as I can
Check on my goals every now and then. No point having them if I forget what they are!
Best wishes to you all for a safe and satisfactory year.
Meredith xx
Read more about Meredith Appleyard and her books
We hope you're enjoying our Book News
We'd also love you to follow us on Facebook & Instagram
Don't forget to check our COMING SOON page for 2022 releases up for pre-order now
You can also subscribe below by email to receive our occasional Book News blog post – and never miss a new book release!
Stay up-to-date on the latest Australian fiction releases and news