Without a Doubt – new release from Fleur McDonald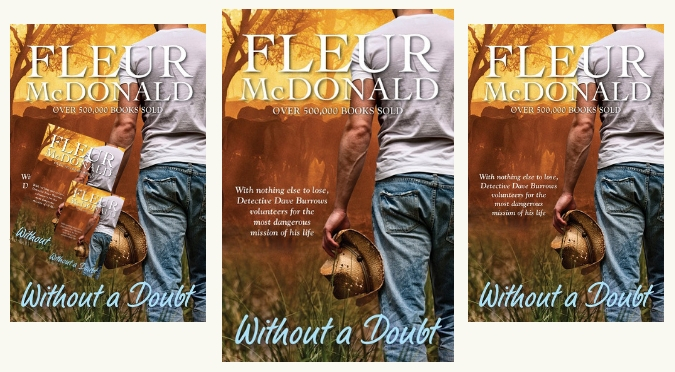 "Detective Dave Burrows returns in the most compelling and exciting case of his early career."
Read an excerpt from Chapter 1 of bestselling author Fleur McDonald's
new release
Without a Doubt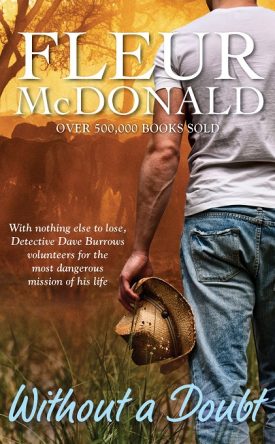 In Barrabine, as Dave's workload skyrockets, Melinda, Dave's wife, is unhappy about being left alone so much to raise their eighteen-month-old daughter, Bec. It's not how Dave wants it either, but complaints, leads and crimes all have to be investigated – it's what he joined the force for.
Melinda's interfering father isn't helping. He's never thought that Dave was right for his daughter and he's not shy about telling Dave what he's doing wrong. When things come to a head at home, Dave's policing mate, Spencer, comes up with a plan.
In the most dangerous mission of his life, Dave knows what he's risking. If he's found out, he'll never see Melinda or Bec again. Of that he's sure.
Out now in paperback and eBook – buy links below
Excerpt from Without a Doubt by Fleur McDonald
Chapter 1
1999
'I've got a mob of about fifty and there's maybe thirty cleanskins.'
The pilot's voice crackled through the radio into the ear of Ash Bennett, aka Bulldust.
'Left or right?' Bulldust asked, looking up into the pinks and purples of the sunrise, trying to locate the chopper.
A shadow passed over him and he realised the helicopter had come in from the left.
Reefing on the handlebars of the motorbike, Bulldust kicked off and gunned the engine, directing the bike towards the towering hill in front of him.
The roar of the engine filled his ears, making any communication between him and the pilot impossible.
All he could do was watch the aerial dancing and follow the helicopter's flight path. He wound his way through the termite mounds and tussocks of spinifex and Mitchell grass, letting his feet skim along the ground when he needed a little more balance.
Peering up into the vivid blue sky, he spotted the chopper hovering over a creek line for a moment. It looked like Chris was trying to mob the cattle together, the way the chopper was ducking and diving.
Bulldust sped up a little and rode down into the deep gully and onto the flat bed of a dry creek. Out of the corner of his eye he saw movement. He glanced over his shoulder; there was a red and white beast standing staring at him. It hadn't been the bull which caught his attention first; rather the menacing horns, which looked like they were about a metre wide, from one tip to the other.
Bulldust doubled back and rode in behind the old wily bull, trying to encourage him to join the mob. He watched him carefully, not wanting to have the horns anywhere near his body.
Dust was rising over the treetops and above that was the chopper. It would be better if Chris could angle the helicopter this way—he could poke and prod and not worry about having to be gored. Not like he had been a couple of years ago after a mickey bull had chased the motorbike and he'd clambered up a tree. The branch had broken with the animal still waiting for him, and he'd spent two months in hospital after the horns had grazed his liver.
He'd been very lucky.
Now, though, Bulldust couldn't raise Chris on the radio, so it was up to him to shift this beast. That's what his team was known for—being able to muster the most difficult of cattle.
The bull, still standing to attention, shook his head at him, then pawed at the ground, never taking his eyes from Bulldust, who read anger in the sharp jerky movements and kicked the bike into neutral. He bet this animal hadn't ever come into the yards before.
'You've got fucking cement in your hooves, haven't you? Just don't want to move.' He reefed on the hand accelerator to give a couple of short, sharp revs, hoping to encourage the beast to shift. He'd worked with cattle all his life and he knew this one wasn't going to do what he wanted. If anything, the bull would charge him. He had hate and fire in his eyes. 'Gawn, get up there!' he yelled as he slipped the stockwhip from over his shoulder.
The bull let out a bellow and took a step towards Bulldust just as the whip crack rang out and bounced off the valley walls. The bull's tail flicked in agitation.
Bulldust flicked his wrist again. Another crack, as loud as a gun. Keeping his eyes on the animal, he took a couple of deep breaths; his heart was hammering hard and sweat trickled down the side of his face and neck. Blinking, he kept focused.
Or he thought he was. When he looked again, the bull was moving. One tonne of rippling muscle and horns running straight at him.
Instinctively Bulldust pulled up his foot and the bike jerked into gear. He let the clutch out with a jerk, all the while trying to use the whip again.
The massive beast galloped surprisingly quickly, right towards where Bulldust had just been sitting on his bike.
With his head down, the bull couldn't see that his target had moved and he ran straight past, oblivious. Bulldust could feel the heat radiating from the animal and see the whites of his eyes as he rushed passed and disappeared into the bush.
Bulldust took a couple of deep breaths, glad to have avoided an extremely dangerous situation. 'Well, fuck you,' he muttered. 'I'm not looking for you today. Just your progeny. You can stay in the paddock.'
With another glance at the sky to see where the chopper was, he headed for the animals that were going to make him money.
Within a few minutes he saw a group of about fifty cows and calves. The calves were hanging alongside their mums, bellowing above the noise of the chopper. Cleanskins. Where the money was. Taking a wide berth around them, he started to push them towards the main mob. Further to the north there was a set of portable yards. Yesterday they'd managed to find about a hundred shorthorn cross Brahman cattle with sixty cleanskin calves. They'd be able to move them easily and without any suspicion.
The crew had camped at the waterhole overnight, starting the muster at first light. His most trusted team, all dressed in dust-covered jeans and plain shirts. They were under instruction not to wear bright colours. Not only did the cattle not like it, but he didn't want them wearing anything that might attract attention. The brightly dyed shirts stockmen favoured these days weren't for his lot. His bald head and long red beard usually created more than enough interest for them all.
Today he was hoping to find another hundred or so cattle. He knew they were here; it was a matter of finding them in among the spinifex and Mitchell grasses and the rough terrain of rocky outcrops, hills and trees.
If it had been summer, they could've set water traps—yards with water inside them; once the cattle went through the gates to drink, they couldn't get out—but on the back end of a good season, when there was not only water lying in the paddocks but grass and feed galore, gathering up the cattle was a little more challenging.
No matter the season, the Highwaymen Mustering mob knew that there was no chance of being caught today.
Or any day in the next month or so. Not here on Kildell Holdings.
The manager of this property had a gambling problem and wouldn't be home. He'd be propping up the bar in the closest town of Nundrew, staring at the TAB screen and sipping on schooners until closing, when he'd make his way out onto the main street, walk to the local takeaway shop and order fish and chips before driving the one hundred kilometres home, slowly.
Andrew Watson was the epitome of a bad manager and had been at Kildell Holdings for five years. The Highwaymen had mustered for him for all five of those years and had noticed his decline. A spiral down into the dark pit of hard work and loneliness, with no reward or recognition from his employers. That made for a certain restlessness and discord and inevitably the need for company, which included the warmth and laughter of a bar, beer and women who offered companionship for money. All of which made the property Andrew managed a prime target for the theft of cleanskin cattle.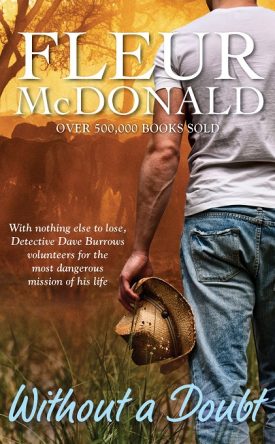 Buy Without a Doubt, available in eBook and paperback now!

Fleur McDonald
Bestselling, Multi-Genre Author
Capturing imagination through stories
Read more about Fleur, her books, and where to find her on social media
Subscribe to receive our occasional blog posts by email and never miss a new book release!
Stay up-to-date on the latest Australian fiction releases and news