What's in the bookstores in 2019?
Published:
January 3, 2019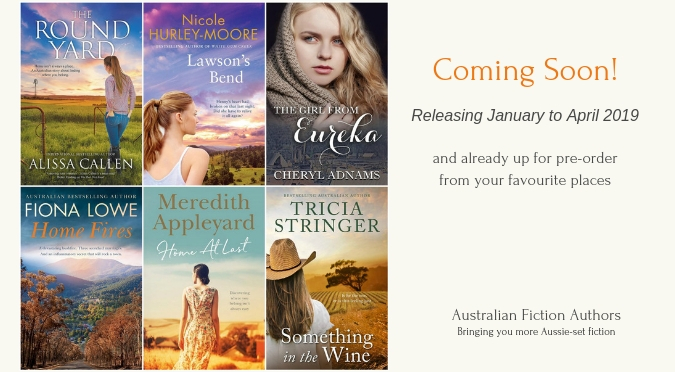 Hello 2019!
Releasing in January, February, March and April – six much anticipated books, with something for everyone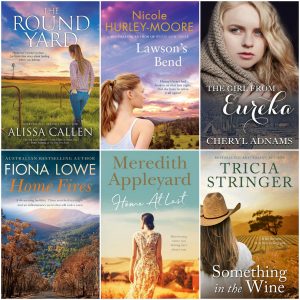 And here they are…
January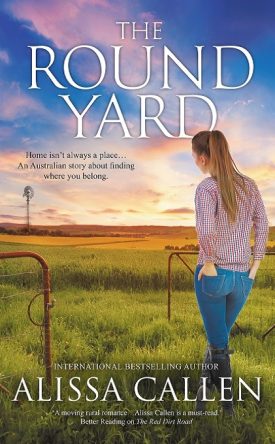 Internationally bestselling author Alissa Callen with The Round Yard  – out 29 January
Home isn't always a place… An Australian story about finding where you belong
For only child Neve Fitzpatrick, family is everything. When she loses her mother, she heads to the bush to rent a farmhouse near her grandmother's family home. To keep herself busy and her grief at bay, she offers to look after two little redheaded cowgirls and adopts a sassy pony and sweet donkey in need of a refuge.
Drover and horse trainer Tanner Callahan may have just found his mother, but he's resolved never to let anyone too close. Abandonment has cursed him all his life, and he won't let it happen again. Only two things unnerve him: children and small-town matchmaking. Then he meets occupational therapist Neve. Warm-hearted and unforgettable, she represents all that Tanner feels will forever remain out of reach.
But when an old iron key unlocks family secrets from the Second World War, Neve needs help only Tanner can give. As the threads of the past unravel, and locusts threaten to suffocate the land, Neve and Tanner must make a choice. Will fear keep them running or is the home each yearns for already within grasp?
Read more about Alissa, her books, and where to find her on social media
February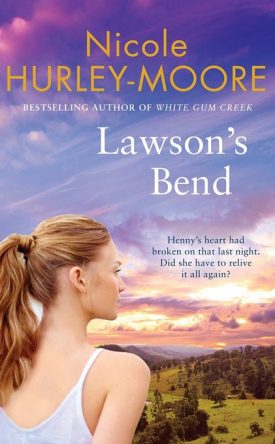 Bestselling Australian author Nicole Hurley-Moore with Lawson's Bend – out 4 February
When Henny got out of Lawson's Bend ten years ago she vowed never to come back…
In the hot summer of 2008, a tragic accident at the lake on the outskirts of Lawson's Bend forever scars the townsfolk. At an end-of-year celebratory campout, several students from the local high school drown and Henrietta Bolton loses her best friend, Georgie, to the murky waters. Unable to accept this as an accident, Henny runs from the small country town vowing never to come back.
Stephen Drake has never left. Instead, he's tried to settle down, working with his dad on their small farm. Stephen had dreams of a different life but after the night at the lake, nothing seemed important anymore.
Years later, Henny is forced to return to Lawson's Bend when her beloved mother dies. Henny's plan is to finalise her mother's estate, sell the house and get the hell out of town as quickly as possible. But there is Stephen…
Ever since they were kids Stephen has had a soft spot for Henny and it was he who saved her life that night amid the panic. Yet he never had the courage to tell her just how he felt. But now she's back in town, Stephen wonders if he has a second chance. 
Read more about Nicole, her books, and where to find her on social media
February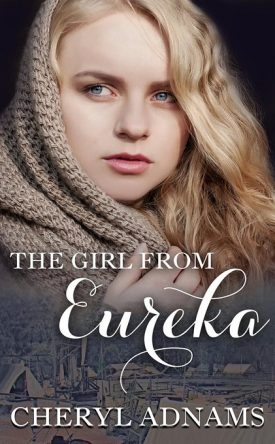 Australian author Cheryl Adnams with The Girl from Eureka – out 12 February
On the sun-drenched goldfields of Eureka, a wild colonial girl and an honour-bound soldier will break all the rules to claim a love worth more than gold …
Ballarat, Australia 1854
Gold miner Indy Wallace wants nothing more than to dig up enough gold to give her mother an easier life. Wild and reckless, and in trouble more often than not, Indy finds herself falling for handsome, chivalrous, British Army Lieutenant Will Marsh. But in the eyes of immigrant miners, soldiers are the enemy.
Will has been posted to Ballarat with a large contingent of Her Majesty's Army to protect the Crown gold and keep the peace. But once he meets rebellious Indy, he doubts he'll ever be at peace again. As Will and Indy's attraction grows, their loyalties are tested when the unrest between miners and the military reaches breaking point.
On opposite sides of the escalating conflict, can their love survive their battle of ideals? And will any of them survive the battle of the Eureka Stockade?
Read more about Cheryl, her books, and where to find her on social media
February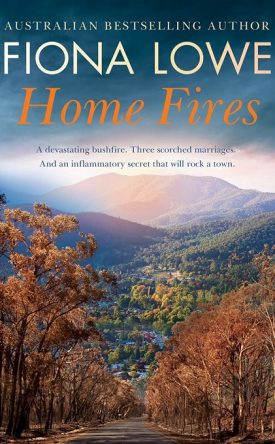 Multi-published, bestselling Australian author Fiona Lowe with Home Fires – out 18 February
A devastating bushfire. Three scorched marriages. And an inflammatory secret that will rock a town.
When a lethal bushfire tore through Myrtle, nestled in Victoria's breathtaking Otway Ranges, the town's buildings – and the lives of its residents – were left as smouldering ash. For three women in particular, the fire fractured their lives and their relationships.
Eighteen months later, with the flurry of national attention long past, Myrtle stands restored, shiny and new. But is the outside polish just a veneer? Community stalwart Julie thinks tourism could bring back some financial stability to their little corner of the world and soon prods Claire, Bec and Sophie into joining her group. But the scar tissue of trauma runs deep, and as each woman exposes her secrets and faces the damage that day wrought, a shocking truth will emerge that will shake the town to its newly rebuilt foundations…
Read more about Fiona, her books, and where to find her on social media
March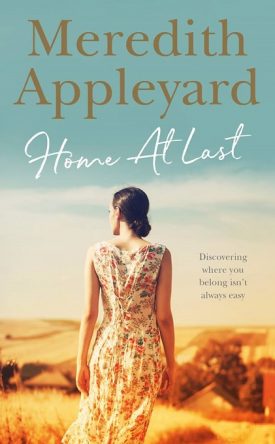 Australian author Meredith Appleyard with Home at Last – out 18 March
Flying solo can be harder than it looks … A warm-hearted rural romance about finding your way home
Flying solo for the first time had been the greatest high of Anna Kelly's life. So when the chance of a dream job as a pilot with the Royal Flying Doctor Service comes up she takes it, even though she has to leave her home in Adelaide and move to remote Broken Hill – a place she had hoped she would never see again.
The bad memories the town provokes remind Anna why she keeps men at arm's length but as her work proves fulfilling, her housemate becomes a friend and a warm community grows around her, Anna is surprised to discover that Broken Hill is starting to feel like home.
But there is no such thing as plain sailing and with errant mothers, vengeful ex-patients and determined exes on the prowl, life is becoming increasingly complicated. More than that, the distractingly attractive Flight Nurse Nick Harrison seems keen to get to know her better, and he has a way of finding a path through her defences. But will he still want her if the truth comes out?
Read more about Meredith, her books, and where to find her on social media
April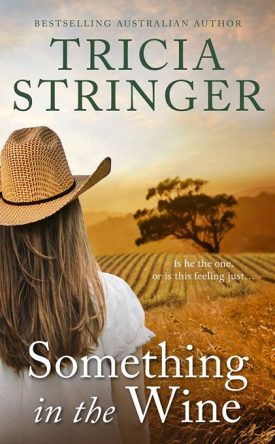 Bestselling Australian author Tricia Stringer with Something in the Wine  – out 15 April
A warm-hearted rural romance set among the scenic vineyards of Margaret River
Reserved high school teacher Keely Mitchell is more than ready for her holiday on the west coast of Australia, so when a medical emergency turns over all her plans and an intervention by a kind stranger finds her recovering in a Margaret River vineyard, she is at first downcast.
Keely had wanted to put recent traumatic events out of her mind, and recuperating alone in a stranger's house won't help that. But slowly the lovely food, spectacular wine and beautiful landscape of the area begin to work their spell. As Keely makes friends with the locals and adapts to the rhythms of the vintner's year, she starts to feel part of the scenery too, particularly when her artwork and jewellery-making somehow find a home at Levallier Dell Wines.
But clouds are on the horizon in the shape of a warring father and son, interfering family friends and a rival in love. Keely didn't mean to fall for anyone, but she can't help her feelings for clever, passionate wine-maker Flynn Levallier. Sadly, it seems he only has eyes for the beautiful Kat, daughter of a rival wine-maker. Can what Keely feels be real? Or is it just something in the wine?
Read more about Tricia, her books, and where to find her on social media
Don't forget there's a promotion underway until 9 January giving you the opportunity to win a $100 Dymocks gift card simply by subscribing by email to our occasional blog posts – you can read a little more here but all you have to do is hit the Subscribe button on the right hand side of this page!
(your information is not shared and you can unsubscribe any time)
Subscribe – and never miss a new book release!
We'd also love you to join us on Facebook to stay connected and help us with our 2019 goal! More about that soon but only on Facebook…see you there.
Stay up-to-date on the latest Australian fiction releases and news