Welcoming Stella Quinn – author of The Vet from Snowy River
Join us in welcoming Stella Quinn to our group of Australian fiction authors!
Stella Quinn
Award-winning, Bestselling Australian Author
Writing contemporary romance novels that are warm-hearted and filled with characters you want to be best friends with.
Stella's second rural romance A Town Like Clarence will be released on July 6, 2022. (Her first rural romance, The Vet from Snowy River, came out in 2021.)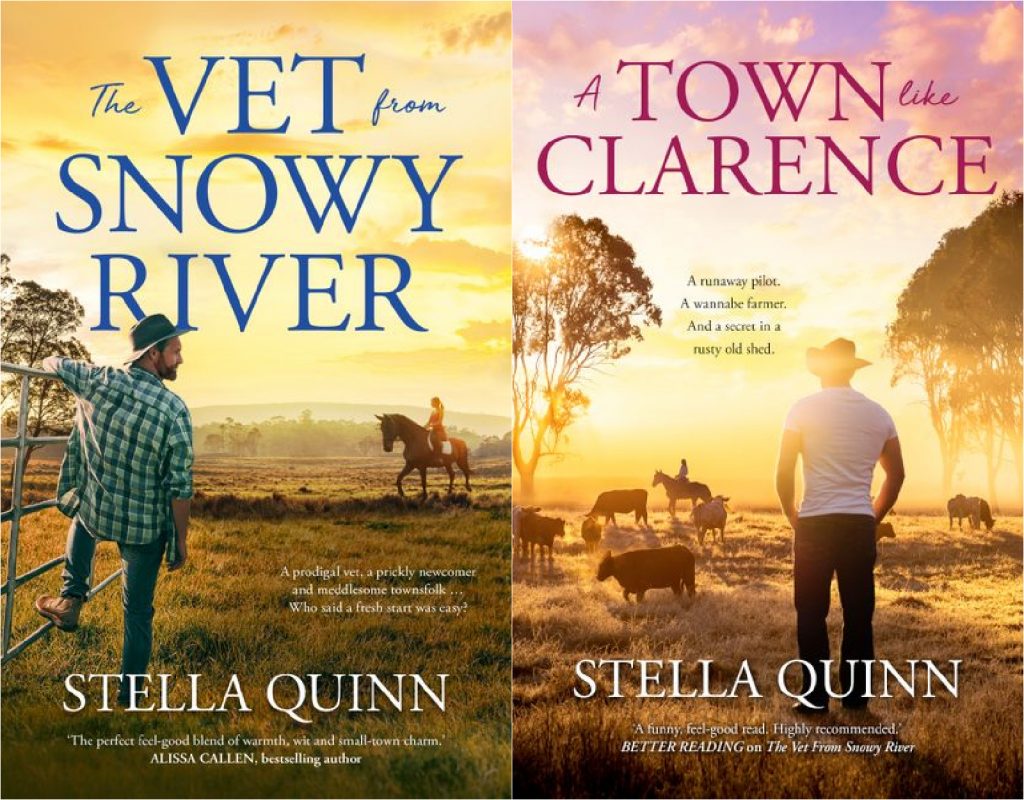 A short spiel about Stella
Stella writes contemporary romance novels that are warm-hearted and filled with characters you want to be best friends with. She loves rural small-town settings, island settings, and everyday heroes. Imagine if Sea Change and Virgin River had a series of fictitious book babies … they're the books Stella writes.
Some introductory chit chat from Stella
When I was 11 years old I was sent to boarding school in Toowoomba, in the Darling Downs region of Southern Queensland. I knew no-one (besides my older sister who, naturally, wanted nothing to do with me) and everything was very new and strange. The weather, for instance, was hideously cold (we lived in New Guinea when we weren't at school) and I didn't even know what jeans were. Or ug boots. Or berets (soon nicknamed ferrets) which we had to wear as part of our uniform in winter. Me and the other 47 Year 8 boarders slept in a giant common room in an historic timber homestead on double bunks packed so close to each other that we could hold out our pinkie fingers to each other while we lay in bed and poke one other.
It was a lot to get used to … a lot of noise and chatter and crying and laughing. To keep us settled (and presumably so the matrons could have a smoke on the front lawn in peace and quiet—this was the eighties after all) we were encouraged to read quietly in our bunks for half an hour before "lights out", and that time became very precious. Reading was my solace then and it has remained so to this day.
The idea that I might write something that other people would be interested in reading started forming a few years later, when we had a wonderful English teacher who encouraged us to try our hand at some longform fiction pieces that he would read and give us feedback on. It didn't count for school marks, and—sure—maybe my motivation was because some of the other students were having a crack at it and I didn't want to be left out … but it sewed the seed.
Fast forward twenty years and four kids and a mortgage and four dogs later, I was ready to get serious about writing and finding an audience of readers who would enjoy what I wrote.
Competitions have been my friend as I practised the nuts and bolts of creating a story, as has my membership with Romance Writers Australia. It was through entering The Vet from Snowy River manuscript into a competition (the ASA/HQ Commercial Fiction Prize) that I got my lucky break … a publisher from HarperCollins read my entry and rang me up to say, "Stella, we want to publish your story as a book." That's right people: an actual, hold-in-your-hand book!
That will go down in history as being one of my very happiest days.
Stella
Read more about Stella Quinn and her books and discover where to find her on social media
OUT NOW
A hot vet. A rebellious teenager. And meddling but well-meaning townsfolk. Vera gets more than she bargains for when she runs off to a new life in the country… 'A fresh and funny rural romance, perfect for readers of Alissa Callen and Rachael Johns.'
Vera De Rossi no longer believes in love …
And thanks to her ex-boyfriend­ she's also broke, jobless and staring down the barrel of a court case that could land her in prison. Turning to her talent for baking, Vera opens a cafe in Hanrahan, a cosy tourist town in the foothills of the Snowy Mountains.
Josh Cody, once Hanrahan's golden boy, escaped sixteen years ago with gossip hard on his heels and a pregnant girlfriend in tow. Now he's back: a qualified veterinarian – and a single dad with a lot to prove. A new start and a grumpy teenage daughter … it's a lot to juggle, and there's no room in his life for further complications. But that's before he walks into The Billy Button Cafe and meets its prickly owner …
Reeling from the past, Vera has no intention of being sidetracked by the hot vet with a killer smile. But fate has a way of tripping up our best intentions and between a stray cat and a busybody with a heart of gold, this is a town – a family – unlike any other. And, whether Vera wants it or not, is there anything a family won't do to help one of its own?
Buy The Vet from Snowy River
Coming soon (6th July) and up for pre-order now
When Kirsty Fox goes on the run to escape a crash-and-burn at work, she finds a family she didn't know she needed… 'A witty and warm rural romance perfect for readers of Rachael Johns and Alissa Callen.'
They say change is as good as a holiday. Joey Miles is hoping so after leaving the city behind, his stockbroking career in flames, to embrace a brand-new challenge: farming. But while returning to his hometown somehow feels right, he's got a long way to go to get back on his feet financially and the last thing he needs is the townsfolk meddling in his love life (or lack thereof).
To the townsfolk of Clarence, Joey has always been the ultimate tragic romantic hero – and it's time this hero had a happy ever after…
But Kirsty Fox is only in Clarence to dig up information about a World War II figure from her family's past – she has no intention of sticking around and finding out if Joey is as adorable as he seems. Kirsty doesn't stick around. Ever.
But when the locals of Clarence spy the chemistry between these two, a secret item gets added to the agenda of the next town committee meeting: matchmaking. This warm-hearted community will pull every trick in the book to show Joey and Kirsty everything they've unwittingly been searching for is right under their noses… What could possibly go wrong?
Pre-order A Town Like Clarence
releasing 6th July 2022
Stella's series also include The Island Escape Series and The Clementine Springs Series, and she is an author for Sweet Promise Press's Gold Coast Retrievers Series.
You can find out more about these books on her website: https://www.stellaquinnauthor.com/all-books-reading-list



We'll be bringing you exclusive content on release day for A Town Like Clarence … out 6th July.
Mark it in your diaries and pre-order now from your preferred e-Retailer.
Available in paperback and eBook.
Happy reading!
We hope you're enjoying our Book News 
We'd love you to follow us on Facebook & Instagram
You can also subscribe below by email to receive our occasional Book News blog post – and never miss a new book release!
Stay up-to-date on the latest Australian fiction releases and news