Up on Horseshoe Hill – New Release by Penelope Janu
Published:
November 18, 2019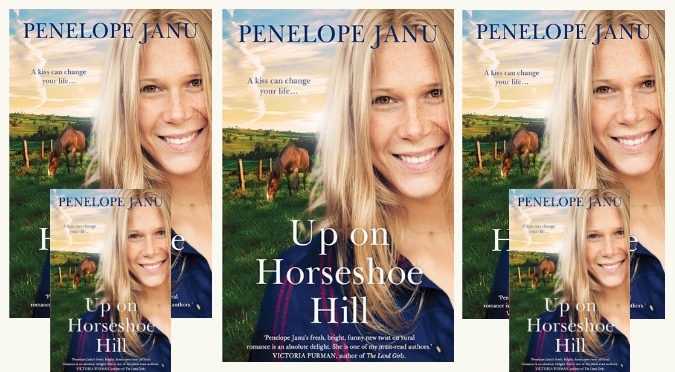 A brand new release from Australian award winning author Penelope Janu
Up on Horseshoe Hill
Read an excerpt and read Penelope's answers to The 5 Big Questions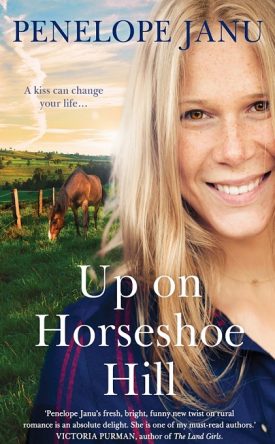 A kiss can change your life …
Jemima Kincaid loves her home, her horses and her job as a farrier. Life has not been kind to her, but Jemima is happy in the close-knit rural community of Horseshoe Hill, which rallied around in her hour of need. Even so, she is fiercely independent and will never rely on anyone again.
Particularly a man like Finn Blackwood.
An infuriatingly attractive geneticist and wild animal vet, Finn threatens not only the serenity of Jemima's present, but that of the future she has so carefully mapped out. But as their paths continue to cross, she finds her attraction to Finn impossible to counter, even as the trauma of her past threatens to undo her. Finn is fascinated by Jemima's solitary nature and unique vulnerabilities but Jemima knows all about loss and how to avoid it. Don't let anyone get close in the first place …
As the past begins to cast long shadows, Jemima and Finn discover that a kiss can bring worlds together-or tear them apart. Will they finally face their fears and find love on Horseshoe Hill?
Excerpt from Up on Horseshoe Hill by Penelope Janu
My brother's plot is in the third row of graves at the Horseshoe Hill cemetery. Dad made his cross from a red gum branch, which fell near the cottage in a storm.
Railway sleepers, faded dusky grey, mark the end of each row of graves. The timber is dusty and rough but my jeans are dirty from work, so I sit and stretch out my legs. At the top of the rise is a tiny stone church, weathered and golden with age. My ute is the only car parked there today; more people will come on the weekend. Some pray at the church, or chat with the loved ones they've lost. Others take shelter from the sun. Our wheelbarrow and gardening tools are stored at the back of the nave.
The land beyond the graveyard is mostly cleared for crops, and sheep and cattle grazing. I can't see the river from where I'm sitting, but paperbark trees mark the flow.
'So, Liam, I guess you know it's the second of August.' Tears blur my view of the cross. 'You would've been sixteen.'
I saw Liam once, when he was only two days old. Mum was holding him closely and rocking him gently, her eyelashes spiky and wet. She opened the blanket and showed him to me, his little nose and mouth, and skinny arms and legs. Besides the paleness of his face and the stillness of his body, he was perfect.
There are gums around the cemetery, thick silver trunks and grey-green leaves, but very little shelter for the graves. In sum­mer and autumn, they're peppered with grass; sometimes in winter they're draped in white frost. For much of the year Liam's plot is like the others.
In spring it comes to life.
We planted the daffodil bulbs the day that he was buried. The soil, ruddy red-brown and freshly dug up, was soft because of the rain. We made divots in the earth with our trowels, pushed the plump brown teardrops into the ground, and pressed the soil firmly around them. The rain was falling sideways in gusts and we were all cold and wet. When I said that planting a bulb was like tucking a baby into bed, Mum smiled bravely, and then cried even harder. I started to cry too, and so did Dad, but later he said it was a good thing I'd spoken. The rain and our tears, the moisture and warmth, fell into the dirt together.
Mum died two years after Liam. That was thirteen years ago, when I'd just turned fourteen. I was familiar with loss by then, and knew better than to quip about tucking things in. We planted daf­fodils on Mum's grave too, and jonquils as well. Liam's grave was more difficult to sow the second time around—it was March and it hadn't rained in months. Dad softened the ground with water from the bore tap, and we planted the jonquils one by one, taking care of the bulbs that were already there. Mum used to say that nothing smelled better than a jonquil, even the scent of a baby, my freshly washed hair or clean saddle leather.
The freesias I planted a decade ago won't have tall, straight stems like the daffodils and jonquils, but they'll shoot earlier, spindly stalks with knobbly heads. At the end of the winter they'll flower milky white, ruby red and pink—sweet-smelling colour that'll tangle with the grass. A lot of the shoots are peeking out already, bright green and glossy.
Something glistens—I see it from the corner of my eye. I get to my feet and watch a car, a white four-wheel drive, pull off the loop road and follow the pot-holed lane towards the gums where I parked. I can't see who's driving, but the car is unfamiliar. Dubbo, the biggest town in the district, is only an hour away. Maybe it's a day-tripper from there, checking out the church before heading into Horseshoe Hill. The town, named for the final peak in the crescent-shaped Horseshoe range, gets occasional visitors in winter. In addition to the pub, there's a row of shops, a primary school and a doctor's surgery.
I squat at Mum's grave, being careful to keep my boots clear of the shoots. Her headstone is lined up with Liam's cross, and I look at the letters, twisting and turning in front of my eyes. 'Dyslexia is a blessing,' Dad always said. 'It gives you a special way of seeing things.' He also said, 'It's lucky you were born with the memory of an elephant.' I run my fingers over the words. In addition to the way they move around, it's hard to recognise the letters and symbols. And things get worse when I try too hard. A word I read one day, I can't read the next. But the words on Mum's grave? I know them all by heart. Abigail Laney died at thirty-nine, doing what she loved. She was married to Ross Kincaid and had two beautiful children, Jemima and Liam.
Buy Up on Horseshoe Hill
'Penelope Janu's fresh, bright, funny new twist on rural romance is an absolute delight. Her wit is as sharp as a knife. She is one of my absolute must-read authors.' Victoria Purman, bestselling Australian author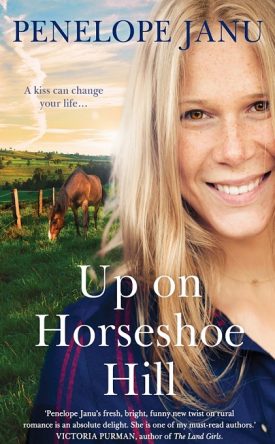 The 5 Big Questions
How long did it take to write your book?
It took a couple of years of writing (and a change of setting) for Up on Horseshoe Hill to be ready to send to my publisher. I'm not a particularly fast writer, and even before going through the editing process, I felt as if I'd written this book twice over. Underlying themes of overcoming grief and loss, and learning to start over, shone brightly by the time I had finished.
What was the most difficult or complex aspect of writing your book?
I started off with a simple plot idea at the beginning of this book—and the characters took off with it and make it difficult to wrangle. It all came together in the end, and the plot twists ended up telling me (and the reader) a lot about the characters, but they did worry me half way through the book when they weren't yet resolved.
What gave you the most pleasure when writing your book?
I learnt a great deal about animal conservation while researching my geneticist vet character—there are many zoo programs throughout the world that operate breeding programs in an effort to preserve endangered species. And because my other main character is a farrier, I learnt a great deal about farriers too. Who knew that giraffes kept in captivity need hoof care just like horses do?
Are you nervous when a new release comes out?
By the time the book comes out, I have grown very fond of my characters (I admit to feeling a little protective of them…) and I just hope that readers like them as well, and keep turning the pages to find out what happens in the story.
What's the best thing a reader could do if they enjoyed your book?
It's nice to receive a positive review on Goodreads or Amazon because this means other readers are likely to discover your book. But, to be honest, nothing makes me more excited than a personal encounter, or an email or a Facebook or Instagram message, where a reader tells me that they loved my story, or that something about the characters or situation resonated with them. There is a lot of unhappiness in the world, but many stories spark joy in us as readers. Knowing that I've written a book that's meant something special to a reader is what keeps me writing.
Penelope Janu
Australian Prize and Award Winning Author
Adventure and romance … fresh, fun fiction
Read more about Penelope and her books and discover where to find her on social media
Subscribe by email to receive our occasional blog posts 
– and never miss a new book release!
Stay up-to-date on the latest Australian fiction releases and news