The Round Yard – new release from Alissa Callen
Published:
January 21, 2019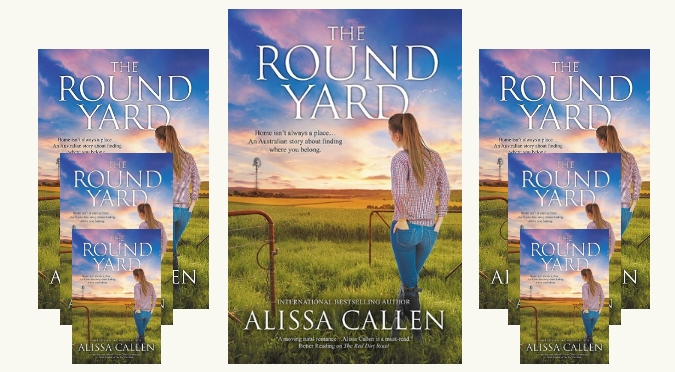 New release from international bestselling author of rural and small-town fiction, Alissa Callen
A heartfelt story about finding where you belong.
Read a few words from Alissa, and read an excerpt!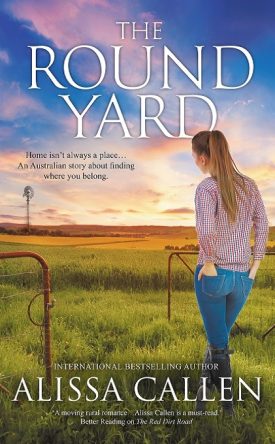 For only child Neve Fitzpatrick, family is everything. When she loses her mother, she heads to the bush to rent a farmhouse near her grandmother's family home. To keep herself busy and her grief at bay, she offers to look after two little redheaded cowgirls and adopts a sassy pony and sweet donkey in need of a refuge.
Drover and horse trainer Tanner Callahan may have just found his mother, but he's resolved never to let anyone too close. Abandonment has cursed him all his life, and he won't let it happen again. Only two things unnerve him: children and small-town matchmaking. Then he meets occupational therapist Neve. Warm-hearted and unforgettable, she represents all that Tanner feels will forever remain out of reach.
But when an old iron key unlocks family secrets from the Second World War, Neve needs help only Tanner can give. As the threads of the past unravel, and locusts threaten to suffocate the land, Neve and Tanner must make a choice.
Will fear keep them running or is the home each yearns for already within grasp?
A few words from Alissa
In my small town of windmills series, Tanner has already had quite the journey to find his birth mother. Today he gets to find his happily-ever-after with newcomer Neve. The Round Yard is a standalone novel but it is set in the same rural area that features in The Long Paddock, The Red Dirt Road and The Purple Hills (free eBook novella also out now). Edna, the town matchmaker, as well as Reggie, the carrot-obsessed bull, again make an appearance along with some fresh faces and new animals who have no shortage of personality. I'm currently writing Ella's story The Boundary Fence which will be out February 2020.
Excerpt from The Round Yard by Alissa Callen
Foolish didn't even come close to describing what he was.
Tanner rammed the crowbar into the red earth to deepen the hole he had dug. Afternoon shadows blanketed the playground and the car park was now almost empty. Even though his muscles ached with fatigue, he refused to stop. There was one more tree to be planted, but most of all his thoughts still raced.
So much for hiding the way Neve made him feel. When she'd met his gaze, with no trace of wariness, and teased him about surviving being ditched, something had unlocked within him. It didn't matter if they were in a public place. It didn't matter if he wasn't supposed to feel this way. He couldn't have made it any more obvious he was attracted to her than if he'd given in to the deep need to kiss her.
He again rammed the crowbar into the hard-packed earth. He didn't know if it was Hewitt's words the other day, or if the loneliness he repressed was hell bent on vengeance. All he knew was that the self-control he'd always relied on had failed.
He stopped to pass the back of his gloved hand over his forehead and saw Denham looking his way. He hadn't missed how his cousin and Hewitt had come to his aid when Maya and Kait had run to him. He also hadn't missed Denham's blue stare tracking his movements for the rest of the day.
He didn't know what he'd been thinking when the girls had raced towards him. When the anxiety on Maya's face had transformed into a smile and when Kait's little arms had reached for him, all his reservations had fled. It seemed the most natural thing to do to pick her up.
When she'd snuggled against him he'd be lying if he hadn't felt a gut-deep response to her trust and fragility. He'd also be lying if he didn't admit that holding Kait, and Maya hugging him, had kick-started yearnings he thought he'd never have. He could now understand the look Denham wore when he saw Cressy cradling a baby.
Footsteps sounded as his cousin headed his way. 'Hit any water yet?' Denham said as he inspected the hole.
'I wish. Is it just me or is the day getting hotter?'
'Just you. You've been working up a sweat for hours.' Denham took hold of the crowbar. 'Why don't you head home? You've done the work of two men.'
'It's fine.'
'I'll finish up here.' Denham's firm tone said the offer wasn't negotiable. 'Aren't you supposed to be calling in at Edna's before you go to Fliss and Hewitt's?'
Tanner sighed. 'Yes.' He checked the position of the sun. 'I'd better have a shower, otherwise Fliss won't let me in the door.'
Denham grinned. 'Wise move.'
Tanner went to turn away when Denham asked, 'Neve going tonight?'
He forced himself to face Denham. He'd been deluding himself if he thought his cousin wouldn't comment on what had happened earlier. 'Yes.'
'Graham's two little redheads sure do like you.'
'I've no idea why.'
'Because they're smart; they've worked out you're not as tough as you look.' Denham's voice lowered. 'The bad news is Neve has too.'
Tanner didn't answer, just peeled off his gloves.
'If you go off droving again you've got rocks in your head.'
'The thought has crossed my mind.'
Denham's eyes narrowed. 'About droving or the rocks.'
Tanner spoke honestly. 'Both.'
His answer seemed to satisfy Denham. He nodded before swapping the crowbar for a shovel. 'I'm here anytime you need that cold beer.'
Read more about Alissa, her books, where to find her on social media and where to buy The Round Yard
Alissa Callen
USA Today and International Bestselling Author
Rural and Small Town Fiction. Dusty roads. Secrets. Romance.
Stay up-to-date on the latest Australian fiction releases and news