The Homestead on the River – a debut release from author, Rosie Mackenzie
Published:
January 21, 2019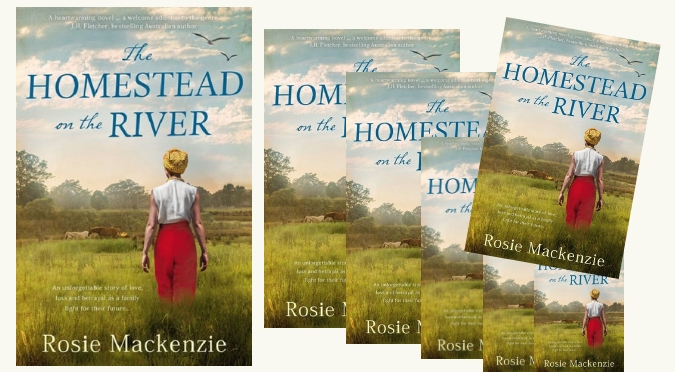 What a thrill to have a debut release up on Australian Fiction Authors' website. And this one is going to excite lovers of historical fiction
An unforgettable story of love, loss and betrayal as a family fight for their future…
There's an excerpt below but before that, here's the cover and the story blurb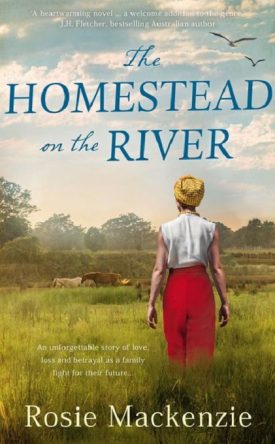 In stark contrast to her own childhood during the last days of the Raj in India, the spectacular beauty surrounding their home, Rathgarven in Ireland has proven to be a happy place for Kathleen O'Sullivan and her husband, James, to raise their four children. But Kathleen is no stranger to heartbreak, and when the family is faced with losing everything, she knows they will need to adapt to survive. Even if that means leaving their beloved home and moving to Australia to start afresh.
Lillie O'Sullivan knows that her mother and father haven't been entirely truthful about the reasons for their move to Australia. But as they settle into their new home in rural New South Wales she is willing to give it a chance. That is, until the secrets her parents have kept for so long finally catch up with them.
Secrets that have the power to destroy their family and ruin their future.
From the vibrant colours of India to the meadows of Ireland to the harsh but beautiful Australian land, a family fight for their future.
'A heartwarming novel … a welcome addition to the genre.' – J.H. Fletcher, bestselling Australian author
Excerpt from The Homestead on the River by Rosie Mackenzie
'I do love this one,' Alice said. 'Such a good shot of Lillie.'
'There's no way she'll let us use it,' Kathleen laughed. 'You can see her face.'
Kathleen O'Sullivan and her mother-in-law sorted through Kathleen's photographs in the glass conservatory of Rathgarven, a stone manor house nestled in a secluded rocky cove of the Kenmare River in County Kerry. Alice was writing another article for an English magazine depicting country life in Ireland. To accompany it, Kathleen had taken some photographs, which she'd developed in the small darkroom set up off the woodhouse.
Kathleen picked up another picture of her daughter. Lillie was riding her horse Merlin among the apple trees in the walled garden. It was such a lovely photograph with the light filtering through the trees onto her dark hair. Kathleen had taken the shot from behind, as Lillie was adamant she didn't want her face to be in a magazine.
'Maybe this one will do,' she said, handing the photo to Alice.
'The colours are certainly lovely. But it's such a pity we can't see Lillie's beautiful face.'
Another photo Kathleen had chosen was of her eldest son, Ronan, sailing their small yacht the Daphne on the river. There was also one of her younger boys, Marcus and Freddie, climbing the oak tree in the front garden, and a scene of the first hunt meet of the season gathering on the gravel driveway in front of Rathgar­ven, with Maisie, dressed in her best apron embroidered with harps and shamrocks, bringing the hunters a stiff stirrup cup before they headed off. In all there were five photographs. More than adequate for Alice's article, Kathleen thought.
Now her attention was drawn beyond the window to the curve of the river where a red steamer chugged around the point, heading towards Rathgarven's jetty. With a jolt Kathleen recognised whose steamer it was. Most likely it had come down the river from Kenmare Harbour where the Killarney bookmaker TJ Donoghue kept it. He had visited before under happier circumstances when there had been a regatta on the river. She glanced at Alice to see if she had noticed. Fortunately she still had her head over the photographs. What a hide Donoghue had to arrive like this. If he thought he was going to alight on Rathgarven's jetty, he had another thing coming. Rathgarven wasn't his house yet — and never would be, if Kathleen had anything to do with it.
'I'll just pull this curtain across,' she said to Alice, pushing her chair back and moving to the window to block Alice's view of the jetty. 'You'll be able to see more clearly without the sun on the photos. And,' she added, glancing to the door, 'can you give me a moment. Maisie's heading into Sneem. I forgot to tell her to pop into the chemist for me.'
'Of course, dear,' Alice said as she looked at the photographs. 'You certainly have a way of capturing all of Rathgarven's moods. I'm not sure whether I like it wild and woolly best, or ablaze with sunshine.'
'They're both lovely,' Kathleen said, heading towards the door. 'Although I must admit I prefer it sunny.'
Outside, Kathleen flew down the stone steps and across the newly rolled front lawn, through the green wooden gate and across the meadow to the jetty.
'How can I help you, Mr Donoghue?' she called out, as the bookmaker disembarked. A small smartly dressed group stood on the deck behind him.
'Ah, good afternoon, Mrs O'Sullivan,' he said, tipping his flashy trilby in her direction.     'I trust you be well on this grand day.'
'I am, thank you,' Kathleen said, anger tightening her voice.
'That be great to hear.' Donoghue glanced at the group on the deck. 'I was telling these good folks about your lovely Rathgarven. And they persuaded me to let them have a wee peek.' He puffed the cigarette in his hand and looked towards the house. 'Would Mr O'Sullivan be around?'
Although her husband was up in the back field with Danny, the overseer, rebuilding a stone wall that a rampaging bull had barged through yesterday, there was no way Kathleen was going to tell Donoghue that.
'I'm afraid it's not convenient for you to stop off today. We have a large house party arriving from Dublin for the weekend,' she lied. 'Maybe you could give my husband a telephone call and arrange another time.' She glanced at the group standing on the deck of the boat waiting to disembark. 'I'm sorry to be so tiresome. Today's not convenient.' Donoghue's smart sports coat did little to hide the many good lunches he'd partaken of over the years. Lowering her voice, she said, 'Mr Donoghue, I'd be grateful if you could get back on your boat. Rathgarven is not yours as yet. And until it is, the only guests who'll disembark on our jetty are the guests of the O'Sullivan family.'
Read more about Rosie, where to find her on social media, and where to buy The Homestead on the River
Rosie Mackenzie
Australian author
Historical fiction
Stay up-to-date on the latest Australian fiction releases and news