The Girl from Eureka – new release from Cheryl Adnams
Published:
February 12, 2019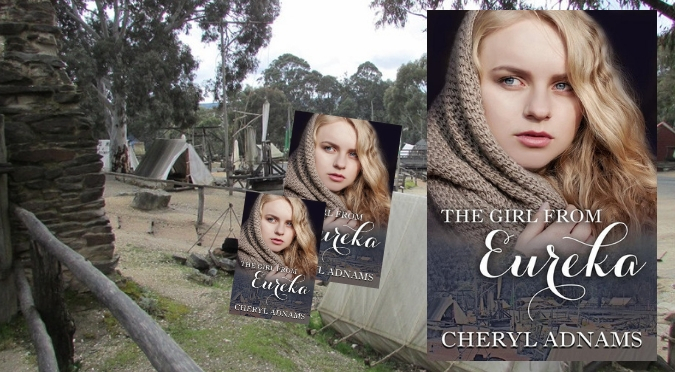 With four rural romance novels under her belt, author Cheryl Adnams has turned to historical fiction
With the love of this genre growing we're excited to share an excerpt with you
from The Girl from Eureka
On the sun-drenched goldfields of Eureka, a wild colonial girl and an honour-bound soldier will break all the rules to claim a love worth more than gold …
Read an excerpt below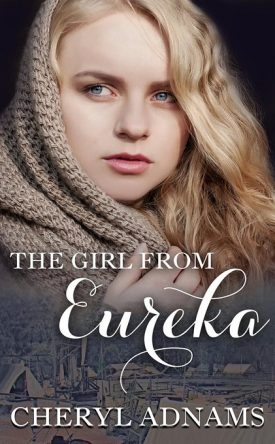 Ballarat, Australia 1854
Gold miner Indy Wallace wants nothing more than to dig up enough gold to give her mother an easier life. Wild and reckless, and in trouble more often than not, Indy finds herself falling for handsome, chivalrous, British Army Lieutenant Will Marsh. But in the eyes of immigrant miners, soldiers are the enemy.
Will has been posted to Ballarat with a large contingent of Her Majesty's Army to protect the Crown gold and keep the peace. But once he meets rebellious Indy, he doubts he'll ever be at peace again. As Will and Indy's attraction grows, their loyalties are tested when the unrest between miners and the military reaches breaking point.
On opposite sides of the escalating conflict, can their love survive their battle of ideals? And will any of them survive the battle of the Eureka Stockade?
The Girl from Eureka offers a realistic account of the events leading up to the Eureka Stockade, including the battle itself. It's a story that's brimming with tension and action, rich in atmosphere and charged with emotion. Highly recommended – Theresa Smith Writes
Excerpt from The Girl from Eureka by Cheryl Adnams
The yawn was almost audible before Indy stifled it with her hand as the minister droned on.
She didn't attend Mass often. Only on the odd occasion when she felt the need to placate Annie. The woman could guilt an alcoholic into sobriety. Here, in the seventh circle of hell that was the Victorian goldfields, she wasn't completely convinced that God existed. With so much death, particularly children, she could scarcely believe a loving God could stand by and watch his flock suffer.
As Father Smythe completed his hellfire and brimstone sermon, Indy surmised there were more than a few passing similarities between the Victorian goldfields and Sodom and Gomorrah. It was no wonder God was less than eager to bestow his blessings here.
But even the fear of being struck down in God's house couldn't stop the giggle that popped out each time the priest used the word 'strumpet' when he spoke of the loose women of Ballarat. Annie's pointy elbow temporarily curbed Indy's uncontrollable mirth, but soon Sean was chuckling right along with her. Finally, Annie sent them a glare that had Indy and Sean fighting hard to keep a firm hold on their childish snickering.
When Mass was over and the communion taken by the faithful, Annie, Indy and Sean left St Alipius Church and followed the parade of parishioners up to the main street.
And because it was Sunday, ladies were at liberty to stroll down the high street, thrilled to show off their best churchgoing dresses. The Sunday stroll had become a market for unmarried men to shop for pretty wives, and for unmarried women to dress up and flirt with, or ignore, those men as they chose.
But on this particular Sunday, the spectacle wasn't in the array of styles and fabrics on show or the fancy bonnets purchased thanks to husbands who had struck gold during the week. It wasn't in the diggers eyeing pretty girls and hoping they would drop a metaphorical handkerchief in order for the gentleman to pick up and begin a courtship.
They heard them before they saw them.
Ratta tat tat. Ratta tat tat. A drummer rapped out the cadence.
Marching down the hard-packed clay road and into town were soldiers. Many, many soldiers. Their red coats, adorned with shining brass buttons, paired with black trousers that had red side-stripes, flashed in bright contrast to the dull brown tones of the wooden buildings and nearby mines. They paraded by in their black boots, still surprisingly shiny despite the long march from Melbourne. Ballarat had seen soldiers come and go for many years. It was nothing new.
'Oh, they look so clean, these soldiers.' Indy overheard Elena Gibson say. 'Look at those boots. I'll wager I could see my face in them.'
'Perhaps they shined them up on the outskirts of town,' Indy said, rolling her eyes at the women who stepped forward to get a better view. They waved their handkerchiefs and batted eyelashes as the soldiers marched solemnly passed. Most didn't blink an eye or take any notice of the crowd, but occasionally a soldier would give a sidelong glance at the ladies who would then giggle and make a fuss and sigh.
Indy could see the distaste and disgust of the diggers who had come to town in hopes of meeting a woman. But the women were now too distracted by the spectacle of the soldiers to care about securing a dirty, poor miner husband.
'They appear much more refined than those soldiers who were here over the winter,' Elena's mother, Gloria, added. 'These gentlemen are still fit and proud. They are, as yet, untouched by liquor and the squalor of the government camp. They hardly live in luxury over there, you know.'
'They must be the replacements for those poor exhausted soldiers,' Elena said.
Indy just shook her head at Elena's cooing and sighing. 'Those poor exhausted soldiers arrested your son and brother Freddy just last week. Or had you forgotten?'
'It was a misunderstanding,' Gloria hissed back, her quiet voice unable to hide her anger at Indy's dig.
'So Freddy wasn't caught drunk and disorderly beside the Melbourne Road rolling around in the bushes with a strumpet?' Feigning shock, she covered her mouth with her hand and whispered loudly. 'What would Father Smythe say?'
'Indy,' Annie said, in hushed reprimand.
Gloria and Elena gave Indy narrowed glares, before turning and moving away in the opposite direction to continue their ogling of the incoming regiment.
'Why must you be so prickly?' Annie asked, disappointment in her voice. 'Everything that comes into your mind flies straight out of your mouth.'
'It's a gift.' She honestly didn't care what the likes of Elena and Gloria Gibson thought of her. 'Besides, at least now you know I was listening in church.'
Turning back to the street, Indy had to admit the soldiers did cut a fine picture marching through town towards the government camp.
Unbidden, Lieutenant Marsh's face came to her and, in comparison, she thought none of these new soldiers as handsome as he. She shook her head at her own thoughts. She hardly knew the man. Had met him only twice. And both times he had been pushing her about. Arrogant. That was the word for Lieutenant Will Marsh. Arrogant. Not handsome.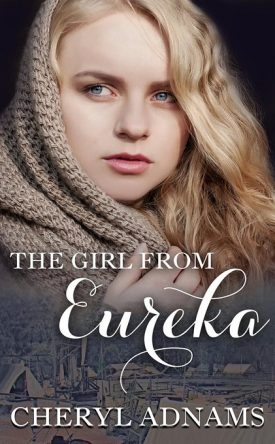 I wanted to share two photographs with you. I took these myself and they were part of my inspiration for writing The Girl from Eureka. They are both from Sovereign Hill in Ballarat. The camp photograph is actually used on the book cover! The other is the bar at the Victoria hotel.
Thanks for reading this excerpt and I hope you enjoy my new novel as much as I enjoyed writing it.
Cheryl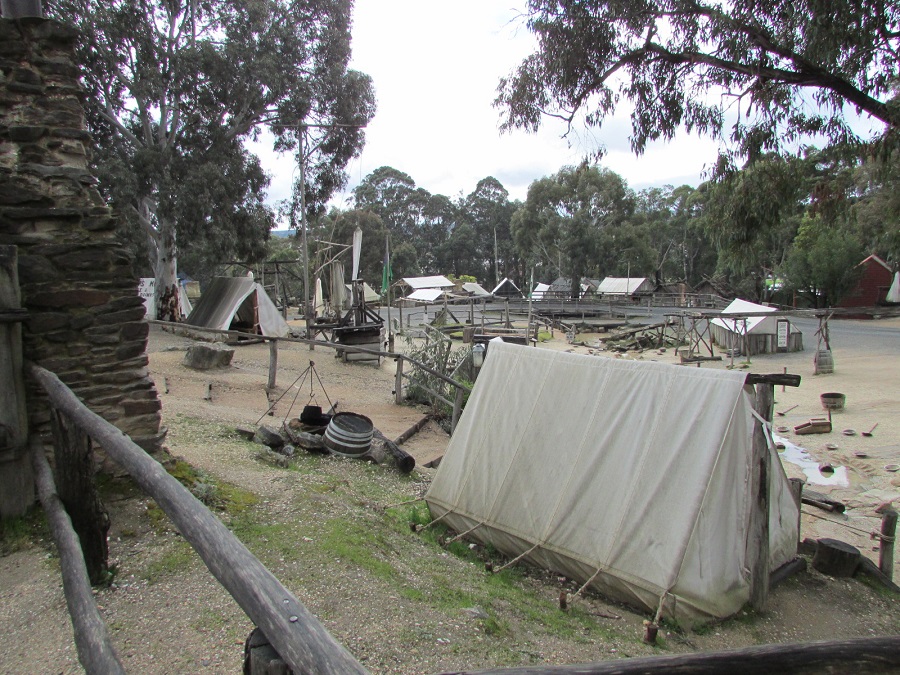 Cheryl Adnams
Australian Author
Author of four rural romances and a Christmas novella, and now the newly released historical fiction novel, The Girl from Eureka
Read more about Cheryl, her books, where to find her on social media and where to buy The Girl from Eureka
Stay up-to-date on the latest Australian fiction releases and news