The Cinema at Starlight Creek – new release by Alli Sinclair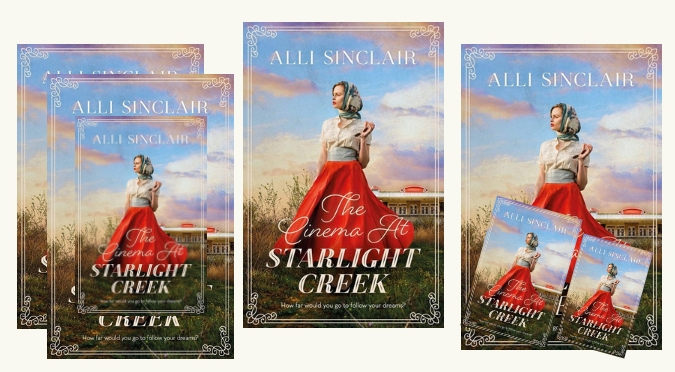 Out now in paperback and eBook
Read a few words from the author, and read an excerpt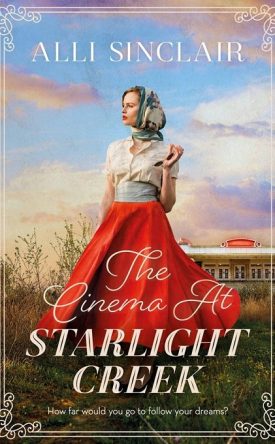 A heart-stirring novel of loss, love and new hope set against the glamorous backdrop of 1950s Hollywood and a small Australian country town.
How far would you go to follow your dream?
Queensland, 1994: When location manager Claire Montgomery arrives in rural Queensland to work on a TV mini-series, she's captivated by the beauty of Starlight Creek and the surrounding sugarcane fields. Working in a male-dominated industry is challenging, but Claire has never let that stop her pursuing her dreams-until now. She must gain permission to film at Australia's most historically significant art deco cinema, located at Starlight Creek. But there is trouble ahead. The community is fractured and the cinema's reclusive owner, Hattie Fitzpatrick, and her enigmatic great nephew, Luke Jackson, stand in her way, putting Claire's career-launching project – and her heart – at risk.
Hollywood, 1950: Lena Lee has struggled to find the break that will catapult her into a star with influence. She longs for roles about strong, independent women but with Hollywood engulfed in politics and a censorship battle, Lena's timing is wrong. Forced to keep her love affair with actor Reeves Garrity a secret, Lena puts her career on the line to fight for equality for women in an industry ruled by men. Her generous and caring nature steers her onto a treacherous path, leaving Lena questioning what she is willing to endure to get what she desires.
Can two women-decades apart-uncover lies and secrets to live the life they've dared to dream?
A few words from Alli Sinclair
The Cinema at Starlight Creek is set in glamorous 1950s Hollywood and the rich beauty of north Queensland in 1994. It's a story about two women—born decades apart—and the challenges they face with love, hope and making their dreams a reality.
The excerpt is part of the 1950s Hollywood story. Our heroine, Lena Lee, is trying to get noticed. She is more mature in age than other actresses, and she knows it is only a matter of time before Hollywood shuts her out completely. Her best friend George gets her an invitation to the studio head's party but she's not sure this is a good idea. And as with any Hollywood movie, there's the villain who will stop at nothing to make sure our heroine fails. I hope you enjoy this excerpt!
Excerpt from The Cinema at Starlight Creek by Alli Sinclair
Chapter Four
1950 – Hollywood
George held out his hand and helped Lena out of the car. Her friends had done a brilliant job convincing her she should attend the party, although now, dwarfed by Stuart Cooper's towering pink mansion, she doubted her decision. Since arriving in Hollywood three years prior, Lena had tried to get over feeling like an imposter and acknowledge that she was finally living her dream of being an actress. Some days it was harder to believe than others. Today was one such day.
Lena smoothed her mint green dress and took a moment to calm her nerves. When she'd initially put it on at Yvonne's she'd loved the way it hugged her curves, but now she felt like a boa constrictor was slowly wrapping around her torso, suffocating her.
George offered his arm and she took it. He said, "Cary Grant would be envious of me right now."
"You are such a charmer." Her laugh was light, like the steps she took in the heels that pinched her feet.
"Yvonne did well to get you this ensemble." He tucked a stray curl behind her ear. "Look, I know you're not comfortable with this, but mark my words: you won't regret it."
"I've heard that before. Remember last New Year's Eve when you tried to get us into the party at the Chateau Marmont?"
"That was so last year." George's gaze followed the length of her body. He let out a low whistle. "You do scrub up all right, don't you, Cinderella?"
She adjusted the thin strap on her shoulder. "Well, if Cinderella can gatecrash a ball, I guess I can go to a party under false pretenses."
"That's the spirit!" George slapped her on the buttocks and she punched him in the arm. "Come on, Cindy. There are some people I want you to meet."
They climbed the steps to the large double doors made of filigree iron and solid mahogany.
Lena stopped. She sucked in her breath.
"What's up?" asked George.
She shook her head. "I can't do it. It's wrong."
"Do you think everyone deserves to be at this party? Most are only here because they know the right people. They haven't earned their place. But you, my darling friend, deserve the chance to shine. You've been in Jeanne's shadow way too long."
"Is that so?" Jeanne Harris's voice came from behind them, more like a growl than a purr.
Lena tightened her grip on George's arm as Jeanne walked up and stood in front of them.
"Hello, Jeanne." Lena forced out the words.
Lena's once-friend ignored her and turned her attention to George. Her perfectly painted lips twisted into a half-smile. "A word of advice, Mr. Barrett. There are many eyes and ears in this town who are more than willing to share information with me. It would do you well to remember what happened to your old friend Oscar Connor after I discovered what he'd been saying."
George's body tensed under Lena's hand. Oscar had been George's secret lover until Jeanne had overheard Oscar calling her a diva, among other things. Although not as powerful as other stars—yet—Jeanne's skills of manipulation were second to none, and the right words in the right ears saw Oscar's job as director's assistant quickly disappear. Oscar's further efforts to gain employment in Hollywood had been met with myriad rejections, so he'd returned to Atlanta to work in his father's printing company. After George had lost the man he'd once shared his hopes and dreams with, he disappeared into a permanent cloud of romantic misery.
George drew himself up to his full height. "Jeanne, just because—"
"That's a really lovely dress, Jeanne. I like that shade of yellow on you," said Lena, almost choking on her words.
Jeanne narrowed her eyes and allowed the mink coat to fall slightly to show off her perfect milky-pale shoulders. "Just watch yourself, Barrett."
Jeanne stalked to the doors and a couple of butlers opened them for her, bowing as she breezed past in a sea of Dior and…whiskey?
Lena turned to George. "There's no way I'm going in now."
"Seriously?" George pointed in the direction Jeanne had sashayed. "You're going to let the likes of Jeanne Harris stop you?"
"She's dangerous, George. Look at what she did to…" Lena didn't have the heart to finish the sentence.
"I will never forgive her for what she did to Oscar. And to me. And I darn well won't let her ruin your career because she feels so inclined. We are going in there, you will meet the right people and you will finish this evening not just with your foot in the door, but your whole curvy body and that very clever business brain." George fixed his eyes on her, daring her to argue.
"I'm still not convinced."
"You don't need to be," he said.
"I'm only doing this because I trust you, George Barrett." Lena hitched up her dress so she could navigate the stairs to the main doors and the steps that led down into the foyer. She stopped and looked around. Sparkling high above was a chandelier that appeared bigger than her kitchenette, the brilliant crystals shining like diamonds. Beneath her heels was a magnificent marble floor with the Coopers' initials in the center. A horseshoe staircase snaked around both sides of the expanse, and an army of servants carrying drinks and hors d'oeuvres wove between women in ball gowns and tiaras and men in jet-black tuxedos and pristine white shirts. Some faces she recognized, many of them studio investors, other artists, musicians or journalists she'd read about or seen from afar.
In the middle of some men and women stood a man who had the group's full attention, their laughter raucous. He wore a red velvet suit that complemented his dark, slicked-back hair.
"Who's that?" she whispered.
"Reeves Garrity. He's worked in radio but, as you can see, it would be a waste to keep him behind the microphone." George grabbed two champagne glasses off a passing tray. He handed one to Lena, who couldn't take her eyes off this Hollywood newcomer. His broad shoulders, beautifully styled hair and strong jawline were the classic clichés of a movie star, though he didn't appear to have the arrogance—yet. Time would tell, however. Just look at what happened to Jeanne.
George said quietly, "You'd do well to stay away from him."
"I'm not… I…" Heat raced into her cheeks.
He gave her a gentle nudge. "I know you, Miss Lee."
Click here to read the first three chapters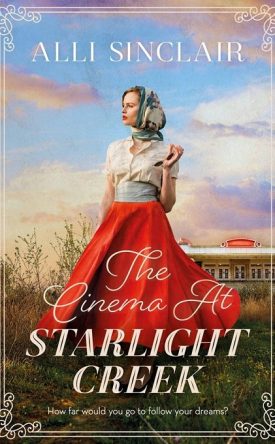 Buy The Cinema at Starlight Creek
Read more about Alli Sinclair, her books, and where to find her on social media
Alli Sinclair
Multi-Award Winning, Internationally Published Australian Author
Writing compelling stories about secrets, family and love against all odds
Why not follow Australian Fiction Authors on Facebook – and never miss a new book release!
Stay up-to-date on the latest Australian fiction releases and news