The Cafe by the Bridge – new release from Lily Malone
Published:
December 17, 2018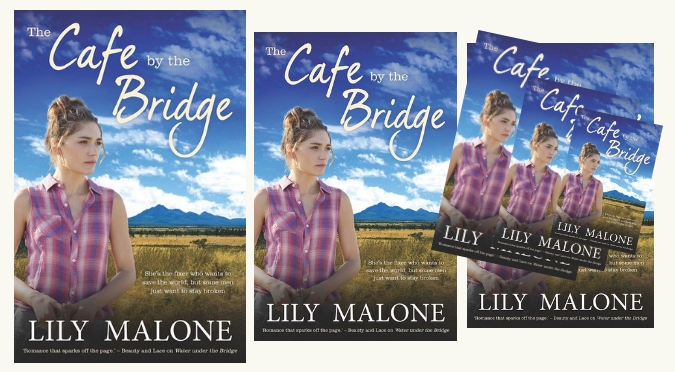 Fresh and down-to-earth in style, Australian author Lily Malone returns with a sparkling new 'Chalk Hill' romance that will appeal to all romance readers, from contemporary to rural romance. Perfect for readers who love Rachael Johns.
Read an excerpt from the book!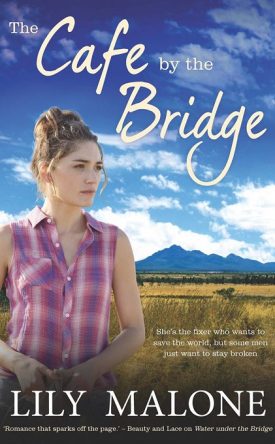 Child psychologist Taylor Woods needs a man. Flashy restaurateur Abel Honeychurch to be specific. Abe can help her get justice for her brother, Will. Taylor knows Abe, too, was scammed by the same woman who broke her brother's heart and stole everything in his pockets.
But bringing a lying, cheating scammer to justice isn't easy when all Abe wants to do is forget the whole sorry saga. He's returned to his home town of Chalk Hill to lick his wounds and repay his debts, renovating his nanna's house and opening the Chalk 'n' Cheese cafe.
He's miserable. And it would be easier to stay miserable if everyone else around him wasn't so darn cheerful. It's wildflower season in Chalk Hill with a cafe full of upbeat bushwalkers, and it's all Abe can do to remember to put sugar, not salt, in his customers' cappuccinos. He definitely has no time for the mysterious red–headed guest who admires his cheesecake and adores his flat white.
Taylor's mission to help her brother seems doomed – how will she gain the trust of a man whose every instinct tells him never to trust a woman again?
Excerpt from The Cafe by the Bridge by Lily Malone
Taylor Woods took a moment to freshen her lipstick and wondered how much longer she could get away with holding up the table. It was getting late and the restaurant was empty, except for the woman inside who wouldn't leave. Abel would want to close up shop soon.
She glanced through the glass windows, but the woman was still there. Honestly, she was taking forever to fix up her bill.
Taylor's gaze returned to the pretty bridge about fifty metres downhill from the café, the brown creek rushing under it. She could hear the water from here.
That was about all she could hear, which was a tad disconcerting. Where were the distant ambulance sirens, planes overhead, traffic, disgruntled drivers' car horns?
It was her second night in the area and she hadn't got used to the quiet. Just when the silent country lulled a girl into relaxing, those kookaburras would laugh out loud and she'd jump near out of her skin.
Taylor pulled her coat more tightly around her shoulders because not only was it too quiet, it was cold in the country too. She wished the customer in the restaurant would hurry up and leave because her courage was fading fast as the afternoon sunlight.
Then again, Abel Honeychurch was a good-looking guy. Taylor really couldn't blame any woman for staying to chat. She shivered again. Especially when that chat could take place in a café that smelled of country cooking and polished timber, and had a roaring wood fire.
She'd chickened out yesterday. There'd been one moment where she'd had an opening. Abel had come out to collect her lunch cutlery, and he'd hunkered down on one knee to give Bruno a rub behind his ears, managing to find the exact spot Bruno loved. He'd complimented her on how well behaved Bruno was … said he was the best behaved dog he'd seen at his café.
Taylor had taken a deep breath, steeled herself to ask him about Amanda, and whether he'd been scammed by her too, and whether he'd known about William Woods, her brother … but then all she'd said was: 'Could I have another double shot soy latte? Please.'
Chicken. 
She'd spent last night in a cabin at the only dog-friendly caravan park in Mount Barker, kicking herself for being such a scaredy cat, and today—come what may—would be the day she'd broach the subject of Amanda. Today, she'd ask Abe if he could help her get justice against the woman who'd scammed her brother and ruined Will's life.
How many other men had Amanda robbed?
Taylor had tried for months to get Will to pursue Amanda for the money, go to the police—report Amanda as a scammer—and he wouldn't do it. He was too embarrassed. Too worried about what it would do to his career. The only thing she'd been able to get Will to do was write a formal Letter of Demand.
'You tell me how it looks if word gets out that William Woods, Financial Adviser, Chartered Accountant with a heap of fancy letters after his name, got scammed out of more than thirty thousand dollars? Hey, Tayls? You tell me how that looks? I'd be laughed out of Perth.'
Her brother had always been a happy kind of guy, the type of guy people knew they could count on. He was the guy who stopped to help someone change a flat tyre, the man who gave up his seat for the old lady on the bus.
Not anymore. All this year, Will had been broken.
At the heart of it, there was a big part of Will that wanted to give Amanda the benefit of the doubt. There was a bigger part of him that remembered how happy he'd been, and wanted to be happy again.
That was why Taylor stopped pressing him. That was why enlisting Abel Honeychurch's help was Plan B.
Read more about Lily, her books, where to find her on social media and where to buy
The Cafe by the Bridge
Lily Malone – Australian Author
Contemporary. Country. Australian.
Take a look at the pre-release blog post 6 Questions, 2 Authors. New Releases – Do Authors Get Nervous?
Stay up-to-date on the latest Australian fiction releases and news