The Bushranger's Wife – New Release by Cheryl Adnams
Published:
August 12, 2019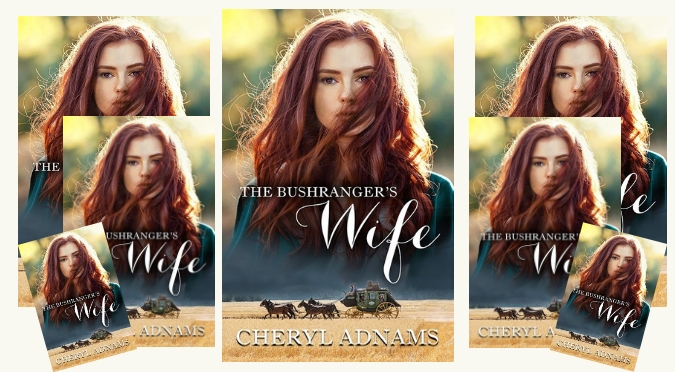 Following swiftly on from Cheryl Adnams' historical novel The Girl From Eureka
comes brand new release
The Bushranger's Wife
We've got an excerpt for you, plus – we asked Cheryl
the 5 Big Questions about writing this novel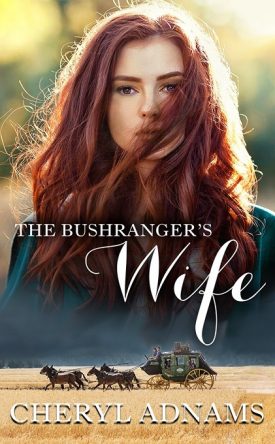 How do you tame a wild colonial boy? With an even wilder colonial girl.
Central Highlands of Victoria 1861
Jack the Devil's reputation precedes him. The most notorious bushranger on the Central Highlands, nothing throws him off his game – until he holds up Prudence Stanforth and her grandmother. Jack can't help but be captivated by the feisty Pru and her lack of fear in the face of danger.
Weeks later, Pru crosses paths with the respectable businessman Jack Fairweather, and it's not long before she recognises him as the bushranger who stole her favourite necklace. His price for the locket's return is a kiss – a kiss that ignites sparks in them both.
When Pru discovers her grandmother has been keeping a devastating secret, running away with Jack the Devil is the perfect escape for her broken heart. The dangerous nature of his less than salubrious occupation is a poetic contradiction to her sheltered upbringing, and only fuels their passion.
But as life becomes more complicated, will the return of dark elements from Jack's past ruin their chance at happiness?
Excerpt from The Bushranger's Wife by Cheryl Adnams
As the carriage came closer, her heart began to pound in her chest, the pulse of it in her head matching the hoof beats of the team of horses. Crossing glances with Jack as he pulled the kerchief into place across his nose and mouth, there was a powerful tug in her lower belly. The thrill she felt was mirrored back at her in his gold eyes. Thrill mixed with something else, something more primal. She held there, fixed in his gaze for a second and then it was all movement. With Jack in the lead, they rode their horses into the path of an oncoming carriage.
'Stand and deliver!'
A shiver ran down her spine at the deep and authoritative command in Jack's voice, as he pointed his gun at the coach driver. She knew she shouldn't be so fascinated with this display of thievery, but she couldn't help it. Wide-eyed she watched the three men bail up the carriage and its occupants with the expert precision and timing of men who had worked together for years.
They went for the obvious prizes, the gentleman's billfold, the earrings and necklace the lady wore. Jack was the picture of politeness and his suave, devilish conversation took her back to the day he'd robbed her and her grandmother, to the day she'd first met Jack the Devil. What she had begun to recognise as arousal ran through her at his smooth voice, and her belly lurched again when he turned and winked at her. She licked her lips beneath the linen napkin she wore across her mouth.
Looking away to save her sanity, she noticed Garrett was almost done with the trunk but had very little to show for it. He'd claimed a few baubles, but one look at the finery the lady seated in the carriage wore, and Pru knew she had more expensive adornments than what Garrett had found in that velvet jewellery case.
Realisation struck. They didn't know. They weren't aware of the secret places women hid their most valued possessions.
Almost bouncing with excitement, Prudence cleared her throat loudly. Garrett turned to glare at her, getting set to close the trunk.
'Got a furball there, kitty cat?' he shot at her.
She shook her head vigorously. She knew she couldn't speak out loud. A woman's voice would not easily be forgotten by those who were being held up.
Garrett glowered. 'What's your problem?'
She pointed at her shoes, trying to make him understand.
'Jack, I think … er … our guest robber,' Garrett didn't know what else to call her it seemed, 'has a question. Maybe you can figure out what, er … he wants.'
Impatiently, Jack turned to look at her. 'What is it?'
She waved him over.
Rolling his eyes, he went to her. 'What? Can't you see we're a little busy here?'
She leaned down from her seat on the horse to whisper in his ear. 'Look in the lady's shoes.'
He frowned at her like she'd gone mad, but she nodded fervently.
'Open that trunk again,' he called out to Garrett.
'What in blazes for?' Garrett argued. 'We looked in that trunk. There's nothin' there!'
'Just do it,' Jack insisted.
Swearing and grumbling, Gareth opened the trunk. Jack walked across and digging through the trunk, he pulled out one of the fancy satin slippers. Pushing his fingers into the shoe, he froze before glancing across to where she was grinning like a cat that got the cream beneath her lace-edged mask. She could see it in his eyes that his grin matched hers when he pulled out his hand, opening it to show diamond earrings, a ruby necklace and a choker of pearls with one of the largest sapphires she had ever seen.
'Sweet Mary and Joseph,' Bobby said, his eyes as wide as saucers as he stared at the gems in Jack's hands.
'How dare you?' the gentleman in the carriage was leaning out now. 'Put those back. Haven't you taken enough?'
'You are correct, sir, we have taken enough of your time and your goods,' Jack agreed. 'Be on your way and have a safe journey.'
'Safe journey!? Safe journey!'
The man was still blustering as the coach driver pulled away but Bobby and Garrett were laughing and whooping as they examined their loot.
Jack walked back to where Pru sat on her horse. She'd behaved. She hadn't moved from where he'd told her to stay. But she had contributed to the haul and felt a heady sort of power in it.
'My, my,' Jack said, removing his kerchief now that the coach was at a far enough distance. 'Quite the clever little bushranger aren't you, Miss Prudence.'
She couldn't help the smug smile when she removed her own mask.
'That was incredible!' she laughed, throwing her arms in the air before she threw herself from her horse and into Jack's arms. He caught her easily and held her for a moment, cradled against his body. The look in his eye told her he was about to kiss her before he seemed to remember Bobby and Garrett, who were now watching with interest and he let her feet fall to the ground.
'How'd you know to look in the shoes?' Garrett asked, eyes narrowed.
Her smug smile returned as she addressed them. 'My dear gentlemen, women have been hiding their most precious items in their shoes for years. Travelling by boat, there were plenty of opportunists who liked to help themselves to what was easily available in cabins and trunks. But no man would ever think to look at a lady's shoes.'
When she glanced back at Jack, his expression held amusement and pride.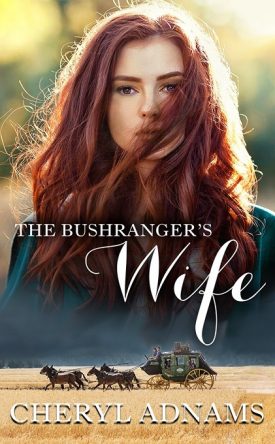 Buy The Bushranger's Wife
Cheryl Adnams
Australian author of four rural romances and now also historical fiction with The Girl from Eureka and The Bushranger's Wife
Read more about Cheryl, her books, and discover where to find her on social media
The 5 Big Questions
How long did it take you to write the The Bushranger's Wife?
It took about a year to write which is about average for me. I began writing it at the same time I was working on "The Girl from Eureka". Jack the Devil is a side character in my first Australian historical romance and he started yelling for his own story before I'd even finished writing "The Girl from Eureka".
What was the most difficult or complex aspect of writing your book?
This book was a little easier than "The Girl from Eureka" because I'd already done the research in to the era and the area. It was also easier because I didn't base it around real events this time. The most complex aspect was putting it aside to finish "The Girl from Eureka".
What gave you the most pleasure when writing your book?
"The Bushranger's Wife" is a lot more character driven and it was fun seeing where Jack and Pru would go next in their emotional journey. It's not your usual romance where the characters find each other and love at the end. Pru and Jack find each other early but just because they marry quickly, doesn't mean their relationship is a smooth one and they have to try and navigate their rather unconventional lives together.
Are you nervous when a new release comes out? 
I'm always a little nervous. But I've learned after seven books that you can never predict how well a book is going to be accepted by readers. There will be readers who love it and readers who don't. That's just life in general. If everyone liked all the same things, books or otherwise, it would be a boring world.
What's the best thing a reader could do if they enjoyed your book?
If you enjoy the book, please leave a review on the platform you bought it from or even just a star rating. It makes a huge difference to authors. And maybe buy another of my books! Thanks as always to those of you who have supported me and my work over the years. Xxx
Subscribe by email to receive our occasional blog posts 
and never miss a new book release!
Stay up-to-date on the latest Australian fiction releases and news