The Boundary Fence – New Release from Alissa Callen
Published:
January 20, 2020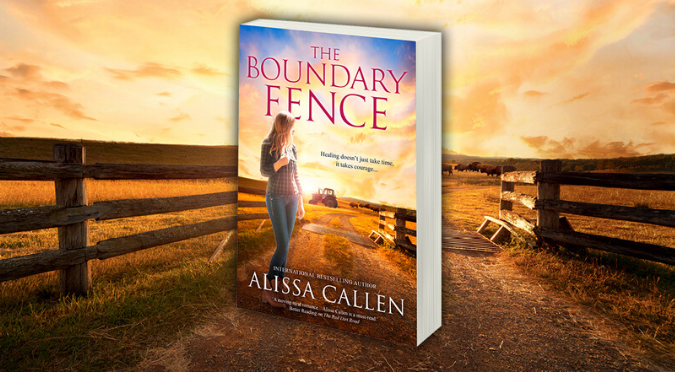 The Boundary Fence
A warm-hearted and touching story about recovering after trauma, love and community and a new Woodlea rural romance by bestselling Australian author Alissa Callen
We've got an excerpt for you, plus Alissa answers The 5 Big Questions
There's also a chance to grab one of five digital eBook copies of The Boundary Fence for free for Apple iBook readers.
See below.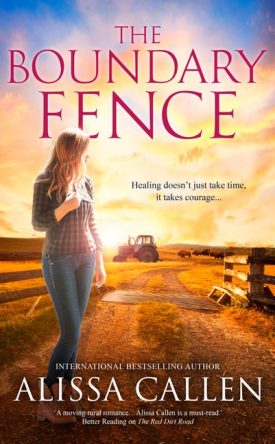 Healing doesn't just take time, it takes courage…
The scars country vet Ella Quinlivan hides are not solely on the outside. Men are off-limits. She fills her world with her friends, work and the colourful community of small town Woodlea. She also becomes custodian of a sandstone cottage of an elderly friend whose teenage daughter went missing two decades ago.
With a broken marriage behind him, Saul Armstrong is determined to recapture his dreams by bringing American bison to the Australian bush. He intends to stick to his side of the high wire fence that divides his farm from his distracting new neighbour, Ella.
When Saul calls out Ella for a bison emergency she isn't just thrown out of her comfort zone by dealing with an unfamiliar animal. Slow-smiling and guarded Saul stirs emotions she'd long ago discarded.
When the summer heat parches the landscape and dust obscures the sun, hidden secrets come to light. Not only will Ella and Saul be tested, the connection forged between them will be threatened. Will love be enough to guarantee their freedom or will fear continue to dictate the direction their lives will take?
Excerpt from The Boundary Fence by Alissa Callen
Being a rural vet didn't get any more glamorous than this.
Ella Quinlivan carefully felt inside the Hereford cow sitting on the ground in front of her. When she'd confirmed the cow was not carrying a calf, she sat back on her heels and removed the orange plastic glove that covered her arm from her fingertips to her shoulder.
She cast a quick glance at the young farmer who was fresh home from his first year of agricultural college. It didn't matter where her hand had just been, or that she was covered in dirt and her face would be flushed from the summer heat, the lanky redhead's broad grin hadn't waned. Neither had his attention on the front of her shirt.
She slowly came to her feet. It was going to be one of those afternoons. 'You said Polly's been drooling?'
'She has.' The answer came from Sophie, the farmer's teenage sister, who appeared at her brother's side. A battered, oversized cream hat covered her auburn braid. 'Is it pesti?'
'It could be.' Ella assessed the water trough beside which the Hereford had positioned herself before she became too weak to stand. Pesti virus could be spread via water or animal fluids but she couldn't see any other cattle in either the cow's paddock or the adjacent one.
Sophie too scanned the paddocks that contained the sparse stubble of a past winter oats crop. 'There were some other cattle but Dad sent them to the fat sales last week.'
The young farmer said nothing as he let his younger sister do the talking. When Ella looked at him, he gave her a wink. She pushed the brim of her navy Woodlea vet cap higher and gave him her best I-am-way-too-old-for-you stare before focusing on the prone Hereford.
From previous visits Ella knew Polly had been a poddy calf and was now a much-loved family pet. She also knew the farm traded cattle so chances were there had been a pesti virus carrier in the herd that had been sold.
She bent down to press her stethoscope against Polly's russet side. This farm wasn't the only one lightening their stocking rate after the dry winter and spring. Despite the lack of rain the Hereford was in good condition.
She straightened. 'I'll send some blood off to confirm it's pesti and give Polly a shot.'
'Thanks.' Sophie's solemn expression dissolved into a relieved smile. She went to collect a green tub from off the nearby farm ute. When she returned she frowned across to where her brother still stood watching Ella. 'Oi, Joe, I need some help here.'
Ella masked a smile at Sophie's exasperated eye roll. The teenager reminded her of herself when she was young. Sophie took the health of her animals very seriously and had already asked Ella about what high school subjects she needed to study in order to become a vet.
Joe speared his sister with an impatient glance before sauntering off to help her fill the bucket from the trough. When he'd placed the bucket in reach of Polly, he strode back to Ella as she finished drawing a sample of blood.
She swiped at a fly. The action caused her honey-blonde ponytail to slide over her shoulder. The young farmer's grin broadened as he hooked his thumbs into his belt. She made a mental note to talk to Taylor at the hair salon about donating her hair to be made into another wig for cancer sufferers. Blondes, even natural ones, didn't always have more fun.
Sophie settled a second bucket filled with hay in front of Polly. The teenager stroked the Hereford's curly white forehead. 'We can set up a tarp to give her some shade.'
Ella nodded. 'Great idea. Joe, I'm sure you could weld up a quick frame?'
'Yeah—'
'Wonderful.' She walked towards the veterinary hospital ute before he could add anything else, like ask her what she was doing tonight. It was Friday and even before sunset the Royal Arms would be full of laughter and locals.
A fatigue that stemmed from more than the heat dragged at her feet. She no longer had the energy to deal with masculine attention. She might have been genetically blessed but having a pretty face hadn't been an asset when her brother died, her parents divorced or her father started a new family. She was so much more than how she looked.
She stopped herself from favouring her right leg. Ticking the so-called attractive box also hadn't stopped her world from caving in on that icy English lane.
She disposed of the used glove in the small bin on the back of the ute and the needles in the yellow sharps container. When footsteps approached, she took a second before facing Sophie and Joe.
'I'll give you a call,' she said, careful to not hold Joe's gaze for too long, 'as soon as I hear anything.'
Joe went to speak but then grunted as his sister's elbow jammed into his side.
'Thank you,' Sophie said, smile sweet. 'Don't worry about closing the gate. Joe can finally make himself useful.'
Ella gave the siblings a wave before driving away. In her rear-view mirror she saw Sophie turn to her older brother and waggle a finger at him. This time Ella didn't have to hide her smile. It was common knowledge that she wasn't interested in any kind of relationship. Even Edna Galloway, the notorious local matchmaker, left her alone. Sophie would make sure Joe received the same message loud and clear.
Buy The Boundary Fence
A warm-hearted and touching story about recovering after trauma, love and community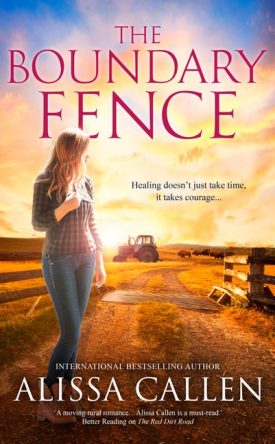 Buy from HarperCollins
Alissa Callen
USA Today and International Bestselling Author
Rural and Small Town Fiction
Dusty roads. Secrets. Romance.
Read more about Alissa and her books and discover where to find her on social media
Alissa Callen answers The 5 Big Questions
How long did it take you to write the book?
Even though it often felt like I'd never finish The Boundary Fence, I completed it in about four months. I edit as I go and this means it can take longer to reach The End.
What was the most difficult or complex aspect of writing your book?
For this story the part that I really had to get right was finding someone who would be a fitting match for Ella who has appeared in the previous Woodlea books. Thankfully Saul turned out to be the perfect man to bring Ella peace. In return, Ella is the only one who can help Saul deal with his demons as well as his bison.
What gave you the most pleasure when writing your book?
I loved revisiting my small town of windmills and yarn bombing but at the same time returning to such a world was bittersweet as this will be the last book in the Woodlea series.
Are you nervous when a new release comes out?
Always. No matter how many books an author might publish I don't think the creative worry about a story not quite hitting the mark ever goes away.
What's the best thing a reader could do if they enjoyed your book?
To please leave feedback as it is word of mouth that will encourage others to perhaps try a new author, series or even genre.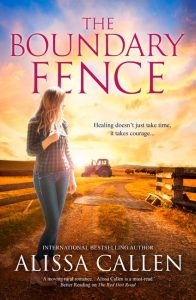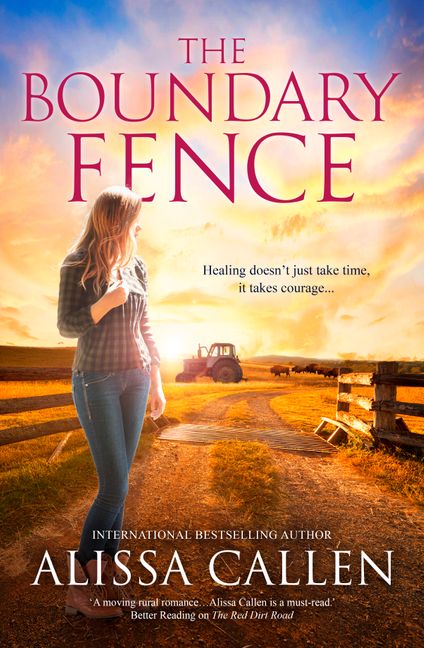 Woodlea Small Town Series by Alissa Callen
Each book can be read as a stand-alone story
Book 1: The Long Paddock
Book 2: Under Christmas Stars (novella)
Book 3: The Red Dirt Road
Book 4: The Purple Hills (novella)
Book 5: The Round Yard
Book 6: The Silver Creek (novella)
Book 7: The Boundary Fence
Giveaway
For your chance to win one of five copies of The Boundary Fence as an Apple iBook digital eBook just leave a comment for Alissa and you're in the draw.
Giveaway will end at midnight AEST Friday 24 January 2020 and winners will be notified by email.
Please note codes for the Apple iBook digital download of The Boundary Fence will not be transferable to any other device.
Subscribe by email to receive our occasional blog posts 
– and never miss a new book release!
Stay up-to-date on the latest Australian fiction releases and news