The Bond – new release by Kaye Dobbie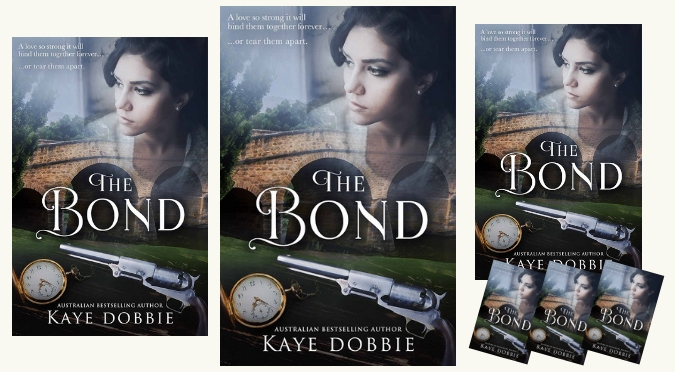 A love so strong it will bind them together forever…or tear them apart
Out now and available in eBook and paperback
Read an excerpt below!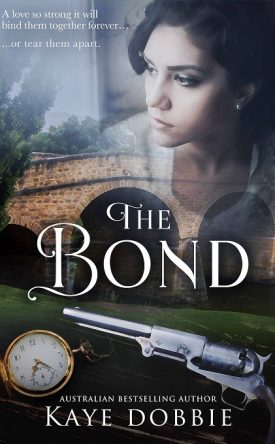 1835. It begins with a wish made on Midsummer's Eve, Richmond Bridge, Van Diemen's Land.
Orphaned Rachel, daughter of a bushranger, doesn't know that the man she falls in love with isn't the hero she believes him to be. After they marry, their happiness is torn asunder when Will's terrible secret is revealed.
With Will gone, Rachel travels to the Port Phillip District to make a life there. As the years pass, their lives separate and intersect, but always there is the bond. Like an unbreakable thread, it stretches between them, holding the promise of a happiness that seems just out of reach. In her loneliness, Rachel turns to another man, while Will returns to his origins, hunting down criminals and bringing them to justice.
Eventually fate brings them together again. Rachel, once more by Will's side, longs to regain the love she once lost. But Will may never be able to put aside his hurt and forgive her, no matter how much he wants to.
Can they resolve their differences at last? Can the wish Rachel made on that long ago evening finally weave its magic?
Excerpt from The Bond by Kaye Dobbie
This excerpt from The Bond comes later in the book and is one of my favourite scenes. Rachel and Will, once married and very much in love, have been apart for years now. Rachel made mistakes and Will had secrets, and now he has his own life as a trooper on the Goulburn. Rachel has travelled far with their daughter Bella, to find him again, and as she waits in the office she is worried he will reject her.  
Kaye
1843 Police outpost on the Goulburn River, Port Phillip District
Pulling out a chair for Rachel in front of the desk and seating himself behind it, in the position of authority, Quill asked if Rachel would like some water. She refused, contenting herself with sitting in silence. The window behind Quill looked out over the Post, and Rachel watched Yelland knocking on the door of the smallest hut. Quill, observing her, thought that she seemed very nervous, her fingers twisting around themselves. She was young, in her twenties he guessed, and pretty enough, despite the exhaustion which gave her face its white, drawn appearance.
'You're from Melbourne?' Quill asked her.
The hut door still hadn't opened. Rachel was relieved to break the tension. 'No, from Wattle Bank, up on the Murray.'
'Wattle Bank!' he exclaimed. 'You work for the Turners?'
She looked at him, her eyes gazing straight into his. Like an equal, he thought with a start.
'I was a guest of the Turners.' Her mouth lifted a little in a smile, as she read his thoughts accurately.
Through the window behind him, she saw the door open. Rachel went still, her face turning even paler. And then Will filled the doorway. He was wearing an undershirt, rolled up at the sleeves, his braces dangling limp over his white breeches. His hair was untidy, as though he'd been woken from sleep. Yelland was talking. As she watched, Will ran a hand back through his hair, and turned to look in the direction of the office. The hand stopped. His face was a blur, but Rachel could all too easily imagine his shock and dismay.
The viciously tight knot of anxiety within her tightened still further. She was finding it difficult to breathe. Her back was aching and her legs, too, the ankles puffy above her boots. She was exhausted, and she knew it. The journey, slow though it had been, was long and rough, and she'd hardly slept a wink. She couldn't go any further.
Will and Yelland's conversation had come to an end. Will disappeared inside the hut and Rachel's ragged breathing stopped, but then he was back again, pulling on the jacket of his blue uniform. He and Yelland began the walk across the dusty grounds towards the office. Rachel's fingers tight­ened on Bella's cold little hand, tucked reassuringly into hers.
Footsteps sounded outside the door, and then the fitful sunlight was blocked out completely. Stiffly, feeling disembodied, Rachel turned and looked up as Will entered the room in front of Yelland. She saw at once that he was prepared for her. It was in his grey eyes, so cool and watchful, and his closed expression. No welcome there, no forgiveness. The candle of hope and determination, which she had sheltered and kept burning during her journey from Wattle Bank, flickered and died.
Bella slipped out of Rachel's suddenly life­less arms. Ducking around the table, she ran. Will reached out instinctively, stopping her in her tracks when she would have cannoned into him. Heart thudding, Rachel watched. Don't disappoint her, Will, she begged him silently. Please don't disap­point her. Will's hands tightened on the child and he lifted her up, holding her so that their faces were level. Rachel saw the smile curling his mouth, even as her eyes blurred with tears.
'Hello there, darlin',' he said.
Slowly, Will put Bella down. Quill cleared his throat. 'Sergeant Moody, this woman claims to be your wife. What have you got to say?'
Will looked at him, ignoring Rachel. 'She is,' he said.
Quill raised an eyebrow. 'I was under the impres­sion, Sergeant, that you were a single man?'
Will's face didn't change. 'My wife's been livin' at McCrae's Castle. She's been nursemaid to Captain Potter's children while the Captain was building the new home station at Nerinbilly. Now it's fin­ished, the children have gone up there, and . . . and my wife has finished her term of employment.'
Rachel gazed at him in wonder.
Quill frowned. 'Your wife says she was at Wattle Bank.'
Will's eyes gleamed faintly, as if the other man's suspicion amused him. 'She was up at Wattle Bank stayin' with her mother, Mrs Hymbury.'
'Well,' Quill moved restlessly in his chair, 'perhaps you'll fill in the necessary paperwork, Sergeant?'
Will bent his head, assenting, and looked at Rachel. There was puzzlement in the grey eyes, but behind it, cold and dangerous as a glacier, lay anger. He reached out one hand and picked up the heavy bag. 'I'll deal with this now, Mr Quill,' he said. 'Come on, Rachel.'
Buy The Bond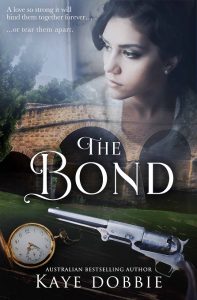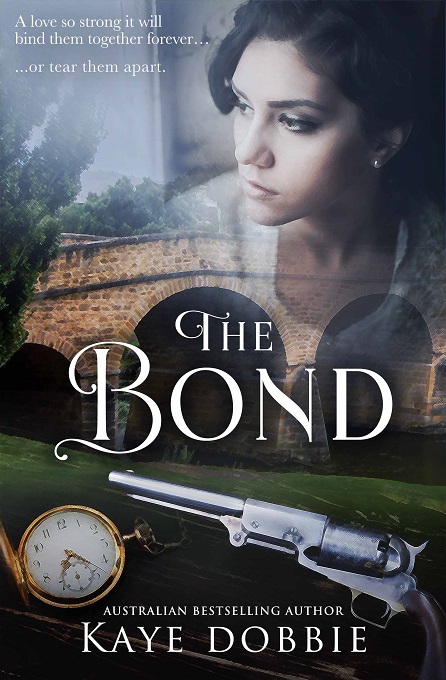 Kaye Dobbie
Multi-Published, RuBY Award Finalist Author
Captivating historical and contemporary family sagas
Read more about Kaye, her books, and where to find her on social media
Subscribe by email to receive our occasional blog posts 
and never miss a new book release!
Stay up-to-date on the latest Australian fiction releases and news