Spilling the News on Writing Goals – 6 Authors, 6 Spills
Published:
February 26, 2019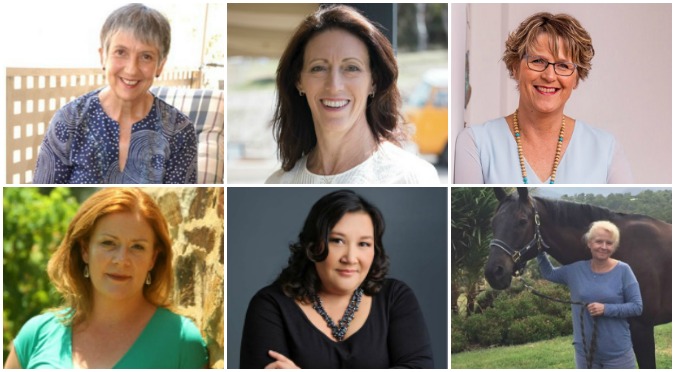 Our third blog post where Australian Fiction Authors spill the news on their writing goals for 2019
Take it away, Meredith Appleyard, Pamela Cook, Tricia Stringer, Cheryl Adnams, Nicole Hurley-Moore and Penelope Janu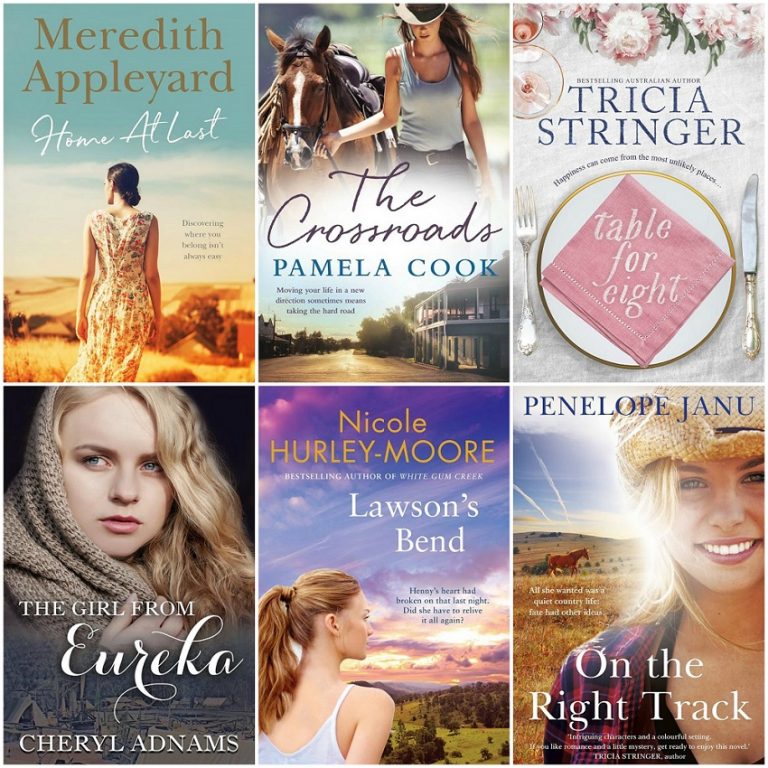 What are your writing goals for 2019?
Meredith Appleyard
Bestselling Author of The Country Practice
Using her experience and fascination of providing health care to rural communities in her stories
Wow! Writing goals for 2019 … I really had to think about this. Formal goal-setting was something from my previous life. Here's what I came up with:
Celebrate and enjoy the publication of Home at Last on 1 April 2019. I'm so looking forward to it. It's been 2 years since No Job for a Girl hit the bookshelves. I have the bubbly, I just haven't put it in the fridge yet!
Finish the book I'm currently working on. I'm almost there, and proud of the way I eventually applied my backside to the office chair after way too much dilly-dallying around. My publisher's expecting it at the end of March and it WILL be ready on time. It'll be out in 2020, exact date yet to be confirmed.
Start the next book. The characters are flitting around in my head, tentatively taking shape. This will be book number 6 and I'm beginning to see a pattern here: when I get to a certain point in the current WIP, usually when I know pretty much know how it's going to end, I just have to write it, the next story and it's characters start sneaking into my consciousness. And I experience that tingle of excitement and anticipation I imagine other authors do when they think about starting the next book.
Schedule time off. And this means writing on all of those other days. Then when I do take time off I'll enjoy it and won't keep thinking that I should be at my desk.  Life goes on regardless.
This has been a useful exercise, so thanks Jennie Jones for asking me to contribute.
Happy 2019 and I hope you realise your goals.  Wish me luck with mine!
Read more about Meredith Appleyard, her books, and where to find her on social media
Pamela Cook
Australian Author
Australian fiction with a country heart featuring feisty women, tangled family relationships and a healthy dose of romance
Flourishing in 2019
Each year I choose a word-of-the-year as a signpost to keep me on track with my goals. This year I've gone with something a little different. Flourish. I started with 'focus' but it seemed too dull and then 'flourish' popped into my head. The dictionary definition is 'to be in one's prime, to be in a vigorous state, to thrive. And this year I plan to do all of the above.
For starters I have a brand new release coming out in the second half of the year. Cross My Heart is a move into the world of Women's Fiction but still with a rural setting. It's the story of Tessa De Santis, a thirty-something professional who has her world turned upside down when she becomes foster mother to the daughter of her childhood friend, Skye. The mystery of Skye's death and the secret the two women shared prompt Tessa's move to an isolated property as she tries to connect with ten-year-old Grace. It's a haunting story of guilt, redemption and friendship set in the beautiful central west of NSW and I can't wait to share it with readers old and new.
I'll also be wearing my hat as Program Director for Storyfest, a brand new story-telling festival taking place in my home-away-from-home, Milton on the south coast of NSW. Storyfest happens in June and is set to be a fabulous addition to the regional lit-fest calendar.
And to top things off I'm continuing with Writes4Women, a bi-monthly podcast on women writers I created with podcast partner Kel Butler. This year we've streamlined the format and have some great conversations planned for both readers and writers.
Of course I'll be reading, riding and doing the family thing.
And flourishing!
Read more about Pamela Cook, her books, and where to find her on social media
Tricia Stringer
Award Winning Bestselling Australian Author
The voice of Australian storytelling. From the city to the country…
January is renewal and planning time for me. If you like to start your day with meditation or exercise imagine January as that period in a year. A time to think, plan renew, set up for the year ahead.
During the first week I clean off the perpetual planner over my desk and write in the major writing dates for the year. Things like submission and editing timelines, event bookings, writers conferences. These I write in green for GO!
In red I write any major happenings that might side track or delay achieving these goals/deadlines. Red is for STOP! It doesn't mean bad but rather I have to factor these events in (like a holiday or a major commitment outside of writing) when I'm planning.
I really love the blue texta because that's where I have a sense of progress. Blue is for EFFORT! I write the word count for each day when I am at the writing stage of a book, so in that period there's a growing word count, dodging the green and the red. It gives me a visual and a realistic timeline to complete the first draft of my book. The exciting part for me is crossing off that word count as I achieve it. You can imagine my planner is very messy by the end of the year which also gives a sense of satisfaction.
So – as I write this I'm editing 'The Model Wife', my next general fiction book. Next week I will be writing my autumn newsletter and then I begin work on this year's manuscript. There will be an interruption to that in April/May when my next rural romance hits the shelves. 'Something in the Wine' is set in Margaret River wine country and will be out in time for Mother's Day. I need to submit my new manuscript by September as there will be the excitement of launching and touring with 'The Model Wife' in October. November and December is editing time again and there's the year gone!
I wish you all a busy and happy 2019 punctuated with many good reads.
Read more about Tricia Stringer, her books, and where to find her on social media
Cheryl Adnams
Australian Author
Author four rural romances and a Christmas novella, moving to historical fiction with the release of The Girl from Eureka
Hard to believe we are already so far into 2019!
With the release of my first Australian historical romance in February with Escape Publishers, and all the marketing and publicity work that goes with a new release, I am now back to writing my third Australian historical. I work full time as a learning designer so it can take me almost a year to complete a first draft of a novel. Squeezing in half an hour of writing before work and then on weekends can be a challenge after a busy week at work. Historical stories especially take me longer due to the amount of research required. For this third trip back in time, I'm stepping away from the 19th century and jump ahead almost a century to World War 2. It's a brothers and sisters story with American heroes and Australian heroines. I can't give too much away at this time, but I can say the story travels from the beaches of Hawaii to the outback of Australia finally ending up in Sydney. In 2018 I visited the Naval Heritage Centre at Garden Island. It's a fantastic museum that holds a collection of fascinating memorabilia of Australia's wartime history. Well worth a visit if you have never been. In April I will be flying to Darwin for another research trip and will be there for ANZAC Day which makes it all the more special. It's my first trip to Darwin so I am super excited.
2019 is already looking like a crazy year for me, but I have some interesting plans taking shape. I hope 2019 might be a year for me to be a little braver and take a few more chances that will hopefully give me some more time to write.
Read more about Cheryl Adnams, her books, and where to find her on social media
Nicole Hurley-Moore
Historical, Fantasy and Contemporary Romance Author
I'm a hopeless romantic who is enchanted by romance no matter the time period or realm
Like many authors I have an ongoing list of projects. Each year the list gets shuffled around as deadlines loom or other new shiny projects appear. Hopefully this year I'll be able to finish off a couple of the stories I'm working on. I'm starting at the top of my 'Write List' and working my way down.
At the moment I'm working on my sixth book for Allen & Unwin. It's a Rural Suspense that is set in a small fictional town in Central Victoria. The first draft has to be completed by the end of May, so I have to get a wriggle on. J
Once that's done, I'd like to finish the historical novel I've been tinkering with for the past couple of years. It's set in the post gold rush in Central Victoria and follows three brothers as they try and find out what family, belonging and love really means. I really like the story and its different themes which include an inter-racial relationship at its core.
If I manage to finish these then I'll turn my attention to what's next on the list – I see you dystopian story and medieval fairytale! Hopefully I'll knuckle down and won't get distracted; have I told you how easily I get distra… ooohh, what's that new pretty idea sitting over there?
Hope you all have a fantastic year reading amazing stories and discovering all our wonderful Aussie authors.
Nicole x
Read more about Nicole Hurley-Moore, her books, and where to find her on social media
Penelope Janu
Australian Prize Winning Author
Adventure and romance … fresh, fun fiction
I've recently submitted my 2019 release to Harlequin Mira, with the working title Up on Horseshoe Hill. The novel is set in northern NSW and features Jemima (Jet), a farrier with a troubled past and a secret, and Finn, a veterinarian and geneticist. Much as I was happy to finish the manuscript, I'm now at the stage where I'm missing the characters—though thinking of them living happily together is probably a good sign. Did I mention Up on Horseshoe Hill is a rural romance? It should be on the shelves in December.
I'll also be writing my 2020 release this year, another rural romance I've been mulling over for a while. I know that once I write the first page, I'll feel compelled to write the next few hundred pages, so I'm determined not to start until I've read many of the books that have been piling up on my bedroom floor. This is a joyful pile of mostly Australian fiction (Marie Kondo is not getting her hands on my books!)
I am also planning on improving my newsletter writing this year. So far I've written a total of two, in over two years, so my strike rate isn't great, but if you'd like to receive a copy of the next one (this year or next year!), the link to my website is https://www.penelopejanu.com/ Which brings me to something I've achieved already in 2019. Updated my website! This might be a small matter for some, but is an enormous achievement for a person who is technologically resistant (and therefore technologically inept).
Finally, I'm taking part in an ARRA book-signing event on Sunday 23 March in Sydney, and would love to see a chapter of readers there! Here is the link to the events (including Melbourne, Brisbane and Perth), where you'll see the line up of authors (including many Australian Fiction Writers!): http://australianromancereaders.com.au/events/arr2019/
Read more about Penelope Janu, her books, and where to find her on social media
Thank you to all the authors participating! 
Subscribe to receive our occasional blog posts by email and …
never miss a new book release!
Catch our first and our second Spill the News blog posts
Stay up-to-date on the latest Australian fiction releases and news