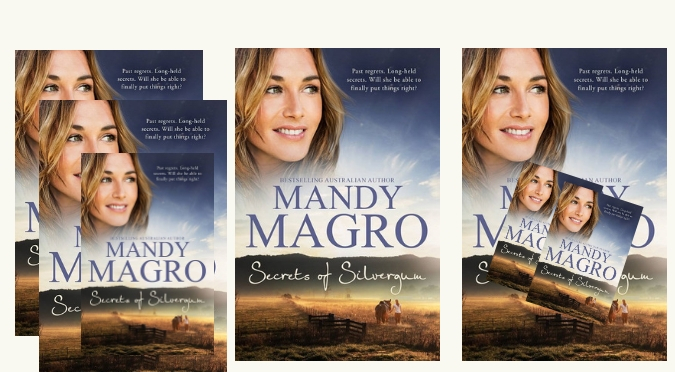 Out now in paperback and eBook
and we've got an excerpt for you!
Secrets of Silvergum by Mandy Magro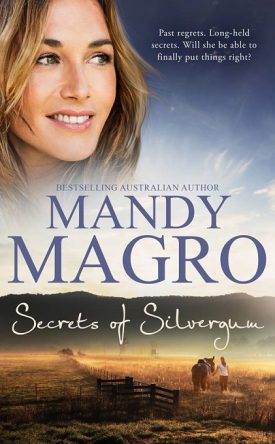 Bestselling Australian author Mandy Magro returns with a compelling rural romance about love and the cost of keeping secrets.
Can dark family secrets ever truly be buried?
 When a horrible twist of fate leaves teenage friends Emma Kensington and Zane Wolfe reeling in the wake of a fatal accident, the two are driven apart for decades.
As a professional bull rider in America for the past sixteen years, Zane has stayed a sensible distance from the one woman he's always loved but could never have – Emma, his childhood friend, and his brother's wife. But a phone call revealing his stepfather's sudden death means keeping half a world between them is no longer an option. Returning to Silvergum, how will he keep his long-held feelings under control?
For Emma, the death of her father-in-law, Peter, is shadowed by the secrets he'd been blackmailing her with. She's finally free to tell the truth to the man she's covertly loved from afar all this time. But Peter's hand stretches beyond the grave, and all too soon Emma discovers she's not the only one who has been keeping secrets. And to make peace with her past, she could very likely lose everything she loves most…
Excerpt from Secrets of Silvergum by Mandy Magro
With Emma Kensington cradled in his arms, Zane Wolfe stared in shock and horror at the blood pooling by his bare feet. He'd been sleeping soundly until he'd heard Emma's screams, and now there was a dead man on the kitchen floor. He just thanked god she'd been able to defend herself – he couldn't stand to think of anything terrible happening to her. Ever.
He looked to where Peter and Michael were huddled, whispering between themselves. What in the hell was going on? 'What are you two doing? We have to call the police,' he growled, as he snatched the phone off the kitchen bench. 'Right now!'
'No, Zane, you don't want to go and do that,' Peter boomed, waving his hands about, trying to stop him from dialling 000.
Incredulously, Zane shook his head. 'Why?' Emma was shaking like a leaf, and he pulled her in tighter, wishing he could ease her anguish.
'Because, if you do …' Peter rubbed his face, huffed, stepped over the crumpled body, and came to rest his hands on Zane's shoulder and Emma's back. 'Emma might find herself on the Mafia's hit list.'
Zane dropped the phone as if it were fiery hot. It crashed to the floor. 'What in the hell are you on about?'
Emma stood back from him and lifted her cheek from his chest, her face ghostly pale. 'I only came out to get a drink of water. I didn't mean to hurt him, it's just, he came for me and I reacted to save myself.' She shuddered and her sobs rose harder.
Michael stepped in beside her, and after flashing Zane a stern look, took his girlfriend into his arms. 'It'll be okay, Em, we just have to do this right or, like Dad said, you might get hurt.' He tucked wayward strands of hair behind her ears. 'I'd never forgive myself if something happened to you, baby.'
Peter nodded as he heaved a sigh. 'Yes, you were undoubtedly defending yourself, Emma, I believe you, but Mario Zaffaro isn't going to give a shit about that. All he'll want is revenge for whoever took his cousin's life.'
'Why the hell would the Mafia want to break into our home?' His instincts telling him it would have something to do with Peter's work, Zane looked down at the tattooed thug. He'd never seen a dead body before, and nausea swirled in his stomach at the gruesome sight.
Strangely unperturbed, Peter followed his gaze. 'I'm building a case against one of Mario's boys at the moment, and I suppose he thought he might find something in the house to discredit me, or … maybe, god forbid, he sent this thug to threaten me, or possibly even to kill me.' He cleared his throat and seemed to ponder this for a few moments. 'Whatever the case, thank goodness Emma stopped him.'
Zane found himself lost for words. Emma, too distraught to take anything more in, huddled against Michael. Zane felt a pang of jealousy that he wasn't the one soothing her, but he swallowed it down. Now wasn't the time for his hidden feelings to come into play. Hands laced behind his head, he paced, and finally found his voice. 'So what do you suggest we do, Peter?'
'I don't want you and Emma to do anything. The less you know now, the better. I'll take care of it. Okay?'
Wide eyed, Zane turned to him. 'How do you intend to do that?'
'Like I said, the less you know, the better.' He gestured to Emma. 'Take her and calm her down, will you? Michael and I will clean up this mess. And then tomorrow, for the sake of Emma's life, and ours, I want us all to get on with our routine like this never happened. You're not to speak of it, to anyone. Ever. Do you understand?' His face was a picture of caution.
Zane was reluctant but because he cared more about Emma than some thug he didn't know, he did as Peter had demanded. If only this were a nightmare they'd all wake up from tomorrow. But it was terrifyingly real, and something told him, as horrifying as it was, there was a hell of a lot more to the story.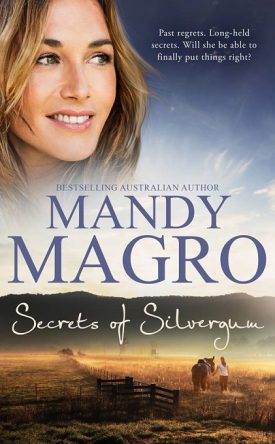 Buy Secrets of Silvergum
Read more about Mandy Magro, her books, and where to find her on social media
Bestselling Australian Author
Using experiences and adventures from outback and country Australia in my stories
Why not follow Australian Fiction Authors on Facebook – and never miss a new book release!