Rebel Daughters – Two Book Bind-up in Paperback with Cheryl Adnams
Published:
January 8, 2020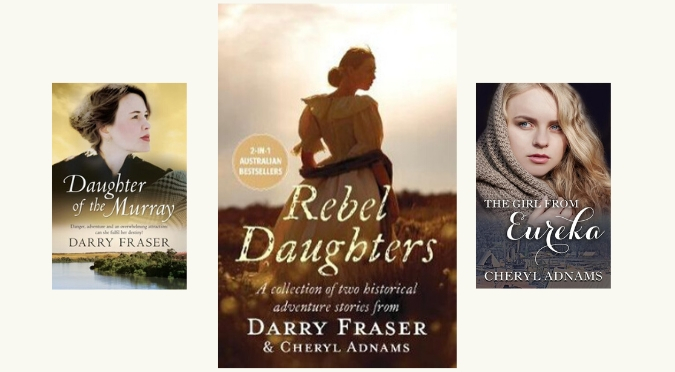 Out 20th January 2020 in paperback
Rebel Daughters
A  two-book bind-up out in print featuring our own Cheryl Adnams with her novel The Girl from Eureka (previously and currently eBook only)
along with another Australian historical novel by Darry Fraser Daughter of the Murray (previously and currently in eBook and paperback)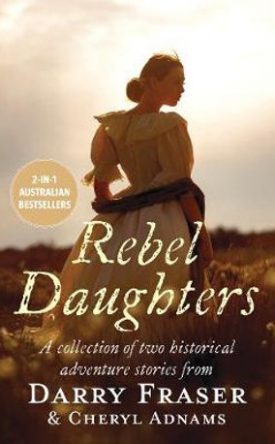 So many readers have longed for Cheryl Adnams' eBook-only novels with Escape Publishing to be available in print and now here is one you can all enjoy!
Two historical novels set in the 1800s in one great buy!
Two stories, one paperback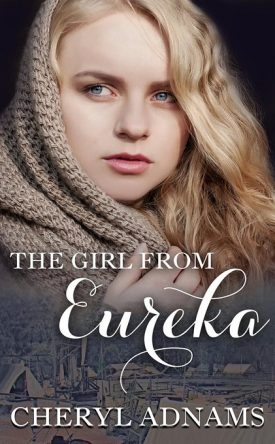 On the sun-drenched goldfields of Eureka, a wild colonial girl and an honour-bound soldier will break all the rules to claim a love worth more than gold …
Ballarat, Australia 1854
Gold miner Indy Wallace wants nothing more than to dig up enough gold to give her mother an easier life. Wild and reckless, and in trouble more often than not, Indy finds herself falling for handsome, chivalrous, British Army Lieutenant Will Marsh. But in the eyes of immigrant miners, soldiers are the enemy.
Will has been posted to Ballarat with a large contingent of Her Majesty's Army to protect the Crown gold and keep the peace. But once he meets rebellious Indy, he doubts he'll ever be at peace again. As Will and Indy's attraction grows, their loyalties are tested when the unrest between miners and the military reaches breaking point.
On opposite sides of the escalating conflict, can their love survive their battle of ideals? And will any of them survive the battle of the Eureka Stockade?
Cheryl Adnams
Australian Author
Author of four rural romances and now also historical fiction with The Girl from Eureka and The Bushranger's Wife
Read more about Cheryl and her books and discover where to find her on social media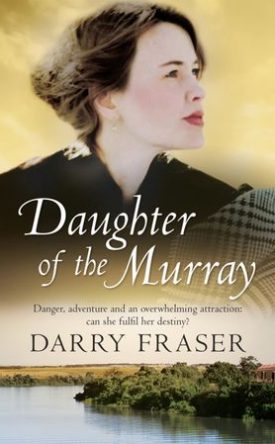 1890s, River Murray, Northern Victoria
Georgina Calthorpe is unhappy living with her indifferent foster family the MacHenry's in their crumbling house on the banks of the River Murray.
Unlike the rest of the family, she isn't looking forward to the return of prodigal son Dane. With good reason. Dane MacHenry is furious when on his return he finds his homestead in grave decline. Unaware that his father has been drinking his way through his inheritance, he blames Georgina and Georgina decides she has no option but to leave. Unfortunately she chooses Dane's horse to flee on, and when Dane learns she has stolen his prized stallion, he gives chase.
From this point their fates become intertwined with that of a businessman with a dark secret, Conor Foley, who offers Georgina apparent security: a marriage with status in the emerging nouveau–riche echelons of Melbourne.  But none of them could imagine the toll the changing political and social landscape would have on homes, hearts and families.
Will Georgina's path lead her into grave danger and unhappiness, or will she survive and fulfil her destiny?
Discover more about Darry Fraser on her website
Buy Rebel Daughters
Two Australian historical novels set in the 1800s in one great buy!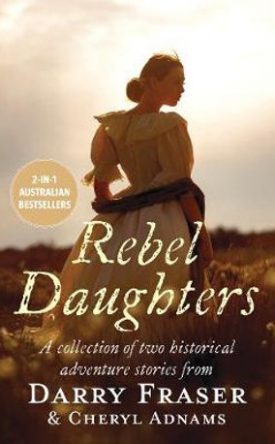 Available in paperback only and can be pre-ordered online and will be in the  bookshops and department stores on 20th January 2020

Both books in this paperback bind-up can be purchased individually as eBooks from your preferred online eRetailer
Daughter of the Murray can also be purchased separately in paperback
Subscribe by email to receive our occasional blog posts 
– and never miss a new book release!
Stay up-to-date on the latest Australian fiction releases and news