Re-release of Cherry Season by Trish Morey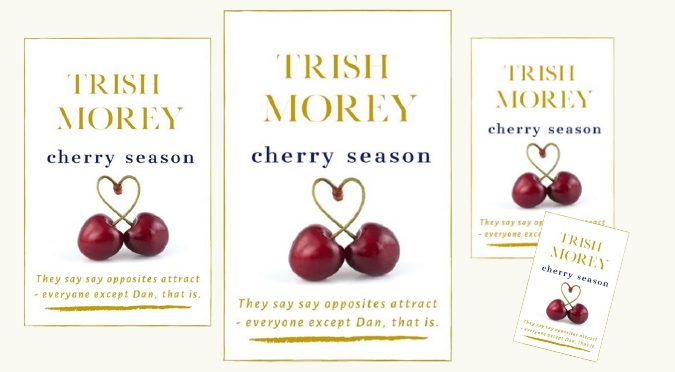 Can two very different people find common ground before it's too late?
Cherry Season
by Trish Morey
Re-Release
Read a few words from the author, plus, we've got an excerpt for you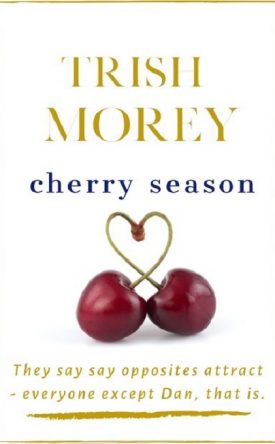 When orchardist, Dan Faraday's sisters buy him a dating subscription for his 37th birthday, Dan is unimpressed. He doesn't need help. He knows exactly the kind of wife he needs – someone sensible and grounded, someone looking to settle, down just like him.
Enter Lucy. Hired as a cherry picker for the season, Lucy is everything Dan's not. A free spirit who lives for the moment, it's not long before Dan and Lucy rub each other up the wrong way, and sparks start flying.
As the season progresses, inconvenient spark turns to unintended sizzle, and Lucy and Dan find themselves increasingly drawn to each other.
But Lucy's not looking for permanent and Dan's not looking for temporary, so as cherry season draws to a close, can these two very different people find common ground before it's too late?
Buy Cherry Season
Please note this is a re-release of Cherry Season first published in 2015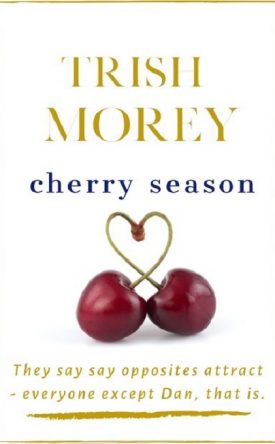 Find other retailer buy links here 
Paperback copies will be available soon!
Contact Trish if you're looking for a paperback copy.
A few words from the author
You can't live in a beautiful part of the world without feeling inspired by it. We moved in the late 90's with our young family to a beautiful town in the Adelaide Hills, a place of hills and valleys, orchards and eucalypts, kangaroos and koalas. It's a place where the seasons rule, a place of winter fogs and rain, of spring cherry blossom petals scattered on the breeze, of summer harvests of apples and pears, raspberries and cherries, and of glorious autumnal colours. Seriously, it's a place that feeds your soul, and it was into this place that Cherry Season was born.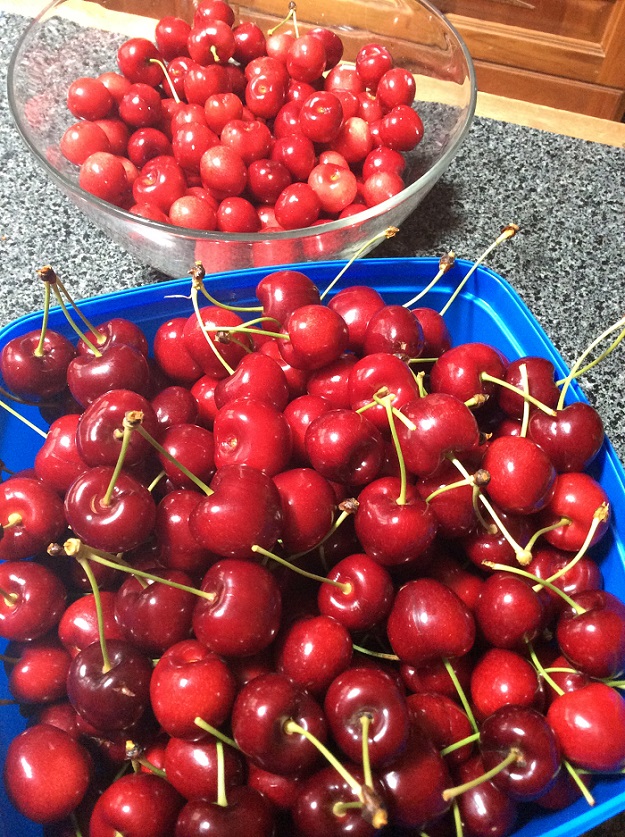 I'm thrilled it's now out there once again, ready for readers to pick up and get a taste of the gorgeous Adelaide Hills. With a bit of romance and fun between a grumpy cherry orchardist and a free spirited picker along the way.
Trish
Excerpt from Cherry Season by Trish Morey
San Antonio, Texas
The tattoo artist on the corner of Geronimo and Vine preferred listening to Meatloaf's 'Bat out of Hell' to conversation, but Lucy didn't mind. She was in no mood for small talk.
Every few seconds he'd pull the buzzing gun from her shoulder and wipe over her skin with a cloth before the needle would find its place again and the buzzing and the pressure would resume. It didn't hurt so much as irritate, but still Lucy bit down on her lip when the press of the needle started to burn.
Finally it was done. He swiped her skin clean and held up a mirror so she could see how it looked in the mirror in front.
She stared at the reflection. Saw the design she'd drawn herself now etched forever into the skin of her shoulder and felt tears spring unbidden from her eyes.
It was perfect.
'Did it hurt?' the tattooist asked, frowning as he handed her the Kleenex.
'Yeah,' she said over the lump in her throat, knowing they were talking about different things. 'It did.'
Adelaide – 2 years later
Dan was filling up the tank when horns started blaring across the road, and straight away he could see why. A truck had pulled over and a line of traffic was caught queued across the intersection behind it. Stupid place to stop, he thought, and went back to watching the numbers spinning around on the bowser until the truck's engines revved and he turned back to see the bearded driver waving to the traffic behind, his beefy arm covered in ink, as the big beast lurched into motion and rolled away, leaving a figure standing there.
A blonde girl in jeans and a singlet top was juggling a pack that looked almost as big as her. She lifted a hand in the direction of the disappearing truck before turning back towards the intersection.
A hitchhiker. Well, that explained a lot.
The bowser clicked off and he pulled out the nozzle before screwing the cap shut, wincing when he saw how much was about to be added to his account. There were all kinds of reasons this cherry season had better be the bumper crop it was shaping up to be. At least a dozen creditors were banking on it. Still, the Spitfire didn't get out of the shed much these days, so he might as well go for broke. He popped her bonnet to check the oil and water. At least the water was free.
* * *
Straight up Magill Road, the truck driver had said, and up into the hills at the end, and Lucy would soon come upon the orchards where she was sure to find work. That was fine, but it was getting on for seven o'clock now so maybe the hunt for work could start tomorrow. Assuming there was somewhere cheap and close at hand where she could find a backpacker's or youth hostel.
She pushed the walk button on the pedestrian crossing. Someone at the gas station on the other side of the road would probably know.
The road was hot beneath her sandals when the signal changed to walk, the late afternoon sun warm on her shoulders, and already it felt different to Melbourne, the air drier. It reminded her of the desert air of California and the summer coastline of Italy, or the air of a sunny village market in Crete.
She liked it. She liked the view too. A few miles still up the road, the Adelaide Hills rose from the plains, a band of sun-browned land dotted with the dull grey-green of gum trees.
She didn't mind the view as she crossed the gas station's forecourt either. There was a cute little red convertible with shiny chrome bumpers with its top down and its hood up, the owner leaning down low over his engine the way guys do so that women might notice them. And then he straightened, pulling out a dipstick to examine it. So okay, maybe this guy had another reason to lean over the engine, but it was hard not to take notice of denim pulled tight over a butt like his did. There was something about long legs, lean hips and well-fitting denim that never got old. Such a shame it was rude to stare. She peeled her eyes away and waited while a car slipped out of a filling bay before her, and then headed towards the shop.
A sign in red on the sliding door read No helmets, No bags, so she let her pack slide to the floor and propped it up just inside the door before heading to the fridge for a soda.
* * *
Dan lowered the bonnet and clipped down each side before wiping his hands and heading in to pay. He glanced back over his shoulder to check the number of the bowser and sighed when he saw Siena's bloody balloon still grinning in the back parcel shelf, and almost tripped over a bag someone had left just inside the door. 'Stupid damned place to leave a bag,' he muttered, before checking out the freezer section for something to have for dinner and finding a likely looking box before he joined the queue. The queue that wasn't moving. Which is when he looked around the people in front of him to see what the hold-up was and realised hitchhiker girl must have crossed the road, because that sure looked like her, three places ahead of him and right at the front of the queue. He nodded to himself. That would explain the bag near the doorway too.
Figured. She had a can of Coke up on the counter and was chatting to the young kid who was serving, as if she had all the time in the world.
And given he was smiling and completely oblivious to the growing queue behind her, she clearly did.
The kid looked smitten. Maybe it was the blonde hair she wore tied up in some kind of messy knot that had ends going every which way, or maybe it was her accent. From what he could hear, she sounded American or Canadian – he always got those two mixed up – but then the attendant wasn't the only one interested.
The guy behind her was chipping in and suddenly there was a three-way conversation going and she turned her head over her shoulder to him and Dan caught a look at her profile closer up and thought – okay, not just blonde then, but blonde and seriously pretty. With those blue eyes and that killer smile, no wonder the attendant was in no hurry to see the back of her. A pity about the stud glinting in the crease of her nose and the ink on her shoulder. The guy in front of him shuffled impatiently as he looked at his watch and Dan got a better look at her shoulder. A bird in flight. Okay, so it wasn't a skull, but that didn't make him like it any more. He turned his attention back to the box of curry and studied the directions. He'd never seen the point of tattoos. Thank God his sisters had never done anything dumb like that.
And he remembered his wifely wish list and added two more things to his list.
No random piercings.
And definitely no tattoos.
Trish Morey
Award Winning, Multi-Published International Bestselling Author
Passionate, emotional, page turning stories
Read more about Trish and her books and discover where to find her on social media
Subscribe by email to receive our occasional blog posts – and never miss a new book release!
POSTSCRIPT
Standing together while keeping our distance
reading throughout the COVID-19 crisis
Many of our wonderful bookshops and online bookstores are changing the way they work simply to keep us reading.
We thank them all for the tremendous support to Australian authors and we will support them right back.
Don't forget! Purchasing a book on pre-order also means you are helping to keep the wheels of small and independent businesses turning.
BOOKTOPIA
have *currently waived all postage costs in Australia – go buy! Then find them on Facebook and give them a Like.
DYMOCKS
stores have online ordering and *individual stores throughout Australia are offering various means of buying and delivering books. Check with your local store. Find your local Dymocks store and then give them a Like on Facebook to keep up to date.
Find a Dymocks Store
https://www.dymocks.com.au/stores
BOOK DEPOSITORY
*Free postage even if the books are coming from overseas – but don't be disappointed if your favourite author's books are not available. It's one of those things – not every author's book is available on Book Depository.
https://www.bookdepository.com/publishers/Australian
INDEPENDENT BOOKSHOPS
There are many in all states and territories. Some are offering *free postage for a certain length of time or free postage with orders over a certain amount. Check with your local independent bookshop. Contact them directly by phone or email or through their websites. Find them on Facebook and give them a Like to keep up to date.
BIGW
Order and *buy online including pre-orders
(*Standard delivery $3.90 – conditions apply)
TARGET
Order and *buy online
(*Free click & collect available, free home delivery on orders over a certain amount. Free delivery available for Club Catch members)
https://www.target.com.au/c/entertainment/books/adult-fiction/W406087
* Please note individual businesses may change their online purchasing conditions at any time. Always check with the individual business.
Stay up-to-date on the latest Australian fiction releases and news