Our Writing Desks – What's on Them?
Published:
October 16, 2019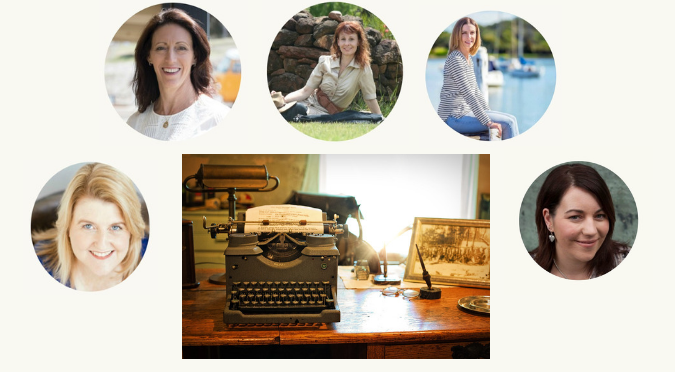 Have you ever wondered where a favourite author might create their novels?
We asked our authors to share an image of what's on their desk and what inspires them or keeps them going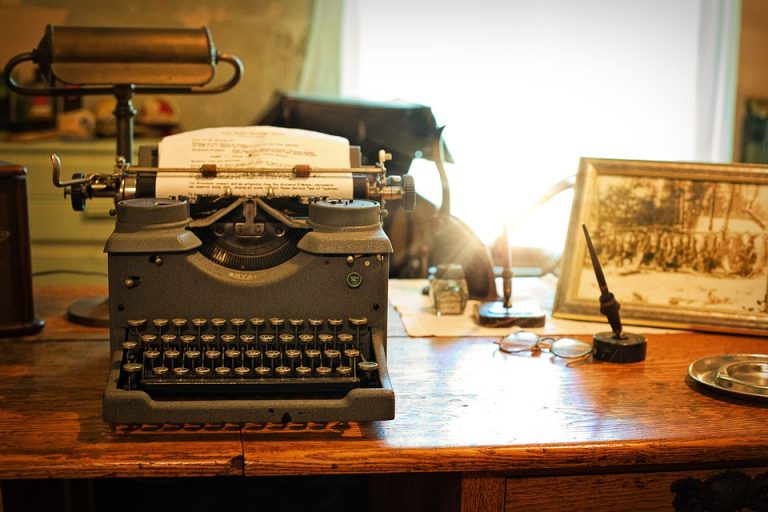 Cathryn Hein
Bestselling Rural Romance and Romantic Adventure Author
Taking your heart on an adventure…
This is what my desk looks like when I'm in the middle of a book – a mess. I don't find it hard to navigate though. Despite the piles of paper, notes and pens, I know where everything is … mostly.
The important items are my diary and monthly planner. Without those I'd struggle to keep track of not only my writing but my life. In them I record my daily word count and completed tasks. It helps with motivation. Blank diary pages are very condemning.
There's also my current book bible. Book bibles are notebooks about the story and a vital part of my creative process. They contain everything from the original premise to plot notes, photographs, draft paragraphs, character outlines, settings, name lists, newspaper clippings, potential blurbs and tag lines, and anything else that might matter to the book.
The sticky-notes patchworking every surface act as handy reminders for the bazillion other things I need to keep on top of. Yeah, they're scrappy but a quick glance and I have the answer I need.
You might also notice a set of headphones. This year I've been experimenting with dictation and found it useful, although I'm still learning how to make it work properly for me.
Last is my collection of fountain pens. I love those things. I find writing with a fountain pen very satisfying. They make even the silliest note seem important.
Read more about Cathryn and her books
Pamela Cook
Australian Author
Writing page-turning women's fiction set in escape-worthy places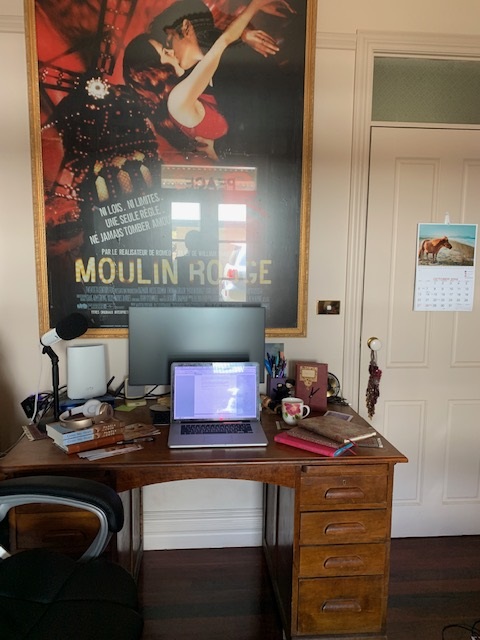 Okay, I'm going to say it up front: my desk is often one huge hot mess! I've never been the tidiest person and when life is running at top speed (which is often) I tend to pile everything on my desk, channel my best Scarlett O'Hara and promise myself to 'think about it tomorrow'. Tomorrow could be the next day, but it's often the next week and in the meantime I work at the dining room table or my recently purchased veranda desk which gives me a great view of the paddocks and horses. When I do finally get around to tidying up I find myself here at my desk, surrounded by so many things I love: the gorgeous Moulin Rouge print my husband bought for me many years ago in Paris, my headphones and mic ready to go for my next Writes4Women podcast recording, my current favourite journal and diary and my gagged Bratz doll, representing that pesky inner critic who likes to tell me my writing is rubbish and who has been with me since I wrapped her in Elastoplast in a long ago writing course.
And of course, my laptop with my current work-in-progress. It happens to be tidy right now, but tomorrow is another day …
Read more about Pamela and her books
Alissa Callen
USA Today and International Bestselling Author
Rural and Small Town Fiction
Dusty roads. Secrets. Romance.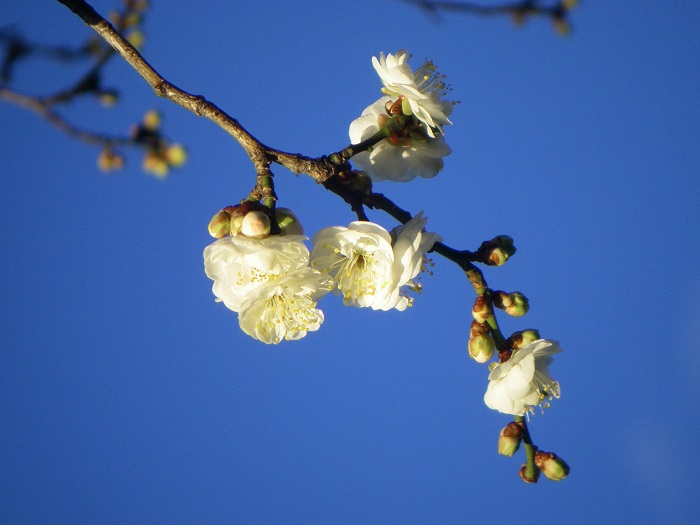 My writing cave is a home office in my farm house. People often ask what my inspiring view is and I wish I could say I overlook something beautiful, but the reality is I stare at a wall as the desk is fixed in place. My writing area is also very generic with a desk top computer, notebook and calendar beside me. Every year it's on my New Year's resolution list to make the area more ascetically appealing.
But while my physical writing environment isn't worth taking a photo of, it's what's beyond my office door that I love and could be called my real writing space. I usually have a mini pony drinking from the dog's water bowl, cockatoos in the tree tops of my country garden and cattle lowing in the paddocks. Many of my stories fall into place in my head before I even sit at the computer and whenever I have a plot tangle, I simply go outside. Luckily I write rural 😊
Picture: Winter blossoming almond tree in my 'garden writing space' that was the inspiration behind The Silver Creek.
Read more about Alissa and her books
Emily Madden
Australian Author
Get swept away by love…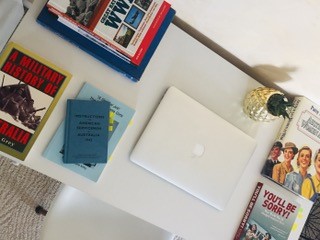 I'd like to say that on my writing desk I have a highly inspirational quote that fires me up every time. My daughter has a plethora of them in her room – the two that are her favourite: "make today so awesome it makes yesterday jealous" and "there's no easy way out, there's no shortcut home." Both are pretty inspirational to her, but not to me.
What inspires me are the elements that make the story that I'm writing and more often than not, it's research books. To me they are as essential, as important as the laptop. As I write my current manuscript, The Buchanan Girls (a World War II book about a girl that joins the Australian Women's Army Service), there are two books that are constantly by my side as I work and they are almost like my talisman. They have passages underlined, pages tabbed, notes scribbled in the margins.
Writing historical dual timelines means you constantly have one foot in the past and these books are my bridge, my key to the by gone era I'm trying to convey on paper. When I'm stuck, they are they answer to my puzzle, when I'm lagging, they keep me going.
Read more about Emily and her books
Rachael Johns
Award Winning International Bestselling Author
Romance and Women's Fiction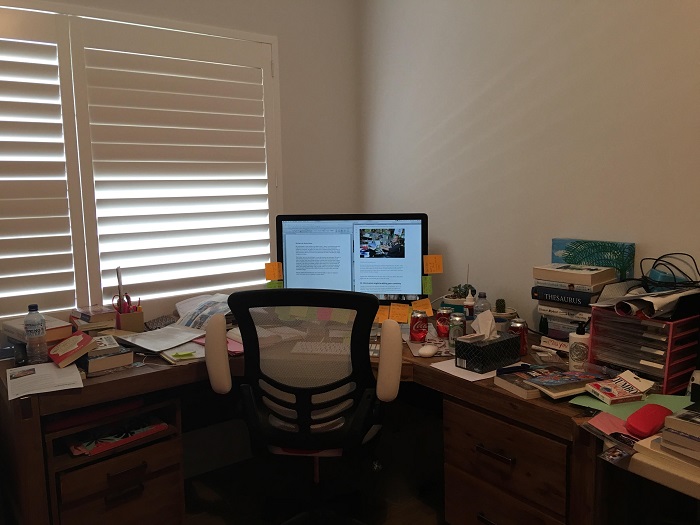 My writing desk is only visible a few times a year – when I'm between books and I take the time to clear it up, leaving only the bare necessities. The bare necessities include my computer, my diary, my pink pens, a notebook, some post-it notes, a couple of cacti I haven't killed yet and of course my special Diet Coke glass. Most times however, there's a lot more on my desk and I'm used to working my magic in degrees of chaos.
The further I get into the writing of a novel, the messier my desk gets. The post-it notes breed around my computer screen with notes about scenes that are to come. The Diet Coke cans multiply because I always seem to write better when I have my faithful poison beside me. Spilled open on my desk will be the working notebook of the book I'm writing, various other books I'm in various stages of reading and the Emotion Thesaurus (which I refer to daily). Scrunched up pieces of paper and random other things will also be found. Case in point, today I can see a pen, a few lids, an empty pack of playing cards, a QBD mini book, and many other weird and wonderful things.
But hey, apparently a messy desk is a sign of creativity. Just ask Einstein, Mark Twain and even Mark Zuckerberg!
Read more about Rachael and her books
We'll be bringing you more authors and more desks next month!
Stay connected with us on Facebook at Australian Fiction Authors
Subscribe by email to receive our occasional blog posts 
– and never miss a new book release!
Stay up-to-date on the latest Australian fiction releases and news