Our Writing Desks – What's on Them?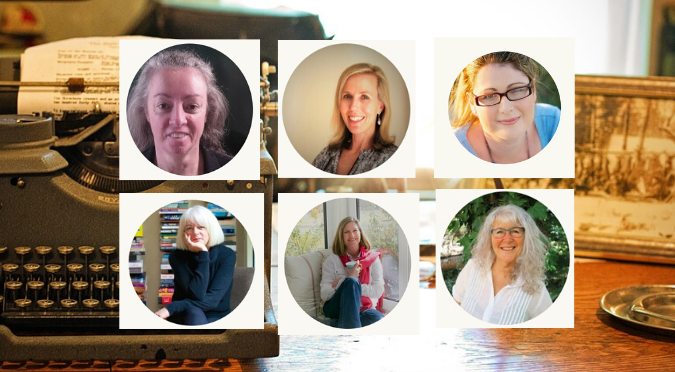 Our fourth and final Writing Desks post!
Have you ever wondered where a favourite author might create their novels?
We asked our authors to share an image of what's on their desk and what inspires them or keeps them going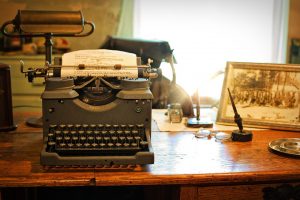 Catherine Evans
Australian Rural, and Country to City Romance Author
Fiction, farming, families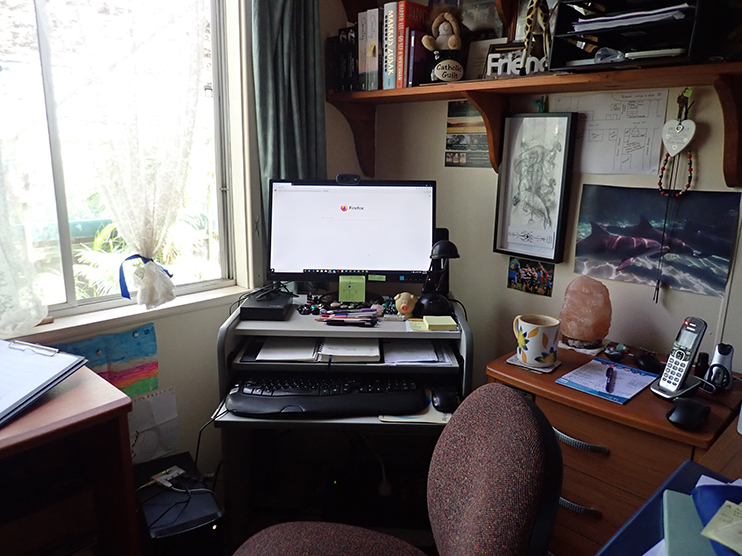 I have a pile of beach rocks and crystals on my desk along with the pens and stress ball (in the shape of a pig). I like fiddling with the rocks (or the pig) as I think. I love the bumps and lumps, the colours. Some days a specific stone will grab my attention, other days I don't touch them at all, but every day I love them.
Recently I did a big clean of my office. My mother-in-law's neighbour was moving and put two beautiful wood bookcases out on the footpath as "free to a good home", she claimed them for me. Getting them wasn't easy. They wouldn't both fit in my ute, so two trips. They didn't easily stand up under our roof (but they fitted when they did stand!). I had to unpack 3 bookcases, stacked with books, and moving everything. What a job!
It was worth it. My office feels more open, neater and cleaner. My books are happy in their gorgeous shelves. The best freebies ever. I never imagined cleaning could make me so happy <big grin>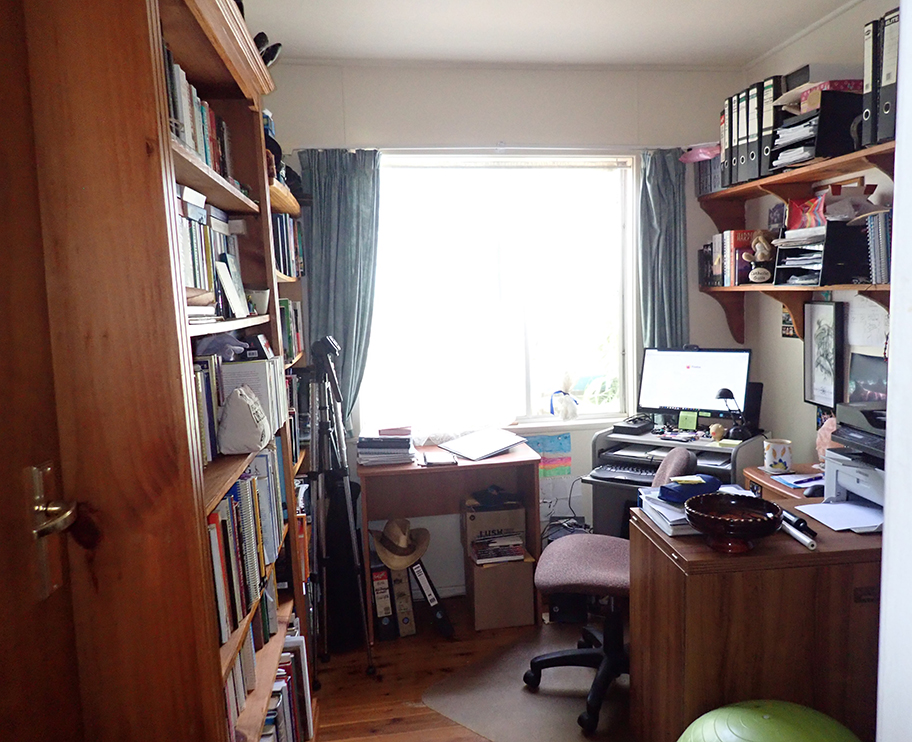 Read more about Catherine and her books
Cassie Hamer
Australian Author of Women's Contemporary Fiction
Stories that take you behind the white picket fence…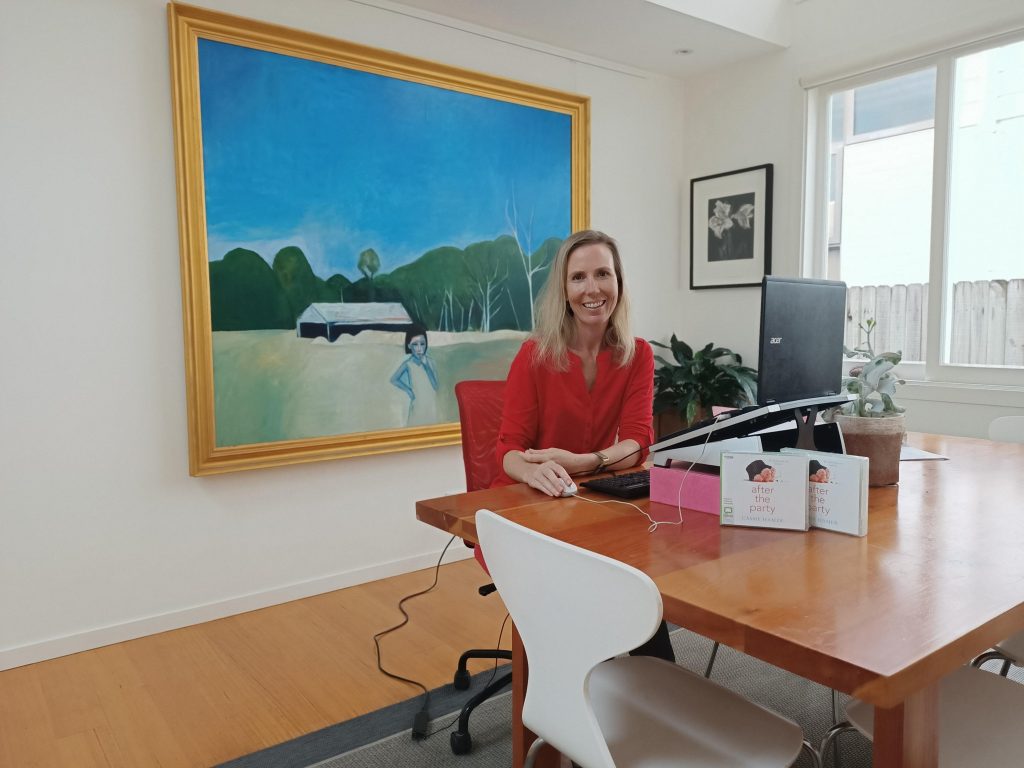 This, friends, is where the magic happens. Every morning I open the window, and the muse flutters inside, lands gently on my shoulder and begins to whisper sweet nothings into my ear that channel gracefully through my fingers and onto the page. Two minutes later, there is a novel.
IN. MY. DREAMS!
Friends, this is not how it begins. How my writing day begins is with me, lugging my computer out of the cupboard from where it's been hidden for the evening. Then, I roll out the special red office chair from where it normally resides in my daughter's bedroom. Yes, I build my writer's office from scratch every morning, because it's not an office at all – it's my dining room, a room I share with one husband and three daughters who do not appreciate eating their dinner with a bulky laptop staring back at them.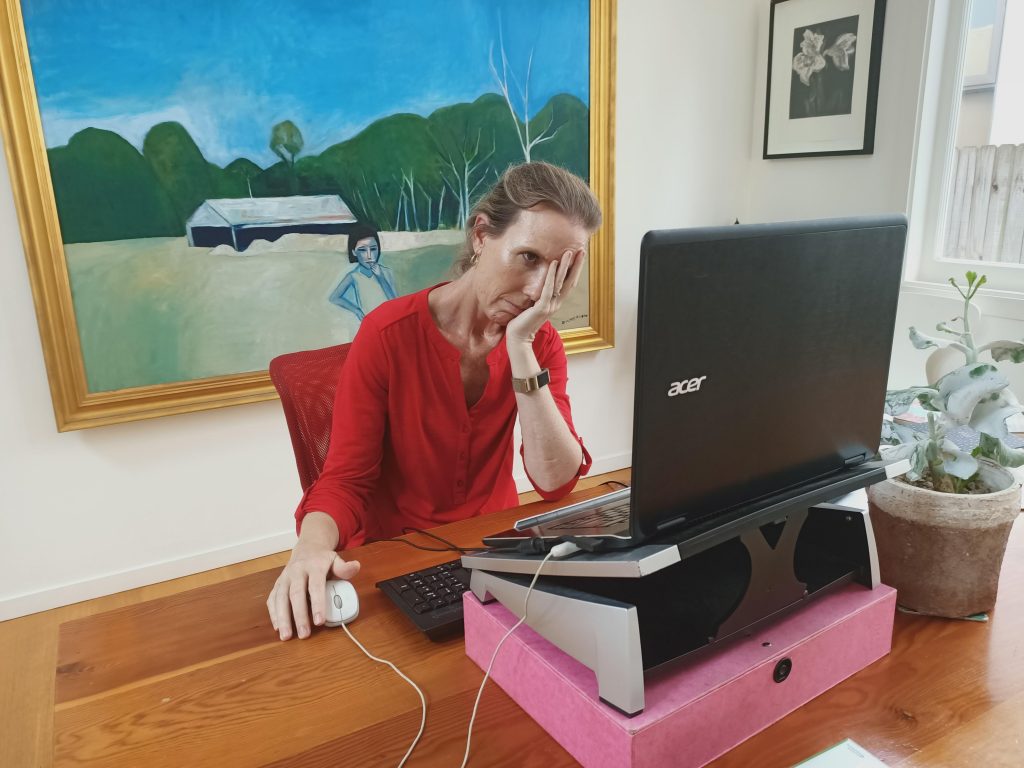 Look, I can't really complain. As far as rooms go, it's a pretty nice one – clean, open and airy. If I really wanted a permanent office I could write in our garage, but it's hot, smelly and has no windows.
Dining room it is!
There is some nice art on walls, which is pleasant, but mostly you'll find me simply staring at the blinking cursor – and wondering what the hell to write next. When it's going well, the story plays like a film, and I'm simply describing what I see and hear. When it's going badly (which is does, often) it's like pulling blood from a stone.
There's no magic in writing a book. Okay, well, you do need a bit of inspiration, but only a bit. Mostly, it's just hard work. But work I love.
Read more about Cassie and her books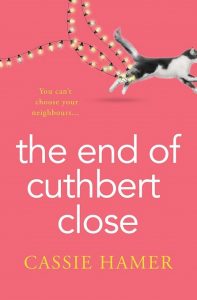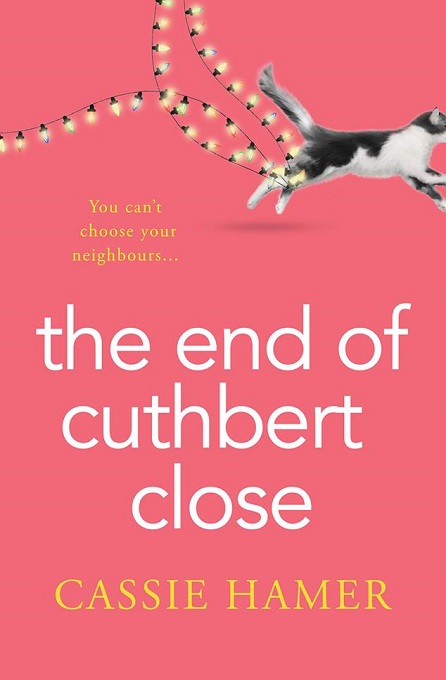 Cassie's new release The End of Cuthbert Close is out 23 March and is up for pre-order now.
Kylie Kaden
Internationally Published Australian Author
Suspense, drama, romance, and now domestic noir
Desktops are pretty standard beasts. Random papers. Mouse. Monitor. Mess. So, instead, I thought I'd share what's beneath mine.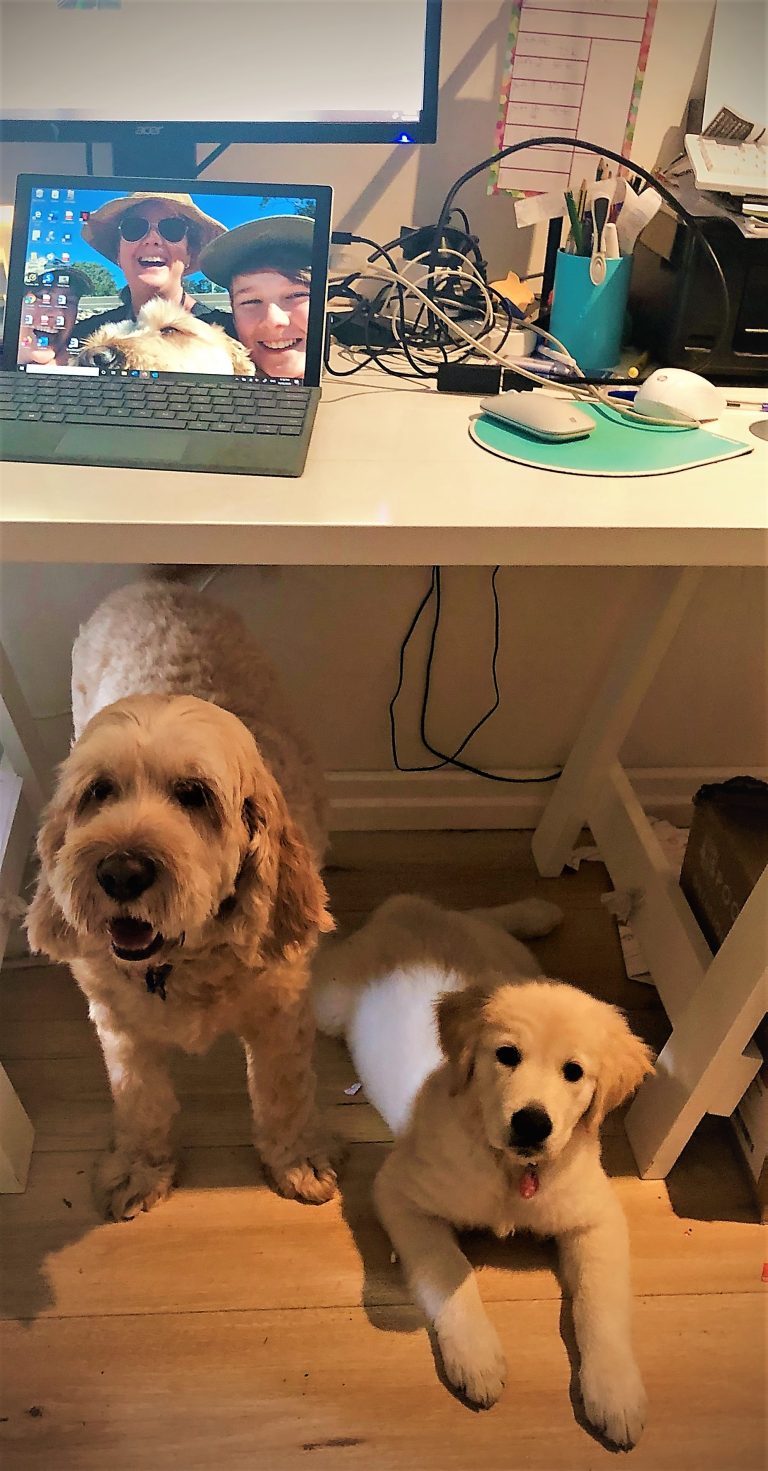 Meet my writing interns – Rusty and Molly. Partners in crime, and the most competent writing distractors ever created. They're a duo of trouble, chewing cords, looking adorable, and generally diverting my attention away from my muse and towards my feet.
Molly's three-months-old and high maintenance, as interns go – asking for a toilet-break every twenty minutes, falling asleep on the job and demanding treats every time she wees. On the plus side, she often curls her fury paws around the wheels of my chair, forcing me to stay put, bum on seat, until she wakes. Rusty has taken on a mentoring role – keeping her in line by offering a deep growl if her needle-like teeth scrape too close to his ears.
Other features of my writing desk include –
Photo of children to jog memory to pick them up at bell time.
Weekly word goal sheet (aiming for about 5k's a week, so very doable) reminding me exactly how far I am behind deadline.
Printer that rarely works but costs a fortune in ink.
Cords that come alive at night like Toy Story characters and tangle themselves into spaghetti nests to torment me the next day.
This is ground-zero for where the words pour out and the story takes shape.
But the real thought, the real creativity takes place well before, in the melting pot that is life.
Read more about Kylie and her books
Tea Cooper
Australian Bestselling, Award Winning Author
Historical fiction – from the ocean to the outback
My desk … is a bit of a moveable feast. I tend to work in all sorts of strange places, inside and out!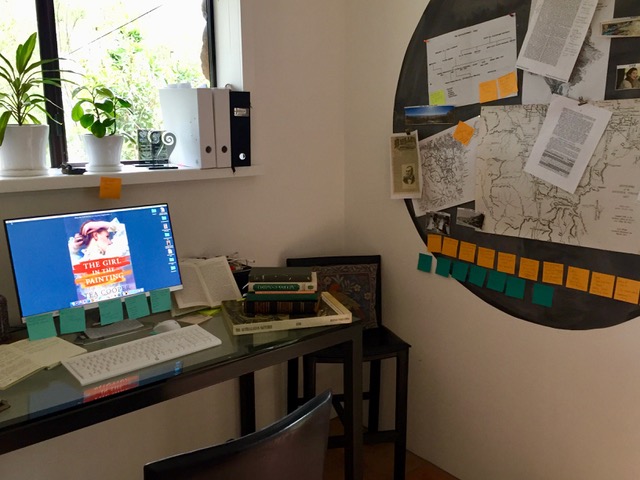 Officially this is my study, the tidiest corner … and my plotting wall. The big black circle is a chalkboard and the drawing pins go straight into the wall! The actual desk is the dining room table my daughter had in a teeny tiny flat in New York. It makes a great sitting or standing desk and has room for a pile of research books …. Which brings me to another of my writing spots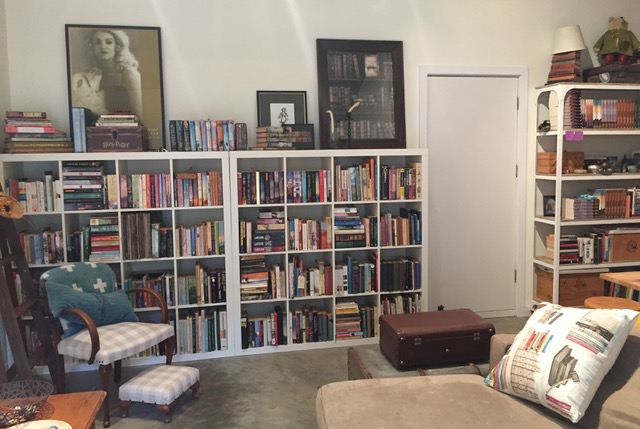 This is my 'library' … truthfully the garage but I decided that my books were more important than my car so it was lined and reclassified and the garage doors replaced with French doors. It's a sort of engine room … where the research gets done and books are left lying until the story is finished and hits the shelves.
And then there's the outside table over-looking the creek and my neighbours cow paddock, or there's a particularly nice rock I like up in the bush, more a sunny winter's day spot than a summer spot or the dining room table, usually when plot knots strike and myriad post-it notes are required and of course on the sofa in front of the log fire with a glass of red wine—again a winter spot.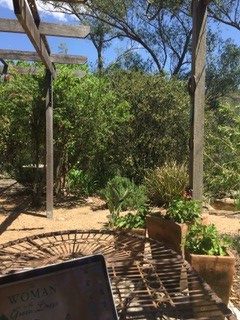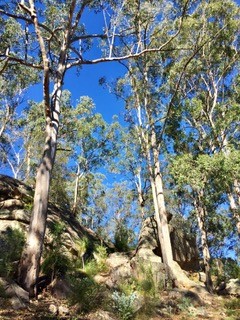 And there you have it! Just jangle the bell when you arrive and I'll come and find you!
Read more about Tea and her books
Helene Young
Multi Award-Winning Australian Author
Writer, pilot, sailor and photographer weaving my experiences into my stories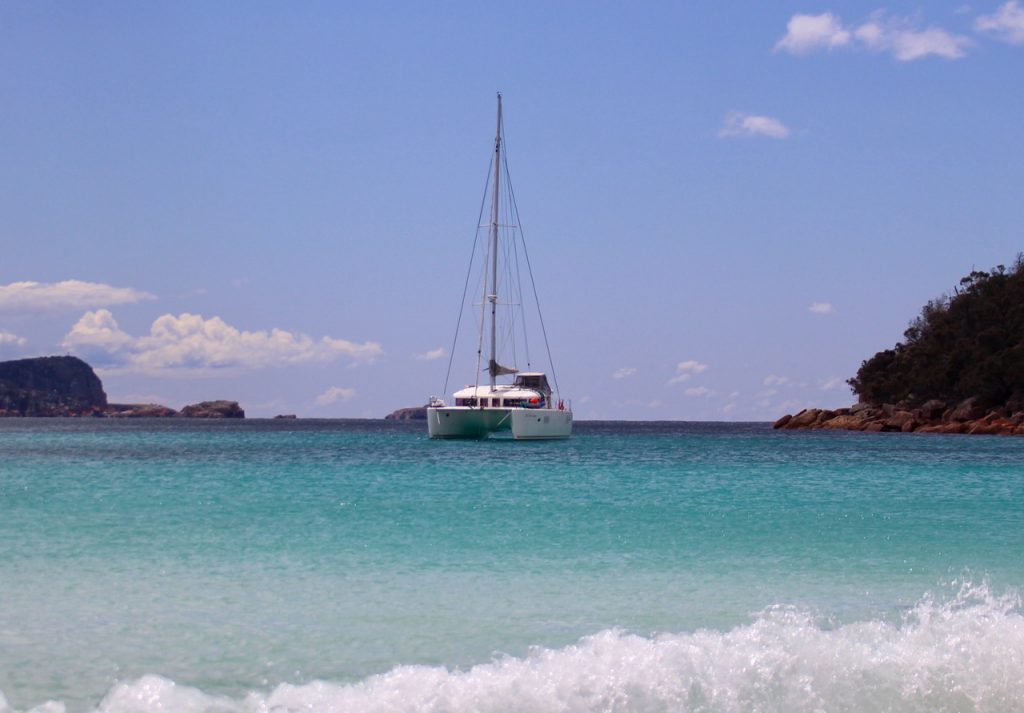 Living on a boat means space is at a premium so my writing desk is wherever I lay my laptop down. When we first moved aboard our catamaran I learnt very quickly to be flexible. I may find myself sharing a tabletop with fishing gear, generator spare parts, sail repair tape, binoculars or water pumps. I've even been known to write on the boat's trampoline for a bit of peace and quiet…
From a writing perspective the best part of sailing the ocean is the ever-changing view. The worst part of sailing is the distraction of that ever-changing view! It's all too easy to procrastinate if dolphins have come to play in the bow wave or we're passing compelling cliffs like those on the Tasmanian coast. Every time we drop anchor there's somewhere else to explore, something new to inspire me, and fascinating people to meet.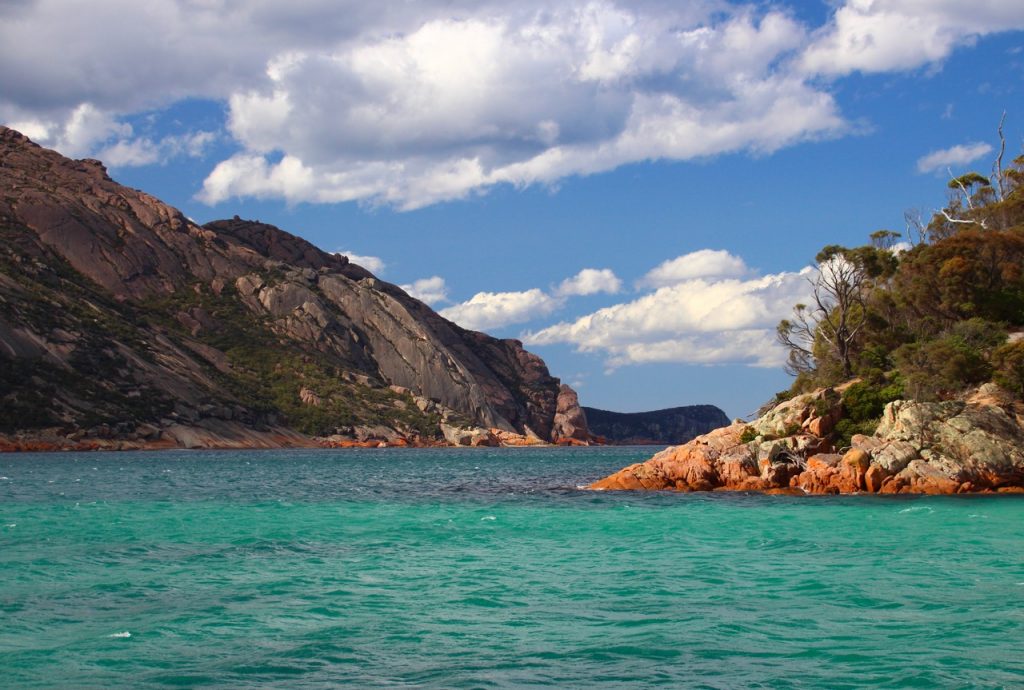 The extraordinary Australian landscape has provided the backdrop for all my books and I've been fortunate to see it extensively from the air and now from the sea. I love being able to show case it for my readers. I also love sharing photos of our journey on Instagram and Facebook so feel free to join me and see where I am at the moment!
Happy reading.
x
Helene
Read more about Helene and her books
Shirley Patton
Australian Author
Telling women's stories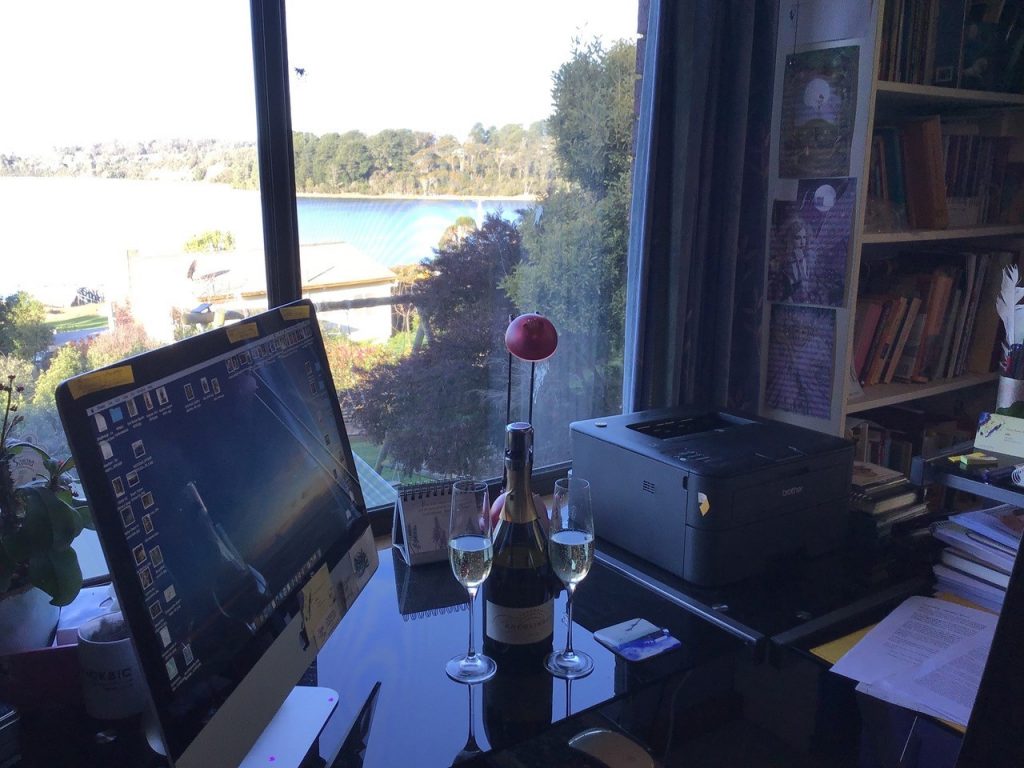 This is a recent photograph 'noting the moment' when I sent off my latest novel to my agent. I'm a great one for noting the moment. When life throws curve balls and everything changes, you appreciate every moment just that little bit more. So, this is a champagne moment shared with my partner, at my writing desk. Out the window you can see the magnificent view of the Tamar River in the Tamar Valley, northern Tasmania. Far from distracting me, this ever-changing view inspires me. In winter the mountains are snowcapped, in summer, the river sparkles and in all seasons black swans glide by, or a yacht, a cruiser, a kayaker. On the right you can see one section of my bookcases, full of resources for my writing. My debut novel, 'The Secrets We Keep' (2018) was set in the 20th century in outback WA where I grew up, but all the books related to that period have been replaced with 19th century Tasmanian history books as I immerse myself in the rural countryside of that period for my current 'work in progress'.
On the nearby walls I put images that inspire me, reminding me of my characters and the settings. On my desk, there are inspirational quotes, gifts from other writers, and the feather you can see on the right side floated down from the sky last year when I thought of a loved one who'd passed. I take notice of such things. What you can't see under my desk, is a CD player – I start off each writing day with a short meditation while listening to an inspirational CD called 'Peaceful Place' and a cup of tealeaf tea. I play other instrumental music to evoke mood or settings whilst I write. In the left corner you can see a pot plant, a gift from a dear friend. I love indoor plants and have them throughout the house – I hear they are coming back into vogue! And yes, my desk does look very tidy and no, it isn't when I'm in the full throes of writing – it will be covered in paper, notebooks, sticky notes, books, half drunk teacups of English Breakfast tea, pens, pencils – and that's just the surface you can see! There'll be butchers paper on the walls with chapter summaries and timelines, and reference books and print outs on every surface. But for now, dear reader, let's stay with the serene image of my writing desk!
Read more about Shirley and her books
We hope you enjoyed our Writing Desks blog post series!
This is the fourth and final Writing Desks post but if you've only just joined us you can find the other posts here:
First Writing Desk post
Second Writing Desk post
Third Writing Desk post
Subscribe by email to receive our occasional blog posts 

– and never miss a new book release!
Stay up-to-date on the latest Australian fiction releases and news