Our Writing Desks – What's on Them?
Published:
February 7, 2020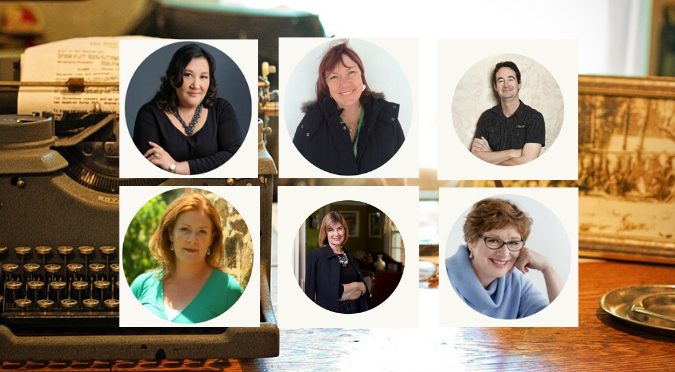 Have you ever wondered where a favourite author might create their novels?
We asked our authors to share an image of what's on their desk and what inspires them or keeps them going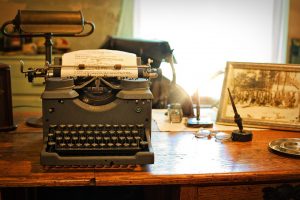 Nicole Hurley-Moore
Historical, Fantasy and Contemporary Romance Author
I'm a hopeless romantic who is enchanted by romance no matter the time period or realm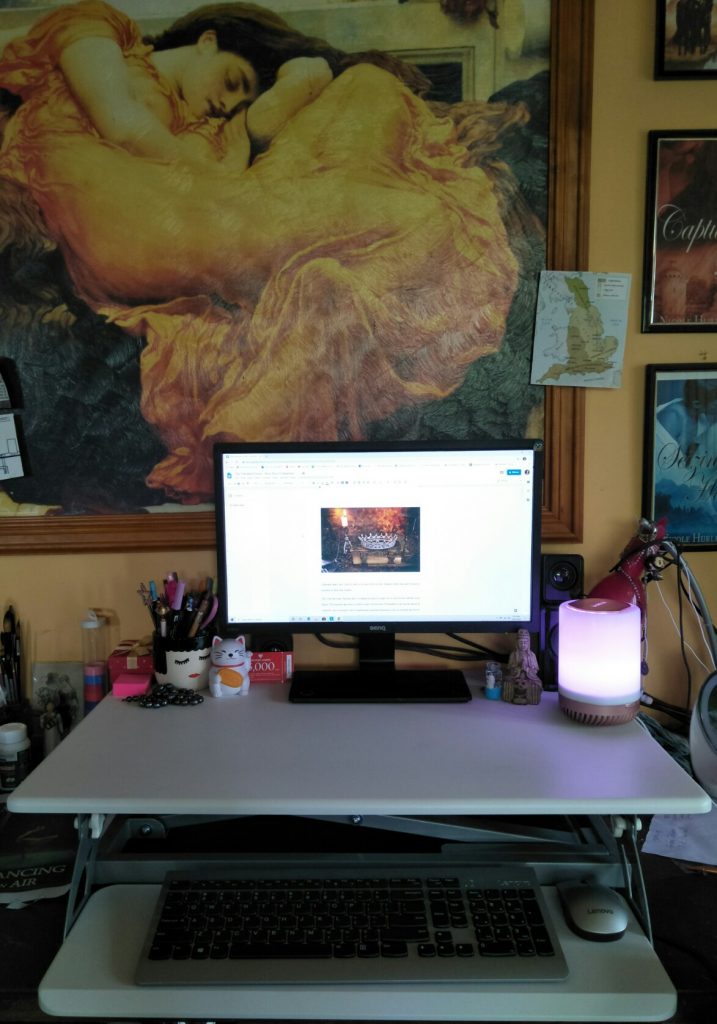 I don't have an office, I write in the bedroom on an old beat up 1930's desk. You can usually tell where I am in a manuscript by the ever growing shambles wreaking havoc across my desk. By the end of the story, my desk is usually buried under a sea of sticky notes and an array of unrelated things.
This Christmas however, my girls bought me a standing desk. Not only that, I've just started another story so everything looks ridiculously tidy (hmmm… I wonder how long that will last.)
What you can't see is my Kanban board, a stack of multiple planners and the current story bibles for what I'm working on at the moment. I keep telling myself that I'm going to be more time efficient and organised this year – fingers crossed.
As for inspiration or things that help the words keep flowing, I have a few essential items. My ever growing collections of pens, notebooks and sticky notes. I just can't walk past them, especially if they're cute. I know, when it comes to stationery I have a problem and probably need an intervention. My scented candles – I generally always burn one while I'm writing. And finally my IPod –sometimes you need silence when you write and other times you just need Kpop on repeat (Korean Pop).
Read more about Nicole and her books
Fiona McArthur
Multi-Published International Bestselling Author
Good Medicine…rural/remote Australia…heartwarming romantic drama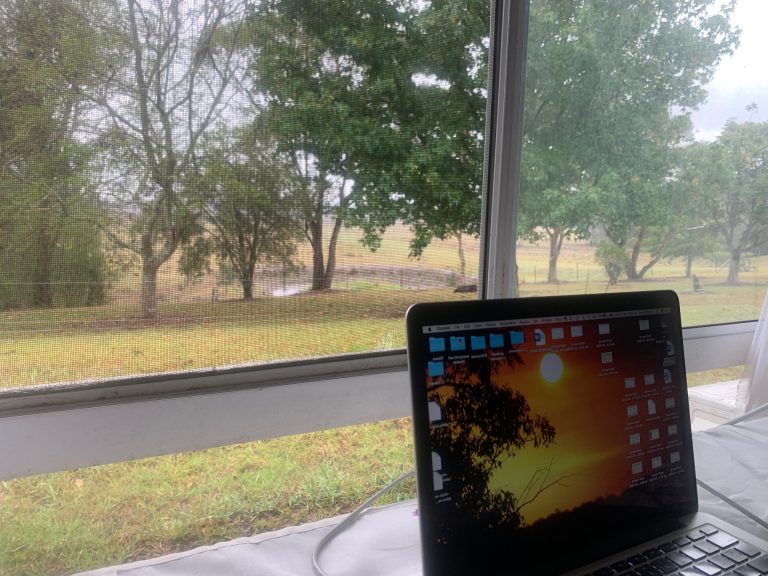 I love my writing room. When I sit at my desk and slide open the window, I can hear the birds and at the moment even better, I can hear the rain. The shower's gentle but has been heavy at times, which is pretty darn cool as my house tanks were running very low, and the cattle were drinking the dam dry.
We have my son's cattle here as he lost fences in the recent fires, but new grass shoots are growing and the bark is falling off the black tree trunks up his way, and they'll go home soon.
The circle of farm life outside my window feeds the circle of inspiration in my writing while the peace and moving world of nature keeps the flow going.
I love Australia in all her colours and moods and sharing that passion in my books makes me grateful for the joy in writing. If you'd like to astral travel to Uluru, try my last book, The Desert Midwife, it just might transport you. My next, The Bush Telegraph, comes out in September and shows the big heart of small towns and a part of north Queensland most people haven't seen.
Enjoy 2020. Xx Fi
Read more about Fiona and her books
Michael Trant
Australian Rural Fiction Author
Using his own experiences and humour to tell stories about life on the family farm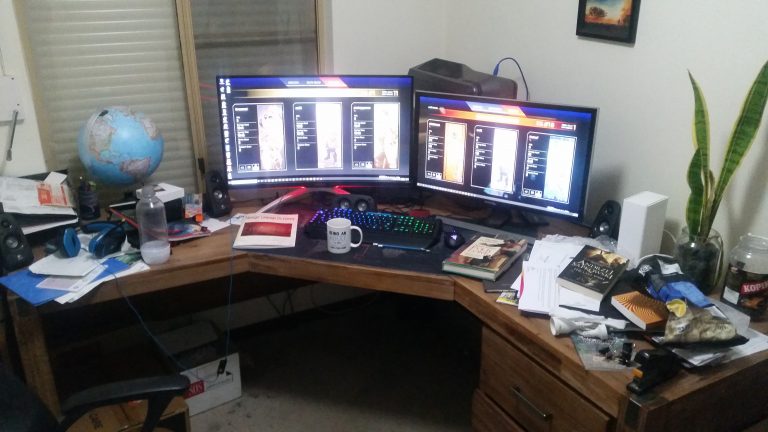 As can be seen from the accompanying photo, quite a lot of crap at the moment. I'm the sort of writer who has taken the saying 'A tidy desk is an unproductive desk' and not only run with it, but also given it a Knighthood and a placed it in my Last Will and Testament.
However, in amongst the empty coffee cups, beer bottles, discarded chip packets and gaming controllers I actually have a few things I'm quite excited about, not least of which is a series of novellas retelling and reimagining good old Aussie folklore, mythology and tall tales. They're currently in the hands of beta readers, but eagle-eyed folk may spot the source material and gain some sort of idea from there. With any luck by the year's end these stories will be tidied up and ready for your consumption.
As for my reading desk, which these days can be defined as an Audible audiobook library and a tractor cab, I'm currently working through Terry Prachett's collection and enjoying them immensely.
Read more about Michael and his books
Cheryl Adnams
Australian Author
Author of four rural romances and now also historical fiction with The Girl from Eureka and The Bushranger's Wife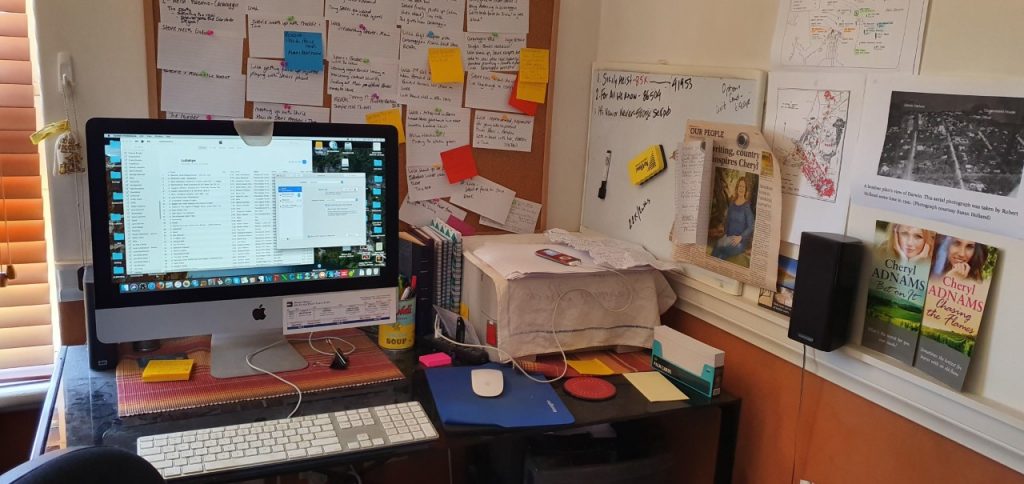 What's on my writing desk? A lot of dust at the moment actually, which could probably be construed as a metaphor as it can be a challenge to get the brain in gear (dust it off so to speak), sit down and do the work.
I'm always looking for new ways to plan and plot my next book. Whiteboards and post-it notes have been used in the past, but currently a corkboard and cards seems to be working. I like the ability to move things around easily when I need to add a new scene. I have my "Big Book of Ideas" in which I tend to throw a few lines to remind myself of story ideas that may occur randomly and I keep several empty notebooks ready and raring to go when one of those ideas finally grabs hold hard enough to make me want to write the story.
The walls are often covered in maps and photographs and, of course, there are myriad reference books filled with tiny notes to remind me just where that amazing factoid appears when I have to refer back to my research.
Read more about Cheryl and her books
Lee Christine
Australian Author
A potent cocktail of danger, high stakes suspense, and crime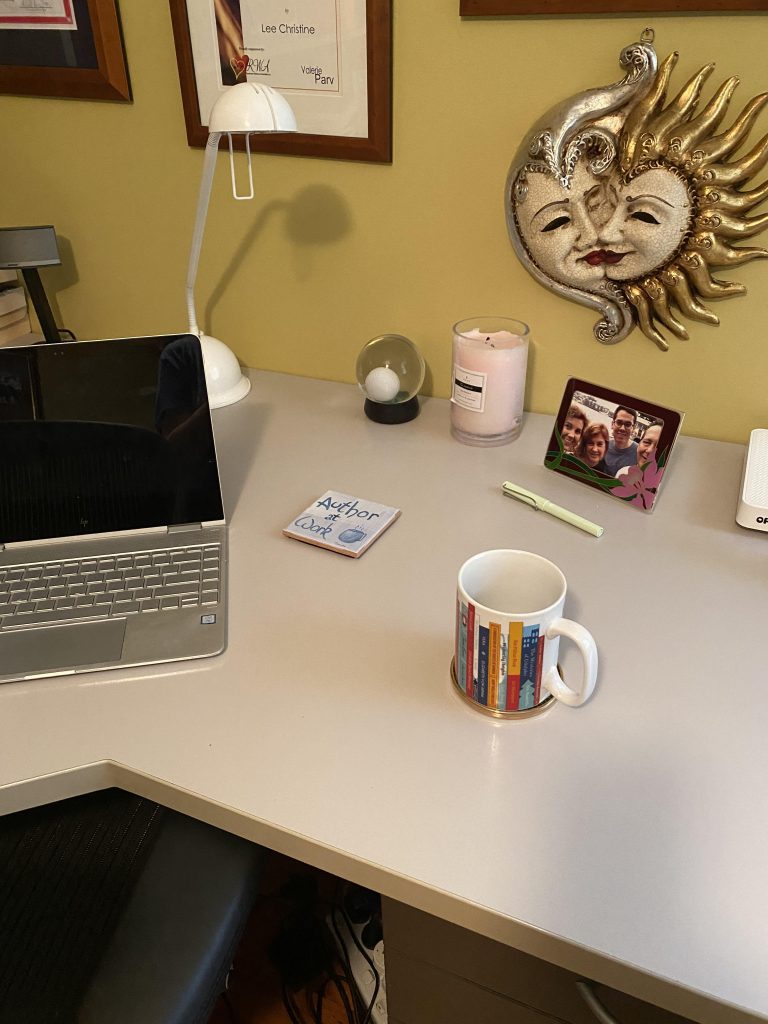 I must confess to doing a tidy up before taking a photograph of my desk for this post. Although I don't have a view from my study, I do have a few special knick knacks that personalise my writing space and which I enjoy having on my desk. Mind you, from time to time, these can get buried amongst the detritus that builds up on my desk when I'm writing a novel.
A family snap.
A calming candle. (All detritus needs to be cleared away before lighting lest I start a bonfire.)
Golf ball water globe challenge for when I'm procrastinating. (I'm yet to get the golf ball onto the tee but I live in hope.)
A cool pen I received last Christmas.
A coaster which says 'Author at Work' made by Mary De, a fellow member of one of my writing groups.
A Female Writers mug which was a gift from my children.
When I tire of the isolation of my study, I bring my laptop into the family room and snuggle on the lounge beside my Irish wheaten terrier, Honey. The perfect companion, she's happy to snooze while I write, and even while I read my words aloud.
Read more about Lee and her books
Charlotte Pass is Lee's brand new release! Out in paperback and eBook this week.
Fiona Lowe
Multi-Published, International Award-Winning Australian Bestselling Author
Small country towns featuring real people facing tough choices and how family ties impact on their decisions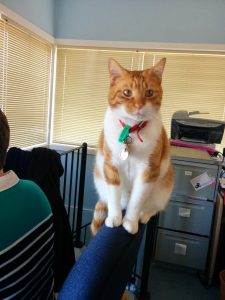 My desk is utter chaos with or without Pekoe, our cat, deciding to sit on my ergonomic chair, leaving me perched on the edge. Under my desk is a vital piece of equipment- a foot rest- to keep my hips in the right position. Writing is a physically challenging activity for the body so I also have an ergonomic keyboard. Despite painting the letters with protective nail vanish, seventeen keys are blank. Above my desk, paperclipped to the blind is a series of writing aphorisms and information about the novel I'm writing and the novel I'm editing.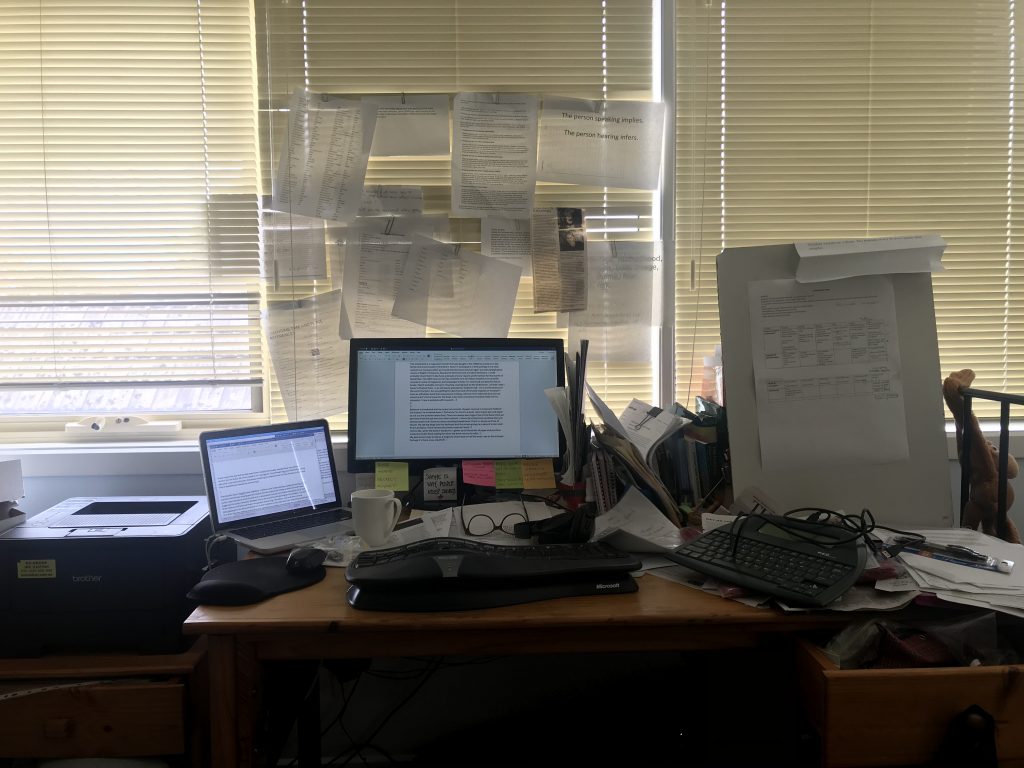 The actual desk is a huge pine clunker bought in the 1980s by someone and I inherited it twenty years ago. Looking at it, it's a time capsule too, cos back then I was using physical copies of Roget's Thesaurus, Macquarie Dictionary and a medical dictionary. I could probably chuck them! I also have a decade of snow reports for Mt Hotham. The right hand corner has a blanket on it for Pekoe, however it's currently covered in a pile of magazines and newspaper articles I'm convinced are ideas for future books. Leaning back on the dictionaries…oh that's why I haven't chucked them…is an old yearly wall planner folded in half. On it are the themes for the current project. I have an old binder book left over from when the boys were at school and it's full of notes for the book.
There are always two mugs of tea in fine bone china to keep them hot. I have a jar of pens but somehow they're always pencils and I have noise cancelling headphones and two pairs of glasses. Between my keyboard and my screen are screeds of paper covered in notes I've scrawled down that pertain to the book. Even when I tidy my desk it never looks photo shoot neat. Perhaps it's those snow reports!
Read more about Fiona and her books
Coming Soon from Fiona Lowe (releasing 24 February and up for pre-order now)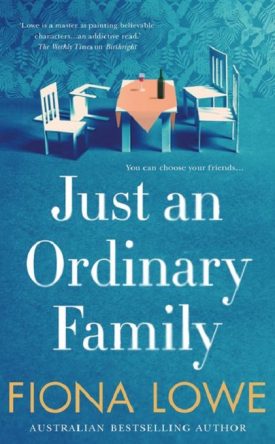 We hope you enjoyed this post. You can read our first post about writing desks here and our second post here
Subscribe by email to receive our occasional blog posts 
– and never miss a new book release!
Stay up-to-date on the latest Australian fiction releases and news