Our Writing Desks – What's on Them?
Published:
November 22, 2019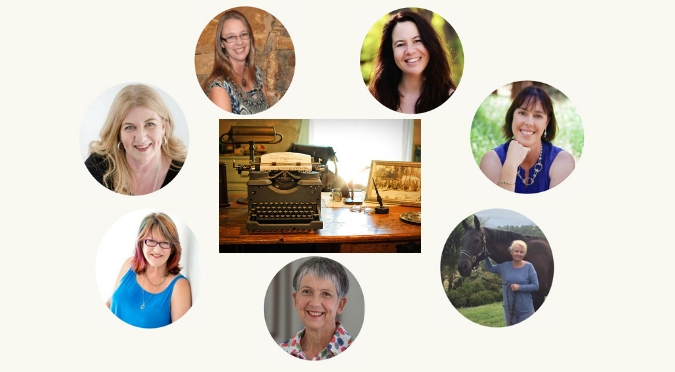 Have you ever wondered where a favourite author might create their novels?
We asked our authors to share an image of what's on their desk and what inspires them or keeps them going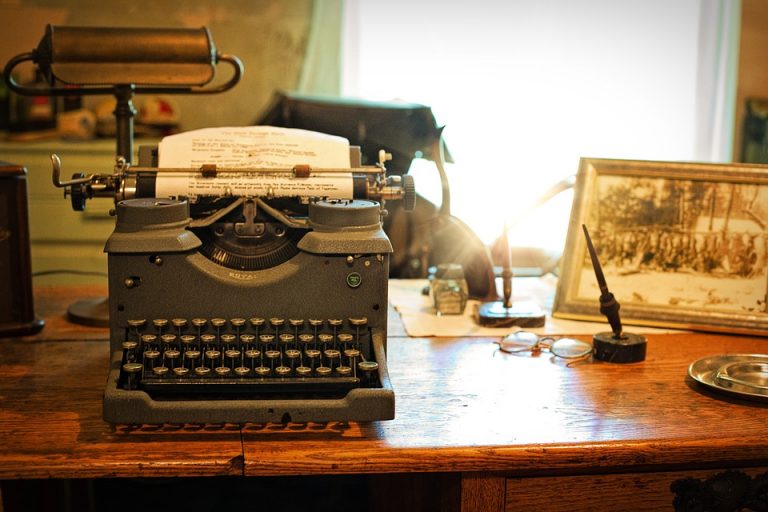 Lisa Ireland
Australian Bestselling Author
Getting to the heart of female friendship and the lives of women

This year we moved to a new house and I finally got the office of my dreams! It's not as big as my previous office but it has the thing I most desire in a workspace – a gigantic bookcase.
I love to work surrounded by books and I'll often flick through a favourite novel when I'm feeling stuck or unmotivated. I find inspiration in the words of the authors I admire.
I'm a writer who craves order in her life. I can't start work if my desk is a mess, so I make sure I tidy my desk space and my office before I go to bed each night. I love coming downstairs in the morning to a fresh, clean space.
My new office isn't huge, but there is room for a reading chair. I like to stop writing around 4pm each day and wind down my workday by reading for an hour or so. And there's also room for a fluffy pink mat for my writing companion (my boxer, Lulu) to stretch out on!
I feel very fortunate to have such a lovely place to create my stories in.
Read more about Lisa and her books
Lily Malone
Australian Fiction Author
Contemporary. Country. Australian.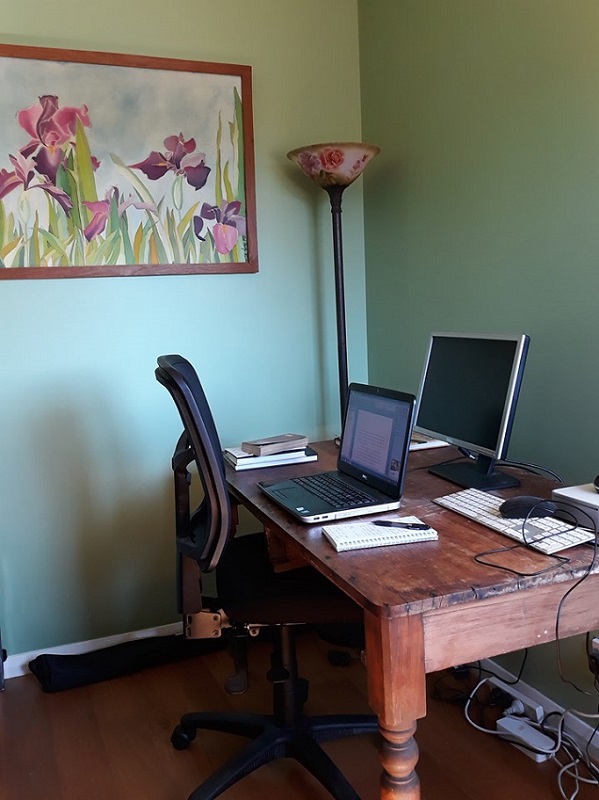 I had to tidy my writing room to take this picture (there, I confess)… there was so much dust and I found things I thought I'd lost, like my mother's day present from eldest son given the year he was Grade 1. (He starts high school next year!)
Anyhoo. I don't have a writing desk so much as a writing room. It's actually supposed to be the walk-in wardrobe for mine and hubby's bedroom… but I convinced him it was far more important that I have a writing space than it was that we had place for clothes and shoes. Just recently (as in, over the first weekend of November) there was conversation in my house along the lines of us needing more room for 'junk', which led to talk about us building a studio/shed at the base of our property. Hubby then let slip that the 'studio' part of this shed might make a good writing room. Well, of course I leapt on this idea, but he's really being sneaky. He is sick and tired of not having enough shelves for his shorts!
So here it is: my writing room for the past 6 years. It has shelving for boxes of books, a view of the open space bushland near our place, it has the silk painting of purple irises I have owned longest and bought with one of my first pay cheques many moons ago. It has my old faithful Dell laptop which is my writing machine. I wonder how many words this has pumped out? It has done 6 Escape Publishing/Harlequin MIRA published books; one published ebook novella; two self-published print novellas; one manuscript that hasn't ever found a home; plus the book I've been writing most of the year.
That's around 825,000 words that got published, not to mention the bazillion words that got deleted, changed, edited etc and never saw the light of day (plus the minutes for the local junior football club). I must have nearly done 2 million words!
Howz-about that!
One of these days I'll have to replace it but while it does the job, I'm happy to have old faithful Dell and keep plugging away. The good thing about my laptop is, I never got it connected to the internet or any social media – all it does is word processing and that's good. It means when I'm in this space I'm writing, I'm not faffing about on Facebook or the other places I visit.
This is my productive, creative (if sometimes dusty) space. It's also my happy place.
Thanks for visiting.
Read more about Lily and her books
Sasha Wasley
Australian Author
Australian stories of passion, family and society with characters who live and breathe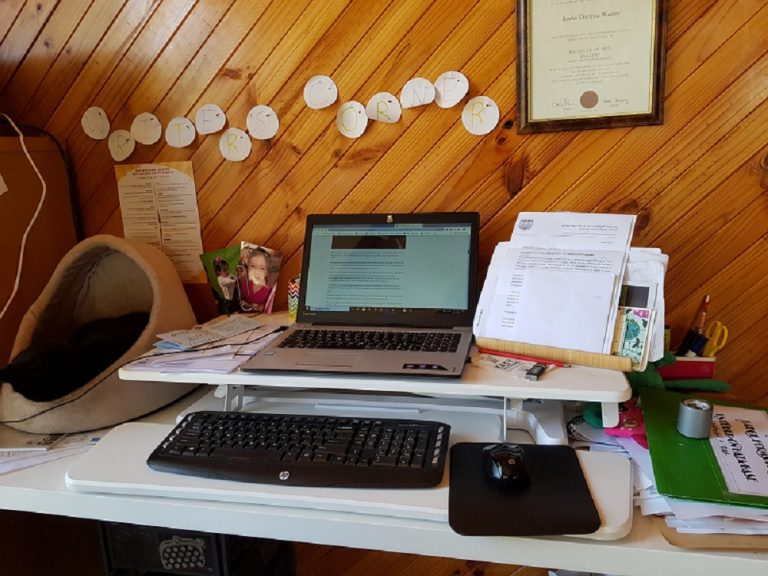 I'm going to level with you – I haven't written much of late. It's been a challenging few months for various reasons and stress doesn't make for a good writing headspace. I have commenced writing two novels and I'm wavering between the two, unsure which is going to grab me by the throat and demand to be finished first. The good news is, my editing brain is still switched on and I did manage to write an entire book (the sequel to my young adult series) and rewrite another (a psychological suspense) earlier in 2019.
So here is my writing desk! If you're anything like me, the first thing you'll look at in my desk picture is the cat. Josie graduated to official Desk Kitty after the sad passing of her adoptive sister Villain in June. Josie (aka Ms Pye) has now taken up residence in the cat cave, although she likes to mix it up and sit on my upholstered chair which results in me using the sit-stand desk in standing position, especially if I'm wearing white.
Other points of interest are the 'Writer's Corner' sign made by my youngest, presumably to remind me of what I'm supposed to be doing at this desk. My desk has always been decked out with a multitude of handmade items (you can just see the rainbow pen holder peeking out from behind my laptop) because my kids are very crafty and I'm a sentimental mum who keeps things way past their best before date. There are also pictures of my two kids as little tackers in the photo holder. I keep those there to remind me that I love them (because they are both teenagers now and sometimes drive me crazy).
My paper stand on the right is supposed to hold my stellar ideas and moments of blinding inspiration scrawled in the dead of night in my windy garret. Unfortunately, it hasn't been particularly windy or inspirational lately so instead the paper stand is full of bills, school notices and stuff that should be filed. These have overfilled the paper stand and encroached onto the horizontal surfaces of the desk. Don't worry – the cleaning phase of procrastination is imminent, and I expect you'll see some filing done in the next couple of weeks.
The roll of silver gaffer tape has an interesting tale behind it. We have a number of big trees and before the winter rains I went up onto the roof to clean out the gutters. I found this roll of tape in one of the gutters and only the millipedes know how long it had been there! Excitingly, the tape still works and was used most recently to stick up some foam bats at my daughter's Halloween party. It's waiting to find its forever home, along with the filing.
On the left, you'll see a calendar of interesting-looking 2019 events at the Katharine Susannah Pritchard Writer's Centre, which is my local. Despite my best intentions, I didn't make it to any of them.
There is a pair of pink socks on the righthand side. No, I don't keep my socks on my desk! I'm not a barbarian. These are a gift waiting to be sent across the country. They are sitting next to a little ceramic bird wrapped in bubble wrap that is also waiting to be sent along with a letter to a friend in the UK. Because I so rarely go to the post office, they've been waiting for well over six months now. I really hope she likes the bird and doesn't mind the obsolete family news contained in the letter.
Last but not least, right next to the pink socks (if you squint) you will see a patch of green. That's my spoodle's toy, known as 'Monster.' It's an in-flight kids' pack soft toy that was donated to the dog five years ago and it has held up well, but recently developed a small hole, so it is awaiting corrective surgery.
As you can see, from chaos flows genius. At least, I hope it does soon because, well, deadlines.
Read more about Sasha and her books
Fleur McDonald
Bestselling, Multi-Genre Author
Capturing imagination through stories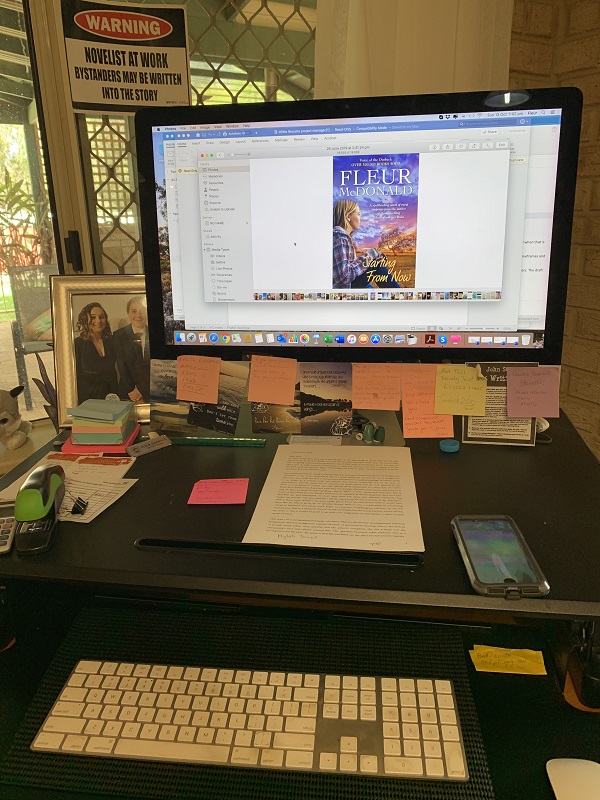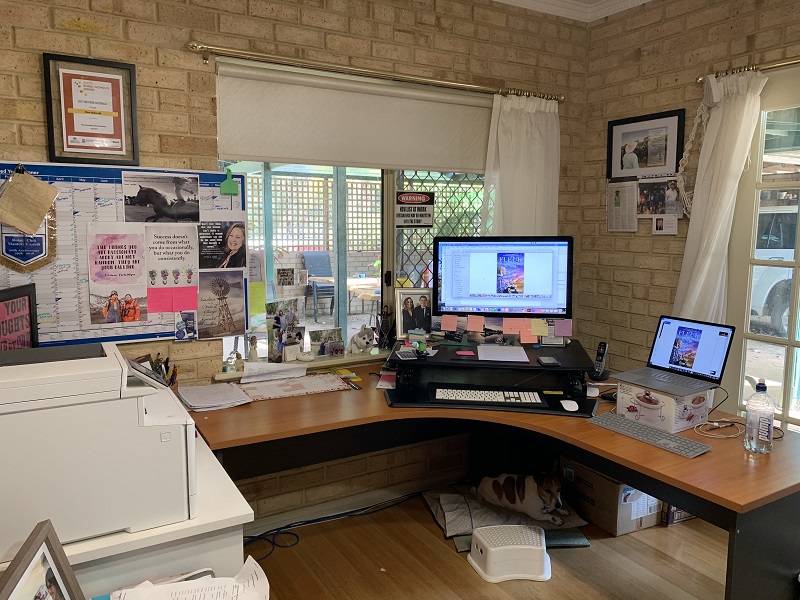 I love covering my work area with things that have special meaning to me. The quotes I have on my computer are to remind me where I've been, why I don't ever want to go back there again and how much I've changed since my divorce. There's also plenty to inspire me when I don't feel like I can keep going.
The photos are of my kids who are the most precious people in the world to me and all the little knicky knack things are presents from those closest to me. So I surround myself with safety and knowledge that people love me; that's how I write best, because in my little author brain, sometimes I get bogged down with this horrible syndrome called 'imposter syndrome'! I still have a nagging fear that I can't write and one day I'll get found out.
At the moment, my favourite quote is F – False E – Evidence A – Appearing R – Real = FEAR. Yep read that again! How fantastic is it? And to have that on my desk when I slogging through empty pages trying to fill them with words that make sense, fear is usually sitting on my shoulder. Sometime I just need to take a few breaths and ground myself again, and that quote helps.
Read more about Fleur and her books
Trish Morey
Award Winning, Multi-Published International Bestselling Author
Passionate, emotional, page turning stories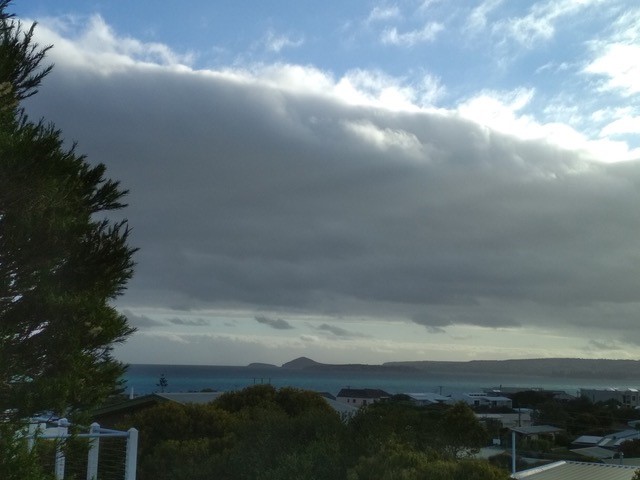 One of the best things about being a writer, is that you can write anywhere. Which is all well and good, but don't let easily distractible me distracted by views!
Four years ago hubby and I found a beach house down on the south coast of South Australia that called to us. (Well, it called to me – loudly, and I had to talk him into it, in the way women do, you get the picture.)
But now he loves it as much, if not more, than I do, and it's going to be our forever home in a year or so. Right now I write between two places – the city townhouse and the beach escape, and I know which I prefer. The place with the views and the sea spray and the sound of waves crashing on the shore while you drift off to sleep.
Not that I'd ever get anything written if I looked view wards. My writing desk faces a blank wall.
Read more about Trish and her books
Meredith Appleyard
Australian Author
Using her experience and fascination of providing health care to rural communities in her stories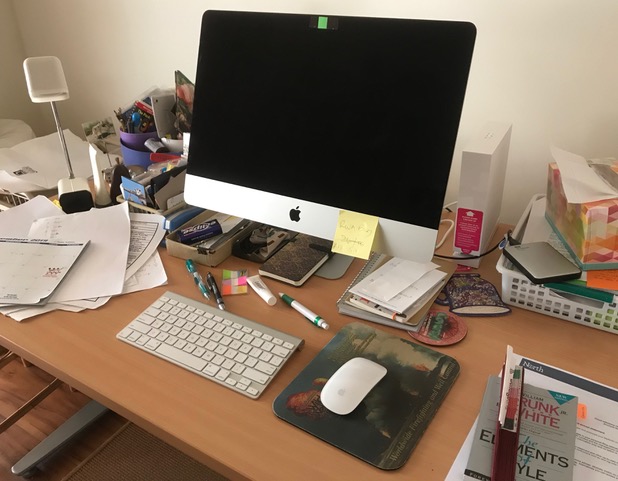 Here it is: my desk, UNCENSORED! No, I didn't tidy it up at all. I work best surrounded by clutter. It's cosy. I've tried decluttering but it doesn't take long before it's back.
Do I know what's there? Mostly. But when I tidy up I find things I forgot I had, and that's fun.
The time I spend at my desk varies. Sometimes it should be more than it is. But I get there in the end and I've never missed a deadline.
Currently I'm working on the next book. Early days and the part of the writing process where I'm telling myself the story. It's an exciting time. The characters are beginning to take shape as I get to know them better.
I'm blessed in that I have a room of my own in which to write, and think. My husband calls it 'my shed', and I suppose it is. It's sort of off-limits to others. The view from the sliding door is uninspiring so I go into another room when I need to sit and daydream. Or read. Which I do, a lot.
My next book, When Grace Went Away, is a June 2020 release.
Read more about Meredith and her books
Penelope Janu
Australian Prize and Award Winning Author
Adventure and romance … fresh, fun fiction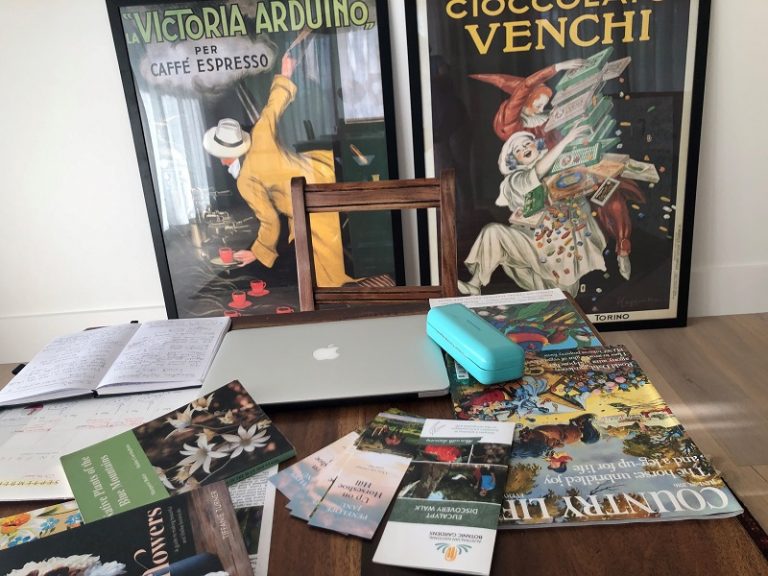 In my pre-writing career as a lawyer and legal academic, my tidy desk and meticulous filing systems were regularly praised. But in my creative writing career? Chaos tends to reign on my desk!
And I have a theory on this. In my other careers, I knew that at any time another colleague might need to know where I was up to in my work because they had appear in court or meet with a client with my file under their arm. Or deliver a lecture that I'd written, or mark an exam that I'd set. I had to be organised and accountable. When my children were younger, my household had to be organised too (I had a meticulous filing system for the laundry as well!)
In my creative writing life, I write the story that I want to write (to be more precise, I write what my characters need me to write….) and that somehow gives me permission to make a mess of my desk and notebooks and calendar and sticky notes and filing cards (and this filters through to the rest of my life!) And I probably get away with that because, although my desk is a repository for notes relating to my research and other bits and pieces that inspire me, my 'organised' writing is often done in a café or at my kitchen bench or dining room table. Surrounding myself with noise and bustle, with only my laptop in front of me, allows me to focus solely on writing.
Read more about Penelope and her books
We hope you enjoyed this post. You can read our first post about writing desks here
Subscribe by email to receive our occasional blog posts 
– and never miss a new book release!
Stay up-to-date on the latest Australian fiction releases and news