Our Favourite Post – COMING SOON!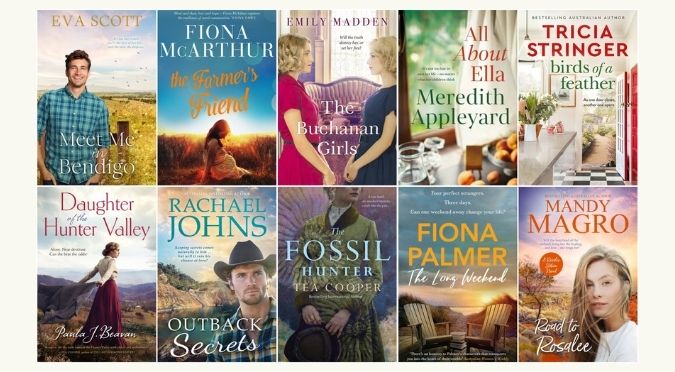 The most exciting post we produce
Your favourite authors (and maybe you'll find a new author to read)
and the coming soon

NEW RELEASE

line up!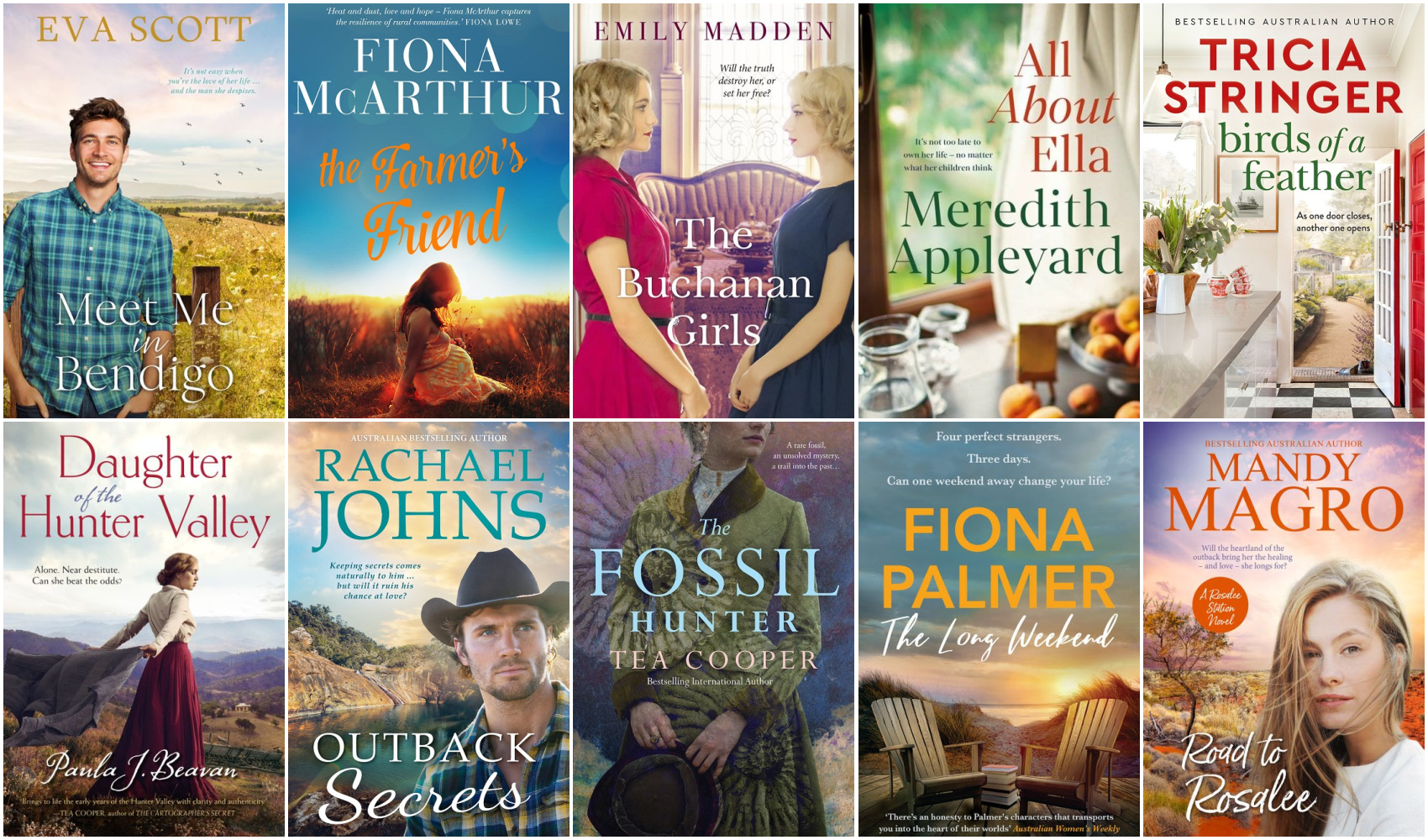 Take a break, grab a cuppa, settle in, read the story blurbs and head forth to pre-order!
All available for pre-order in eBook and paperback from your preferred online retailer including Dymocks, BigW, Booktopia and all eBook platforms
Out 28 July 2021
Small-town Australia meets You've Got Mail in this rural romantic comedy about online dating, second chances, and following your heart.
Small-town sweetheart Annalisa Cappelli has returned to Wongilly to take over her family's hardware store while she heals from a tragic loss. The business was hit hard by the pandemic, and now a Carpenter's Warehouse hardware superstore is opening in the district. There's no way Annalisa is going to let two hundred years of history go down the drain, but she's going to need to fight to keep her family's legacy alive.
The one simple thing in her life is her no names, no complications, easy-breezy online relationship with GardenerGuy94. For now, their online flirtation is the only kind of romance Annalisa needs. Until she meets Ed Carpenter. Sexy as hell, he'd be the perfect man … if he wasn't trying to destroy her business.
Ed Carpenter is in Wongilly to offer the owner of a small hardware store a payout to pave the way for his family's next superstore. What he doesn't expect is for the owner to be the woman he's been talking to online. Annalisa is beautiful and passionate, and he's sure she's the one for him. But how can he reveal the truth without losing her?
Pre-Order Meet Me in Bendigo
Out 31 August 2021
A moving and uplifting Australian drama about what it really means to be a community – and learning that best friends can also make the best family.
They'd bought a stock and feed store called, of all things, The Farmer's Friend.
Gracie could tell Jed thought it a great name. 'Farmers stick together. I like it.'
Jed and Gracie's move to Featherwood brings big dreams and open hearts, despite the drought around them. The ready-made rural store even comes with an ancient homestead overlooking the river, albeit one requiring some TLC. Gracie is expecting, and they're eager to put down family roots in the tiny community.
Midwife Nell has fled her life in Sydney, hoping to start afresh on a small farm away from prying eyes and gossip. She strives to go unnoticed, but that proves near impossible when she meets charismatic Gracie and Jed, and the unpredictable, attractive Liam, who has as much emotional baggage as Nell does herself.
Jed's store becomes the meeting place for the town's colourful characters, people who'd do anything for their neighbours and friends. As Gracie's due date draws close, tensions rise between her and Jed when his impulsiveness strains their precarious financial situation. As a bushfire ravages the region, the whole town comes under threat, putting relationships and lives on the line.
Can quiet achievers, unexpected heroes, and a valley of part-time fire-fighters and farmers help Featherwood rise again?
Pre-Order The Farmer's Friend
Out 1 September 2021
Will the truth destroy her or set her free?
A sweeping family saga about betrayal, forgiveness and the cost of love.
Sydney, 1941: Olive and Ivy may be identical twins, but they couldn't be more different. While Olive is focused on marrying a man appropriate to her station, Ivy wants to do more, to be more. Joining the Australian Women's Service Army is the perfect chance for her to escape her family obligations and make a real difference in the world. She doesn't expect serving her country to lead to romance … or devastating betrayal and unthinkable grief.
As the war progresses, both Olive and Ivy find themselves wanting the same thing: for their loves to return safely. But neither of the Buchanan girls is ready for what the future has in store for them.
Sydney, 2008: Escaping her husband's betrayal and an impossible personal loss, Madeline returns home to Sydney to nurse her broken heart. As she settles into her new routine, it's too easy to consider never returning to New York and her old life. But her husband won't give up on what they have so easily, and Madeline can't ignore his messages reminding her of why they fell in love in the first place. With her grandmother's support, Madeline has to decide if forgiveness means reconciliation. But is the biggest betrayal yet to come?
Pre-Order The Buchanan Girls
Out 1 September 2021
At 70, and widowed, Ella is about to find out that blood is not always thicker than water.
A wise and warm-hearted story about aging, family and community for readers of Tricia Stringer and Liz Byrski.
Mum, you're behaving in a most irrational way, and you need to come home immediately. If you don't, there will be consequences.'
'I'm not going anywhere,' I said.
At 70, Ella's world is upended, leaving her at odds with her three adult children, whose attention is fixed more firmly on her money than her ongoing welfare. After an argument with her son Anthony, she flees his Adelaide home for Cutlers Bay, a seaside town on the Yorke Peninsula. There she befriends Angie, a 40-year-old drifter, and becomes an irritant to local cop Zach. He's keen to shift Ella off his turf, because Anthony phones daily, demanding his mother be sent home. And besides, Zach just doesn't trust Angie.
Ella warms to Cutlers Bay, and it warms to her. In a defiant act of self-determination, she buys an entirely unsuitable house on the outskirts of town, and Angie agrees to help make it habitable. Zach is drawn to the house on the clifftop, and finds himself revising his earlier opinions of Ella, and Angie.
A keenly observed story about aging and its inherent vulnerability, about community and chosen family, about how family stressors shape us all, about trust and loyalty, and about standing up for yourself.
Pre-Order All About Ella
Out 29 September 2021
When three women are thrown together by unusual circumstances, ruffled feelings are just the beginning.
A wise, sharply observed celebration of the life-changing power of female friendships.
Eve has been a partner in a Wallaby Bay fishing fleet as long as she can remember. Now they want her to sell – but what would her life be without work? She lives alone, her role on the town committee has been spiked by malicious gossip and she is incapacitated after surgery. For the first time in her life she feels weak, vulnerable – old.
When her troubled god-daughter Julia arrives at Wallaby Bay, she seems to offer Eve a reprieve from her own concerns. But there is no such thing as plain sailing. Eve has another house guest, the abrasive Lucy, who is helping her recuperate and does not look kindly on Julia's desire for Eve's attention.
But Lucy, too, has demons to battle and as each woman struggles to overcome their loss of place in the world, they start to realise that there may be more that holds them together, than keeps them apart.
But will these birds of feather truly be able to reinvent what family means? Or will the secrets and hurts of the past shatter their precarious hold on their new lives … and each other?
Pre-order Birds of a Feather
Out 29 September 2021
Alone. Near destitute. Can she beat the odds?
An exciting Australian historical debut.
1831, New South Wales
Reeling from her mother's death, Madeleine Barker-Trent arrives in the newly colonised Hunter River to find her father's promises are nothing more than a halcyon dream. A day later, after a dubious accident, she becomes the sole owner of a thousand acres of bushland, with only three convicts and handsome overseer Daniel Coulter for company.
Determined to fulfil her family's aspirations, Maddy refuses to return to England and braves everything the beautiful but wild Australian country can throw at her – violence, danger, the forces of nature and loneliness. But when a scandalous secret and a new arrival threaten to destroy all she's worked for, her future looks bleak …
Can Maddy persevere or should she simply admit defeat?
Pre-order Daughter of the Hunter Valley
Out 27 October 2021
Keeping secrets comes naturally to him…but will it ruin his chance at love?
Liam Castle knows the secrets of everyone in Bunyip Bay. As the owner of the pub, he's heard it all – from marriage proposals and farming disasters to family rifts and everything in between. The locals love to confide in him, but no one knows he's hiding a tragic past.
And he wants to keep it that way.
Agricultural pilot Henrietta Forward lives for her job, choosing work over romance. But when an incident in the air brings Henri home to Bunyip Bay earlier than planned, she finds herself questioning everything she believes about herself.
But Henri's secret isn't her only problem.
Her mother will stop at nothing to have her settled down back in the Bay, and while Henri had always known domesticity wasn't the life for her, now she wonders what her future holds. So when Liam – always the first to lend a hand to those in need – agrees to play along with Henri's scheme to ward off her mother, she has mixed feelings. What happens when a pretend romance starts to feel like the real thing?
Will Henri's demons and Liam's traumatic past prove too great a barrier to love?
Pre-order Outback Secrets
Out 27 October 2021
A rare fossil, an unsolved mystery, a trail into the past
Wollombi, The Hunter Valley 1847
The last thing Mellie remembers before the fever takes her is running through the bush as a monster chases her – but no one believes her story. In a bid to curb Mellie's overactive imagination, her benefactors send her to visit a family friend, Anthea Winstanley. Anthea is an amateur palaeontologist with a dream. She is convinced she will one day find proof the great sea dragons – the ichthyosaur and the plesiosaur – swam in the vast inland sea that millions of years ago covered her property at Bow Wow Gorge, and soon Mellie shares that dream for she loves fossil hunting too…
1919
When Penelope Jane Martindale arrives home from the battlefields of World War 1 with the intention of making her peace with her father and commemorating the death of her two younger brothers in the trenches, her reception is not as she had hoped. Looking for distraction, she finds a connection between a fossil at London's Natural History museum and her brothers which leads her to Bow Wow Gorge. But the gorge has a sinister reputation – 70 years ago people disappeared. So when PJ uncovers some unexpected remains, it seems as if the past is reaching into the present and she becomes determined to discover what really happened all that time ago…
Pre-order The Fossil Hunter
Out 1 December 2021
Four perfect strangers.
Three days
Can one week away change your life?
'The unputdownable new drama by one of Australia's most beloved storytellers
Coming together for a writing workshop with bestselling author Jan Goldstein, four strangers converge upon a luxury forest retreat. But along with their notepads and laptops, each of the participants has brought some emotional baggage.
Beth is a solo parent and busy career woman haunted by a tragic car accident. Simone, the youngest at 26, is a successful Instagram star but she's hiding behind a facade. Jamie is the only man. He's a handsome personal trainer – but he looks out of place with a pen in his hand. Finally, Alice is a wife and mum recovering from post-natal depression. She and Jamie soon realise they are not such perfect strangers after all.
Only one thing is for sure: on this creative getaway, nothing will go according to script.
Pre-order The Long Weekend
(eBook links via Amazon/Apple iBooks etc. will be up shortly)
Out 1 December 2021
Will the heartland of the outback bring her the healing – and love – she longs for?
A new Rosalee Station novel 
City girl Melody Harrison finds herself questioning everything in the wake of her mother's deathbed confession of a long-held secret – a secret that drives her far into the outback, to the wide-open skies of Rosalee Station…
Matt and Sarah Walsh have finally reached a time in their lives where they are at peace, but their happiness is again thrown into turmoil when Matt answers the door to a young woman with shocking news. But what is the truth? Only by offering her sanctuary at Rosalee Station will they find space to come to grips with each other.
Long ago accepting he's never going to fit in with his wealthy family, Zai Wellstone has finally landed his dream job as head stockman at Rosalee Station. It's here he crosses paths with the most intriguing woman he's ever met, Melody, the new camp cook. Sparks fly between them from their first encounter, but will the secrets she's keeping stand in their way?
Rosalee Station is the place where love is found and family ties mean more than anything – will its magic once again show a heartbroken young woman her way forward, to the healing and connection she craves?
Pre-order Road to Rosalee
Excited by the line up?

So are we! 🧡
We hope you're enjoying our Book News 
Subscribe below by email to receive our occasional Book News blog post – and never miss a new book release!
We'd also love you to follow us on Facebook & Instagram
Stay up-to-date on the latest Australian fiction releases and news