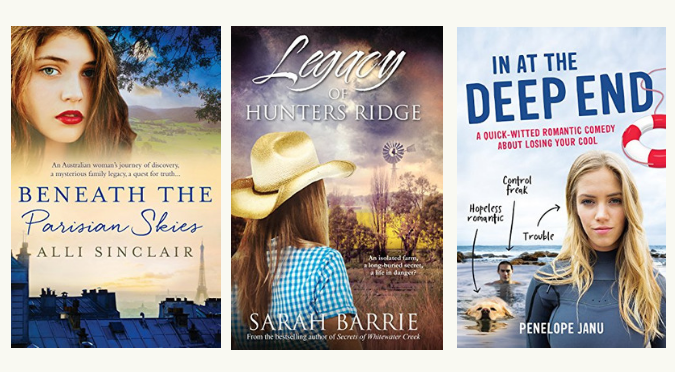 We've loved showcasing some of our author's backlist books this year, and here are three more for your consideration

Sarah Barrie – "Small towns, secrets, and the love that saves lives."
Alli Sinclair – "A sweeping saga about love, truth, grief and passion – and what it takes to fulfil a dream."
Penelope Janu – "A quick–witted, contemporary romance about losing your cool."
Sarah Barrie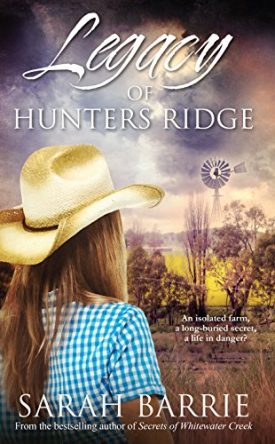 She dazzled with Secrets of Whitewater Creek, now Sarah Barrie kicks off a brand–new trilogy about small towns, secrets, and the love that saves lives.
Successful horse trainer Alissa Morgan–Jones has the world at her feet, until a tragic fire destroys everything. Widowed, in debt and under suspicion for arson, Alissa's life is in tatters. Her mother–in–law's isolated farm gives her the opportunity to pull her life back together and get herself back on her feet.
Four years after fleeing the city and the scandal that ruined his career, disgraced lawyer Cameron Blakely has a successful new business and a new life. When his neighbour, Mavis Littleton is diagnosed with a terminal illness he volunteers to handle her affairs – and her farm until her daughter–in–law arrives to take over. When Alissa finally shows up, he's drawn to her immediately. But there's more to his new neighbour than her big blue eyes and lost expression. If only she'll open up and let him in.
But there are secrets in both Alissa's past and Hunters Ridge – secrets that jeopardise far more than Cameron's fledgling feelings. Lurking in the isolated wilderness is a danger that neither anticipates – but one that threatens everything: the town, their love, and their lives.
Buy Legacy of Hunters Ridge
(Hunters Ridge series book #1)
Sarah Barrie
Bestselling Australian Author
The promise of romance…the terror of isolation and evil
Read more about Sarah, her books, and discover where to find her on social media
Alli Sinclair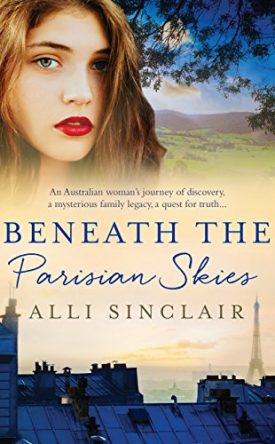 A woman's journey through love and darkness to save the sister lost to her, set against the seductive backdrop of contemporary Paris and 1917 Ballet Russes.
A sweeping saga about love, truth, grief and passion – and what it takes to fulfil a dream.
Paris, 1917
Ballerina Viktoriya Budian narrowly escapes Russia with her life. She arrives in Paris determined to start afresh with the famed Ballets Russes but her newfound success is threatened when her past returns to haunt her. Forced to choose between love and fame, Viktoriya's life spirals out of control and the decision she makes seriously affects the lives of many for years to come.
Paris, present day
Australian dancer Lily Johansson returns to Paris, the city that broke her heart and destroyed her ballet career, hoping to ease the guilt over her fiancé's death and to make amends with her estranged sister, Natalie, a ballerina with the Bohème Ballet. Terrified of loving again, Lily nevertheless finds herself becoming entangled
with talented composer Yves Rousseau.
Meanwhile, vying for the role honouring Viktoriya Budian, Lily's sister Natalie develops an unhealthy obsession. As Natalie's behaviour becomes increasingly erratic, Lily fears for her sister's safety and sanity. When Natalie goes missing, Lil and Yves set out on a desperate quest across France to find her and, along the way, battle their own demons.
Could the search for her sister lead Lily to realise that ballet – like love and life – should not be abandoned so easily?
Buy Beneath The Parisian Skies
Alli Sinclair
Multi-Award Winning, Internationally Published Australian Author
Writing compelling stories about secrets, family and love against all odds
Read more about Alli, her books, and discover where to find her on social media
Penelope Janu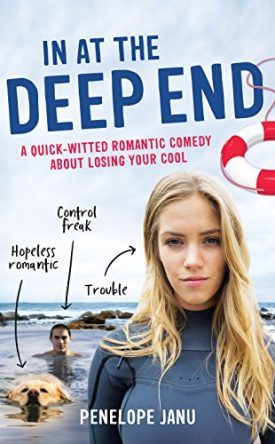 A quick–witted, contemporary romance about losing your cool.
What woman doesn't love a real–life hero? Harriet Scott, for one. The fiercely independent daughter of famous adventurers, she grew up travelling the world on the environmental flagship The Watch. So when Harriet's ship sinks in Antarctica and she has to be rescued by Commander Per Amundsen, an infuriatingly capable Norwegian naval officer and living breathing action hero, her world is turned upside down.
Like their namesakes, the original Scott and Amundsen who competed to reach the South Pole first, Per and Harriet have different ways of doing things. Per thinks Harriet is an accident waiting to happen; Harriet thinks Per is a control freak. But when Harriet realises that Per is the only one who can help her fund the new ship she desperately wants, she is forced to cooperate with him.
Per refuses to assist unless Harriet allows him to teach her to swim. But there is more to Harriet's terrible fear of water than meets the eye.
Can Harriet face her fears and come to terms with the trauma and loss of her past? And will she begin to appreciate that some risks are well worth taking–and that polar opposites can, in fact, attract?
Buy In at the Deep End
Penelope Janu
Australian Award and Prize Winning Author
Adventure and romance … fresh, fun fiction
Read more about Penelope, her books, and discover where to find her on social media