Our 2019 Writing Goals – How Did We Do?
Published:
December 2, 2019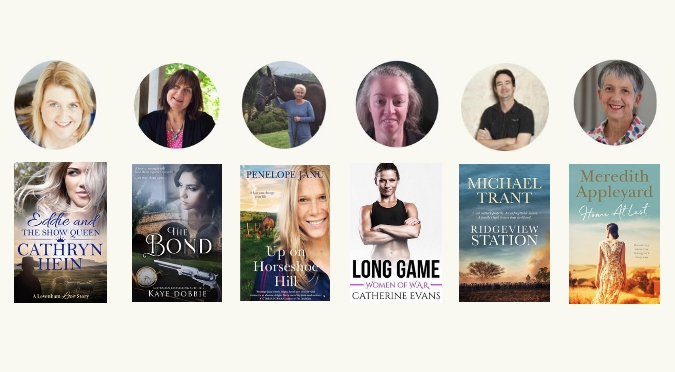 Who remembers the Writing Goals posts at the beginning of this year?
11 months later and we've caught up with some of those authors to see how they all did.
Did we get it all done or did life throw a spanner in the works of our expectations?
Today we'll hearing from Cathryn Hein, Kaye Dobbie, Penelope Janu, Catherine Evans, Michael Trant and Meredith Appleyard
and pop back tomorrow to hear from seven more authors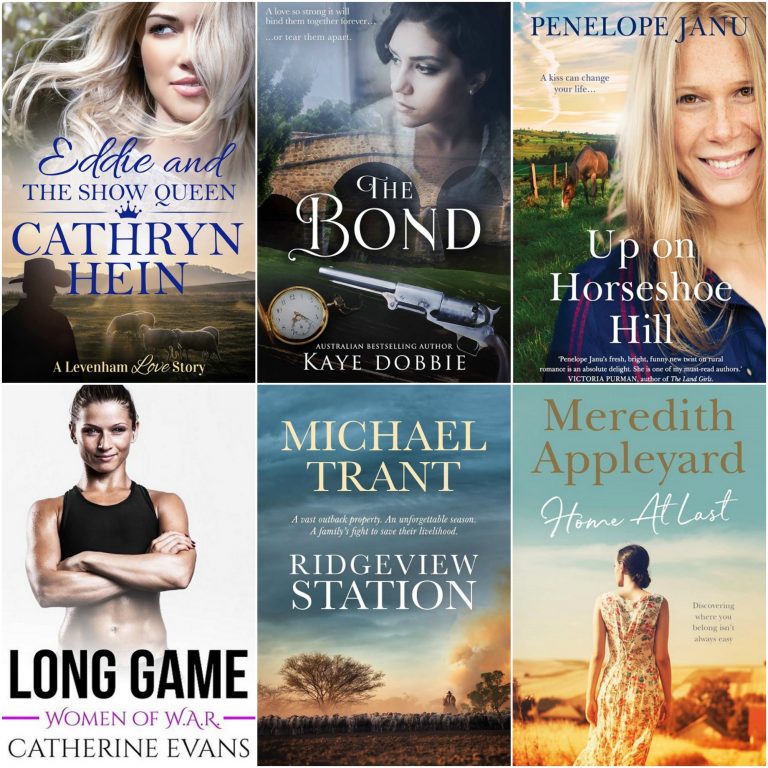 Cathryn Hein
Bestselling Rural Romance and Romantic Adventure Author
Taking your heart on an adventure…
Oh, I had such plans! Unfortunately, 2019 proved just as challenging as 2018, with an ongoing health issue knocking me for six.
Eddie and the Show Queen, which I'd expected to launch early in the year, ended up a September release. This book had a long and sometimes difficult gestation and I was incredibly nervous about its release. I needn't have worried. Reviews for Eddie and Alice's sweet and funny romance were fabulous and I'm grateful to everyone who has read the book and taken the time to leave reviews or give it a star rating. You're darlings.
My other goals were to write a full-length novel as well as a novella. I only reached the latter, but given everything else that was going on I'm proud to have managed that. Scarlett and the Model Man will go up for pre-order in the new year. Scarlett is a minor character in Eddie and the Show Queen and was so much fun I couldn't resist giving her a story. She's an artist who produces some rather … erm … interesting works. They certainly make Alice's eyes bulge in Eddie and the Show Queen but wait until you see what they do to Scarlett's love interest Sam!
Read more about Cathryn and her books
Kaye Dobbie
Multi-Published, RuBY Award Finalist Author
Captivating historical and contemporary family sagas
I've had a tough year. My mother passed away in May 2019 and I am her executor, so there was a lot to do, apart from missing her terribly. However writing goes on, and I've also found it to be a useful escape from my reality.
Last time I mentioned that my contracted book with Mira was on hold. Well I've just finished editing it, and publication date is August 2020. The Road to Ironbark is a dual timeline book. In 1874 the Ironbark hotel is the scene of a hold up by bushrangers, after the Cobb & Co coach arrives with a payroll for Silas Maddox who owns the local mine. Aurora Scott, the owner of the hotel, does her best to save the hostages with the help of coach driver, Jackson Fletcher. In the present day, the town of Ironbark commemorates the hold up every year. Melody Lawson returns home to help a family in mourning after the mysterious death of her mother. Hugh Nicholson, her one time flame, is now the local cop, and investigating the death, while new arrival Shawn Maddox seems more interested in Melody.
I'll start work on my next book soon, and hope to have it finished late 2020. This is another dual time line, one part set in Tasmania in the 1820s and the other a modern story.
In 2019 Writing Goals I mentioned self-publishing The Bond, one of my older books. It is now available in ebook and paperback.
The new Sara Bennett series (Pendleton Manor) began with Meant to Be, published in September 2019. I'm looking forward to writing the second one. Not sure of a finish date yet.
The novella I was thinking of writing with a friend has not eventuated. We're both too busy. Still, I hope you'll agree that three out of four goals ticked off is pretty good!
Read more about Kaye and her books
Penelope Janu
Australian Prize and Award Winning Author
Adventure and romance … fresh, fun fiction
On looking at the goals I set for my 2019 writing year, I see that while I kicked some balls through the posts, others dribbled to the sideline. And I suspect that might be a common experience for many writers. Even those who write full time have family or carer or other responsibilities, which tend to get in the way of our goals. And maybe that's not a bad thing because it lets us write realist characters with hurdles just like us.
I'm delighted that, after edits, Up on Horseshoe Hill is now on the shelves, which is always an exciting thing. Much as I get nervous about reviews, I love it when people contact me and let me know they've enjoyed my stories. I've also made enough progress on my 2020 novel that the characters are firmly in my head, met lots of other writers and readers, updated my website, and written one newsletter. Must do better on the newsletter front!
On the personal front, I've moved out of my house for renovations, and moved back in again, which was a very big undertaking. And I've spent a few happy weekends with my elderly parents and a Scottish uncle, travelling in country NSW and Victoria. It's been a lovely year for weddings too (I love a wedding!), as many of my closest friends' children are skipping down the aisle to share new adventures together. One wedding this year was particularly special because the happy couple had been waiting for the same sex marriage legislation to be passed before tying the knot. I've never seen so many handsome men in one location in my entire life, and we all danced into the wee hours!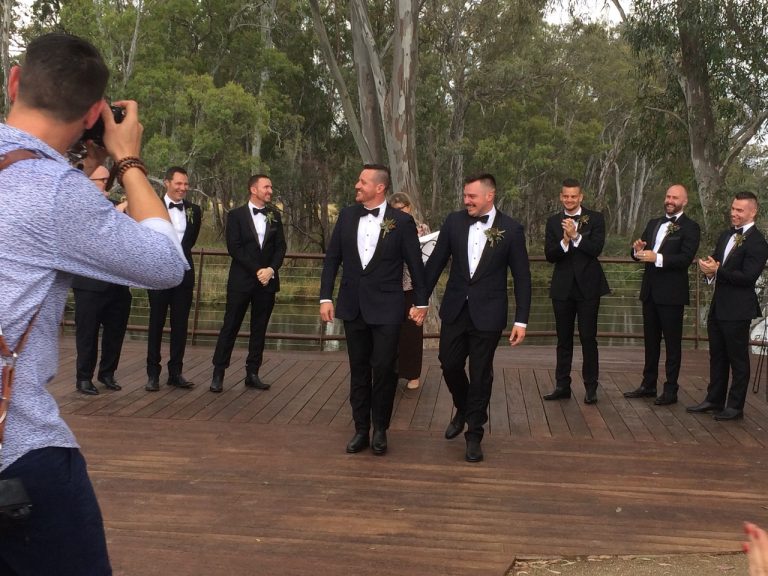 And a quick postscript: having read my fellow author's goals for this year, I realise that Tricia Stringer might be onto something with her one year planner and red, blue and green pens. Definitely something to initiate for my writing life (and new book) in 2020!
Read more about Penelope and her books
Catherine Evans
Australian Rural, and Country to City Romance Author
Fiction, farming, families
I had an awful feeling of dread when I saw we were going to check up on how our goals went. I didn't think I'd done very well, mostly because I couldn't even remember what my goals were. Maybe I shouldn't admit that!
I was pleasantly surprised when I went back and checked out my plans.
I did put together two self-published books of short stories—A Pocket of Pebbles, and one for the other me, A Real Online Fantasy.
I went to the ARRA (Australian Romance Readers Association) signing in March and I had a fabulous time. I learned quite a few things at the event, so I'll be better performing at the next one.
I got side-tracked by a new project (Creative Writing Energy) and haven't yet finished my rewrite of the story I began 2009 (but there's still a bit of the year to go, right?) or finished the second Dulili story. Sorry if you're waiting on those.
I've been going to yoga-meditation every week this year and I love it. I may not have lost weight, but I can move this body a lot better than at the start of the year.
I may not have met all of my goals, but I've not done as badly as I feared. I might even do this again for 2020!
I hope working on your 2019 goals have kept you happy and active.
Cath xo
Read more about Catherine and her books
Michael Trant
Australian Rural Fiction Author
Using his own experiences and humour to tell stories about life on the family farm
My overall goal for 2019 was simple – get something published. So far no luck, but as I write this there's still a month and a half left so I'm not calling it just yet. However in the meantime I've had some encouraging developments along the way.
My pitch to Aussie Speculative Fiction way back in January was shortlisted for acceptance, so that was a nice surprise even though it didn't make the final cut.
In February I attended the Nash Agency's writers retreat and had a ball, meeting some great writers and receiving excellent feedback and advice on my sample work. As a result two manuscripts are on their desk waiting to be read.
In the meantime I've continued to build on the Australiana inspired fantasy novella I finished early in the year. There are now five completed stories and a sixth almost done, all with a vision to compile them into a collection of some sort. I submitted a sample to a publisher who asked to read the rest, and a submission to Aurealis magazine – while not picked up – received encouraging feedback. And with luck I'll be accepted for a mentorship with KYD to polish them further.
Finally, my goal to surround myself with a tribe of enthusiastic writers has been well and truly met. Fellow #5amwritersclub members Emily Paull, Rebecca Freeman, Lana Pecherczyk, Raihanaty A. Jahil, Raphael Farmer and Holden Sheppard all have works published this year. How cool is that?
So that's where we are right now; lots of irons in the fire with a few beginning to glow nicely. With some more work and a little luck I can start forging them into something for you in 2020.
Read more about Michael and his books
Meredith Appleyard
Bestselling Author of The Country Practice
Using her experience and fascination of providing health care to rural communities in her stories
Where has the year gone?
I'm pleased to report I've achieved 95% of the goals I set back in January … 
Home At Last was released in April 2019 and I did celebrate, repeatedly. Loved the cover and I've had terrific feedback about the content. The highlight was launching it at the Royal Flying Doctor Service Visitor Centre in Broken Hill. 
The next book has been finished, and the copyedit is almost complete. When Grace Went Away is a June 2020 release. Not meaning to wish my life away, but I can't wait.
And I have started book number 6. I'm not as far into it as I'd planned after a minor hiatus mid-year to have a total reverse shoulder replacement. I broke my arm a few years back … Now I'm part woman and part titanium!
The final goal I set in January was to schedule time off. While having major surgery meant time away from my desk it's hard to think of it as time off. But I really do need to get my backside back on the seat. Writing regularly (not every day but almost) becomes a habit, and you do have to keep doing it to maintain the habit. I'm on it. I think … I hope … Having a deadline helps!
My goals for 2020? About the same as 2019, sans shoulder surgery. 
Best wishes to you all. Have a safe and happy Festive Season.
Read more about Meredith and her books
If you enjoyed this post, catch up with us tomorrow and we'll discover how Jennifer Scoullar, Rachael Johns, Emily Madden, Cheryl Adnams, Tricia Stringer, Lisa Ireland and Pamela Cook did with their 2019 writing goals!
Subscribe by email to receive our occasional blog posts 
– and never miss a new book release!
Here are the links to the original 2019 Writing Goals posts way back when in January…
Meredith Appleyard
Pamela Cook
Tricia Stringer
Cheryl Adnams
Nicole Hurley-Moore
Penelope Janu
https://australianfictionauthors.com/spilling-the-news-on-writing-goals-6-authors-6-spills/
Emily Madden
Rachael Johns
Catherine Evans
Jennifer Scoullar
Lisa Ireland
Michael Trant
https://australianfictionauthors.com/6-more-authors-spill-the-news-on-writing-goals/
Sarah Barrie
Kaye Dobbie
Cathryn Hein
Fiona McArthur
Trish Morey
Sasha Wasley
https://australianfictionauthors.com/2019-writing-goals-6-authors-spill-the-news/
Stay up-to-date on the latest Australian fiction releases and news