Our 2019 Writing Goals – How Did We Do? (2nd post)
Published:
December 5, 2019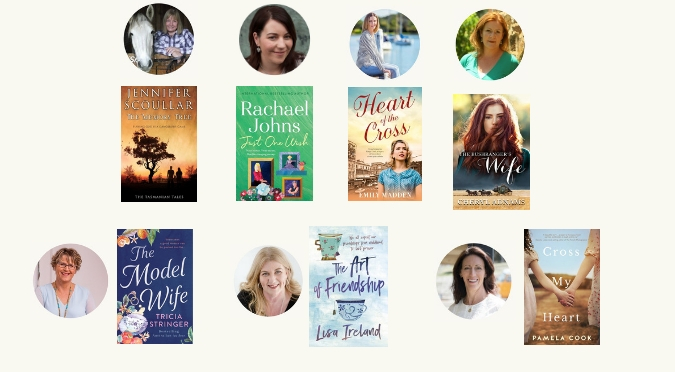 Our 2nd post!
Who remembers the Writing Goals posts at the beginning of this year?
11 months later and we've caught up with some of those authors to see how they all did.
Did we get it all done or did life throw a spanner in the works of our expectations?
Today we're hearing from Jennifer Scoullar, Rachael Johns, Emily Madden, Cheryl Adnams, Tricia Stringer, Lisa Ireland and Pamela Cook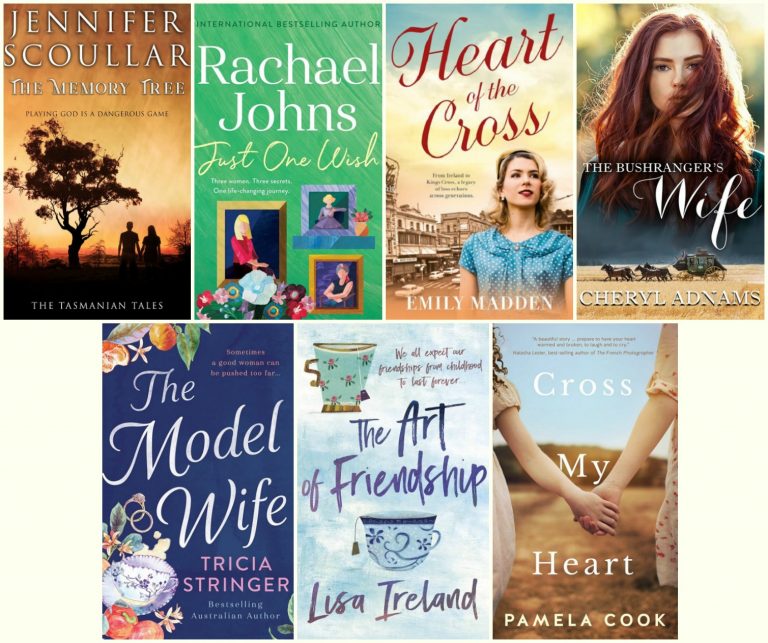 Jennifer Scoullar
Bestselling Author of Australian Fiction
A love affair with the wild…
I achieved my main writing goal for 2019, which was to have The Memory Tree published in September. The Memory Tree is the third book of the Tasmanian Tales, a series following the trials and tribulations of the Abbott family. The series began with Fortune's Son, set in the 1800s. In this contemporary conclusion to the trilogy, a century of secrets threatens to destroy a marriage – and bring down a government. The Memory Tree is a haunting story of family relationships, the unbreakable ties we all have to the past and the redemptive power of love.
The main male character, Matt Abbott, is head ranger at beautiful Binburra National Park. Matt is also a man with something to hide.  He confides his secret to nobody, not even his wife Penny. The deception gnaws away at their marriage.
Matt's father, timber and mining magnate Fraser Abbott, stands for everything Matt hates. Son disappoints father, father disappoints son – this is their well-worn template. But Fraser seems suddenly determined to repair the rift between them at any cost, and Matt will discover that secrets run in the family. When Sarah, a visiting Californian geneticist, tries to steal Matt's heart, the scene is set for a deadly betrayal.
I'm thrilled that The Memory Tree is now available everywhere in print and online.  "For my money, The Memory Tree is simply the best thing Jennifer Scoullar has ever written, and I hope she continues to write love stories about the bush and the living creatures that inhabit it." Meeka's Mind Book Blog
Read more about Jennifer and her books
Rachael Johns
Award Winning International Bestselling Author
Romance and Women's Fiction
2019 has been a busy year writing wise, but sometimes day to day it doesn't feel like we're achieving very much, so I'm loving this chance to look back and take stock!
This year began with doing revisions for JUST ONE WISH, which I'm pleased to report released late October and has now been out for over a month. Needless to say, I conquered these revisions and also the structural and copy edits that followed. While doing the edits for this book, in the first half of the year, I also wrote the majority of SOMETHING TO TALK ABOUT (rural romance), which is due to be released April next year.
I had a wonderful year of travel – I went to the Romance Writers of America conference with author and friend, Emily Madden, and also did a road trip ALL over California with my family. I spent a fun-filled week in New Orleans with author and friend, Anthea Hodgson, during which I did lots of research for THE ART OF MOVING ON. I haven't started writing this book yet as my publisher encouraged me to write a different women's fiction novel first, but it's definitely next on my agenda!
The latter half of the year has been spent editing SOMETHING TO TALK ABOUT and writing the first draft of FLYING THE NEST (which I hope to finish just in time to have a summer holiday and should be out next November).
So, I guess I achieved my professional goals and I do think I also managed to be kinder and put less pressure on myself. All in all, I'd call 2019 a win and I can't wait to see what 2020 has in store!
Read more about Rachael and her books
Emily Maddon
Australian Author
Get swept away by love…
Note to self: When you decide to go back to your "day job" and think you can write the same amount as you used to, think again.
At the end of 2018, I was two months into a new job, finishing up copy edits for Heart of the Cross which was released at the end of August this year and researching my fourth book – The Buchanan Girls my story about my Australian Women's Army Service girl.
Fast forward 12 months as I'm still writing The Buchanan Girls. It's definitely the longest time I've taken to write a book and it's testing my patience, but it's also taught three me the three P's.
Plan: Set small goals, small goals become bigger goals that all feed into the end goal – finishing the damn book! It also helps to set rewards (like, write 2,000 words, watch an episode of The Crown).
Persist: There will be days that you don't hit the word count goal, there are days that you may not write at all, the key is to remember to keep going. It is so easy to get disheartened when you fall behind.
Passion: At the end of the day, remember why you are doing what you're doing. When you're juggling multiple things, the joy of writing can sometimes wane. I find reading the best way not only to refill the well, but it reminds you of why you write – to bring joy to others.
So overall, I didn't do too badly and as we head into 2020 – there are two things on my list: Finish the damn book, refill the well and then start the process all over again.
Read more about Emily and her books
Cheryl Adnams
Australian Author
Author of four rural romances and now also historical fiction with The Girl from Eureka and The Bushranger's Wife
What a year!
Revisiting what my goals were at the beginning of the year has been wonderful.
2019 ended up being the year of two novels published, two jobs, and two major holidays.
The two novels, my Australian historical romances "The Girl from Eureka" and "The Bushranger's Wife", were released in February and August.
I did indeed visit Darwin in April for some extensive research for the World War 2 book I was writing. It is now complete and currently getting a read through from an editor so I look forward to receiving feedback soon. So there's another goal reached. Tick!
I guess the one goal that really stands out for me is that I said I hoped 2019 might be a year for me to be a little braver. Well that certainly happened when I made the brave decision to walk away from my stressful full time job. In my "funemployment" (as friends called it) I travelled to Iceland, Austria and Italy and then the Flinders Ranges to fly over Lake Eyre. Two major bucket list items ticked in the travel space.
But the most exciting writing news for me in 2019 was that "The Girl from Eureka" will be published in a print bind up with "Daughter of the Murray" by the fabulous Darry Fraser in January 2020 titled "Rebel Daughters". So there was a goal met that I didn't even set!
So 2020 is looking good already in the goal achieving area.
Read more about Cheryl and her books
Tricia Stringer
Award Winning Bestselling Australian Author
The voice of Australian storytelling. From the city to the country…
I can't believe it's been ten months since I wrote my writing goals for this blog. You may remember I said I had a perpetual planner above my desk on which I write in green, red, and blue texta and as I look up now, this the calendar is covered in coloured scrawls.
The predominant colour is green. Green is for go and that's all my writing goals for the year. As I quickly scan them I can see I've met them all. The Model wife was edited, a new book written and subbed and then the publication of The Model Wife and all that entailed.
The things in red which might hold up the writing process were spread out across the year and while they were lots of fun, like holidays and weddings and community commitments they were factored in, so the rest flowed around them.
The beautiful blue is mainly numbers showing the growing and then final word count for next year's book.
It all looks very messy to anyone else but to me it's my progress through the year. And even though it didn't always flow quite as I'd planned, I take great satisfaction in the achievements.
December is yet to come and nearly everything there is written in red, things like – cruise ship visit, wedding, grandies visit, Christmas parties – it's a fun-filled month. And then it will be January and time to clean it all off and start afresh. I can almost taste the expectation.
I wish you all a very merry and blessed Christmas, hope there's a book or two under the tree for you and that 2020 is a good one, full of great reads.
Read more about Tricia and her books
Lisa Ireland
Australian Bestselling Author
Getting to the heart of female friendship and the lives of women
I can't believe a whole year has passed since I wrote these goals! How did I do? Well…
Okay, I guess. I aced my first goal but have not nailed the second one.
Goal One: Submit current manuscript by March 1st 
Action required to achieve this:
Complete revisions as per agent notes
Revisit research on nursing homes and any other outstanding research queries
Send to Beta reader
Make any final changes and submit (March 1)
I managed to complete this goal on time and I'm very pleased to report that the book sold to Penguin Random House. THE SECRET LIFE OF SHIRLEY SULLIVAN will be released on April 28 2020.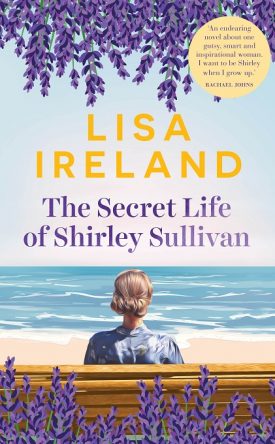 Selling the book was very exciting, but when I set these goals I hadn't factored in all the extra work that I would need to do if a publisher picked it up. The second half of my year has been taken up with structural edits, copyedits, proofreading and planning for the book's release. This has all been wonderful and exciting but also time consuming, which means I didn't do so well on my second goal.
Goal Two: complete first draft of new book by December 20
Action required to achieve this:
Brainstorm ideas (March)
Research and roughly outline story idea (April)
Write first draft (May – September)
Seek input from beta readers and agent (mid-October)
Submit (December 20)
I'm still in the first draft stage of this goal (and not very far into the draft!) I have shifted the deadline for submission to May – when the new book comes out.
Even though I didn't complete all my goals for the year, I'm really happy with what I did achieve.
Read more about Lisa and her books
Pamela Cook
Australian Author
Writing page-turning women's fiction set in escape-worthy places
I truly cannot believe that 2019 is almost over! Where did that time go? I guess when I sit down and think about it, I know exactly where it went, so here's an update on what's happened for me in 2019 and how I went with those goals I set at the beginning of the year …
The word I chose as my guide this year was flourish and although I actually feel quite exhausted, I can proudly say I have flourished over the course of the last 11 months. My first independently published novel Cross My Heart was released in late September and in the time leading up to the release I pushed myself to revise that manuscript and polish it until it shone. I was not only the writer but the publisher and marketer and despite my usual pre-publication nerves the book has received amazing reviews on Goodreads and Amazon – all 4 and 5 star to date – so you can imagine how ecstatic I am!
This year also saw my first experience working as part of the Storyfest. This was the inaugural story-telling festival in my favourite town of Milton and while it was a huge amount of work it was a massive success and a wonderful event to be part of. I met new people, honed my facilitator skills and generally had a blast.
My other goal for the year was to put more work into the Writes4Women podcast which I co-host with the dynamo who is Kel Butler. The podcast has gone from strength to strength with weekly episodes, a new format, publishers pitching to us, a brand new website and a Patreon subscriber account.
It's been a crazy-busy year but I've squeezed in plenty of family time and some down time to ride my horse and enjoy life on my blissful property. I can't wait to see what's in store in 2020.
Wishing everyone a happy Christmas and holiday period and hoping you get plenty of reading to enjoy all the fabulous Australian fiction on the bookstore shelves.
Read more about Pamela and her books
If you enjoyed this post take a read of the first writing goals 2019 catch up post with Cathryn Hein, Kaye Dobbie, Penelope Janu, Catherine Evans, Michael Trant and Meredith Appleyard 
Subscribe by email to receive our occasional blog posts 
– and never miss a new book release!
Here are the links to the original 2019 Writing Goals posts way back when in January…
Meredith Appleyard
Pamela Cook
Tricia Stringer
Cheryl Adnams
Nicole Hurley-Moore
Penelope Janu
https://australianfictionauthors.com/spilling-the-news-on-writing-goals-6-authors-6-spills/
Emily Madden
Rachael Johns
Catherine Evans
Jennifer Scoullar
Lisa Ireland
Michael Trant
https://australianfictionauthors.com/6-more-authors-spill-the-news-on-writing-goals/
Sarah Barrie
Kaye Dobbie
Cathryn Hein
Fiona McArthur
Trish Morey
Sasha Wasley
https://australianfictionauthors.com/2019-writing-goals-6-authors-spill-the-news/
Stay up-to-date on the latest Australian fiction releases and news