On the Same Page – new release from Penelope Janu
Published:
December 1, 2018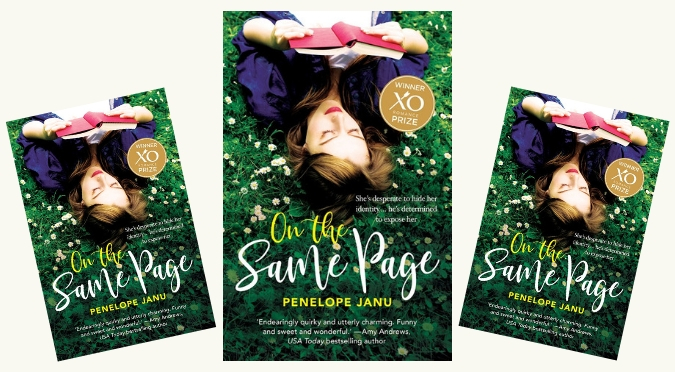 A contemporary romantic comedy from prize winning author of In at the Deep End and On the Right Track Penelope Janu
Read an excerpt from On the Same Page
'Endearingly quirky and utterly charming. Funny and sweet and wonderful.' —Amy Andrews, USA Today bestselling author
Out in paperback and ebook today!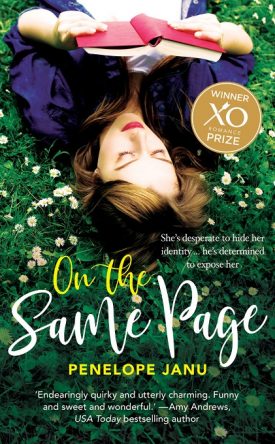 Sometimes a girl just has to do what's in her heart …
By day Miles Franklin, named after the famous author, is a successful lawyer. But by night she writes historical romance novels under the pen name Emma Browning. When Miles's assistant covertly enters her boss's novel in one of Australia's biggest literary awards—and it wins—Miles's perfectly ordered world is torn apart.
Lars Kristensen smells a rat. As the CEO of Iconic International, the company publishing Miles's prize-winning novel, he's determined to meet the author and uncover her true identity.
But Miles is equally determined to protect her privacy—and to keep writing—even if it means mastering pole dancing, and choreographing a love scene in the back of a horse-drawn carriage … Well, she is a romance writer, after all.
Miles has the grit to keep her secret, but Lars has the smouldering looks and arrogance of any romantic hero she has ever imagined.
Hmm. Sometimes a girl just has to turn the page …
Excerpt from On the Same Page by Penelope Janu
Chapter 1
My briefcase flies out of my hand and whacks him in the knee.
'Christ!' he says, grasping my arms above the elbows, steadying me.
If I look up I'll blush, so I keep my chin down. Navy suit, burgundy tie, white shirt. He has broad shoulders and narrow hips. And he smells nice.
'Are you all right?' His voice is deep. English accent? He squeezes my arms.
'Yes. Sorry about …' I look up. Early thirties, well-defined jawline, determined chin. Remarkably blue eyes with steel-grey flecks. He has a perfectly shaped mouth to match the rest of his face.
He reaches for my briefcase at the same time I do, but he gets there first. As I straighten, I hit him in the chin with the top of my head.
'Christ!'
'Sorry!'
He rubs his chin. Our gazes lock. I'm vaguely aware of people walking around us. Of exhaust fumes and the rumble of a bus engine. A car horn blasts and I jump. He pushes me off the road backwards, hesitating briefly as I negotiate the kerb to the footpath. When he smiles into my eyes, I'm so busy gazing into his that I don't notice he's trying to give back my briefcase. Our hands touch. His fingers, long and lean, tangle up with mine as I take the handle.
A flush warms my chest and moves up my neck to my face. I'm suddenly breathless. And I know exactly how I'll look. Like a giant red condom's been pulled over the top of my head.
'Oh!' I snatch the briefcase out of his grip. 'Sorry again.'
When I take a step sideways, he holds out his hand. 'There's no need to apologise. It was unintentional.'
'I'm very clumsy.'
He opens his mouth as if he's going to say something else, but then he shuts it. His lips firm and he takes a step back. Has he only just realised I'm red like a beetroot? That my briefcase may have crippled him and his jaw might be broken? He nods brusquely. Is this a dismissal?
I turn sharply right and walk quickly along the footpath, as if I actually want to go in this direction. It would be foolish to turn around to take one more look. I must be imagining he's following me with his eyes. Even so, I will not turn around.
I turn around. He's at least twenty metres away. I can't possibly see the colour of his eyes from here. Can I? He swipes his dark-brown fringe off his forehead as he continues to stare. Why is he staring?
I spin on my heel and continue along the footpath, crossing the road at the next set of lights. Then I walk until—five minutes later—I'm directly across the road from where I started. It's lunchtime now and people at the cafés along Enmore Road crowd onto the footpath. It takes another few minutes of dodging and weaving before I reach my building.
My nameplate hangs in the foyer, near the staircase to the first floor. Miles Franklin & Associates, Lawyers. The sign is a little misleading because I'm a sole practitioner, and my PA, Pippy, is the only employee I have. I kick off my heels and walk up the stairs in my stockings, only putting my shoes back on when I get to my door. And it's only then I realise I forgot to pick up lunch.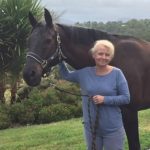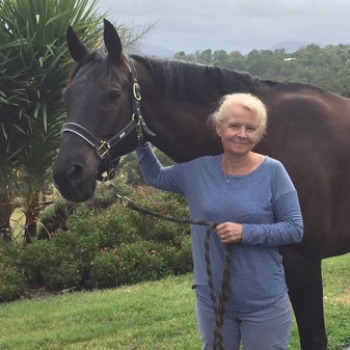 Read more about Penelope, her books, where to find her on your social media platforms, and where to buy On the Same Page
Penelope Janu – Prize Winning Australian Author
Adventure and romance…fresh, fun fiction
Stay up-to-date on the latest Australian fiction releases and news