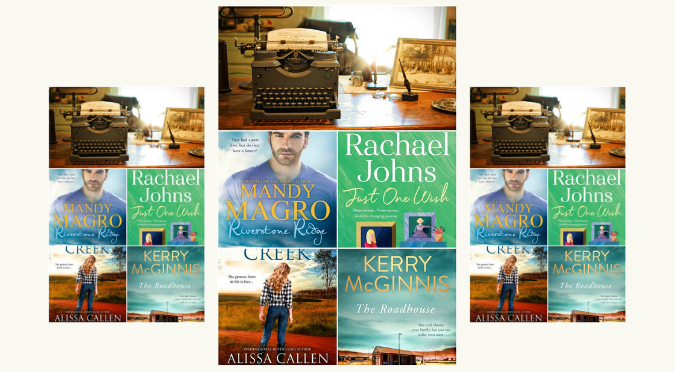 We've got an exciting run-up to Christmas and the New Year this October, with some wonderful new releases.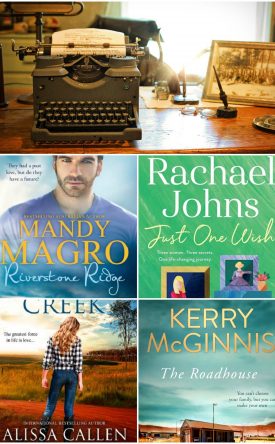 🖋📚 We're also going to be catching up with our authors and asking them all sorts of questions about their writing lives (and in particular – their writing spaces and what's on their desks when they pen those gorgeous novels. Look out for photos!).
🖋📚 We've got guest author bestselling Kerry McGinnis on board this month and we'll be telling you all about her latest bestseller, The Roadhouse.
"You can't choose your family, but you can make your own"
Kerry was born in Adelaide and at the age of twelve took up a life of droving with her father and four siblings – so we can be assured of another great rural fiction novel from Kerry with The Roadhouse.
🖋📚 Let's not forget our member author's new releases this month…
21 October – RIVERSTONE RIDGE by Mandy Magro
"An authentic and heartfelt story about uncovering who you truly are and where you belong"
21 October – JUST ONE WISH by Rachael Johns
"Three women, three secrets, one life-changing journey."
We'll be giving you excerpts and asking Mandy and Rachael the 5 Big Questions about the writing of their books! What was the most difficult aspect? What was the best thing? And do they get nervous when it's release day.
🖋📚 Plus, on 21 October an eBook-only novella in the Woodlea series will be out. THE SILVER CREEK by Alissa Callen
"The greatest force in life is love… A new Woodlea series eBook novella"
October – what's not to love about this bookish month?
Stay connected with us on Facebook at Australian Fiction Authors
Subscribe by email to receive our occasional blog posts
– and never miss a new book release!