NEW RELEASES in January
Published:
December 11, 2020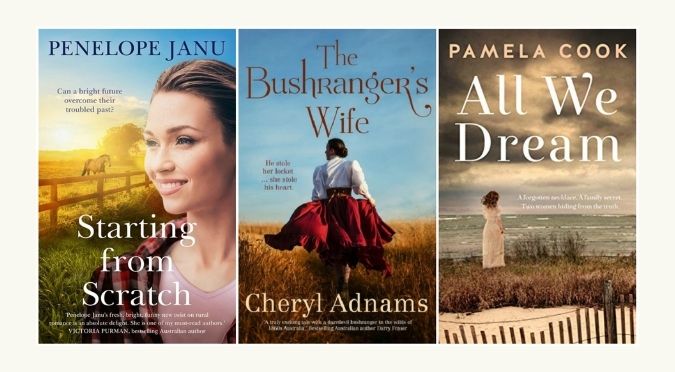 Coming Soon!
Don't miss out, pre-order now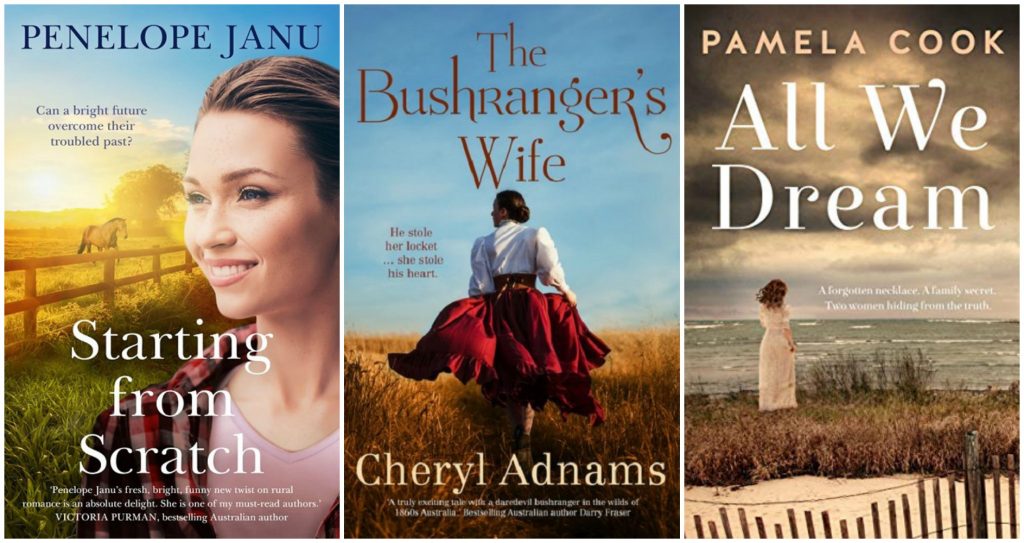 Read the story blurbs…
PENELOPE JANU
releasing 6th January 2021 in eBook and paperback
"For readers of Karly Lane and Tricia Stringer…misunderstandings and injured pride stand in the way of true love in this charming rural romance from an award-winning and much-loved author."
After a troubled childhood and the loss of her beloved grandmother, Sapphie Brown finally finds somewhere to call home – the close-knit rural community of Horseshoe Hill.
The locals love Sapphie because she never gives up – as chair of the environment committee, with the children in her classes, the troubled teens at the youth centre, the ex-racehorses she cares for and even the neglected farmhouse and gardens she wants make her own. Sapphie gives second chances to everything and everyone. Except Matts Laarkin.
An impossibly attractive environmental engineer who travels the world, Matts was Sapphie's closest childhood friend. He came to deliver a warning – now he doesn't want to leave.
All Sapphie wants to do is forget their painful past, but thrown together they discover an attraction that challenges what they thought they knew about each other. Do they have a chance to recapture what they lost so long ago? Or will long-buried secrets tear them apart?
In the flowers she creates from paper and the beauty that grows on the land, Sapphie has found perfect imperfection. Could that be what love is like too?
Pre-order

Read more about Penelope Janu
CHERYL ADNAMS
already available as an eBook the paperback will release on 6th January 2021
He stole her locket … she stole his heart.
Central Highlands of Victoria, 1861
Jack the Devil's reputation precedes him. The most notorious bushranger on the Central Highlands, nothing throws him off his game … until he holds up Prudence Stanforth and her grandmother. With her sweeping red hair and complete lack of fear, Jack can't help but be captivated by the feisty Pru.
Weeks later, Pru crosses paths with the respectable businessman, Jack Fairweather, and it's not long before she recognises him as the bushranger who stole her beloved necklace. His price for the locket's return is her silence … and a kiss. A kiss that sparks something inside them both.
When Pru discovers her grandmother has been keeping a devastating secret, running away with Jack the Devil is the perfect escape for her broken heart. The dangerous nature of his less than salubrious occupation is a poetic contradiction to her sheltered upbringing and only fuels their passion. Until that danger becomes a reality. Between the return of dark elements from Jack's past and authorities intent on his capture, Jack and Pru must fight for their future together … or risk losing everything.
"A rollicking historical tale about following your heart, finding home in unexpected places – and bushrangers."
Pre-order
Read more about Cheryl Adnams
PAMELA COOK
releasing 14th January 2021 in eBook and paperback
A forgotten necklace. A family secret. Two women hiding from the truth…
When successful Sydney lawyer Miranda McIntyre searches for something old to go with her wedding dress, she remembers an antique necklace from her childhood. Her mother's denial of its existence only deepens Miranda's curiosity but the discovery of a faded wedding photo and an old newspaper clipping reveal long-buried family secrets.
Who is the woman in the photo? And why are these keepsakes hidden in her mother's closet?
Miranda's quest for the truth takes her on a road trip south to the idyllic seaside village of Pelican Point where she stumbles upon a secluded cliff-top cottage and the reclusive Esther Wilson. As Miranda begins to unravel the mystery, a tale of daring rescue, forbidden love and shocking betrayal unfolds. Meeting enigmatic horse trainer Vincent Kennedy forces Miranda to question the life she has worked so hard to create, throwing into turmoil everything she thought she knew about the past and about herself.
A multi-generational story of family, hope and following your heart.
(Previously published as Essie's Way in 2013)
Pre-order
You can also order a signed paperback direct from Pamela at: https://www.pamelacook.com.au/contact/ 
Read more about Pamela Cook
~We'll be bringing you exclusive content from the authors and the books on release days!~
Subscribe below by email to receive our occasional blog posts – and never miss a new book release
Stay up-to-date on the latest Australian fiction releases and news