NEW RELEASE – While You Were in the Country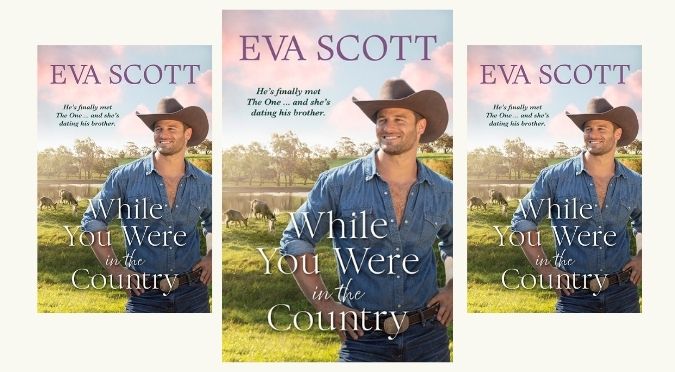 He's finally met The One … and she's dating his brother.
OUT NOW
Read a few words from the author, then read an excerpt.
Eva Scott also answers The 3 Big Questions about writing the book!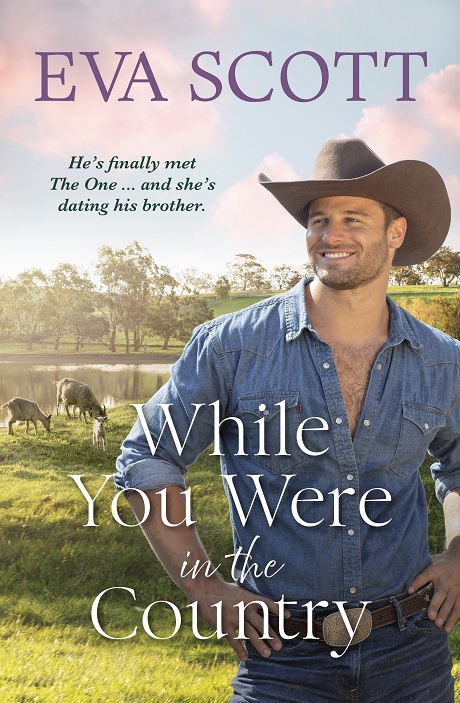 Ant Murphy has spent his life picking up after his famous AFL star brother. So when he gets a phone call telling him that Jed has ended up in the hospital after a drink-driving incident, Ant is far from surprised. He's not even shocked by Jed's manager's wild scheme to have him spend the next six weeks living in the country with a girlfriend Ant didn't even know about. All par for the course in his brother's crazy life.
In fact, Ant isn't thrown by anything … until he turns up at the new girlfriend's farmhouse and discovers that he already knows her. Intimately.
Frankie Fox has dealt with a lot over the last few weeks. She's turned thirty, lost her roof in a storm, been ghosted by The One, and is now somehow dating her longstanding celebrity crush, THE Jed Murphy. But none of these come close to the blow of having The One turn up on her doorstep after weeks of silence … and for him to turn out to be Jed's brother.
With a secret she's forbidden from revealing, growing feelings for her boyfriend's brother, two Murphys living in her home and her future happiness on the line, Frankie must ask the most important question of all: is all this trouble really worth a new roof?
'Inspired by the popular 90s romcom While You Were Sleeping, this is both a nostalgic throwback and a modern-day love story about what happens when the man of your dreams isn't quite who you expected.'
Buy While You Were in the Country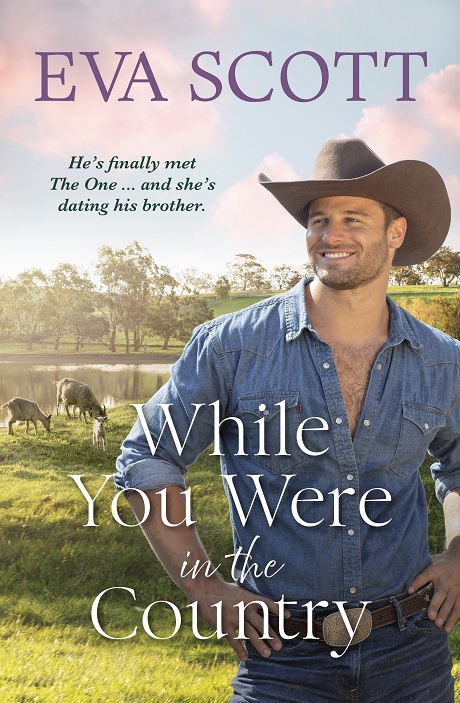 A few words from Eva Scott
While You Were in the Country is my reimagining of While You Were Sleeping, that 90s classic romcom starring Sandra Bullock – if the movie had been set in the twenty-first century in rural Australia. There were a LOT of adaptations to be made and the story veers wildly from the movie, although the essence of it remains. I set this book in a small town situated in the Scenic Rim, Queensland.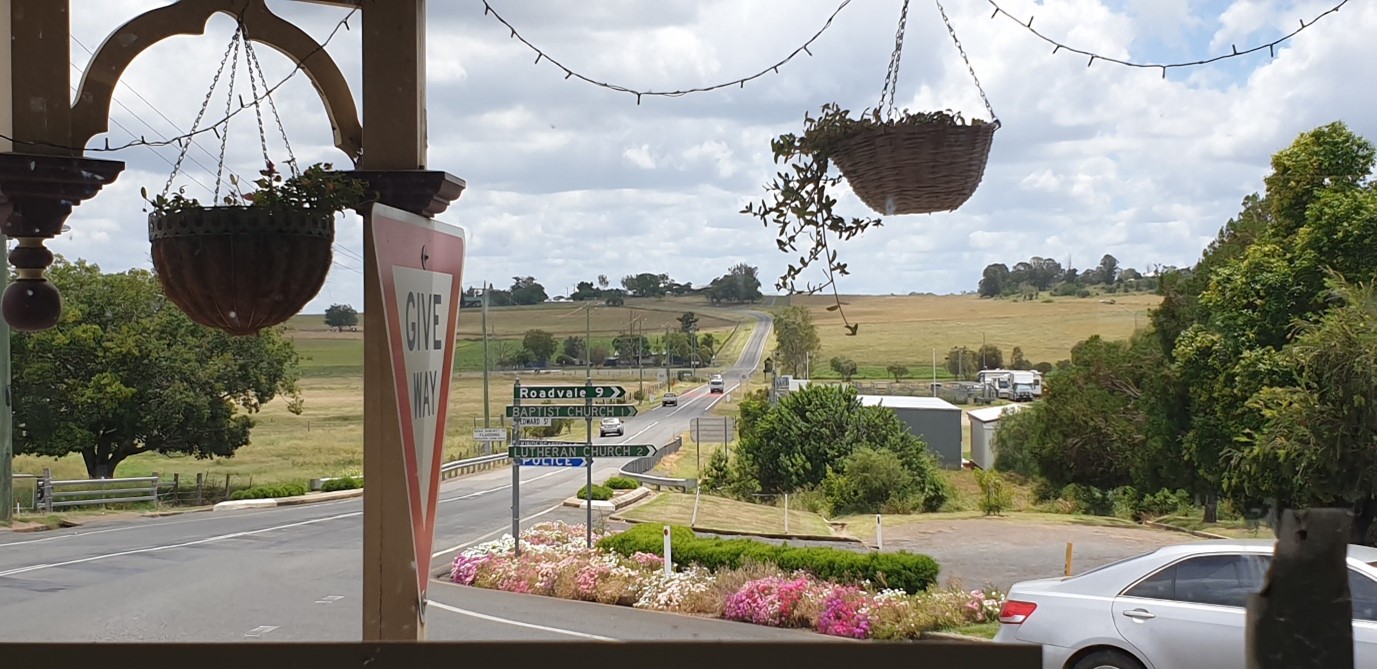 Kalbar is a real place that captured my heart as I hope it will capture yours. I hope you enjoy reading it as much as I enjoyed writing it.
Eva
Excerpt from While You Were in the Country
by Eva Scott
CHAPTER ONE
Nine weeks earlier
'I don't have the money.' A gnawing feeling plagued Frankie's stomach at the very mention of dipping into her meagre savings.
'Come on!' Adele threw her head back like a teenager protesting at her parents, complete with eye roll. 'You don't need money. This is your thirtieth birthday party. We're buying the champagne.' She gestured to the people surrounding them, all impossibly pretty and shiny. The Coolangatta pub, with its sun-kissed patrons, provided testimony to the Gold Coast lifestyle.
'But I don't know half these people,' Frankie stage-whispered. She might have met one or two in passing although she couldn't remember their names. She had the feeling they were using her birthday as a veneer-thin excuse to party.
'So what? They know you through me.' Adele cocked her head to one side and grinned. Frankie had a flashback to when her sister was nine years old and up to the kind of mischief that Frankie would have to clean up later. 'I've told them all about you and they adore you already.'
Now it was Frankie's turn to roll her eyes. She'd never understood Adele's ability to flow in and out of social situations, taking what she wanted, leaving what she didn't. Frankie had become wary of letting people close. She liked to be selective about who she allowed into her life. She'd lived in Kalbar for a few years now and was still working on building close friendships. Letting strangers buy her champers for her birthday gave her the awks.
'Yeah, still doesn't make it right.'
'You spend all your time stuck on your farm in little ol' Kalbar, so it's no wonder you feel weird being back in civilisation.'
'I wouldn't call the Gold Coast civilisation exactly.'
She'd never been here before. The Coolangatta pub provided a lively, casual setting for a Saturday session and the energy buzzed with youth and enthusiasm. With the beach across the road, the whole place hummed with a holiday vibe. The coast felt so different to the country.
'Nevertheless,' Adele dismissed her as a hayseed with a flick of her wrist, 'I'm not going to let you waste away out there. You promised me you'd have a good time. I even brought you somewhere you can watch the footy so you wouldn't miss out.'
'Not the same when Jed Murphy isn't playing.' Her team, down their star player, had lost their match, a result sure to send them tumbling down the ladder, all dreams of winning the premiership swept away in a series of fumbles and missed goal opportunities. If only Jed had been playing, things might have turned out differently.
'Agree. That is one sweet piece of man candy.'
Frankie raised her eyebrows.
'Okay, okay. I'm sorry I commoditised the crush of your life.'
'Thank you,' said Frankie. 'Get your own man candy.'
'You know I like a different kind of sweetness.' Adele smiled and held out her little pot of strawberry lip gloss. Frankie took it for what it was, an olive branch. Adele always knew how to get around her. These small gestures of sisterly camaraderie always managed to defuse the tension.
She dabbed some onto her lips and pocketed the lip gloss as Adele leaned in to fluff up Frankie's short blonde mop.
'There we go, look how pretty you are now.'
'Gee, thanks.'
A stunning blonde woman slipped up behind Adele and whispered something in her ear, sending Adele into peals of laughter. Frankie watched her sister sparkle and glow, turning her magic on the people around them. They circled about Adele as if she were the sun. How did she do that? How could the two of them be so different?
They'd been very young when their parents had drowned in a boating accident while trying to cross the Jumpinpin Bar. Adele, only eight at the time, had become a scrappy kid who took what she wanted from life. Her preferred approach to the world was to rugby tackle it to the ground. She hadn't been changed by grief as much as amplified, becoming a larger-than-life version of herself.
For Frankie, well, things had gone in a very different direction. She'd retreated within herself, refusing to entertain new relationships in her life. What if those people up and died too, or worse still, just left?
Intellectually, she knew this was ridiculous, yet those barriers she'd erected at ten had been reinforced with steel and refused to be breached. She'd preferred to live in the shadows, where it was safer. While Adele had become the belle of the ball, Frankie had turned herself into the princess in the ivory tower. A tower that, so far, no prince had shown any interest in scaling.
The big TV screen she'd been mindlessly gazing at changed from sport to music videos. A Powderfinger classic blared out across the pub—'My Happiness'.
Of course.
Suddenly, she was utterly fed up with herself for always being so guarded and cautious. Always so scared. Watching Adele, free and happy, Frankie wondered why she couldn't be the same. She had been the same before her parents had died, before her life had split in two. That day had sent her spiralling down a different path of destiny. The girl she was originally supposed to be had been left back there at the crossroads. Was it possible to go back and find her?
Today Frankie turned thirty, which meant she'd been the shadow version of herself for twenty years. What an anniversary! She wanted sunlight and laughter back. She wanted spontaneous dancing and love. If she didn't take what she wanted from life now, when would she? Her ten-year-old self deserved a better future than the one she'd created for her. Frankie needed to somehow go back in time and reclaim her.
'We need more champagne.' Adele clapped her hands and Frankie couldn't be sure if it was in delight at the idea of a drink or if she had been summoning a minion.
'No more champagne for this little duck until she gets something to eat.'
The first thing she was going to reclaim? Her childhood love of hot chips, preferably with chicken salt.
Frankie leveraged herself out of the couch she'd been sitting on. The room, with its vibrant handpainted murals and wood panelling, tilted for a second before returning to its regular level.
'Eating is cheating,' Adele sang as if quoting a nursery rhyme.
'Good on you, Adele.' Frankie straightened her vintage Bananarama T-shirt and took a steadying breath.
'We're all going on to Koi Kamui soon. Why don't you wait a bit and come with us?'
The last thing Frankie wanted to do on her birthday was eat overpriced sushi at a bougie restaurant with people who were not her friends.
Watching the footy on the big screen with fellow fans had been a bunch of fun. She knew Adele had indulged her there. Now it was time to get something to eat. The reclamation of her life needed some contemplation. Call it her quarter-life crisis.
'I really, really need some hot chips and then I might go home.'
'Do you though?' Adele pouted. 'The fun is just beginning.'
Frankie leaned over and planted a kiss on her sister's cheek. 'You go on and have fun. I think that Valkyrie chick likes you.'
Adele looked over her shoulder at the tall ice-blonde who winked suggestively. 'Well, only if you're sure. I hate leaving you on your birthday.'
'Adele, I've had fun but I'm done. I need to think about my life. I need to find the old me.'
'The old you?' Adele frowned. She wouldn't remember how Frankie used to be as a kid. She'd been so young when Frankie had changed.
'I'm good, Adele. Really. Go.' And with one last squeeze of her hand, she did.
Eva Scott
Bestselling Australian Author
Writing rural romcoms such as Lonely in Longreach and Meet Me in Bendigo
Read more about Eva Scott and her books
Eva Scott answers The 3 Big Questions
What gave you the most pleasure when writing While You Were in the Country?
I had made a soundtrack for the novel (and one especially for Ant). I loved listening to it while I wrote. I found it really focussed me and centred me in the story. The other thing I adored was exploring community Facebook pages. The community I lived in at the time as a cracker page and the Kalbar community page will put your faith back in human beings.
What were the difficulties you faced when writing the story?
I was packing up my home and family to move 2,000kms south to Tasmania while I was finishing this novel. We were redecorating our house to get it ready for rent, while packing and trying to buy a house in Tassie in the middle of a nationwide lockdown. Both my husband and myself were working from home at the same time. Things got pretty chaotic there for a minute. Juggling everything while keeping my head in the writing game was a huge challenge some days. On others, the novel became a place of calm oasis.
When you waved While You Were in the Country goodbye, on its way to readers and out of your hands, what did you do first?
Collapse! The MS was due a week after we arrived in Tasmania. Christmas loomed and there was much to do to settle in and prepare for our first celebration in our new house. I waved While You Were In The Country off and got to work unpacking everything I'd finished packing only two weeks before. Seemed a bit unfair really. I'm looking forward to a time in history when we can teleport our belongings when we move. Genius idea! You heard it here first, folks.
Buy While You Were in the Country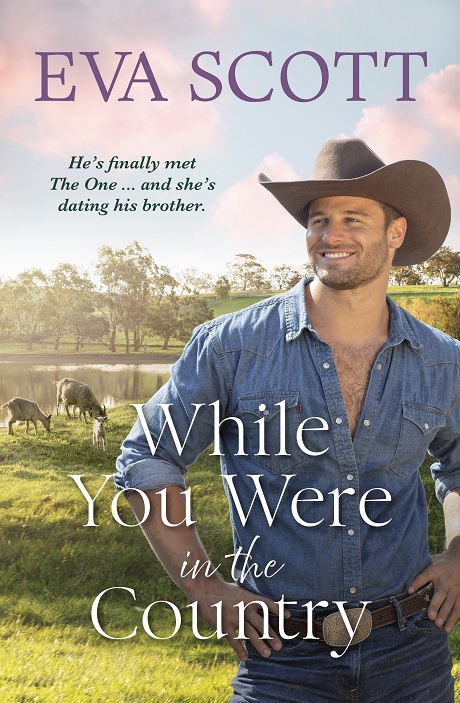 We hope you're enjoying our Book News 
We'd love you to follow us on Facebook & Instagram
You can also subscribe below by email to receive our occasional Book News blog post – and never miss a new book release!
Stay up-to-date on the latest Australian fiction releases and news