New Release – When Grace Went Away by Meredith Appleyard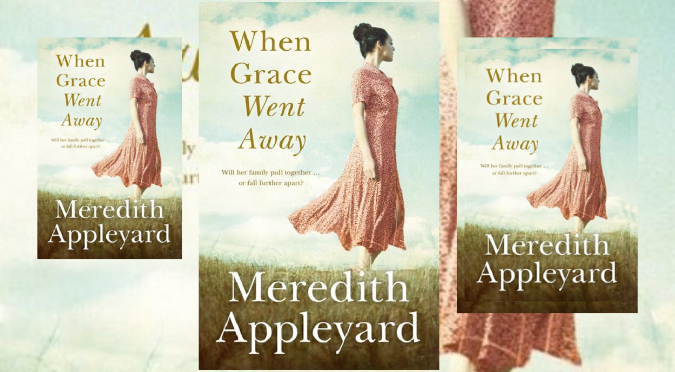 She's gone … will her family pull together, or fall further apart?
Classic, women-centred fiction, a complex, multi-layered story about family and community, from the author of the warmly received Home at Last.
When Grace Went Away
by Meredith Appleyard
Read a few words from the author and read an excerpt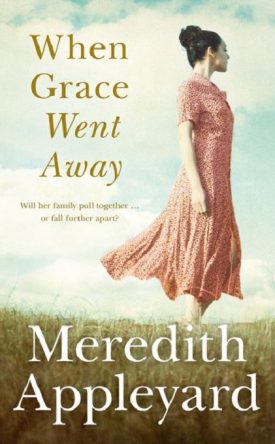 'Functionally dysfunctional.' That's how financial analyst Grace Fairley describes her family in the small South Australian farming community of Miners Ridge – a family fractured by tragedy and kept that way by anger, resentment and petty jealousies. As the eldest sibling, Grace tries to keep the family in touch, but now she's accepted a promotion to the London office. Time-zones and an enormous workload mean she's forced to take a step back, although she finds time to stay in contact with Miners Ridge landscape gardener Aaron Halliday.
Sarah Fairley, Grace's mother, fled Miners Ridge and her embittered husband eight years ago. Now, in the absence of Grace, she finds herself pulled back to the small town where her estranged children and grandchildren live. Drawn into the local community, and trying to rebuild family relationships, she uncovers a long-kept secret that could change her world …
Can Grace, Sarah and their family find a way to heal? Who will have the courage to make the first move?
A few words from the author
Release time is always busy for an author!  This year it proving to be no exception, even with the corona virus lurking about. I'm needing to keep three books front of brain: Home At Last from 2019 because the publisher is doing Mother's Day promos; When Grace Went Away because of course she's waiting in the wings, ready to make her grand entrance from 18 May; and, book number six, the one I'm currently writing (working title: All About Ella). If you ask me a question and I hesitate, that's why. I said to my husband earlier today, when I'd just finished an interview, that he'd need to be patient with me for the next few weeks! And that I might seem a bit distracted…
Perhaps when we're allowed out of the house and life gets back to some kind of normal, I'll get to reschedule all the book events I had to cancel. And I'll meet you at one of them. Happy reading.
Cheers
Meredith xx
Buy When Grace Went Away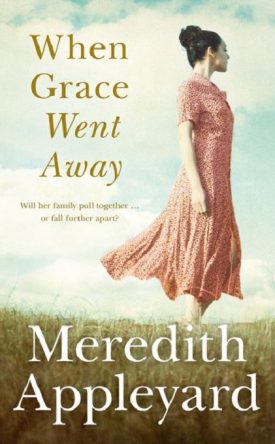 Buy from the publisher HarperCollins
Or head to your favourite online eRetailer
(See our POSTSCRIPT below for other places to safely and easily buy the paperback online.
The digital version is available from all your preferred eRetailers.)
Excerpt from When Grace Went Away by Meredith Appleyard
'Where's your car really, Grace?' Tim said the following morning, right after the back door slammed signalling Doug's departure for the sheds.
They were finishing breakfast, Grace still in her dressing gown.
Tim was clean-shaven, and his damp, dirty-blond hair brushed the collar of his work shirt. There was a family resemblance, but you needed to look hard for it.
'When you didn't show I had a few glasses of wine. That butch looking copper told me not to drive.'
'Sonya? Sounds like her. Sorry I didn't make it, but the tractor, and Dad … ' He trailed off. No more needed to be said. 'Did Faith bring you home?'
'No, a friend of yours drove me. Bloke called Aaron.'
'Looks a bit like a surfy?'
'That's him,' she said pouring herself more tea. 'He was very decent about it.'
'Yeah, decent is a word you'd use to describe Aaron Halliday. We went to school together, and then he took off to uni or someplace. Didn't see much of him for years. When he came back to Miners Ridge it was like we'd only seen each other yesterday. Beats me why anyone would choose to come back here.'
'How did he know who I was?'
'I probably told him.'
'He knew I was older than you, and alluded to the fact I was stuck up …'
Tim stopped chewing. He stared at Grace. 'You are older than me,' he said. 'And you have always had this air about you, with your university degrees and hundred dollar haircuts. It's always pissed me off, and I know it does Faith as well.'
'Faith has a tertiary qualification. You have a trade.'
Tim laughed, the sound harsh in the quiet kitchen. 'I'm a diesel mechanic and she's a nurse at the local hospital, Grace, not a corporate suit on a six-figure salary like you.' He shook his head, nostrils flaring as he went back to shovelling in the bacon and eggs she'd cooked him.
Grace dumped her tea in the sink and flung the remaining toast into the chook bucket. Finishing either was out of the question. She turned around and jabbed a finger at her brother. 'You know what? You ought to lose that giant chip on your shoulder, Tim, or you'll end up as mean and grumpy as Dad.'
He glared at her. 'And you know what? Dad gets meaner and grumpier when you swan in once in a blue moon, acting all la-di-da.'
'That isn't fair, Tim, and you know it. I've worked bloody hard to get where I am. You and Faith—and Luke—you were all given choices. They just packed me off to boarding school before I was old enough to have any say in it. And since Mum left, I haven't been made to feel exactly welcome here. When I do visit I'm treated like the unpaid help.'
Tim's jaw tightened. He sat back, crossing his arms, breakfast forgotten. Mentioning anything to do with their mother leaving was taboo. As for Luke, no one ever mentioned Luke.
Grace folded her arms, mirroring him, not breaking eye contact. 'It's eleven years since Luke died, and eight years since Mum left, and Dad still barely speaks to me. He'll always hold it against me for taking Mum's side. Not to worry,' she said, trying but failing to keep the years of hurt out of her voice. 'After this week you won't have to tolerate my company very often at all. The bank offered me a transfer to the London office. I've accepted. I go at the end of the month.'
Tim's jaw went slack. 'London? Just like that? What about your townhouse? And who's going to look out for Mum?'
Grace snorted. 'I've leased the townhouse, and Mum's really well now. You know, it's almost a year and a half since she was diagnosed, and she's had surgery and chemo, Tim. Bit late to act like you care.'
'I care. You think I don't wish she never left? You think I wasn't worried when she got cancer?'
'You didn't visit her when she was sick.'
'I rang. Faith visited with the kids.'
'Once. You rang once. Faith brought Mum's only grandkids to visit once, and only because I rang and begged her to bring them. They stayed twenty minutes. And I'm sure Faith only agreed to come because she had to take Amelia to the paediatrician and Mum's place was on their way past.'
Tim looked away, his bottom lip jutting the way it always did when he'd been backed into a corner. 'You know how it is with Dad, and Mum never visits us.'
'She doesn't have a car anymore, Tim. And where would she stay? Faith has never volunteered to have her stay, and I can just see Dad offering her the guest room.'
'You could afford to put her up in one of the B&Bs in town a couple times a year. Buy her a bus ticket. It's the least you could do for Mum – for us.'
Grace collected the dirty plates, stacking them into the sink when she really wanted to smash them. Tim had no idea what she did for their mother, or for their Nanna now that she was in care. Telling him was unlikely to change anything.
She put the plug in the sink, turned on the tap and squirted in detergent. 'Now, can I get a lift into town when you go in to pick up the parts for the tractor, or not? Do I need to ask Faith if she'll come out and get me?'
He gave his eyes an exaggerated roll and went back to his breakfast.
Tim grudgingly dropped Grace off at Aaron's place after lunch. He hadn't spoken to her since breakfast, except to tell her what time he was leaving. Grace wondered if he realised how much like their father he sounded.
Aaron's home was a surprise—an Art Deco–styled bungalow, in Miners Ridge of all towns. Painted a stark white with a beautifully landscaped front garden, it was unlike any of the other houses in the modest street. Grace resisted the impulse to press her nose against the windows to see how it looked inside.
Her car was in the carport beside the house, the keys under the back doormat where he said they'd be.
'Oh,' she exclaimed to herself, when she noticed the child's swing and other toys in the backyard. Why hadn't it occurred to her that a decent, attractive man like Aaron would be partnered up, and with children?
She scribbled a brief note of thanks and slipped it into the letterbox.
Meredith Appleyard
Bestselling Author of The Country Practice
Using her experience and fascination of providing health care to rural communities in her stories
Read more about Meredith and her books and discover where to find her on social media
Subscribe by email to receive our occasional blog posts – and never miss a new book release!
POSTSCRIPT
Standing together while keeping our distance
reading throughout the COVID-19 crisis
Many of our wonderful bookshops and online bookstores are changing the way they work simply to keep us reading.
We thank them all for the tremendous support to Australian authors and we will support them right back.
Don't forget! Purchasing a book on pre-order also means you are helping to keep the wheels of small and independent businesses turning.
BOOKTOPIA
have *currently waived all postage costs in Australia – go buy! Then find them on Facebook and give them a Like.
DYMOCKS
stores have online ordering and *individual stores throughout Australia are offering various means of buying and delivering books. Check with your local store. Find your local Dymocks store and then give them a Like on Facebook to keep up to date.
Find a Dymocks Store
https://www.dymocks.com.au/stores
BOOK DEPOSITORY
*Free postage even if the books are coming from overseas – but don't be disappointed if your favourite author's books are not available. It's one of those things – not every author's book is available on Book Depository.
https://www.bookdepository.com/publishers/Australian
INDEPENDENT BOOKSHOPS
There are many in all states and territories. Some are offering *free postage for a certain length of time or free postage with orders over a certain amount. Check with your local independent bookshop. Contact them directly by phone or email or through their websites. Find them on Facebook and give them a Like to keep up to date.
BIGW
Order and *buy online including pre-orders
(*Standard delivery $3.90 – conditions apply)
TARGET
Order and *buy online
(*Free click & collect available, free home delivery on orders over a certain amount. Free delivery available for Club Catch members)
https://www.target.com.au/c/entertainment/books/adult-fiction/W406087
* Please note individual businesses may change their online purchasing conditions at any time. Always check with the individual business.
Stay up-to-date on the latest Australian fiction releases and news