New Release – Wasp Season by Jennifer Scoullar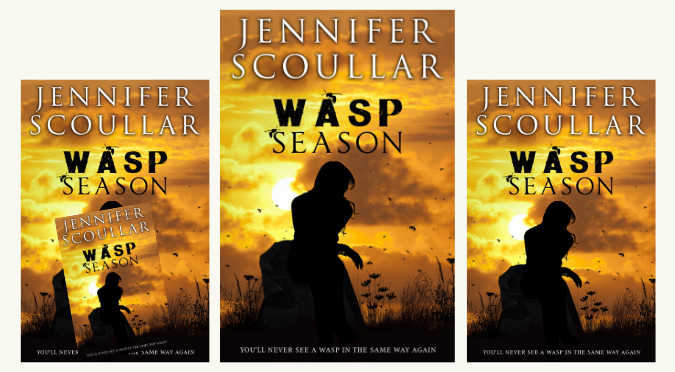 You'll never see a wasp in the same way again …
WASP SEASON
by Jennifer Scoullar
In this series of Wild Australia Stories I tell tales of the people, wildlife and land that I love. But there is more to wild Australia than brumbies, dingoes, dolphins and the magnificent outback.
Read an excerpt below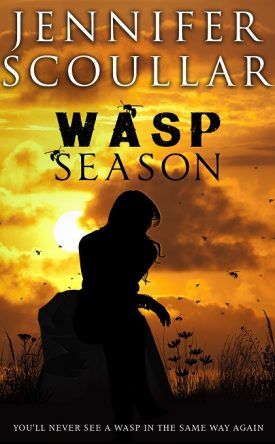 When Beth's marriage ends, she's determined to build a new life in the country for herself and her children. A quiet life lived closer to nature. She thinks she's achieved the impossible – a civilised divorce, a happy home and a cordial relationship with her ex-husband Mark. There's even the promise of new love on the horizon. But when Mark tries to change the rules, Beth's peaceful world is turned upside down.
Disturbingly, she also discovers that European wasps have invaded her garden. Beth's obsession with them and their queen holds up a distorted mirror to the human drama. As the chaos in Beth's life gathers momentum, connections between the two worlds come sharply into focus. The lives of Beth and the others are neither separate to, nor safe from, the natural world.
AUTHOR'S NOTE
As a passionate conservationist and amateur naturalist, I'm interested in all aspects of nature. One thing I've learned is that it's not always about the big things. Little creatures have a surprising impact on our lives. If you're squeamish about insects, look away now. If you're fascinated by the Australian bush and the way all creatures great and small are connected, then Beth's story is for you.
Buy Wasp Season
Available in eBook and paperback
Signed paperbacks are available from Jennifer here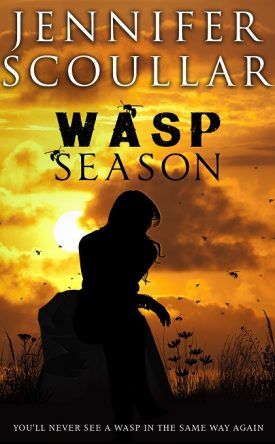 find more buy links here 
Booktopia buy link for paperback purchase coming soon!
Excerpt from Wasp Season by Jennifer Scoullar
'This is Caesar.' Beth handed the leading rein to Noah. 'He's yours for the day. I'll be riding that black mare.' Shannon was pawing at the rails, concerned that she'd be left behind.
They set about grooming the horses. 'This place is beautiful,' said Noah, looking around at the paddocks and gum tree gullies. 'Is that a creek down there?' He pointed to a line of trees at the bottom of the hill.
'Dingo Creek,' said Beth. 'If you sit on the bank and stay very still, you can sometimes see a platypus. And there are wombats and wallabies, even lyrebirds in the gullies. Benbullen really is a small slice of heaven.'
'You'll get no argument from me.' Noah took the bridle that Beth handed him and expertly guided the bit between Caesar's teeth. 'Since I'm currently living in a one-bedroom bungalow in in a backyard at Bingham.' He grinned, sheepishly. 'Newly divorced. She got the house.'
'That's tough,' said Beth as she tightened Shannon's girth. It also explained why an attractive man like Noah was single.
'The worst thing is there's no garden,' he said. 'The truckie who owns the land has concreted over the yard. It's no place for bees, that's for sure. I've had to farm out my hives more than an hour away.'
Beth's ears pricked up. 'You keep bees?'
'Probably half the reason my ex booted me out. She didn't share my passion, especially after she was stung a few times. I never could convince her how important bugs are; that if they die out, so do we.'
'That's right,' said Beth, delighted at this turn in the conversation. 'Did you see that documentary on the ABC about insect extinctions? Insectageddon they called it. All about the collapse of the world's insect populations.''
The two of them chatted about the joys of bees and gardens while they finished saddling up. Then they mounted and took the track that led to a ford in the creek. Beyond lay Wombat State Forest, lying on the southern slopes of the Great Dividing Range. It was a vast tract of undisturbed bushland, although its majestic mountain ash forests had been logged in the late 1800s. The only sign that remained of the once thriving timber industry was a rusting steam donkey at the confluence of Jackass Creek and the mighty Wombat River. Its steam-powered winch had dragged giant logs from the forest for transportation by bullock teams to the mills downstream.
Caesar leaped about, spooking and snatching at the reins, testing out his rider just as Beth had predicted. Noah sat his saddle easily, clearly enjoying the dance. They came to a wide, grassy trail along the riverbank. 'Race you!' said Beth.
Noah's smile was as broad as the river itself. The horses sprang into a gallop, filled with the joy of swift running. Beth gave Shannon her head and took the lead. She loved the wind in her face, the sensation of controlled power beneath her, the wild freedom of it. Beth's heart seemed to beat in time with her mare's as they tore down the track.
Caesar, who never could tolerate second place, pounded close behind, gaining ground. He drew level, and with an astonishing burst of speed, flew past Shannon. Beth laughed out loud and reined in her mare. Caesar seemed satisfied with his win. He slowed to a canter, then to a trot, before he and Noah circled and returned to Beth. The horses stood nose to nose, blowing hard, their satin coats damp with sweat.
'Congratulations.' Beth gulped down air as the rush of adrenaline began to wane. 'But Shannon and I demand a rematch next time.' The words had come out without thinking.
'Next time?' Noah stroked Caesar's neck and eyed her with amusement. 'Does that mean I can come again?'
'I suppose it does.' Beth smiled and tucked a stray lock of hair beneath her hat. 'Come on. I'll show you the waterfall.'
***
It was late in the afternoon before they forded Dingo Creek and trotted their tired horses back to the stable. Lonely Skittles whinnied a welcome. Beth and Noah dismounted in companionable silence, hosing down their mounts and turning them out with a generous pile of hay each.
Beth collapsed onto a canvas chair under the stable eaves. 'That,' she announced, 'was the best ride I've had in years.'
Noah leaned against the wall, looking thoughtful. 'This place is amazing, Beth. A beautiful garden, magnificent horses and the forest right on your doorstep. You weren't kidding when you said Benbullen was a slice of heaven.'
Beth  smiled and closed her eyes, basking in the moment as a gentle breeze cooled her brow. Noah was right. At that moment she felt like the luckiest woman in the world. A touch on her shoulder caused Beth to look up.
'Have you seen this?' Noah pointed to the paper wasp nest hanging from the eaves. 'Such a clever design. I've never had a good view of one before.'
Beth scrambled to her feet, eager as a child to show him more. Her earlier wish had been richly granted. Not only did she have someone to tell, ; that someone seemed equally as fascinated by the native wasps as she was. 'You're as weird as me,' Beth said, happily. 'Come up to the house for a cold drink before you go.'
***
Noah sat at the breakfast bar in the kitchen with a glass of lemonade, long legs folded awkwardly, looking out of place. Beth had never seen him inside a house before. It didn't suit him.
She sat down opposite. 'I was thinking about your beehives. If you want them to be closer, why not bring them here? My garden has plenty of flowers.'
Noah pointed to the traps outside the window. 'Your garden also has plenty of European wasps. They're deadly to honeybees.'
Beth frowned at the half-filled traps.
Noah drained his glass and rose to leave. 'Best advice I can give you is to find their nest and destroy it, before you have a truckload of trouble on your hands.'
Jennifer Scoullar
Bestselling Author of Australian Fiction
A love affair with the wild…
Read more about Jennifer and her books and discover where to find her on social media
Subscribe by email to receive our occasional blog posts – 

and never miss a new book release!
Stay up-to-date on the latest Australian fiction releases and news