NEW RELEASE Unforgiven by Sarah Barrie
Published:
December 1, 2021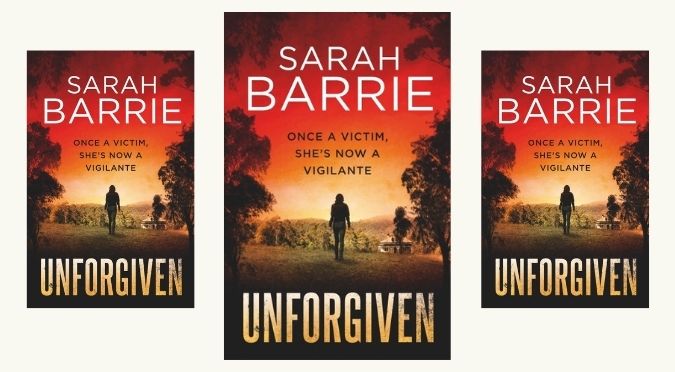 Once a victim, she's now a vigilante.
An addictive and suspenseful thriller for readers of Candice Fox and Sarah Bailey.
OUT NOW
UNFORGIVEN
from the author at the top of her game, SARAH BARRIE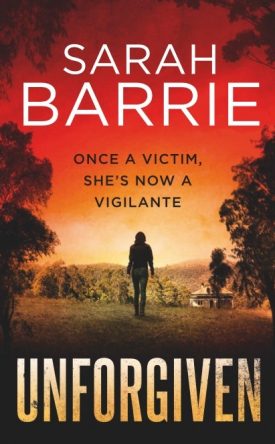 Lexi Winter is tough, street-smart and has stood on her own two feet since childhood, when she was a victim of notorious paedophile the Spider. All she cares about now is a roof over her head and her long-term relationship with Johnny Walker. She isn't particular about who she sleeps with … as long as they pay before leaving.
Lexi is also an ace hacker, tracking and entrapping local paedophiles and reporting them to the cops. When she finds a particularly dangerous paedophile who the police can't touch, she decides to gather enough evidence to put him away. Instead, she's a witness to his death …
Detective Inspector Rachael Langley is the cop who cracked the Spider case, 18 years earlier – but failed to protect Lexi. Now a man claiming to be the real Spider is emulating his murderous acts, and Rachael is under pressure from government, media and her police colleagues. Did she get it wrong all those years ago, or is this killer is a copycat?
Lexi and Rachael cross paths at last, the Spider in their sights … but they may be too late …
We've got an excerpt for you! 
Plus Sarah answers The 3 Big Questions about writing the book.
Buy Unforgiven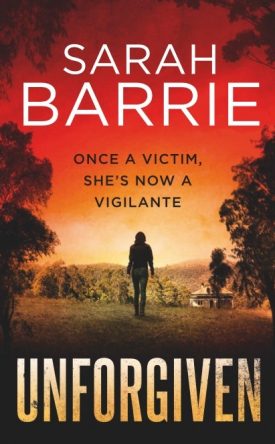 Excerpt from Unforgiven
by Sarah Barrie
My townhouse is a small eighties box at the end of a row of identical boxes in the dankest corner of suburban Ourimbah. Its backyard is a steep slope of unstable mountainside thick with scrub, stunted gumtrees and insects that hum like distant traffic for most of the year.
Though the sun never penetrates the damp three-by-five-metre paved courtyard, the skeleton of an arbour leans heavily over the small space, held up by the privet-lined wooden fence of an annoying neighbour and the twisting, clinging ropes of wisteria and Madeira vine that slowly devour it. Lantana encroaches from two sides, adding colour to the otherwise endless green void. The courtyard is cold, dark and never dries out. Moss and mould are at home here. And so am I.
Inside, the heavy drill curtains are drawn, to dissuade another annoying neighbour from popping in and because the driveway gets sun. The faint glow of it sneaking around the edges of the curtains is already too much to tolerate.
I have to stop drinking. This is not an epiphany, more a daily mantra when I wake sometime between eleven and one. It means I miss breakfast, often lunch. Dinner might be JD or scrounged with whatever change I have in my pocket; a street kebab, a hotdog. My body is constantly on that verge between thin and too skinny, my skin is pale against the black hair I occasionally hack off without too much skill. The fact that my sister calls the effect 'fragile' makes me laugh. There's nothing fragile about who I am. What I am is deliberate. But, God, I have to stop drinking.
I drop my head back against the smooth vinyl lounge and close eyes that feel too heavy in their sockets, like they want to sink right back down into unconsciousness with me. A churning nausea crawls up from my stomach and touches base with the back of my throat, tags a headache that migrates up my jaw before settling in my temples, forming a tight band across my forehead. I drag my head up, and my eyes open long enough to take another careful sip of the hot black coffee I'd poured into yesterday's mug on my way from the kitchen to the lounge. I hope for the best.
I give in to the need to close my eyes again. If the world can stay silent, dark and still, there may be a slight chance of riding this out without full toilet-bowl-hell-hangover breaking loose.
On the edge of oblivion, images drift through the fog of my mind and hold, refusing to let go. Last night. The very dreamy Jonathan Davies of the chiselled features, stunning baby blues and long, dark lashes. A tall, muscular powerhouse, precision toned and sculpted to be appreciated. So commanding, so sure of himself. The images form into a memory and I groan in resignation.
Shit. I have to get up. His body is still in the boot.
Sarah Barrie
Bestselling Australian Author
The promise of romance…the terror of isolation and evil
Read more about Sarah and her books and discover where to follow her
The 3 Big Questions
What gave you the most pleasure when writing Unforgiven?
I loved writing and developing Lexi's character. She's been the most challenging character I've written to date and I'm thrilled with how she turned out.
What were the difficulties you faced when writing the story?
Finding the right balance between telling the story of how Lexi was able to overcome an horrific childhood while not overworking the details. I wanted to write a story readers could enjoy while not underwriting the gravity of what she went through.
When you waved Unforgiven goodbye, on its way to readers and out of your hands, what did you do first?
Actually I did something I never generally do without a couple of weeks break. I starting plotting the next one!
Buy Unforgiven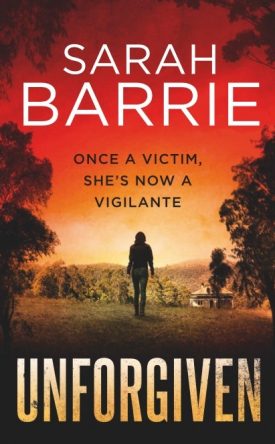 We hope you're enjoying our Book News 
You can also subscribe below by email to receive our occasional Book News blog post – 
and never miss a new book release!
Stay up-to-date on the latest Australian fiction releases and news