NEW RELEASE – The Work Wives by Rachael Johns
Published:
November 3, 2022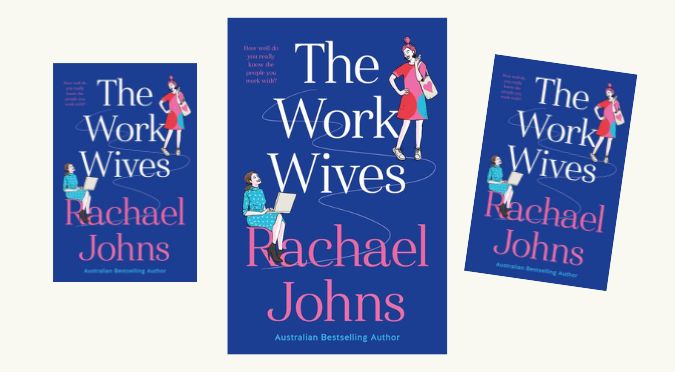 'The latest novel by bestselling, ABIA award winning author Rachael Johns will make you laugh, cry and wonder what secrets your friends are keeping!'
OUT NOW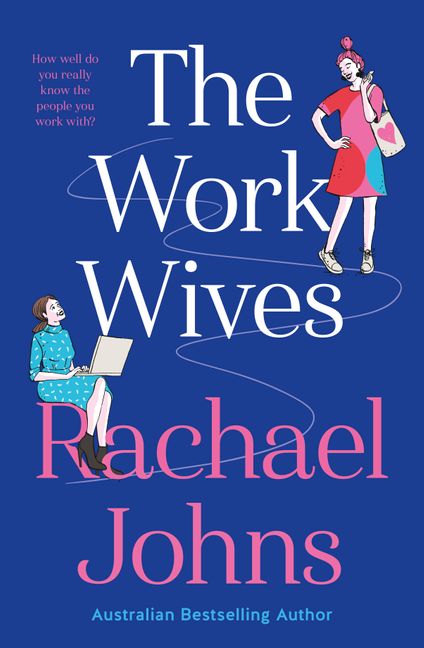 How well do you know the people you work with?
For work wives Debra and Quinn, it's a case of opposites attract. They are each other's lifelines as they navigate office politics and jobs that pay the bills but don't inspire them.
Outside work, they are also friends, but where Quinn is addicted to dating apps and desperate to find love, Deb has sworn off men. Although Deb is not close to her own mother, her teenage daughter is her life and there's nothing she wouldn't do to protect her. But Ramona has other ideas and is beginning to push boundaries.
Life becomes even more complicated by the arrival of a new man at the office. One woman is attracted to him, while the other hoped she'd never meet him again.
But when Deb, Quinn and Ramona are forced to choose between friends, love and family, the ramifications run deeper than they could ever have expected.
Read an excerpt – but first, a few words from Rachael Johns
I'm so excited to share The Work Wives with readers – this was such a fun book to write, despite the fact it does contain some very serious issues. What I love most about writing is exploring relationships between characters. In this book, we have two friends who met through work and are as different as Schitt's Creek and Downton Abbey but have become very close. One night, after another disastrous date for Quinn, she has a girls' night with Deb who is feeling a little down about her fifteen-year-old daughter growing up and becoming more independent, and they stumble upon and article about how to find a husband from a 1958 women's magazine. This scene was inspired by a post I read online about this article, and it was such a hoot to write and I think really shows the different personalities of these two women. I hope you have as much fun reading as I did writing.
Rach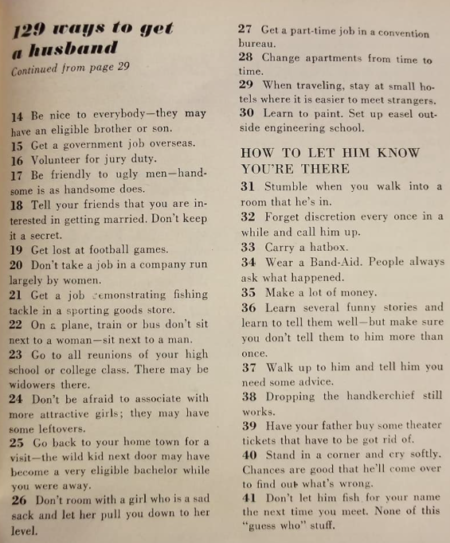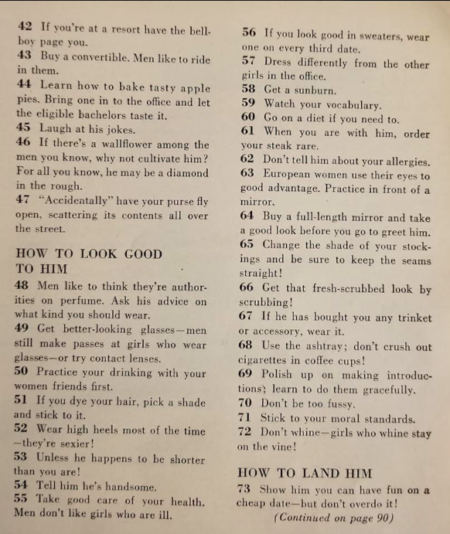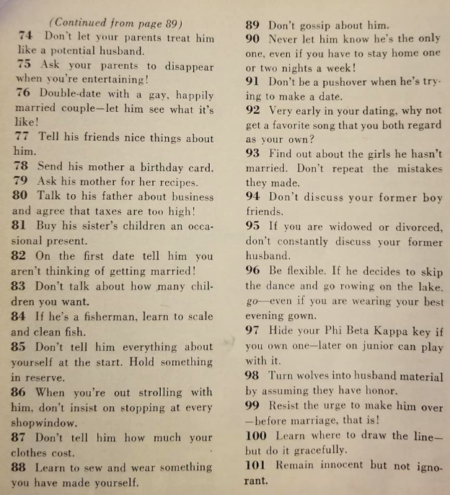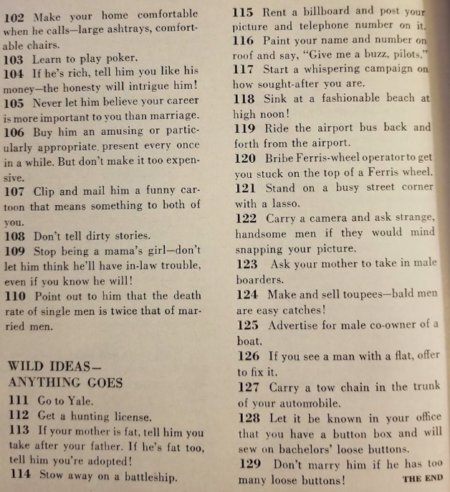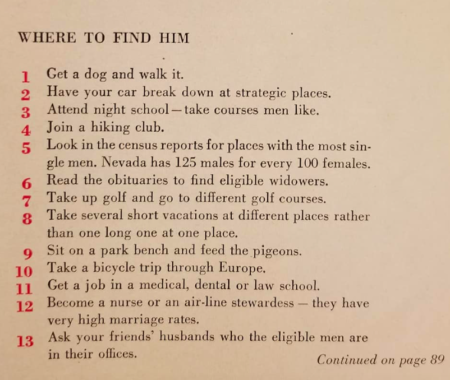 Photo images: McCalls magazine 1958; with credit to Kim Marx-Kuczynski for bringing this article to attention on her social media platforms
Buy The Work Wives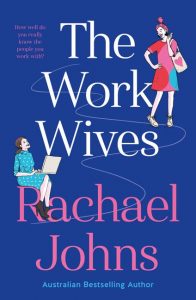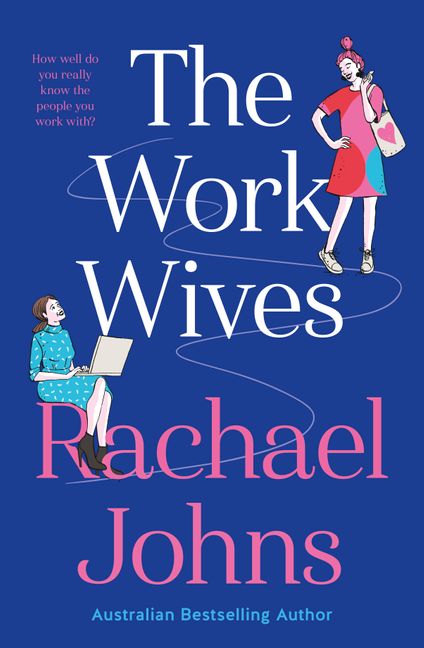 Excerpt from The Work Wives
by Rachael Johns
As Deb headed into the kitchen, Quinn picked up an old magazine from a neat stack on the coffee table. She guessed it belonged to Ramona—she loved how Deb's daughter was obsessed with all things vintage. She flipped through the pages, shaking her head at the images of women in aprons, pearls and pretty dresses advertising kitchen appliances alongside slogans like 'wifesaver' and 'my washdays are now holidays'. As if these ads weren't preposterous enough, an article about romance made her laugh so hard she almost spilt her drink.
'What's so funny?' Deb asked, returning with a plate of cheese, crackers, dip and carrot sticks.
'Have you seen this? It's an article about how to get a husband. Seriously, no wonder I haven't found Mr Right yet. Turns out I've been doing it all wrong.'
'What should you have been doing?'
As Deb sat, Quinn began to read. 'Number one—get a dog and walk it. Number two—have your car break down at strategic places.'
'What happens if you don't have a car? Could you make one of your rollerskate wheels fall off on purpose?'
Quinn snorted and continued. Other suggestions included reading the obituaries—apparently that's where eligible widowers were to be found—taking up golf, sitting on a park bench and feeding pigeons, becoming a nurse or air 'stewardess', volunteering for jury duty and befriending ugly men.
'"Handsome is as handsome does",' Quinn read. 'What exactly does that mean?'
'I think it means you shouldn't judge someone by their looks. That what's inside is more important.' Deb gestured towards the magazine. 'Go on, this is hilarious.'
Quinn grinned, happy to have distracted Deb from Ramona. 'Apparently I should get a job demonstrating fishing tackle in a sporting goods store but not take a job in a company run largely by women.'
'I guess that's because so many people meet their partners at work.
Quinn nodded.
'Well, you're on the right track there, then,' Deb said. 'Plenty of men at The Energy Co.'
'Tell me about it,' she scowled.
The two of them often complained about the demographics at The Energy Company. The sports drink industry tended to attract more men than women, and the senior positions were filled almost entirely by middle-aged white men. Not long after they'd first met in the copy room, Shaun had brought in someone to run diversity and inclusion training for all employees, but they were fairly sure it was all about ticking boxes as they were yet to see any evidence of change.
'Next time one of the directors quit, if they don't hire a woman, I'm out of there. And I'll set fire to the building on my way out.'
'I'm surprised that's not on the list.'
'What? Arson?'
'Yeah—set something on fire and wait for all the handsome firefighters to come and rescue you.'
The list continued to crack them up as it got more and more ridiculous.
Wear a bandaid—apparently men would stop and ask what happened.
Buy a convertible—'What if you're not rolling in cash?'
Deb suggested robbing a bank. 'If you get caught, maybe the arresting police officer will be single?'
If you dye your hair, pick a shade and stick to it.
'That's where you're going wrong,' Deb laughed as Quinn ran a hand through her currently magenta-coloured hair. Last month it had been green, the month before streaked purple and black.
Dress differently from other girls in the office.
'You're definitely doing that one. You always look amazing. I feel like a right frump next to you.'
'You're not a frump,' Quinn said emphatically, 'but you sure do a good job of hiding your assets.'
'What assets? I'm a forty-two-year-old woman who still hasn't managed to lose my baby weight fifteen years after giving birth.'
'You have curves I'd die for. And you're very pretty. Don't underestimate yourself. But I don't dress for men—I dress to make myself feel good. Honestly, you should try something other than black one day—you'll be amazed at the effect.'
'What's next on the list?' Deb asked.
Quinn focused back on the article. '"Get a sunburn." What the actual? Who wrote this crap? I might be desperate to meet the love of my life but even I draw the line at courting cancer for him. "Watch your vocabulary". Do you think that means I need to curb my swearing?'
'Probably.'
'Fuck it.'
They both laughed.
'"Double date with a gay, happily married couple". Ooh, do you think I should ask Dec and Darpan to come to dinner with me and Bako? Assuming tomorrow's date goes well, that is.'
'I'm pretty sure that wasn't what they meant by gay all those years ago,' Deb said, reaching for a carrot stick.
'Oh, of course. I forget gay used to mean something else entirely.' She sighed and continued reading. '"Don't be too fussy".'
'I hate to ask,' Deb said, 'but do you think maybe that's your issue? Since we've met you've dated, how many guys? And some seem to have real potential, but the moment it looks like things might be getting serious, you pull back. It's like you're scared if you commit to one, someone better might be just around the corner?'
'I'm not fussy, I just have high standards.'
Accidentally have your handbag fly open, scattering all its contents on the street—any man would run a mile if her bag spilled out in front of them.
'"Rent a billboard and post your picture and phone number on it"—wonder how much that'd cost?'
'You could always try going on a reality TV show?' Deb suggested.
'Been there, done that.'
'What?' Deb sat up straight. 'How do I not know about this?'
Rachael Johns
Bestselling, Award-Winning Author
The undisputed queen of Australian women's fiction
Read more about Rachael Johns and her books
Buy The Work Wives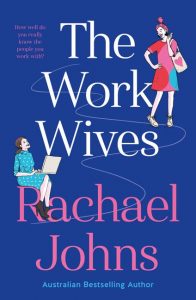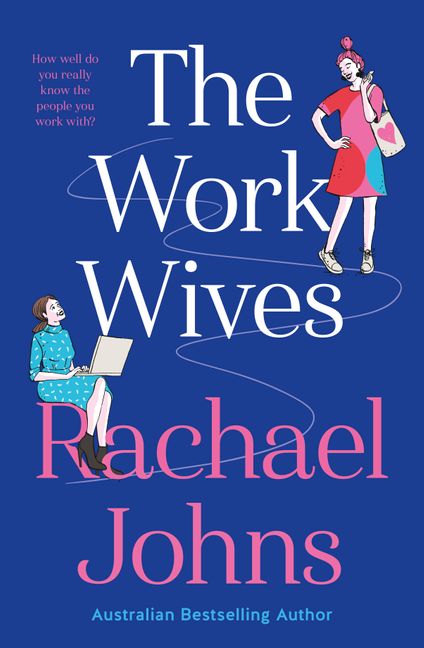 We hope you're enjoying our Book News 
We'd love you to follow us on Facebook & Instagram
You can also subscribe below by email to receive our occasional Book News blog post – and never miss a new book release!
Stay up-to-date on the latest Australian fiction releases and news