NEW RELEASE – The Wattle Seed Inn by Leonie Kelsall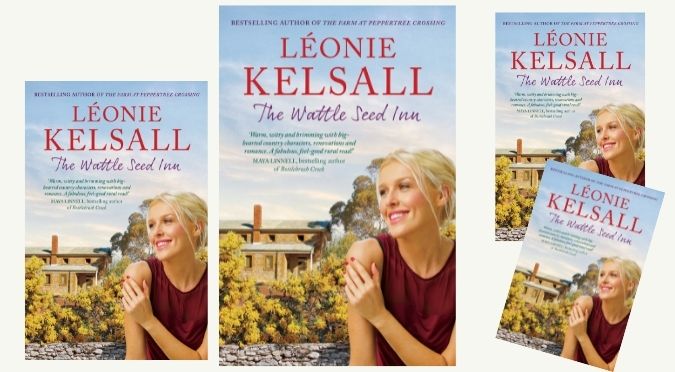 Three aching hearts, a ramshackle country pub and a tangled web of secrets.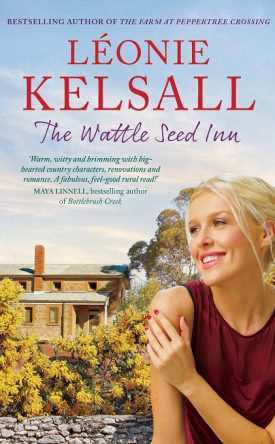 OUT NOW
PR executive Gabrielle Moreau knows she has an easy life, but when her business partner claims she lacks career passion she takes ownership of a dilapidated pub in a tiny riverside settlement to prove she can be a success without falling back on her privilege.
Eighteen months ago, Settlers Bridge stonemason Hayden Paech had it all: a job he loved, good mates and a close family. All he needed was the right woman to come along, and he was ready to settle down. But one poor choice stole that chance and he'll never risk caring for anyone again.
Living at Wurruldi Hotel for … goodness, so many years, Ilse has seen more changes of ownership than she can recall. Clinging to her failing memories, she's tired of trying to protect the property her grandparents built. With the arrival of the elegant Gabrielle Moreau, however, it seems that finally an owner may recognise the importance of recapturing the grace and dignity of Ilse's past.
For Ilse to find peace, Hayden forgiveness and Gabrielle her true passion, three aching hearts must reveal their secrets.
Read a few words from the author, read an excerpt
and then read Leonie's answers to The 3 Big Questions about writing the book
The Wattle Seed Inn is out today in eBook and paperback
A few words from Leonie Kelsall
Even after sixteen titles, it's still exciting to see a book-baby go out into the world – but The Wattle Seed Inn holds an extra-special place in my heart. It's one of my top three favourite books, ranking with The Farm at Peppertree Crossing and Malicious Desire. While each book holds this place for a different reason – whether because the story had close personal links, or it represented a 'first' in some publishing sense – the characters in all of them remain very real to me.  
The Wattle Seed Inn is again set around the fictional Murray River town of Settlers Bridge – and Allen & Unwin have signed me to write another two books in the series. While each of the four titles are standalones, the town's characters pop in and out of each other's stories. 
This excerpt in from chapter four, when Wheaty (Hayden) first sets eyes on Gabrielle – and it's a long way from a love at first sight moment!
I hope you come to adore this story almost as much as I do.
Lee x
BUY The Wattle Seed Inn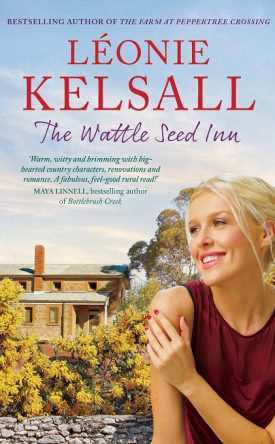 Available in eBook and paperback
Excerpt from The Wattle Seed Inn by Leonie Kelsall
Hayden took a long draught of his beer, still trying to cool his mouth, before twisting to look over his left shoulder.
Damn lucky he'd swallowed first. 'City,' he muttered. Could pick it from a mile off. The woman framed by the dark timber of the entryway had a carefully-groomed look, her fingernails actually flashing burgundy as she raked them through shoulder-length blonde hair.
'That's a problem?' Taylor asked with assumed innocence.
'I can tell you firsthand it isn't,' Luke said, nipping at his wife's ear. 'You just have to train them right.'
Sharna snorted into her glass.
'Uh-huh, and how's that going for you, mate?' Juz scoffed good-naturedly. Luke was always first to admit that he was punching well above his weight where Taylor was concerned.
'I only have to teach her the difference between wheat and barley, and we're about there,' Luke replied.
Hayden tuned out the banter, his attention on the woman.
She strode into the place like she owned it, her heels clicking loudly as she crossed the uncarpeted area surrounding the bar. She paused only to rethink the wisdom of placing her bag on the beer-sodden bar runner, slinging it over her shoulder instead. Despite the noise of the crowd, her voice carried clearly, an authoritative ring sending the pub's owner, Ant, into a stuttering, tongue-tied spiral.
'Do you sell Chateau Yaldara Reserve by the glass?'
'R-reserve?' Ant had apparently never heard the word before.
'Chardonnay. By the glass. Though I'll take the bottle.'
She wouldn't need it chilled, thought Hayden; her tone was glacial.
'No, I mean, yes, we've got a chardy by the glass,' Ant stammered.
Hayden winced. He didn't know much about wine, but he was pretty sure the house white Ant was about to pour wouldn't meet the mark.
'And you do meals?' The woman cast a brief glance around the pub, not long enough for her eyes to light on anything.
'Yes,' Ant managed to get out.
'Salad plate, please.'
A long silence from Ant, as he evidently processed the wisdom of divulging what the salad plate included.
'Rescue her, Wheaty,' Taylor muttered.
'Hell, no,' Hayden said. 'Ant's the one who needs rescuing. But I wouldn't bail even him out, this is too good. Shame we don't have popcorn.'
The rest of his table had fallen silent, also transfixed by the interaction. The effect created a weird bubble around them; the noises of the customers, the TVs, the pokies on the far side only faintly intruding.
'Salad and a house white,' Ant finally nodded. 'I'll bring it over to you. You'd better take a table number, we're pretty busy.' He reached under the counter to grab a chrome stand with a number forty-six taped to it, then smacked it down on the bar.
'I never knew there were table numbers,' Juz said.
'Me neither,' Hayden agreed. It wasn't like Ant didn't know everyone in the place by name, business, and probably their last year's income, too, given that the local accountant was also a regular.
'And your accommodation options?' The woman completed the triple.
Ant went a deeper shade of burgundy than his usual florid complexion. 'Rooms. We have rooms. Upstairs.' He jerked his thumb up to reinforce the direction.
'Ensuite?' the woman snapped frostily.
'No, no, no,' Sharna giggled. 'This is excruciating.'
'Like watching a train wreck,' Juz agreed without dragging his gaze from the bar.
'Ensuite what? The dunny, you mean?' Ant said.
'Oh. My. God.' Taylor gasped.
'Nope. Shared facilities down the hall.' Ant jerked a thumb toward the door. 'Some of the rooms across the road have private dunnies. If that's your thing. Find yourself a seat, I'll bring your meal out.'
The woman picked up the table marker and turned to survey the crowded pub, not cracking a smile as her dark gaze glided over the mismatched, wet-ringed tables, the empty platters lined with chequered, laminated serviettes, and the bright red and yellow plastic sauce and mustard bottles stationed around the room—always at a two-to-one ratio, because Ant figured anyone in their right mind wanted extra sauce on their food.
Except maybe if it was salad, Hayden thought, suppressing a quick grin.
Apparently searching out a seat in some distant corner, the woman brushed past their table. A waft of something undoubtedly expensive made Hayden inhale more deeply than usual, and he blew the breath out with a snort of annoyance.
Trigger poked his nose out from beneath the table and the woman jerked back, her drink splashing the front of the blanket thing she had wrapped around her shoulders. 'A dog? What on earth—?' She patted at the damp patch in brisk annoyance, glaring at the dog.
'Down, Trig,' Hayden commanded, though the dog had barely moved.
'He's an assistance animal,' Taylor said hastily, like he needed her help.
'Oh!' The woman's icy composure momentarily deserted her. Her shoulders caved and she pressed a palm against her chest. Then she spoke directly to Hayden, loudly and slowly. 'I'm so sorry. I didn't realise you're vision-impaired.'
The assumption curled his hands into fists, but other than that, Hayden refused to react. Instead, he slid his gaze to meet the flicker of uncertainty in the woman's unusual river-brown eyes.
***
The Wattle Seed Inn is again set near the fictional Murray River town of Settlers Bridge, first seen in The Farm at Peppertree Crossing

Leonie Kelsall
Australian Author
Home, Heart and Heroes
Read more about Leonie Kelsall and her books and discover where to follow her on social media
The 3 Big Questions
What gave you the most pleasure when writing the book?
Choosing one facet that gave me the most pleasure is really tricky because I was so wholly invested in these characters, I felt like they were friends. Hayden has such tortured angst, and his story brought back memories of fighting in the devastating 1983 Ash Wednesday bushfires when I was a (very young!) teen. Ilse was such a great character and always very alive in my head, so she was a joy to put on paper. But perhaps the most pleasure came from the memory that will always be attached to the origin of this story. My youngest daughter, Taylor, and I were driving across South Australia – actually, on a promotional tour for The Farm at Peppertree Crossing – and we passed through a tiny town that was no more than three or so houses… and, bizarrely, a two-storey, rather neglected-looking pub!  We drove past, looked at one another speechlessly for a moment, then I said, "There's a story hiding in that building". We doubled back and Taylor took a load of photos, then we spent the remainder of the trip brainstorming The Wattle Seed Inn. This memory is particularly special as I'm always very aware of the fragility of our time together, that soon Taylor will be so busy with her own life that she won't want to brainstorm and tour with me.
Life is made of bittersweet moments that create enduring memories.
Were there any difficult aspects you faced when writing the book?
Ilse had a LOT of history, given that she's 100 years old. I spent hours researching every little detail of her life, from birth to old age, including the wars, the laws governing women's presence in pubs, the dates that 'butchers' of beer became common in South Australia, as well as cleaning techniques (of all things!). I fell down a rabbit hole and spent hours on details that were in the original draft. But eventually, although I loved the colour and texture that Ilse's history added, it made the book both too long and too convoluted…so it had to go. And that is HARD!
When you wave your story goodbye and it's on its way to the printers and out of your hands – how do you feel?
Usually I'm quite happy – even relieved! – to send the book off to the editors and printers, as I'm already well into the next story. But this one has actually left me a little bereft. I think perhaps I'm still a bit in love with the tortured hero, Hayden. Plus, the story has a twist that I absolutely adore.
We hope you're enjoying our Book News 
Subscribe below by email to receive our occasional Book News blog post – and never miss a new book release!
We'd also love you to stay connected with us on Facebook & Instagram
Stay up-to-date on the latest Australian fiction releases and news