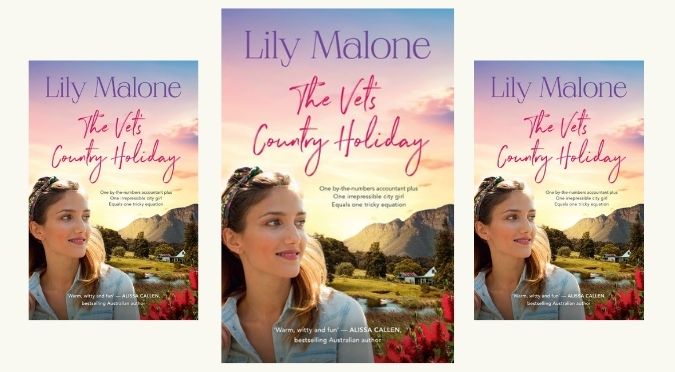 One by-the-numbers accountant
Plus one irrepressible city girl
= one tricky equation
The Vet's Country Holiday
OUT NOW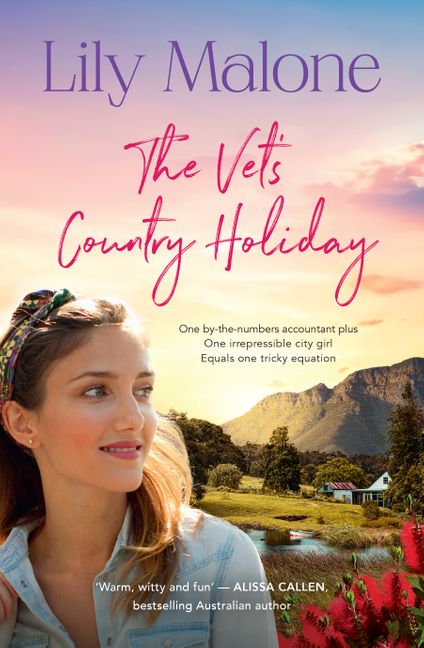 For city vet Isabella Passmore, the opportunity to pet-sit in the country knocks at the perfect time. Bring on that fresh air! But after three days of holiday bliss, Izzy is bored silly. If the air gets any cleaner, she'll start slinging mud. Then she gets offered work in the second-hand shop. Saved!
Maybe.
It's been years since Elliot Field's parents rolled out the red carpet, but Elliot only needs one day to learn that this welcome mat comes with strings. His parents' new business is sinking, and they expect him to fix their financial problems.
To prepare for the week from hell, he'll need a mug that's not steeped in bad memories, but nothing could prepare him for the employee he encounters at the second-hand shop.
For Izzy, pursuing Elliot is a most welcome diversion from walking another lap of town with the dog. For Elliot, their random encounters add up to the sum of much bigger things.
He's always been a numbers man and he's kept his heart locked away, but in irrepressible Izzy, is Elliot's number finally up?
We have an excerpt for you – but first…
A few words from Lily Malone
I'm so thrilled to be releasing THE VET'S COUNTRY HOLIDAY today. I think this story is a great reminder of the old phrase of 'never say never'. I *did* say never when I wrote my last book set in Chalk Hill in January 2020. I said that LAST BRIDGE BEFORE HOME would be the third and final book in my best-selling Chalk Hill series… but then, another idea began niggling away and here I am again, back in Chalk Hill. Never say 'never'.
The bones of the idea came from my wonderful group of inspiring women – the Card Girls. It was at cards every Thursday night that their stories start to weave their way into snippets in my books. Hilarious tales of what Kylie's dog, Trixie, gets up to. Stories of what Dayna had to do with a poor sick little chicken…
With dogs and chickens up to all sorts of shenanigans, it made sense that I would begin thinking about writing the character of a lovely female vet who ends up in Chalk Hill.
Fact and fiction collide in most of my stories and my mates always have fun working out what is truth, what is fiction 😊
Happy reading!
Lily
Buy The Vet's Country Holiday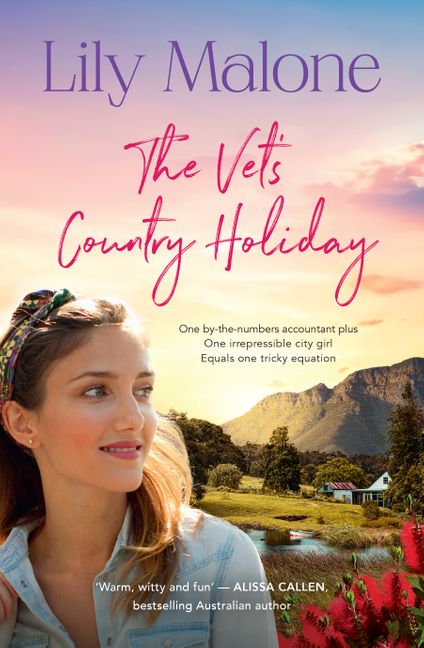 Excerpt from The Vet's Country Holiday
by Lily Malone
Come to Chalk Hill for a holiday, they said.
It'll be fun, they said.
'Bloody liars,' Isabella Passmore grumped to herself as the magpies outside her window heralded the start of another glorious Chalk Hill spring day.
She pushed herself out of the comfy warm bed and found a pair of clean knickers before pulling on all of yesterday's clothes. She was always a big fan of layering, but adding and deleting those layers to match the Chalk Hill weather at this time of year almost required another uni degree.
She grabbed her glasses off the bureau and shoved them on her face, bringing herself into sharp focus in the bevelled wood mirror. Lovely. Her hair looked like she felt: lanky, dull, with no prospect of thrills on the horizon. She pulled a brush through it, then bunched it at the back of her neck and tied it there. Nobody cared what her hair looked like. Tonight she'd give it a wash, but for now coffee and toast were more important and, with that thought, Izzy marched from the bedroom.
'Right, Bruno,' she announced to the kelpie-staffy cross lying in his basket in front of last night's fire, now gone out. 'What will we do today?'
Bruno slapped his tail against his basket in response and Izzy dragged the toaster out of its cupboard and set it on the kitchen bench.
'A walk, you say? Wow. How exciting. Where shall we go?'
Bruno bashed his tail harder and Izzy poked the switch to turn on the coffee machine and took the soy milk out of the fridge.
'The main street? Again? Can you handle the excitement, puppy dog?'
Bruno put his snout in the air and staffy-growled agreement that indeed he could, stretched his front legs out of his basket and arched his back.
Izzy dug in the freezer for the bread and came up to see the black dog watching her every move, tail wagging like a flag in a hurricane. Her heart softened. 'You're a good boy, Bruno. Don't listen to my grizzling.'
She shouldn't be surprised that Bruno had turned into a great little dog. Her friend Taylor never did anything by halves. Bruno would have been through the best puppy school Perth had to offer after Taylor picked him out from the handful of rescue dogs at the back of Izzy's small Perth-based animal vet clinic a few years ago. Izzy could mark Bruno down in the 'positive' column in terms of the dogs she'd managed to successfully rehome and save. She wished there were more stories like Bruno's. She wished there were more responsible pet owners like Taylor.
Bruno stretched the only part of him that hadn't yet left the basket, shook himself, then headed for the dog door off the laundry. It flapped shut with a bang and then, a few seconds later, she watched him through the glass screen doors as he tore a righteous path down the rear garden to chase off the trio of carolling magpies that had now moved from outside Izzy's bedroom window to the back fence.
Steam shimmered as the fence warmed in the morning sun, drifting above the curved iron capping. It looked like smoke.
She glanced at the clock.
'Well done, Isabella. That's a new record!' she congratulated herself out loud. 'Eight thirty before you thought about a cigarette.'
She busied herself with the coffee machine and the toast, making a game of getting her coffee made before the toaster popped, and she crunched the toast down with one eye on her phone and the morning's headlines and thought about what to do with the day to fill the hours.
When Taylor asked her to house-sit in Chalk Hill while she and Abe visited Abe's biological father in Brugge—their first chance at international travel since Covid-19 changed the world—Izzy had been thrilled. A month of doing nothing except walking the dog had sounded like pure bliss, and Taylor had emphasised the number of hunky country farmer types living in the town …
The first day or two were kind of blissful. The first morning it had been quite lovely to be woken to carolling magpies at the crack of dawn instead of the rattle and bang of the morning garbage truck doing its rounds of Como. Even the second morning when the neighbour's rooster got in on the dawn chorus it had been nice enough to be woken from a lovely deep sleep by nature. Quaint even.
By day three, it had to be said, the whole wake in the morning with birdsong thing had started to sound a bit tired. Heck, talk about tired, so was she. She spent all her working days surrounded by animals that barked, meowed, tweeted or clucked, and that meant holidays should equal late nights with a book and morning sleep-ins with silence till a decent hour. Like 10 am.
Yesterday she'd decided it was time to fight back against nature. She'd bought a stack of shiny CDs at the second-hand shop in town and tied them into the bushes outside her window. They'd had a plastic snake in the kids' toy section so she bought that for another dollar and laid it on the outside window sill. Judging by this morning's skylarking, she figured the magpies were dancing with their reflections in her shiny compact discs and the kookaburras had eaten that menacing toy snake for breakfast.
Sigh. Only four more weeks.
Dear God of Boredom, how would she manage?
Buy The Vet's Country Holiday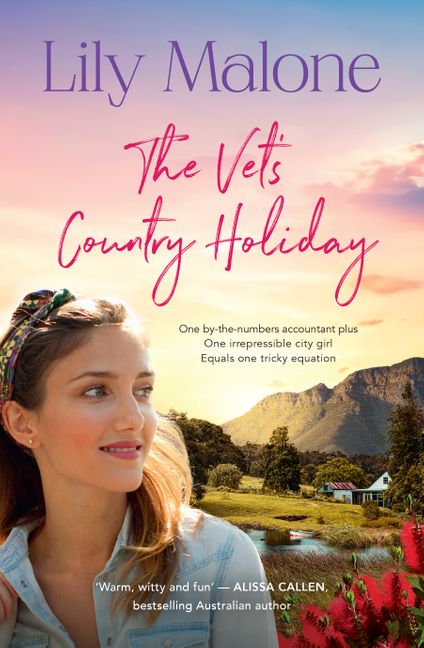 We hope you're enjoying our Book News 
We'd love you to follow us on Facebook & Instagram
And do regularly check our COMING SOON page for 2022 releases up for pre-order now
You can also subscribe below by email to receive our occasional Book News blog post – and never miss a new book release!