New Release – The Stockman's Secret by Mandy Magro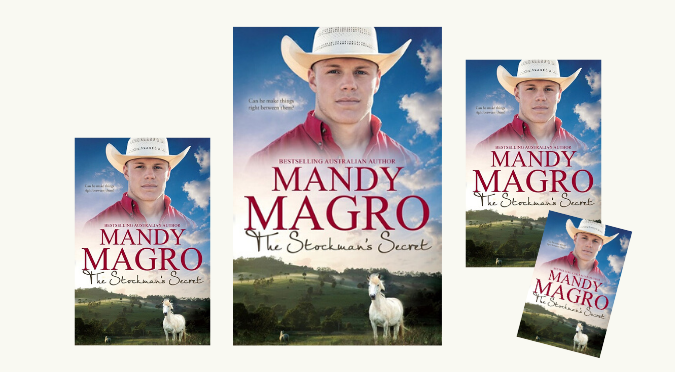 Can he make things right between them?
From our favourite rural romance author comes an inspiring novel about having the courage to forgive past mistakes, set in the heart of Australia's countryside.
The Stockman's Secret
by Mandy Magro
Read an excerpt, and read Mandy's answers to The 5 Big Questions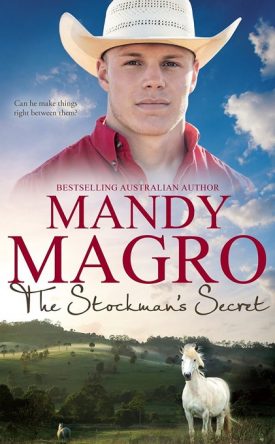 In the small town of Little Heart, Juliette Kerr and Joel Hunter are drawn together by their shared experience being targeted by school bullies. But when the bullying takes a drastic turn, Juliette can see no other way to protect Joel from the aftermath than to break his heart and make him leave her behind.
Devastated and confused, Joel packs his bags, heading far away in the heart of the outback to jackaroo at Rosalee Station for as long as it takes his heart to heal.
A decade later, Joel returns to mend fences with his family and to offer Juliette support. He's no longer the hot-tempered young man who left, but he's never stopped loving her.
Is it finally time to make things right between them? Will these two lovers find a way to make peace with the past and regain their future together?
An inspiring novel about having the courage to forgive past mistakes, set in the heart of Australia's countryside.
Buy The Stockman's Secret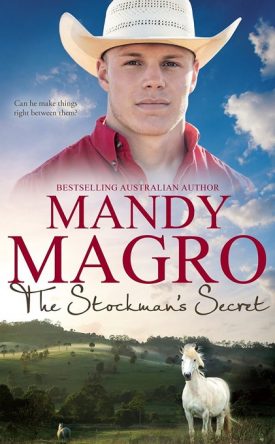 Buy from the publisher HarperCollins
Or head to your favourite online eRetailer
(See our POSTSCRIPT below for other places to safely and easily buy the paperback online.
The digital version is available from all your preferred eRetailers.)
Excerpt from The Stockman's Secret by Mandy Magro
Juliette Kern fought to keep her eyes from the door to the cupboard tucked in beneath the spiral staircase, her heart racing a million miles a minute. The little area terrified her, the enclosed space so velvet black she couldn't see anything once locked away in there – as she had been more times than she cared to remember. But the fear of that room wasn't about to stop her from doing what she was about to, although, she had to be extremely careful. Being caught wasn't an option.
Stepping into the lounge room, she sucked in a shaky breath. 'I've finished my bible study assignment, so I'm off to bed,' she said as casually as she could, then forced a yawn.
Brows furrowed, her stepfather barely acknowledged her, his steel-grey eyes glued to his weekly dose of the ABC's Australian Story. Juliette was glad for his distraction. She glanced to where he'd hung his belt and tie over the back of a chair, and icy fingers travelled up her spine.
Leaning over the back of the lounge chair, she brushed a kiss over her mother's cheek. 'Night, Mum. I love you.'
'Night, love.' Cradling her cup of tea, her mum looked up, smiling. 'Don't forget to say your prayers before you go to sleep.'
'Of course I won't,' Juliette replied before turning and treading back down the hallway.
Shutting the door, she rearranged her pillows and doona to make it look like she was in the bed and, just in case, turned off her lamp. Satisfied she'd done all she could, she grabbed her torch and thongs and quietly slid her window open. Balmy air mingled with that of her air-conditioner, and the scent of her mother's frangipani and jasmine blossoms hung heavily. Cattle bellowed in the distance and from the paddock down the driveway, her horse whinnied. Holding her breath, one long leg after the other, she hitched up her dress, glided out and slid her window shut, then slipped on her favourite Havaianas studded the tiny diamantes. Sticking to the shadows while moving fast across the back lawn, she vanished into the night, waiting until she was safely surrounded by the scrublands of Crystal National Park before she flicked her torch on. She couldn't wait to see Joel, nor couldn't she wait for the day she didn't have to live beneath her parents' roof.
***
Summer had arrived in Little Heart with typical Far North Queensland vengeance, with the balmy temperature still hovering in the high twenties hours after the fiery orb of the sun had slunk behind the distant mountain ranges. Switching the outside light on, Joel Hunter watched hundreds of insects swarming towards the sudden brightness, like soldiers into battle. A loud ding from his back pocket almost made him jump. He grabbed his mobile phone, flipping it open.
I'm down by the river, hiding behind a clump of bushes. Phone at the ready. I'll make sure I stay quiet. See you soon buddy.
Smiling, Joel punched back, Thanks Ben, I owe you one.
He couldn't believe this day had finally come. It was the day after his eighteenth birthday, he was officially an adult and this was first day of the rest of his life. Now his high-school years were done and dusted, he had moved from beneath his parents' roof into the renovated ex-tobacco barn and become his father's right-hand man on the farm. It was an absolute dream come true. Now, all he needed was for her to say yes, and his life would be perfect.
He heard her hurried footsteps just before she appeared from the trail that led to her place. Right on time, she had a torch in hand, and her long, dark hair loose and swaying around her back.
'Hey there, beautiful,' he said, his heart careening at the mere sight of her. 'I've missed you.'
'Hey there, handsome.' Juliette ran into his open arms and wrapped hers around him. 'We only saw each other seven hours ago. But I missed you too,' she said, a smile playing on her glossy lips as she pulled back a little, rose up on her toes, and kissed him.
'So, did you tell your parents you were meeting me tonight?' he asked cheekily.
'Yeah, right.' Her radiant smile faded as she shook her head. 'I wish I could tell them the truth, but Dad would kill me if he knew I was sneaking out, meeting some boy … doing god-only-knows what.' She mimicked her stepfather's booming voice while rolling her eyes. She tried to force a smile – he could tell she was faking it because her lips trembled.
'I'm not just "some boy", Jules.' Her words cut, but he shook it off. Malcolm Kern, Juliette's stepfather and the town's pastor, was very strict about Juliette doing anything outside of school or church. Joel had high regard for the man, who'd always proven himself to be a devout Christian, and he always felt a little guilty breaking Malcolm's rules, even if he didn't know about it. –'I'm your boyfriend. We've been together for almost a year now, albeit keeping it on the quiet, and our families know each other so well. Surely your parents would be happy about our love when you find the right time to tell them?'
Mandy Magro
Bestselling Australian Author
Using experiences and adventures from outback and country Australia in my stories
The 5 Big Questions
How long did it take you to write the book?
All up 6 months, plus an extra few months of editing rounds.
What was the most difficult or complex aspect of writing your book?
The first part of introducing the characters, setting the scene and getting the storyline on a roll…after this, I am full-steam ahead.
What gave you the most pleasure when writing your book?
I adore when I have a lightbulb moment, as if the characters are leading me by the hand. It's such a wonderful experience when this happens throughout the writing process.
Are you nervous when a new release comes out? 
Not as much as I used to be, but yes, I still get a little nervous.
What's the best thing a reader could do if they enjoyed your book?
Scream it from the mountaintops. 🙂
Read more about Mandy and her books and discover where to find her on social media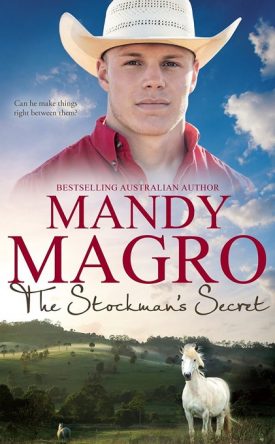 Subscribe by email to receive our occasional blog posts – and never miss a new book release!
POSTSCRIPT
Standing together while keeping our distance
reading throughout the COVID-19 crisis
Many of our wonderful bookshops and online bookstores are changing the way they work simply to keep us reading.
We thank them all for the tremendous support to Australian authors and we will support them right back.
Don't forget! Purchasing a book on pre-order also means you are helping to keep the wheels of small and independent businesses turning.
BOOKTOPIA
have *currently waived all postage costs in Australia – go buy! Then find them on Facebook and give them a Like.
DYMOCKS
stores have online ordering and *individual stores throughout Australia are offering various means of buying and delivering books. Check with your local store. Find your local Dymocks store and then give them a Like on Facebook to keep up to date.
Find a Dymocks Store
https://www.dymocks.com.au/stores
BOOK DEPOSITORY
*Free postage even if the books are coming from overseas – but don't be disappointed if your favourite author's books are not available. It's one of those things – not every author's book is available on Book Depository.
https://www.bookdepository.com/publishers/Australian
INDEPENDENT BOOKSHOPS
There are many in all states and territories. Some are offering *free postage for a certain length of time or free postage with orders over a certain amount. Check with your local independent bookshop. Contact them directly by phone or email or through their websites. Find them on Facebook and give them a Like to keep up to date.
BIGW
Order and *buy online including pre-orders
(*Standard delivery $3.90 – conditions apply)
TARGET
Order and *buy online
(*Free click & collect available, free home delivery on orders over a certain amount. Free delivery available for Club Catch members)
https://www.target.com.au/c/entertainment/books/adult-fiction/W406087
* Please note individual businesses may change their online purchasing conditions at any time. Always check with the individual business.
Stay up-to-date on the latest Australian fiction releases and news