NEW RELEASE – The Road to You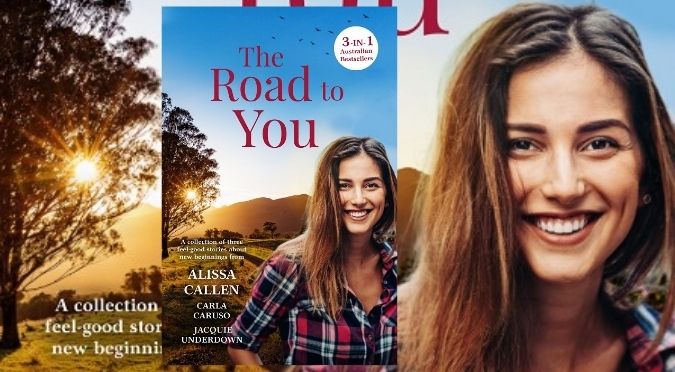 Releasing today in paperback only
A collection of feel-good stories about new beginnings from three bestselling Australian authors
OUT NOW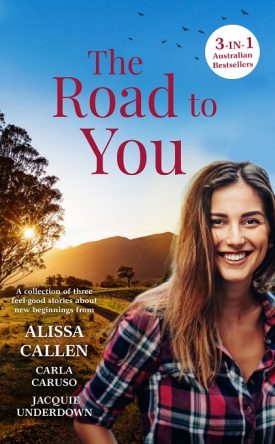 Three fabulous stories in one paperback
The Red Dirt Road by Alissa Callen
After losing a patient, Dr Fliss Knight is back in small town Woodlea to embrace the isolation of rural life. But all her plans for solitude run aground when she meets the cowboy who will be staying in the renovated stables at the end of her country garden. Hewitt too has come to Woodlea needing space in which to heal and, despite his reserve, Fliss finds him impossible to ignore.
As a family secret threatens every truth Fliss has ever known, and the heavy spring rain continues to fall, both Fliss and Hewitt must face their deepest fears. But will love be enough to guarantee happiness or will the past refuse to relinquish its dark hold?
Run for the Hills by Carla Caruso
After leaving her wealthy hotelier groom at the altar, Bridie needs to lay low while the media storm passes. Working for a wedding business run by an attractive paparazzo might not be ideal, but it's slim pickings for work in the small Adelaide Hills town of Balkissoch. Cody seeks out secrets for a living, so blurring the lines of their professional relationship is a dangerous game. One they both seem intent on playing.
The Sweetest Secret by Jacquie Underdown
Ellie always falls for the wrong man. After her latest disastrous relationship, opening a florist shop in the small town of Alpine Ridge seems like the perfect fresh start. Local vineyard owner Sam also understands bad relationships and prefers to avoid romance in favour of spending his downtime growing flowers in his backyard greenhouse. When Ellie discovers Sam's nursery, a shared professional interest soon blossoms into something more. But is there a chance for a future together when they are both tied to the past?
BUY The Road to You

Or check your favourite department store for instore purchase or online ordering
* This special bindup is paperback only but each story can be purchased individually in eBook digital format
and The Red Dirt Road by Alissa Callen is also available as an individual paperback.

Read more about Alissa Callen and her books and discover where to follow her on social media.
We hope you're enjoying our Book News 
Subscribe below by email to receive our occasional Book News blog post – and never miss a new book release!
We'd also love you to follow us on Facebook & Instagram
Stay up-to-date on the latest Australian fiction releases and news