NEW RELEASE – The Opal Miner's Daughter by Fiona McArthur
Published:
August 30, 2022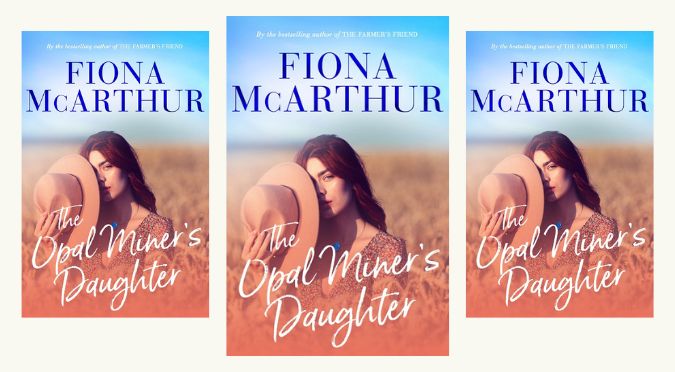 'The heartwarming new medical rural romance from the bestselling author of The Bush Telegraph.'
OUT NOW
Paperback, eBook, audio book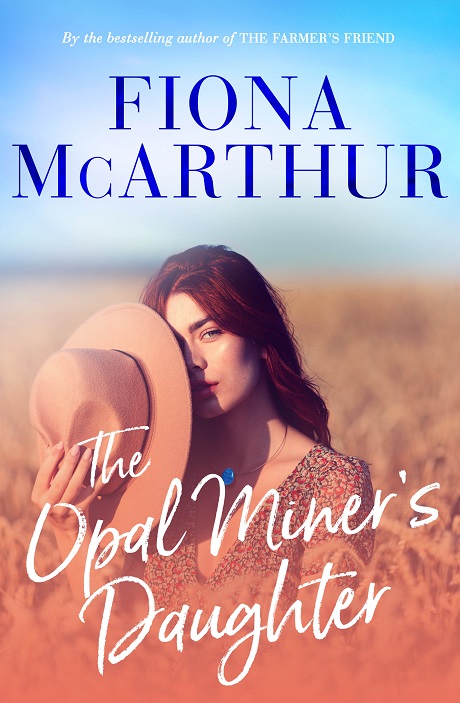 Obstetrician Riley Brand leaves the city behind to go in search of her mother, who's taken leave from her marriage to pursue a passion for opal mining in the dry backblocks of an old mining town. Accepting a short-term posting as a fertility expert in Lightning Ridge, Riley plans to assist women pursue their baby dreams in remote and regional areas, while at the same time helping to rekindle her parents' love for each other.
The small dusty community is a far cry from her polite medical practice on the North Shore of Sydney, but the down-to-earth locals soon welcome her into the fold with their Friday night social gatherings. But no one is more welcoming than enigmatic doctor Konrad Grey, the GP who's working alongside her.
When an employee of their medical practice confesses she's hiding an unwanted pregnancy, and then goes into emergency labour, Konrad and Riley are thrown together in challenging and wonderful ways.
'A moving and heartwarming story about new life and new loves, about the treasures to be found above and beneath the surface of a small country town, and about the important choices women must make in life.'
We have an excerpt for you! But first, a few words from bestselling
Fiona McArthur
Welcome to the hidden delight of opals and a small community. Riley thought her four week locum stint at Lightning Ridge would be a fast and efficient problem solver. Working as the visiting fertility expert was a great cover for convincing her mother to come home to dad. Instead, Lightning Ridge and the people she met, changed her world forever.
Writing the Opal Miner's Daughter felt like living in another world. A city slicker's insight into a world I, and my character Riley, expected to be full of tough miners, endless dirt, gravel, and heat. All that is there, but the Ridge is also coloured by brilliant opals, spectacular sunsets, fun murals and fascinating stories from the locals.
In my fictitious medical centre I was aching for the childless couples Riley helped, outside the clinic I was smiling at the antics of Desiree and the Friday night ladies, and cheering for Adelaide as she surmounted the obstacles of a single, retirement age woman running her own opal mine. There was so much to discover and delight in with this setting which is the first time I've set a book blatantly in a real town. Apart from the fun of the Ridge I really enjoyed Konrad's dry sense of humour and solid worth as a man. Riley didn't expect to fall in love outback but she did find the man who totally deserved her.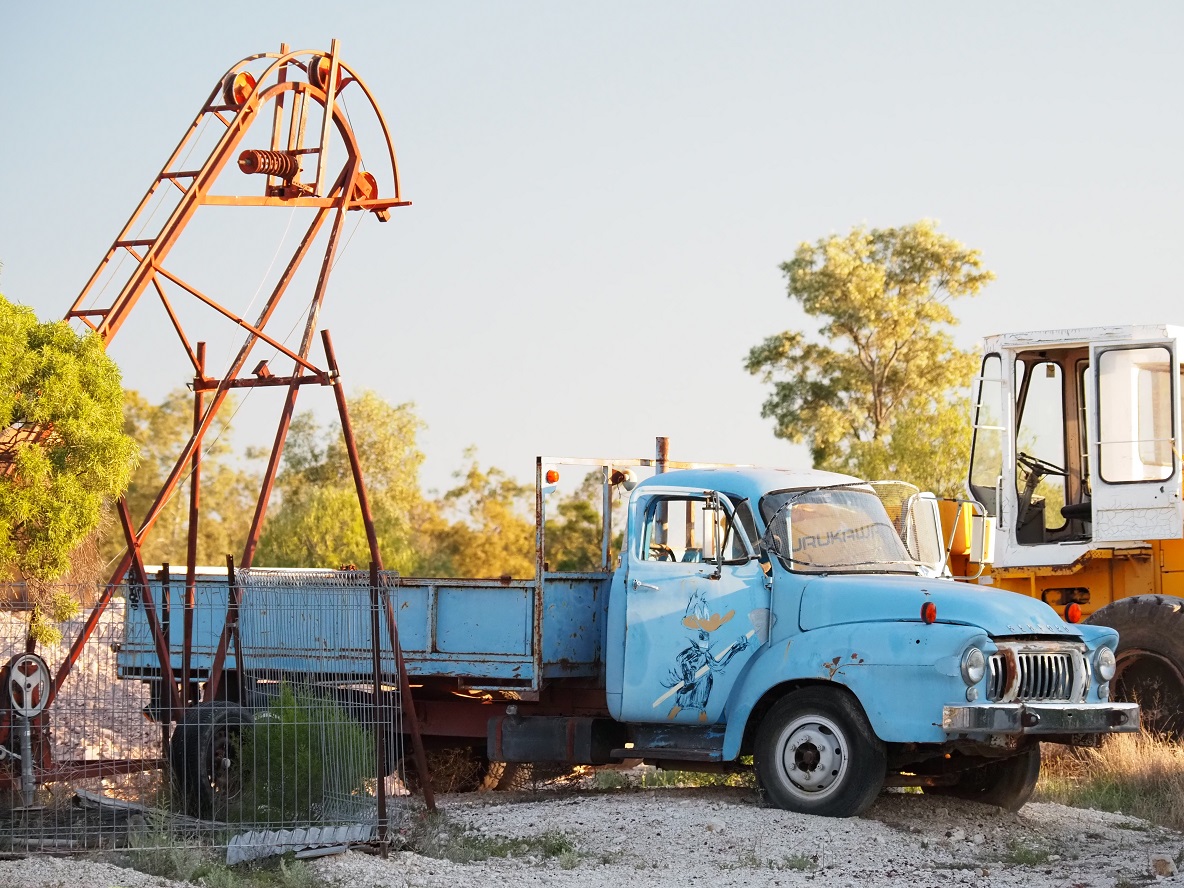 The main difficulty writing this story had to be the fact I lived nine hours away from the Ridge and Covid was opening and shutting doors when I needed to soak in the sights and sounds of the place. We finally made it, two months before the book was due, and I walked early every morning to soak it in. Those walks made it fun when Riley ran the streets later in the book, found a new fab friend in Kelly, a third generation opal miner herself, and just loved the town way more than I expected to. So many people were happy to share their passion for opal and the town. It wouldn't have been possible without their help and I have to admit I still dream a little of buying my own Wayfarer's Inn and spending a few months a year searching for that glimmer of colour and enjoying the Ridge.
Dear Readers, I hope you make it to Lightning Ridge and enjoy the craziness and community spirit of this isolated outback town. Take a day tour to start, soak in the thermal pools, and I guarantee you'll be thinking differently about opals and grinning at the memories when you go home.
xx Fi
BUY The Opal Miner's Daughter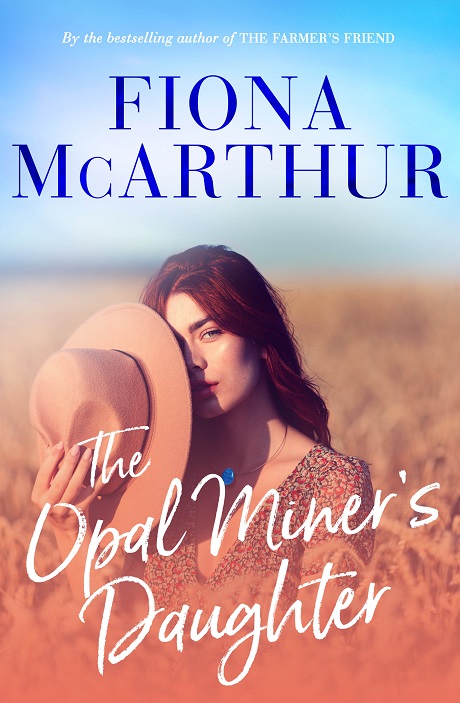 Excerpt from The Opal Miner's Daughter
by Fiona McArthur
PROLOGUE
Adelaide
'So, how'd you end up in Lightning Ridge?'
Adelaide Brand peered over her sunglasses at the chatty whitehaired woman behind the counter of the fuel station. Nosey, she wondered, or was it a case of small-town curiosity about strangers? Or was she just being friendly?
Adelaide had been buying diesel every couple of days for the last fortnight since she'd moved to the Ridge, but the times she'd called in here there'd been other customers. Her old Lister generator proved thirsty but reliable, and as an opal miner she needed lights to see by underground.
She nodded at the kind eyes and experienced a flicker of kindred interest. 'I'm addicted to the opals. A new fascination. You?'
'Oh, I followed a miner fifty years ago.' The woman brushed a sticky strand of white hair away with a callused hand. 'We roughed it off the grid for ten freakin' years. But like a lot of the business owners in town, I decided there's more comfort in trade than in digging.'
She laughed loudly, her crooked teeth and sunburst wrinkles affable and uncomplicated. Her stark white hair looked quite beautiful, even tied back off her neck with an old shoelace. She stood about twenty centimetres shorter and maybe ten years older, say mid-seventies, than Adelaide, who was tall at a hundred and eighty centimetres.
Her new acquaintance's aged appearance could be a premature result of the outback's tough sunlight, or it could be a personal lack of interest in slowing the imprint of time on her face. Adelaide suspected both.
The woman had a great smile, though, and Adelaide liked her. 'I retired from nursing but enjoy being busy.'
'Husband?' The EFTPOS skipped as Adelaide's new acquaintance tapped in the amount with a firm hand.
'We're still married, we just live in different parts of the country. Tyler's not interested in opals, or being a tourist. He much prefers armchair travelling and the city.' To spending time with me, she added silently.
'Ha. Go you on adventuring, then.' The proprietor nodded at the small world outside the window. 'Some men like their routines, stayin' home. I reckon most get more settled as they get older.' She gestured with her fingers up the wide street towards town. 'That's why the business part of the Ridge is mostly run by women.'
She handed back the credit card after a long look at the name on it. 'Nice to meet you, Adelaide.' She gave a quick nod of hello. 'I'm Desiree, here weekdays till five. See me for fuel and small equipment breakdowns.' She waggled her brows. 'They call me the engine whisperer.'
In her seventies? 'Nice to meet you, Desiree. And call me Del.'
'We have a Friday-night ladies' get-together out the back.' Desiree jerked her head sideways to indicate the rear of the building. 'As soon as my shop door's closed for the night. Feel free to drop in. It's BYO.'
Somewhere deep in Adelaide's belly, a cold cube of sadness, one she tried to ignore, seemed to warm and soften. 'Thanks. I might do that if my own company gets old.'
Desiree snorted. 'Oh, we all get old, Miss Del. Come tonight if you want.' She paused for a moment, then said, 'Have you got yourself some decent gloves now?' Her gaze slid non-judgementally over the healing scabs on Adelaide's hands.
'I do. Leather ones.' Very expensive driving gloves that Tyler had given her once for the small Virago motorbike she'd moved on from – last decade's crisis.
The gloves, soft plum kid, were not designed for scrabbling in rock, but were soft and supple under the hardy gloves she wore on top. She'd had her daughter post them out and they'd arrived two days ago.
Now Riley had her postal address, which was fine because Adelaide was settled. She'd needed to make sure the family knew she was alive. Didn't want a police hunt for her rotting corpse.
Desiree rocked back on her heels. 'Whose claim are you working?'
'Cooper's. It's mine now.' Her own opal mine. Still couldn't believe it.
'The old Wayfarers Inn?' Desiree's scarce brows lifted. 'Good choice. Some nice colour pulled out of there.'
'Good to know.' And it was. Once she'd decided on the Ridge, Adelaide had paid a broker to find the best claim up for lease, preferably with some form of dwelling, but you never knew the spin involved in the final sale.
The tiny, quirky shack had once been a gin joint and stables, with a twenty-year mining lease inside the acre of fencing. The bargain had only used a fifth of her inheritance from her mother, which left a decent chunk in her personal savings.
There was something incredibly satisfying about owning a shack with fabulous sunsets and endless bush views. And no neighbours. Even more satisfying was leasing the rocky patch of soil inside the fence, which meant she had her very own mine to climb down and dig in.
'See you.' Adelaide lifted a hand in farewell to Desiree and turned, walking out to her battered troop carrier, which also had been a bargain. The bed popped up from the roof, making it ridiculously painful to climb in and out of – no way would Tyler try it – but she'd felt safe up there when travelling. She'd done some solo travelling before settling on the Ridge. Tyler had predicted she'd be back home in a week wanting to sell the uncomfortable vehicle again. She hadn't. And Rocky, her troopy, could manage any road conditions she might come across. It was her lack of four-wheel-driving skills she worried about. She was booked in for an off-road day course with an ex-paramedic in Walgett tomorrow. The woman had been recommended by the previous owners of the Wayfarers Inn when she'd inquired. She couldn't wait.
Her phone rang. Good timing. The service was iffy out at the inn. She knew without checking the screen that it wouldn't be Tyler. He'd be at the gym now. It was her daughter's smiling picture that appeared. 'Riley, darling. How are you?'
'Mother. I'm good. Trying to clear my patients before holidays. How're the gloves working?'
'Wonderful. Much better for my soft hands. Thank you.'
'You're welcome.' She heard the smile in her voice. 'Our hands aren't supposed to be tough. I can't believe you're using a pick-axe underground.' But as well as amusement, did she detect a hint of admiration? Warmth spread as her daughter's voice softened. 'As for posting, well plenty of times you posted care packages when I was at school.'
Inside Adelaide that ice cube melted a little more and began to puddle into liquid. There had been distance and silence from her daughter when she'd left Tyler behind, but it seemed Riley was over that. Or moving on. She was good at that.
Riley was usually in a hurry, so she'd better not hold her up. 'It's not like you to call when you're at work.' Her daughter led a very busy professional life. 'Two phone calls in one week?'
'One of my patients cancelled last minute with the flu, so I've got time. Dad said some certificates came for you.' The smile was back in her voice. 'You been doing courses again?'
Lord, yes, she had. 'Once I leased the mine, I needed to be a legal miner,' she explained. 'They're my certificates for Mine Property Manager and Environmental Mine Operator. I have the digital versions on my phone.'
Riley laughed. 'So cool. All this because you got bored after your retirement party? I never did ask you. Why opal mining?'
Adelaide thought about the path she'd taken to get here. And the fact that her daughter, or her husband for that matter, indeed never had asked why.
Fiona McArthur
Multi-Published International Bestselling Author
Good Medicine…rural/remote Australia…heartwarming romantic drama
Read more about Fiona McArthur and her books
BUY The Opal Miner's Daughter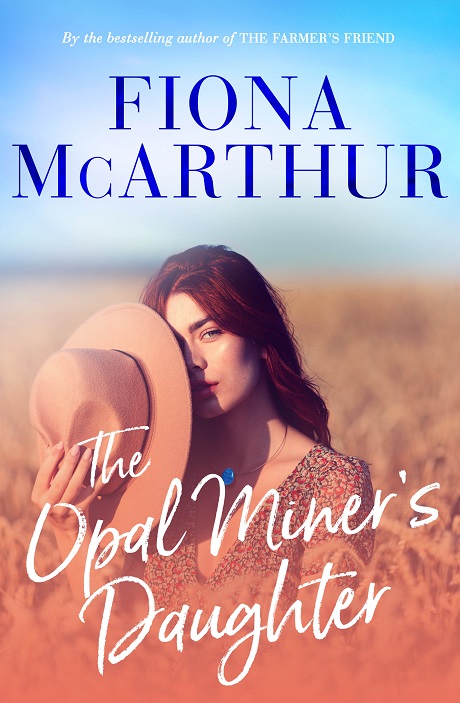 We hope you're enjoying our Book News 
We'd love you to follow us on Facebook & Instagram
You can also subscribe below by email to receive our occasional Book News blog post – and never miss a new book release!
Stay up-to-date on the latest Australian fiction releases and news