NEW RELEASE – The Mallee Girl by Jennifer Scoullar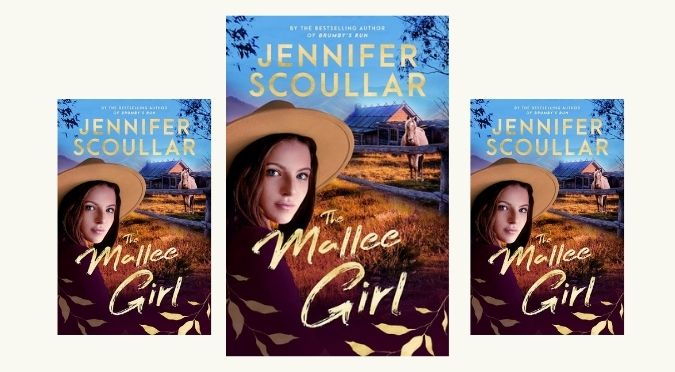 Set among the majesty of the High Country snowgums, The Mallee Girl is a moving and heartfelt story about the power of love and the land to heal old wounds, and the freedom that comes in confronting your greatest fears.
OUT NOW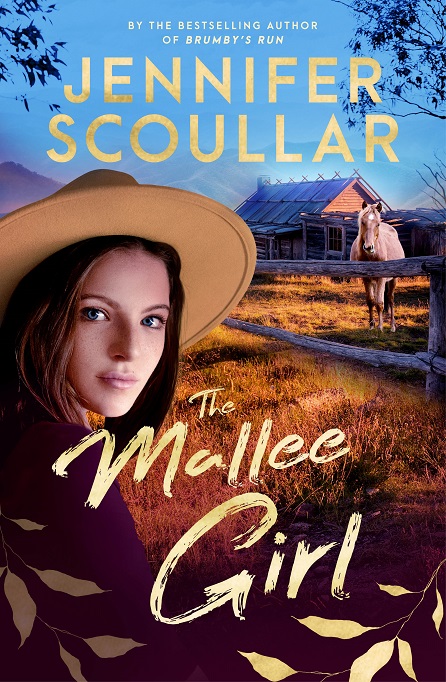 Armed with nothing but some loose change and her beloved dog Duke, Mallee girl Pippa Black has finally found the courage she needs to escape a dangerous relationship. Two cryptic words written on a paper napkin send her in search of the one person who might help her – a long-lost brother she has always dreamed of finding.
Pippa's quest leads her to the remote town of Currajong, high in the beautiful Victorian alps. As a runaway seeking refuge among strangers, Pippa learns that she's been mistakenly implicated in a shocking crime. She finds her way to Brumby's Run, a wild-horse sanctuary, where she begins work assisting the enigmatic farm manager Levi, and becomes entranced by Thowra, a magnificent golden stallion who leads a herd of brumbies in the region. Both man and horse will teach Pippa more about herself than she ever thought possible – including when to run, when to hide, and when to stand up and fight.
We have an excerpt for you plus Jennifer answers The 3 Big Questions
about writing the book
Buy The Mallee Girl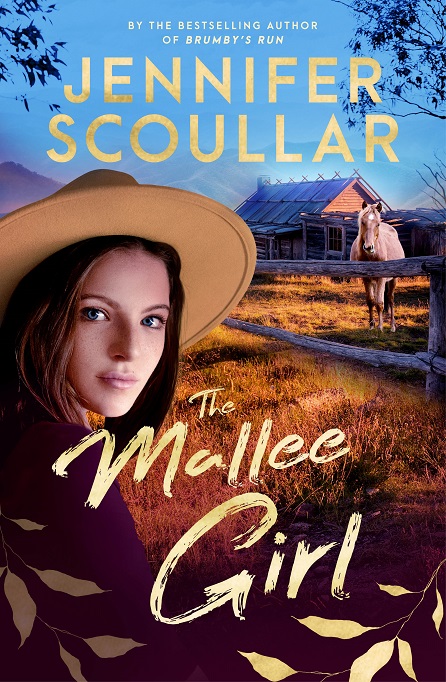 Excerpt from The Mallee Girl
by Jennifer Scoullar
CHAPTER 1
Pippa Black stared out the kitchen window at the dusty sun-beaten paddocks beyond. How could it be this hot at eight o'clock on a mid-September morning? Such early heat didn't bode well for the coming summer. She used a cup to bail some washing-up water from the sink for her collection of potted plants on the sill. Basil, parsley, rosemary, and thyme. African violets for colour and aloe vera for soothing bruises and sunburn. The only green things in sight.
The tiny town of Kilpa had recorded its lowest winter rainfall on record, and so far the spring rains had failed too. Cade, Pippa's husband, had given up on harvesting what was left of the wheat crop, and had turned their starving sheep into the paddocks – dirty brown blobs surrounded by dirty brown stubble. Even the few stunted mallee trees were brown, their customary grey-green foliage layered with topsoil from last week's monster dust storm.
Their farm, ironically enough, was named Fairview. Nothing but sheep and dust and more sheep for as far as the eye could see. Even Pippa's friends, the magpies, had fled. She missed their dawn chorus. Now she awoke to the cawing of scavenging crows. Dying sheep were easy pickings.
Pippa opened the window wider, hoping for a hint of breeze. Sweat trickled down between her small breasts, making her shirt cling uncomfortably. The house would be an oven by the afternoon. She wiped plastered strands of fair hair from her face. Pippa wanted to cut it short for summer – it would be so much cooler – but Cade liked it long. She sighed in resignation. There was no arguing with Cade.
Pippa slapped the ball of dough onto a floured board, working it with the heels of her hands. Drought meant Cade had slashed their household budget, insisting they could save money by baking their own bread. It was alright for him. Cade didn't have to fire up the range in sweltering heat. And he wouldn't even buy her a little fan for the kitchen.
Pippa fanned herself with a Women's Weekly kept on the bench for that purpose. Her mother, Ruby, passed the magazines on when she'd finished with them. Mum loved their fashion and beauty tips, but Pippa couldn't relate to the glamourous women gracing their pages. She was tall, blonde and thin, but there the resemblance ended. The models dripped with style and confidence. Pippa wore Salvation Army clothes, was shy as a mouse and her chin was too long.
She switched on the Sanjean pocket radio sitting on the sill, kneading the dough in time to Not Pretty Enough by Kasey Chambers, waiting for it to become smooth and elastic the way Mum had taught her. She winced as she worked. Her wrist still ached where Cade had grabbed it. Pippa paused to rest her hand, worries churning through her head on repeat. She was her own worst critic. Blaming herself for the mess of her marriage. Wishing for the millionth time that she'd made different choices, better choices. What was it they said about hindsight? Always 20/20.
Cade had found employment in the sand mine at Millburn, an hour's drive away. There'd been no choice but for him to take outside work. The farm was running at a loss. Pippa had offered to help, offered to resume her old job at the Kilpa general store where she'd worked before they were married. The humble position that she'd once looked down her nose at, now seemed like the height of fun. But Cade didn't want his wife to work outside the home. It would be a humiliation, he said, so they were making do on his small wage and by selling off the odd pen of skinny sheep.
Duke, their clever red kelpie, scratched at the back door, then opened the fly screen with his paw. 'You're getting spoilt,' she said as he trotted in. 'Don't get used to sleeping on the bed. Cade will be home for dinner.'
Cade had stayed overnight in Millburn to have a Friday night out with the boys. It had happened a few times lately. Pippa didn't mind. It meant she could sleep curled up beside Duke's warm, protective form. She could relax and dream. She could sleep late instead of rising at five to cook Cade's breakfast and pack his lunch. He didn't want her making sandwiches the night before and leaving them in the fridge. He said they had to be fresh. Yes, Pippa liked it when Cade didn't come home. But she didn't like his new friends at the mine with their close-cropped hair and tattoos. She didn't like that they were loud and angry and full of spite.
The sound of a car in the distance interrupted Pippa's reflections. She looked out the window to see a plume of dust billowing up the long, straight driveway towards the house. Cade, and he was in a hurry. What on earth was he doing home at this time? He normally slept in until lunchtime on Saturday mornings after a big night out. Duke began his loud guard barking. The big kelpie, who'd been a wedding present from her mother, always warned of Cade's arrival as if he were a stranger. The habit had earned the dog plenty of clouts during the past four years.
The black Ford ute screamed to a halt in front of the house, spraying gravel and nearly slamming into a verandah post. Cade threw himself from the cab, mounted the porch steps in a single bound and burst inside. Pippa stared, wiping floury hands on her apron, and taking in his filthy face, dishevelled clothes and dusty hair. Cobwebs clung to one ear.
He fixed wild eyes on her. 'We have to get out of here, babe – right now.' His voice was low and urgent as he grabbed her arm.
Pippa pulled away. 'Cade, you're frightening me.'
He scrubbed one grimy hand over his face, while holding her tight with the other. 'There's no time to explain. Trust me, we have to go this very minute.'
Pippa started to protest, but Cade's brow furrowed menacingly, and she went quiet. He was too upset to reason with, that much was clear. She took off her apron. 'I'll just wrap the dough to prove and get my bag from the bedroom.'
'There's no time!' He was shouting now. Duke began barking in a high-pitched frenzy until a vicious kick silenced him.
Fear rose in Pippa's throat as Cade half-pulled, half-carried her from the house and bundled her into the ute. He slammed the door shut, climbed behind the wheel, then swore and punched the dash. Pippa knew better than to ask what was wrong. The Ford roared to life, spinning in a tight circle and tore down the laneway that led to the back gate.
Jennifer Scoullar
Bestselling Author of Australian Fiction
A love affair with the wild…
Read more about Jennifer Scoullar and her books
Jennifer answers The 3 Big Questions
What gave you the most pleasure when writing The Mallee Girl?
The thing that gave me the most pleasure when writing The Mallee Girl was returning to the world of Brumby's Run – my first novel that was published ten years ago. My heartfelt love for Victoria's Upper Murray region inspired that first book, and I discovered that my passion for that landscape hasn't changed. Although I live on a farm in the southern Victorian ranges, I can sometimes look around and imagine that I'm really in the High Country with the brumbies!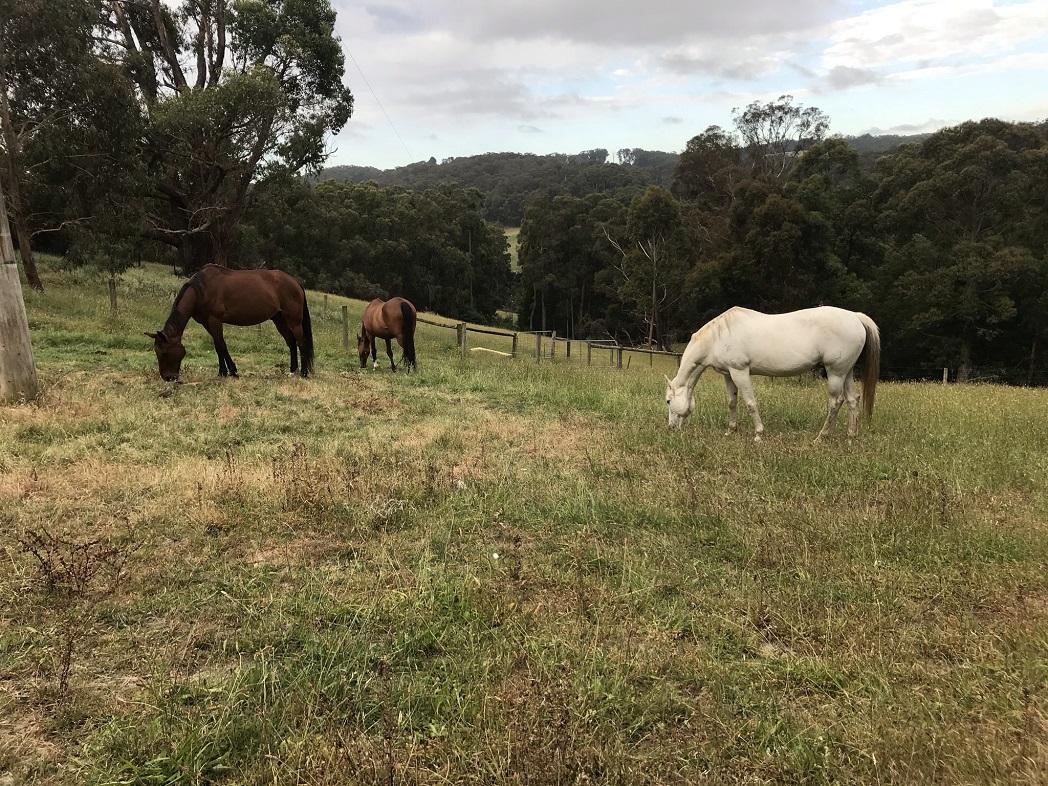 What were the difficulties you faced when writing the story?
The greatest difficulty was writing the character of Cade. He's a bad man, a very bad man, but I didn't want to make him completely one-dimensional. I had to give him enough back-story so that the reader might understand where his cruelty came from. That wasn't easy. The other difficulty was trying to not feel too sorry for Pippa. For the story's sake I had to really put her through the wringer!
When you waved The Mallee Girl goodbye, on its way to readers and out of your hands, what did you do first?
I went for a ride on my horse.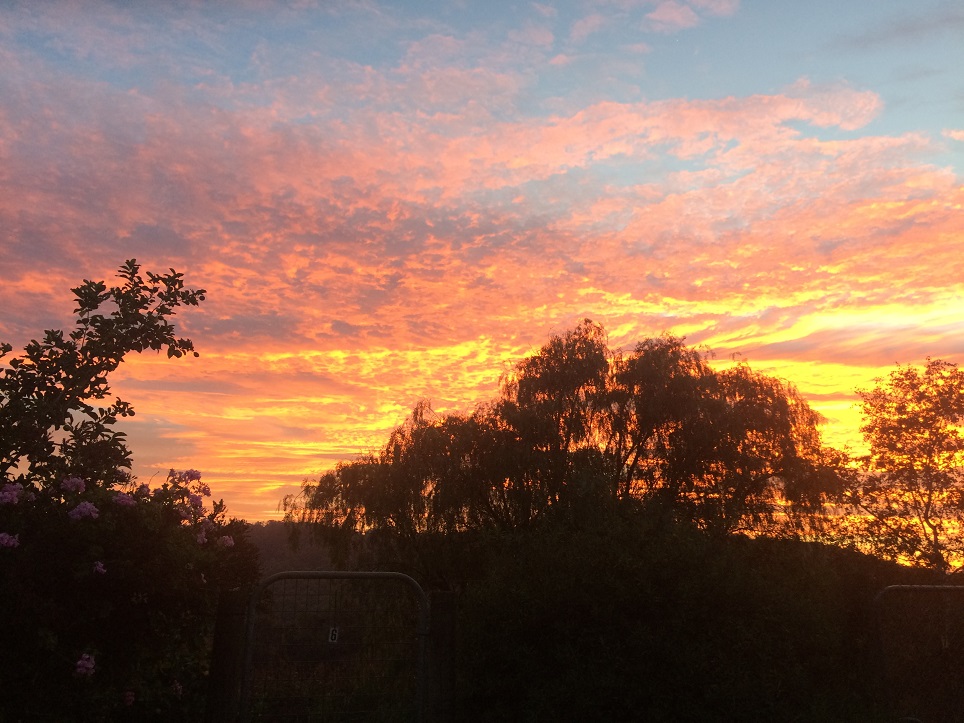 Buy The Mallee Girl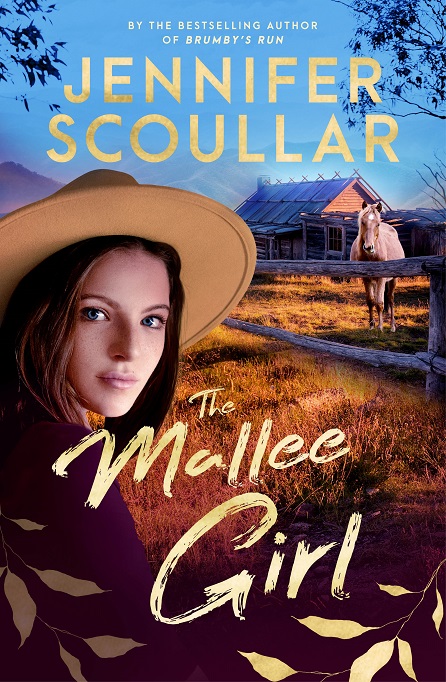 We hope you're enjoying our Book News 
We'd love you to follow us on Facebook & Instagram
Don't forget to check our COMING SOON page for 2022 releases up for pre-order now
You can also subscribe below by email to receive our occasional Book News blog post – and never miss a new book release!
Stay up-to-date on the latest Australian fiction releases and news