NEW RELEASE The Long Weekend by Fiona Palmer
Published:
December 1, 2021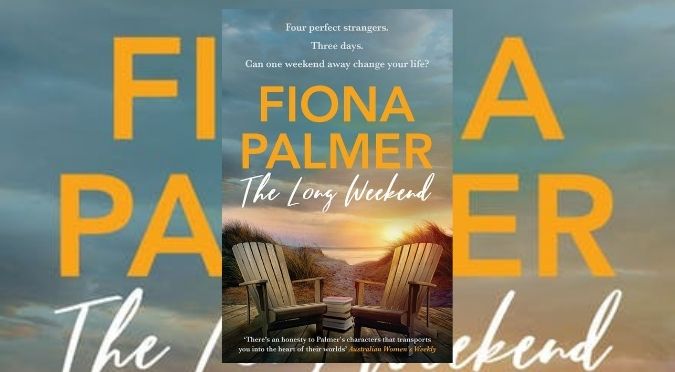 The unputdownable new drama by one of Australia's most beloved storytellers
Four perfect strangers.
Three days.
Can one weekend away change your life?
OUT NOW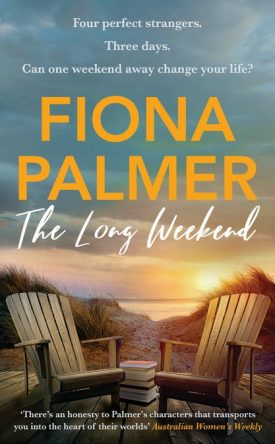 Coming together for a writing workshop with bestselling author Jan Goldstein, four strangers converge upon a luxury forest retreat. But along with their notepads and laptops, each of the participants has brought some emotional baggage.
Beth is a solo parent and busy career woman haunted by a tragic car accident. Simone, the youngest at 26, is a successful Instagram star but she's hiding behind a facade. Jamie is the only man. He's a handsome personal trainer – but he looks out of place with a pen in his hand. Finally, Alice is a wife and mum recovering from post-natal depression. She and Jamie soon realise they are not such perfect strangers after all.
Only one thing is for sure: on this creative getaway, nothing will go according to script.
Read an excerpt and read Fiona's answers to The 3 Big Questions about writing the book
Buy The Long Weekend

Excerpt from The Long Weekend
by Fiona Palmer
Prologue
Joy flowed through her like a rushing creek. It was more than the excitement of Christmas, more than falling passionately in love, more than anything she could imagine. It was raw and powerful.
Was it a tiny hand or foot that pressed against her belly where she rested her hand? Did this growing human know she was his mother? Could he hear in her voice the love she already felt for him? She often spoke to her child, imagined his features. Would he have her eyes? Her chin?
Or maybe he would take after his father. Her mind clouded. A father he could never know. No matter how many times she did the calculations, the numbers didn't change, the dates didn't change. No amount of force, of wishing, of praying could change the fact that this child was not her husband's son.
Chapter 1
Beth
'Please, Bethy, for me?'
The vice-like grip on her hands was not threatening; if anything, the slight tremble betrayed Poppy's desperation.
It was the first time in a long time she'd shown so much determination. Poppy had never been a fragile person. Growing up, her big sister had been brave and happy, energetic and kind. A true reflection of their parents, especially their mother. But trauma had left its mark, in the curve of her shoulders, the timid movement of her body and the permanent shadows in the creases of her eyes, like dark stains on her soul.
'But I can't leave Hudson and Dad.' Beth Walton glanced over at her son on his elephant-print play mat, his wooden blocks strewn around him. Drool oozed down his chin, soaking into his blue jumpsuit, his cheeks glowing red as he focused on chewing a block as if he were a puppy and it was a tasty bone. Poppy's surprise visit had interrupted Beth's routine and she'd forgotten to put on his bib. 'Especially now he's teething. His temp's all over the place and he's cranky,' added Beth.
'Dad's always like that,' said Poppy, scrunching her nose up enough to move her black-framed glasses.
'Ha-ha.'
'Look, it's only for a weekend,' Poppy continued in her best imploring tone. 'I'll stay here and look after Dad and Hudson. I'll clean the house, I'll do everything. Please, sis, you know what this means to me!' Her shoulders dropped along with her grip on Beth's hands. 'I can do this, Beth.'
Poppy rifled through her bag and took out a pamphlet. 'Just take a look. You get to spend the weekend in Dunsborough. Geographe Bay! Think of it as a weekend away. You haven't had any time off since having Hudson and you need a break from Dad.'
And from you.
Beth brushed away the thought as Poppy raced on.
'I'll pay for it all. You won't need to do anything but rock up and enjoy yourself. You might even find that you enjoy writing.'
Beth scoffed but took the pamphlet anyway.
Jan Goldstein's Writers' Retreat Workshop. Help get your creative juices flowing in our gorgeous surroundings with renowned bestselling author Jan Goldstein. Enjoy invaluable time learning skills from one of the writing greats, along with tips and pointers to help with that new novel, memoir, blog or whatever other creative outlet beckons.
Book your spot now at this highly sought-after workshop. Places limited.
It went on to list prices, and Beth choked on her own breath. 'Shit, sis, are you sure you want me to do this?'
Poppy's blue eyes glistened as she blinked the tears away. Her lips moved but no words came. Instead she nodded, swallowing hard.
Beth felt herself crumble. Years of standing tall, trying to be strong for everyone while fraying at the edges bit by bit, had taken its toll. Every now and then she couldn't help but let her facade slip. And she knew it was even worse for Poppy.
Beth reached for Poppy's hand, her thumb gently brushing along a scar. 'Are you sure you want to go through with this?'
Closing her eyes, Poppy nodded again. 'I need this, Bethy. I need to put things right, and I can't do it without you. And frankly, it's just not fair. It's wrong!'
The growing steel in Poppy's voice gave Beth hope. For years now Beth had watched Poppy retreat into a shell of self-protection. She only left her apartment for groceries and her full-time job at the cafe a few blocks away. Poppy didn't drive, of course. She barely spent money on anything.
Beth glanced down at Poppy's blue Adidas runners, her second pair this year, but they were still cheaper than a set of tyres. No wonder she could afford to pay for the swanky retreat.
Fiona Palmer
Bestselling Australian Author
Stories set in Australia that paint a vivid picture of life from the inspiring landscapes to the salt-of-the earth characters
Read more about Fiona Palmer and her books and discover where to follow her on social media
The 3 Big Questions
What gave you the most pleasure when writing The Long Weekend?
The romance, I'm a big sucker for it. And also Simone's storyline as she morphed into a butterfly as her story grew. (I didn't like her to begin with and then she showed me who she really was.)
What were the difficulties you faced when writing the story?
Coming up with the idea. I was in an empty space but thanks to Rachael Johns and Anthea Hodgson (and our little writers retreat, plus all the ongoing support) they helped spark my passion and creativity. Spending time with likeminded people really helped and the story grew from there.
When you waved The Long Weekend goodbye, on its way to readers and out of your hands, what did you do first?
Collapsed in relief, then celebrated with a drink, and tried to enjoy the moment before the panic, self doubt and nerves set in because it's about to be read!!!
Buy The Long Weekend

We hope you're enjoying our Book News 
You can also subscribe below by email to receive our occasional Book News blog post – 
and never miss a new book release!
Stay up-to-date on the latest Australian fiction releases and news