NEW RELEASE The Fossil Hunter by Tea Cooper
Published:
October 27, 2021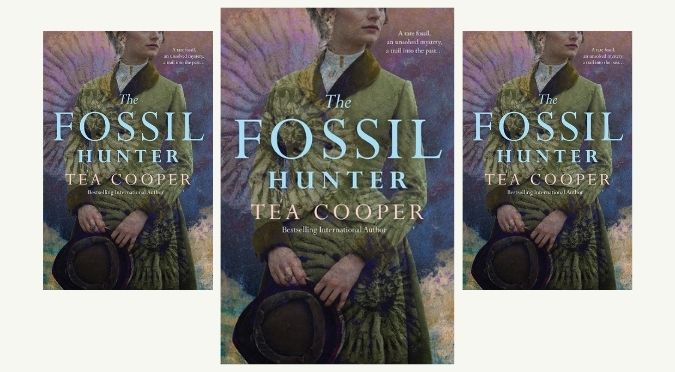 A rare fossil, an unsolved mystery, a trail into the past…
A fossil discovered at London's Natural History Museum leads one woman back in time to nineteenth century Australia and a world of scientific discovery and dark secrets.
From bestselling and award winning author, Tea Cooper
Out Now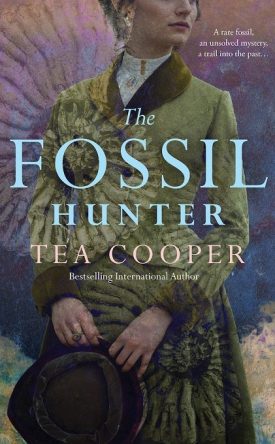 Wollombi, The Hunter Valley 1847
The last thing Mellie remembers before the fever takes her is running through the bush as a monster chases her – but no one believes her story. In a bid to curb Mellie's overactive imagination, her benefactors send her to visit a family friend, Anthea Winstanley. Anthea is an amateur palaeontologist with a dream. She is convinced she will one day find proof the great sea dragons – the ichthyosaur and the plesiosaur – swam in the vast inland sea that millions of years ago covered her property at Bow Wow Gorge, and soon Mellie shares that dream for she loves fossil hunting too…
1919
When Penelope Jane Martindale arrives home from the battlefields of World War 1 with the intention of making her peace with her father and commemorating the death of her two younger brothers in the trenches, her reception is not as she had hoped. Looking for distraction, she finds a connection between a fossil at London's Natural History museum and her brothers which leads her to Bow Wow Gorge. But the gorge has a sinister reputation – 70 years ago people disappeared. So when PJ uncovers some unexpected remains, it seems as if the past is reaching into the present and she becomes determined to discover what really happened all that time ago…
Read an excerpt and then read Tea's answers to The 3 Big Questions about writing the book
BUY The Fossil Hunter
A rare fossil, an unsolved mystery, a trail into the past…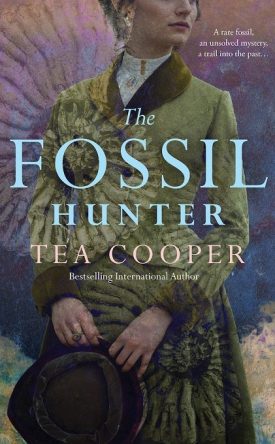 Excerpt from The Fossil Hunter
by Tea Cooper
Wollombi, NSW, Australia, 1847
'It's blood—bad blood—that's causing it. A new pinafore and some education ain't going to change nothing. Still the same soul tucked beneath. You can teach a wild dog to come when it's called, but you wouldn't turn your back, not once it's bloodied.'
Mellie sat hot and cross-legged on the dirt of the scullery floor wedged between the washboard and the mangle, hands over her ears, trying to block out Cook's words. Quite why she kept finding herself on the edge of the millpond at sunrise, with nothing for company but a blanket of mist and the cries of the curlews, she didn't understand.
Twisting this way and that, she plucked at her soggy night-gown, searching for the bad blood Cook kept ranting about. No sign of any stains on her skin or her nightgown, bad or otherwise.
'Why does she keep going down there? That's what I'd like to know.' Fanny pushed up her sleeves and threw another bundle of kindling under the main copper.
'Only thing a scullery maid needs worry about is how to clean. Get to it.'
'She ought to have learnt her lesson by now.'
'She's drawn to the place.' Cook's beady eyes skewered Mellie. 'If you keep going down there you'll be taken. Small, plain and bony or large, round and plump, he don't care so long as he gets tender young flesh.'
Mellie crawled closer to the copper and rubbed at the goose bumps on her arms. The more she tried to remember how she ended up at the millpond, the more the nothingness grew, as though someone had singed a great hole in her memory. She'd tried to explain that she didn't do it on purpose, didn't know how she'd got there. But Cook never believed a word, called it a flight of fancy, whatever that might be.
'Did you hear what I said?' Cook reefed Mellie to her feet and gave her a bone-rattling shake. 'You'll be taken.'
'Taken where?' Mellie's words squeaked, high pitched and quivering.
'To his lair. He'll drag you down into the murky depths and …' Cook clapped her hands. 'Gone.' The loud, horrible slap bounced off the weatherboard walls. 'Never to be seen again.'
Mellie stuck her fingers in her ears and crawled back into the corner.
'You can't say that,' Fanny hissed. 'It's not true.'
'True enough, if it keeps her out of the millpond. Saves her drowning.'
Cook reached under the mangle and hauled Mellie out of her hidey-hole. 'Come on, missy. Go and get yourself dressed then bring that gown back here. It needs to go in the copper.'
All Mellie wanted was to go home. But there was no home. They'd burnt all her clothes, all the furniture, the bedding, every-thing in the little slab cottage down by the brook. And she still couldn't get a straight answer from Mrs Pearson or anyone else about Da.
She stomped through the kitchen to the sleep-out. The last thing she remembered before the fever got her was running through the bush, dogged by crashing footsteps, sweat blinding her eyes, her heart galloping. She'd dodged and weaved, then her feet went out from under her and her lungs filled with a gut-wrenching stench. Damp and rancid, with an underlying stink of mouldering sludge.
She made it back home before the fever took hold, and then life became a horrible sweaty, itchy blur until two weeks later when she'd woken in the sleep-out with Mrs Pearson daubing a foul chalky lotion all over her.
Turned out she'd caught the pox, the wretched chicken pox, though how she'd managed that she'd no idea. The chickens had gone long ago into the blank hole of nothingness along with Da and everything else. Mrs Pearson blamed the fever, and said some things were best forgotten.
She dragged her pinafore over her head, scooped up her night-gown and tucked it under her arm. If she was careful, she could sneak through the back door, drop it outside the scullery and disappear before she suffered another of Cook's rants.
She ducked underneath the wisteria cave, glanced through the yellowing leaves to the millpond, balled up her nightgown, lobbed it at the scullery door and took off.
'Mellie! What are you doing out there? Come inside.'
'I'm on my way to do my schoolwork, Mrs Pearson.' She crossed her fingers against the lie.
'In that case, show me how you're getting on.'
'I'm going to practise in the copybook.' No matter how hard she tried she'd never be able to imitate the perfect copperplate Lydia and Bea, the daughters of the house, produced with nothing more than a flick of their fine, thin wrists. And the chicken pox was no excuse; Mrs Pearson said she had to do her schoolwork now the fever had gone because she was so far behind.
'Follow me.' Mrs Pearson led the way into the cool darkness of Dr Pearson's study, the room where he talked to people who were sick, where he doled out foul-looking tonics from a squeaky cupboard crammed into the corner by the front door.
Now she'd got over the towering piles of leather-bound books, the ghostly faded pictures and the strange mixture of smells—carbolic, ink, dust, eucalyptus and pipe tobacco—she quite liked the room. Especially the books, not that she'd discovered one she could read. She liked to rub her fingers over the soft leather covers and the bumpy gold letters. Lydia said they weren't fit for young girls so Mellie had sneaked a peek when no one was looking. One book, by a man whose name she couldn't wrap her tongue around, was full of creatures and their skeletons. Worse still was another, packed with drawings of people's insides, of bits she didn't dare think about.  Enough to make a person wonder what Dr Pearson was up to.
Tea Cooper
Australian and International Bestselling, Award Winning Author
Historical fiction – from the ocean to the outback
Read more about Tea Cooper and her books and discover where to follow her on social media
Tea Cooper answers The 3 Big Questions
What gave you the most pleasure when writing The Fossil Hunter?
I really enjoyed integrating my childhood memories into the story. No, I haven't written a memoir but I have taken a trip back in time to the London's Natural History Museum and Lyme Regis, the sleepy seaside town in Dorset where I spent a summer holiday or four and fell in love with fishing, fossils, sea-dragons and the story of Mary Anning.
What were the difficulties you faced when writing the story?
The Fossil Hunter was written during 2020 so my biggest problem was lockdown—not a terribly original answer, I'm afraid! Because my stories are set in my own backyard I'm used to taking my inspiration from the paths my characters walk. Luckily a fair chunk of story is set in Wollombi. The doctor's house, the millpond and the cemetery are just a few kilometres from my home but Bow Wow Gorge and the town of Kurri Kurri were off the map for many months. I had to rely on the Internet. I did manage to sneak in one trip, and a huge number of photographs.
When you waved The Fossil Hunter goodbye, on its way to the printers at last and totally out of your hands, what did you do first?
Took a deep breath and allowed myself a glimpse of the bright shiny new ideas I've been dutifully ignoring! Those ideas have now morphed into The Butterfly Collector which I have almost finished AND I managed to get some trips in before this last lockdown—hopefully I won't have to worry about it again!
BUY The Fossil Hunter
A rare fossil, an unsolved mystery, a trail into the past…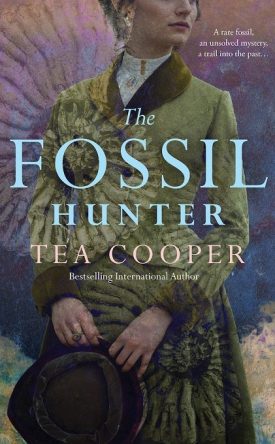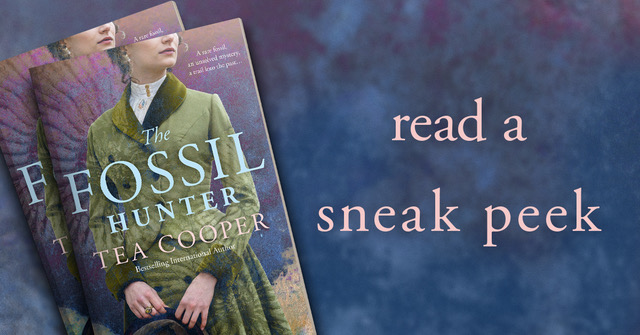 Want to read more? Click here for a further sneak peek of The Fossil Hunter
We hope you're enjoying our Book News 
Subscribe below by email to receive our occasional Book News blog post – and never miss a new book release!
We'd also love you to follow us on Facebook & Instagram
Stay up-to-date on the latest Australian fiction releases and news