NEW RELEASE – The Five Year Plan by Jodi Gibson
Published:
September 7, 2021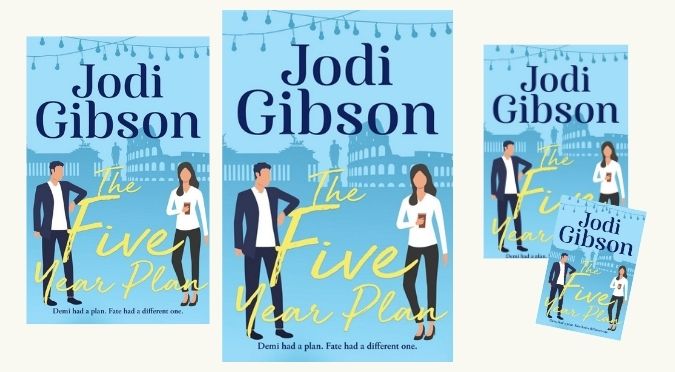 What do you do when everything doesn't go to plan? 
The Five Year Plan is contemporary women's fiction with a touch of humour and a lot of heart.
Out Now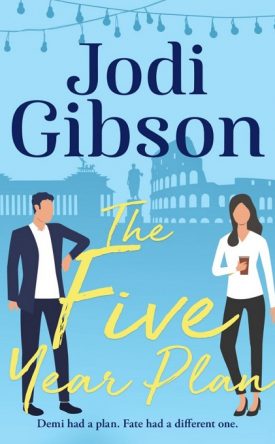 At 33, Demi's five-year plan is on track. She's moved in with boyfriend, Wil, and is waiting patiently for her father to retire so she can take over the running of the family café. But when her father blindsides her by handing the café to her older brother Nick, and discovers Wil is hiding something, Demi's five-year plan crumbles like crostoli.
Determined to get her life back on track, Demi travels to Italy to learn about her Italian heritage and mend her frayed heart — hoping her father will come to his senses while she's away.
However, Demi's Italian escape isn't so perfect. Long-held family feuds, a love triangle from the past, and a surprising new friend in Leo, find Demi questioning everything; especially her five-year plan.
Will Demi get her plan back on track? Or will she learn that the best plans are the ones you don't make?
The Five Year Plan will appeal to readers who want to be whisked away from their day-to-day life and immersed in a feel-good story full of food, travel and romance.
Read an excerpt below and Jodi also answers The 3 Big Questions, but first – a few words from the author
The very first draft of The Five Year Plan was very different to the end result and I have my main character Demi to thank for that. Demi was loud and demanding. She was determined that this was her story and so while she was one of three main characters in draft one, it became completely her story by draft two. It was through the drafting process that I realised Demi had to get out of her comfort zone and had to return to her parents' homeland of Italy for a portion of the book.
As an avid traveller (and lover of all things Italian) myself, I knew I had to find the perfect place for Demi to pull her life together. I knew it couldn't be any of the major Italian hotspots, but it had to be on the coast, and it had to have a rich history of family and community. I pointed to the map of Italy and landed on Bari. So of course, I had to travel there myself. (Just to make sure it was right.)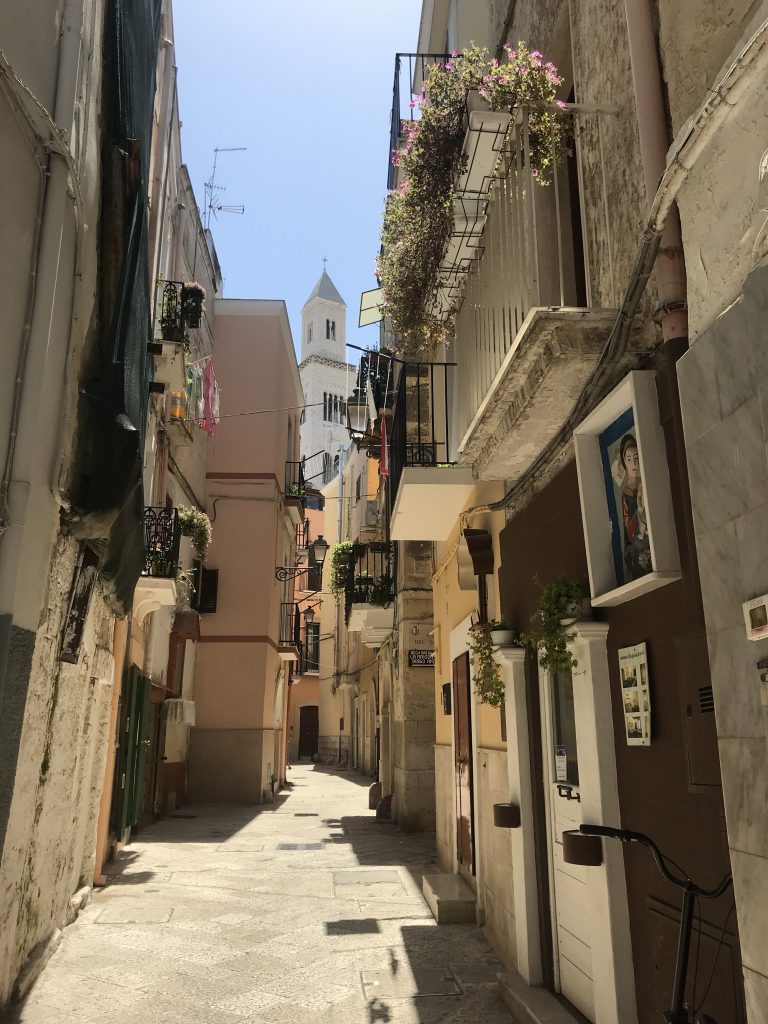 Thankfully this was the pre-covid world in 2019 and my family and I spent three glorious days in the old town of Bari, experiencing it exactly how I wanted Demi to experience it upon her arrival. The ancient limestone buildings, the potted plants and flowers hanging from balconies, the scent of washing powder on the air, the winding maze-like passages and archways, and of course the traditional Puglian food especially the orecchiette pasta that many 'Italian Nonna's' handcraft right outside their homes for all to see.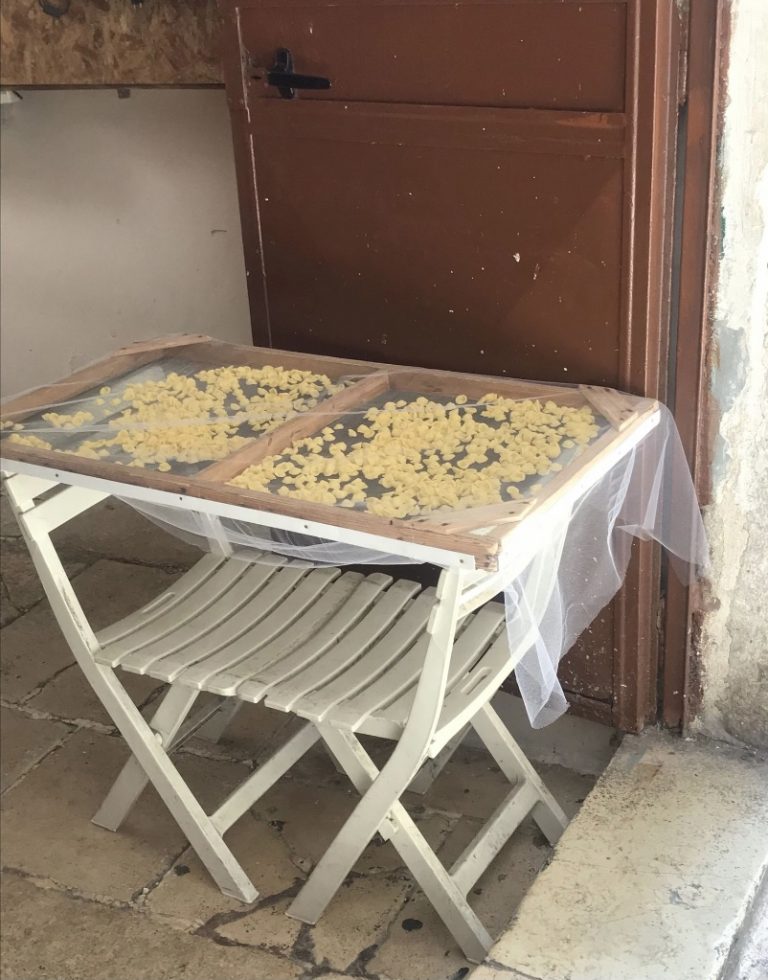 The people of Bari have such a strong sense of community. They are friendly, loud, and welcoming. It was the perfect place for Demi to discover her heritage, and of course, herself.
I hope you enjoy Demi's story and travelling with her across the seas to uncover Beautiful Bari from the comfort of your couch. And one day, when we can travel again, maybe you'll be able to experience it for yourself.
Jodi
Buy The Five Year Plan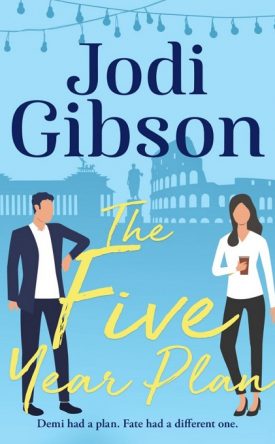 Excerpt from The Five Year Plan by Jodi Gibson
Chapter 1
It was my favourite time of the day. Right before I unlocked the café door and the morning rush began. I glanced around the café that my parents had bought back in the seventies when they immigrated from Italy. Sure, the worn timber tables needed to be disguised by red and white check tabled clothes and the faded back and white print of the Colosseum hid flaky paint and crumbling plaster, but I'd fix all that. One day, when the café was mine.
Ever since I could remember, the only thing I'd ever wanted was to run the café and serve Melbourne's best coffee and Italian delights. All I had to do was wait for my father to announce his retirement so I could take over. Although, I might as well be waiting for Peter Mitchell on the six o'clock news to announce that pigs in bright blue waistcoats were flying across Port Phillip Bay. It seemed more likely.
Behind the counter, I began plating up the dessert of the day. Today it was Mum's cherry crostata. The rich, red cherries glistened in the centre with crumbly, buttery pastry folded around the edges in true peasant style. I could have easily sliced and devoured a piece then and there, but eating the profits wasn't good for the bottom line—or my own bottom line, for that matter.
The bell on the front door rattled as it swung open snapping me from my thoughts of devouring sweet pastry. The balmy March morning air gushed in along with sounds of slow-moving cars and tram bells, and in walked Dad. His solid five foot, six inch frame shuffled towards the counter with his grey, bushy eyebrows knitted into one above his eyes.
'Dad? What's wrong? Are you limping?'
He swatted his hand dismissively. 'Bah! Just my knee giving me trouble. It's the weather.'
Dad always had some excuse for his bad knee, usually the weather. But lately it hadn't only been his knee troubling him. Last week he had complained of aching arms. I guess a lifetime on the go running a busy café was beginning to take its toll. Or so I hoped. In the nicest possible way, of course.
'Coffee?' I asked. Without waiting for a reply, I slid two cups under the spout of the coffee machine and pressed the shot button to prepare two ristrettos. I'd been working on a new blend of beans and was excited for dad to try the new combination. I soaked up the smell of coffee as the machine whirred and poured. When finished, I removed one of the cups and lifted it towards my lips to take a sip. The sweet base notes of the Brazilian beans hit my tastebuds first, followed by the sour hints of the Colombian ones rich on my mid-palate. And finally, the high floral and citrusy notes of the Kenyan beans burst into dance at back of my mouth as I swallowed. It took all my resolve not to do a happy shuffle on the spot. I'd finally nailed the blend. I picked up Dad's cup and passed it along the counter to him.
'One ristretto,' I announced proudly.
Dad eyed my odd enthusiasm with narrowed eyes before he took a long sip of the steaming coffee. His eyes flickered, then widened as the flavours hit his palate. Then, with a lick of his lips, he tilted his head questioningly.
'Do you like it?' I asked, squeezing my hands together behind my back.
Dad twisted his mouth from side to side and my breath caught. Oh, God! He doesn't like it?
'It's good.' He shrugged half-heartedly with one shoulder. 'What is it?'
'It's the new blend I've been working on. Thirty-eight percent Brazilian, forty-two percent Colombian, twenty percent Kenyan.'
Dad took another sip.
'Well?' I prompted.
'It's fine.'
'It's not fine. It's so much more than fine, Dad.' I snatched his empty cup from the counter. 'I'm going to trial the new blend on the menu. I'm one hundred percent certain it will be a hit.'
Dad let out a long sigh, as if the thought of it was too much to consider. Not that it was any effort to him. 'Why you need to do this, Demi?' he said. 'You are always chopping and changing. Why not leave things as they be for once?'
'What do you mean, leave things as they be?' I replied in my best mock-voice.
'Changing things. There is nothing wrong with our coffee. Why change it?'
'I'm not changing it. We'll offer this as a new blend as well as our original. This is just another option to see how people like it.'
'I think we're best staying with what works. What's not broke—'
'Doesn't need fixing,' I finished the sentence with the roll of my eyes. I'd heard it so many—too many—times over the years. Dad didn't like change. He was old school. What he didn't understand was we needed to keep ahead of the game. 'Dad,' I said, drying off the coffee cup with a tea towel, 'We need to change things to keep up with the competition.'
'The competition? Those new fancy-schmancy cafés that sell all that nut milk rubbish a cat wouldn't touch?' He harrumphed and then tapped at the laminated menu on the counter. 'Like this?'
'The Mediterranean poke bowl?'
'Bah! Poke bowl!' Dad turned his nose up.
'They've been popular.'
Dad grunted. 'No more, Demi. This is Moretti's. Traditional Moretti's. The way it should be.'
'Fine,' I huffed, turning to wipe down the coffee machine. I ground my teeth. It wasn't the first time Dad had knocked back my ideas.
Jodi Gibson
Australian Author
Fiction with all the feels
Jodi answers The 3 Big Questions about writing the book
What gave you the most pleasure when writing the book?
(I think I covered this above.) Definitely travelling to Bari and bringing the setting to life in the book.
Were there any difficult aspects you faced when writing the book?
Getting the structure right and balancing the Melbourne/Bari parts of the book. I wanted a sense of both places to show how they both impact Demi's growth throughout the book.  It was also important for me to develop Demi's character through the connection to her family, but also allowing herself to be open to new opportunities and new love.
When you wave your story goodbye and it's on its way to the printers and out of your hands – how do you feel?
A mix of relief, satisfaction, and nerves. A relief that it's finally done. Satisfaction that at that point I feel I've written the book the best I can, and nerves that readers will enjoy the story.
Read more about Jodi and her books and discover where to follow her on social media
Buy The Five Year Plan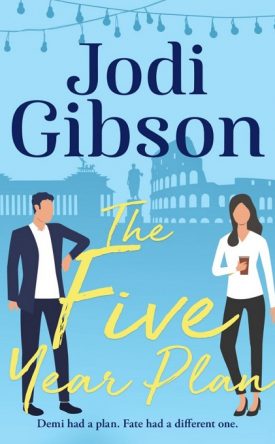 We hope you're enjoying our Book News 
Subscribe below by email to receive our occasional Book News blog post – and never miss a new book release!
We'd also love you to follow us on Facebook & Instagram
Stay up-to-date on the latest Australian fiction releases and news