NEW RELEASE – The Farmer's Friend by Fiona McArthur
Published:
August 31, 2021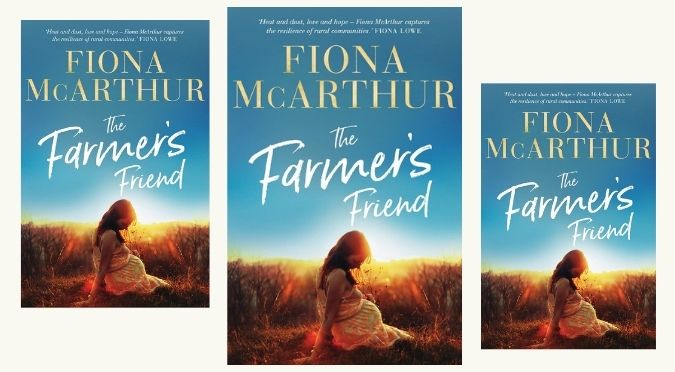 The heartwarming new medical rural romance from the bestselling author of The Bush Telegraph.
THE FARMER'S FRIEND
is out now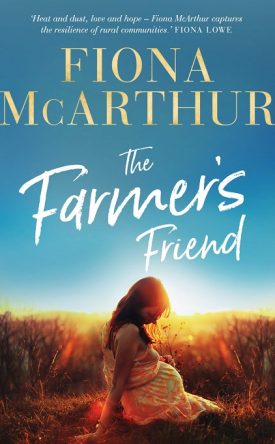 They'd bought a stock and feed store called, of all things, The Farmer's Friend.
Gracie could tell Jed thought it a great name. 'Farmers stick together. I like it.'

Jed and Gracie's move to Featherwood brings big dreams and open hearts, despite the drought around them. The ready-made rural store even comes with an ancient homestead overlooking the river, albeit one requiring some TLC. Gracie is expecting, and they're eager to put down family roots in the tiny community.
Midwife Nell has fled her life in Sydney, hoping to start afresh on a small farm away from prying eyes and gossip. She strives to go unnoticed, but that proves near impossible when she meets charismatic Gracie and Jed, and the unpredictable, attractive Liam, who has as much emotional baggage as Nell does herself.
Jed's store becomes the meeting place for the town's colourful characters, people who'd do anything for their neighbours and friends. As Gracie's due date draws close, tensions rise between her and Jed when his impulsiveness strains their precarious financial situation. As a bushfire ravages the region, the whole town comes under threat, putting relationships and lives on the line.
Can quiet achievers, unexpected heroes, and a valley of part-time fire-fighters and farmers help Featherwood rise again?
Read an excerpt below, but first – a few words from author
Waving from the farm in rural New South Wales. The first reviews are coming in, and my new book The FARMER'S FRIEND is being called "an addictive entertaining tale", and a "stunning Aussie rural medical fiction with a bunch of colourful characters" which has made my day. Huge thanks to Craig from HappyValleyBooksRead and all the reviewers out there.
You see, The Farmer's Friend is not just a story about Jed and Gracie, or only about the power of friendship to heal wounds, but it's a story of hope and love and the way small communities pull together in times of need.
Some of the more personal aspects for this story came from the many people who were deeply affected but survived the fires in the Macleay Valley. Writing this a year later it's their resilience and gratefulness for the support of the community that is the real theme for this book along with the bravery of the rural fire service volunteers.
I hope you enjoy the whole Featherwood family that Jed and Gracie find when they buy and reinvigorate the rural store called 'The Farmer's Friend. HVBR said, "Loyal fans of Fiona and new ones will adore this book." I hope so.
xx Fi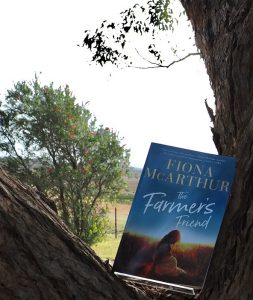 Buy The Farmer's  Friend
A moving and uplifting Australian drama about what it really means to be a community – and learning that best friends can also make the best family.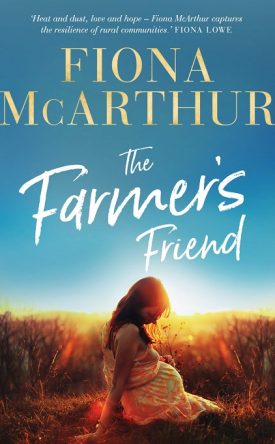 Excerpt from The Farmer's Friend by Fiona McArthur
The October wind twirled coffee-coloured willy-willies south across the Queensland border. Spirals spawned into dust beings where hot road tar met dry, desiccated dirt.
Gracie Olivia Sparke stared out of the passenger window beside Jed, christened Joshua Edwards, watching the funnels of dirt and dreaming of her new home. Her fingers rested on Jed's warm, jeans-clad thigh in the battered F250 utility he'd bought cheap.
The old ute towed the horse float easily, a makeshift trailer Jed had panel-beaten back into shape, though it still looked like an origami tube of crinkled paper. Inside the float, furniture groaned and shifted, even when it had been jammed with pillows, and suitcases of clothes jostled the carefully positioned second-hand baby cradle as it rocked. Everything swayed and made music like a retro theatre company serenading tyres on bitumen, with the fencing equipment as the baritone, and Jed's tools as the countertenor to Gracie's mezzo-soprano kitchen implements.
'We're singing our way into New South Wales,' Gracie said.
'Yoddelaee,' Jed sang, not in tune but happily. His excitement for this new venture made her mouth twitch and she pushed away the precariousness of their finances that was weighing on her mind – if not Jed's.
Outside, a funnel of grit passed across the truck's bonnet in a swirl of crackling gravel rain and pattered over the roof of the cab.
'I like horse floats.' Jed flicked his gaze up to check the rear-view mirror. 'Floats fit everything. And they keep the dust out better than a trailer, too.'
'Yes, Jed.' She'd wanted to hire a trailer from a petrol station, self-haul and return, and not outlay capital expenditure. Not to mention yearly registration costs. But Jed had spouted how useful floats were, and she'd given in.
He shook his head in admiration for the lumbering box behind them. 'Maybe we could get a few floats and hire them out at our new store?'
Oh boy. He was starting already. But Gracie had to smile because his exuberance was one of the traits she loved about him. 'Let's just get the store going first before we add a new venture.'
'Did I tell you Featherwood's on the plateau, Gracie? The surrounding countryside's in drought, but we're on the edge of a green belt that almost always stays green. There's a creek that's still running behind the house and higher there are waterfalls in some of the gullies out of town. There are big falls somewhere out past Featherwood that we'll have to find for a picnic. Even in summer the creeks are cold and boulder-filled, though a bit slow at the moment, of course. I think you'll love it.'
She would love anywhere with Jed. Gracie's gaze shifted from the front of the vehicle to the big man who still made her heart thump like a runaway horse. She tried to share his absolute belief that this venture would make their fortune, but couldn't quite keep her fears at bay. Having been destitute once, it wasn't something she would ever forget. Sadly, Jed couldn't appreciate the horror of that state. You don't, until it's happened to you. Despite that history, Gracie didn't need a fortune. She just wanted to pay the bills and be secure. For the baby. And for Jed and her.
Still, they'd bought a tattered and derelict stock-and-feed produce store, called of all things the Farmer's Friend. Diverted from her insolvency woes, Gracie smiled again at the name. 'Isn't a farmer's friend a weed that sticks to your socks?' she teased Jed.
'Sure is. A weed that doesn't give up easily. Like us.' She could tell Jed thought it a great name. 'Like the way farmers stick together. I like it. And I looked it up. They call it cobbler's pegs, too. Bidens pilosa, with herbal antibiotic qualities. It's good for lungs, and digestive and urinary-tract infections.'
Jed had looked it up to use in defence of the name. Gracie laughed. Every day he made her laugh. Oh how she loved him. 'True story?' He came up with the weirdest stuff. She was a nurse, a midwife really, because that's where her experience lay, and she'd never heard anything like that.
'True story.' Tickled she hadn't known, he stared straight ahead, his mouth kinked up in one corner. 'You pick the leaves and infuse it as a tea or add it to a soup.' He flashed his white teeth as he gave her a full grin. 'Or a green smoothie.' He glanced her way with his beautiful mouth now pretending to be serious. 'Though not sure about pregnant ladies drinking it.'
His gaze returned to the road. 'A town needs a good produce store.' He was off again as he waved his fingers in a small circle. 'Featherwood's a village really, but that's a good thing, Gracie. And there's still passing traffic to Armidale.' Jed's big, labourer's hands tightened with excitement on the wheel. Like they did every time he thought about their new home.
She felt the wry smile at the corner of her mouth as she studied the hand closest to her. Despite the roughness from hard manual labour, Jed's strong hands were always so gentle and caring with her. They were scarred too, with one hand oddly misshapen from the broken ring finger that he hadn't stopped working to get properly aligned and had healed bent.
She felt a common sadness for that finger. She'd healed bent, too. From the past. From being a penniless and pregnant teen who'd lost her baby.
'You'll see it all today.' He smiled at her, as if sensing her melancholy. 'How was your last day at work?'
Gracie hadn't had a chance to tell him because it had been such a rush this morning. Sadness from leaving her job welled again. 'I was so pleased Jesse gave birth before we left.' Gracie had been waiting for her final client to go into labour and thought she'd miss the event due to their move. 'At six am. Phew. And she was wonderful.'
She'd had to work right up to the final moment and leave all the last packing to Jed, because she'd had such a rapport with Jesse. She just couldn't leave the circle of Jesse's pregnancy and labour incomplete.
'I'm glad,' Jed said, but she could see he was drifting away again in his mind, thinking about his new adventure. 'Everything worked out well, then.'
As if their fortune were set, which of course it hadn't yet. They'd talked about taking chances, but Gracie feared it was only she who felt the chasm of risk in small business that was about to open under them. Jed was the eternal optimist. That was a good thing, she kept telling herself. But she'd been penniless before and optimism could give the sorts of hunger pains Jed hadn't experienced.
He nodded his head as if he'd just had a silent conversation with his inner self. 'There's opportunity for growth without competitors close to the village. It's a big valley with farming families, so the prospect for new customers is there.'
Except Australia had been experiencing the longest recorded drought and nobody had money to spend. And it was in New South Wales.
As if he heard her thoughts, he slanted a look at her. 'It's not far over the border.'
But it was still down in New South Wales. She'd vowed never to return to the state where her life had crashed and burned. Twice.
Jed gave her a big, apologetic grin, his black curls falling into the crinkled skin around his eyes, and he brushed the nuisance hair away. 'You still okay with that?'
Bit late now, we bought it, she thought. But damn, she loved him. 'I can't remember, were there any other shops in the village?' She hoped there'd be a hairdresser. She'd have to cut his hair if they didn't have one in this tiny township. Her own as well. She wasn't a princess, but hopefully someone had a good pair of scissors. Please.
'A post office general store, and the pub. There might be a part-time barber behind a house, if I remember. That's all the businesses running apart from us.'
'Featherwood sounds wonderful, Jed,' she said. 'The fact that the rural store comes with a house, our own house, has a lot going for it.'

Fiona McArthur
Multi-Published International Bestselling Author
Good Medicine…rural/remote Australia…heartwarming romantic drama
Read more about Fiona and her books and discover where to follow her on social media
Buy The Farmer's  Friend
A moving and uplifting Australian drama about what it really means to be a community – and learning that best friends can also make the best family.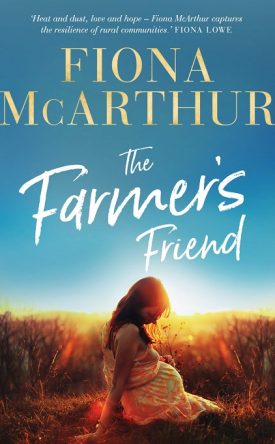 We hope you're enjoying our Book News 
Subscribe below by email to receive our occasional Book News blog post – and never miss a new book release!
We'd also love you to follow us on Facebook & Instagram
Stay up-to-date on the latest Australian fiction releases and news