New Release – The Desert Midwife by Fiona McArthur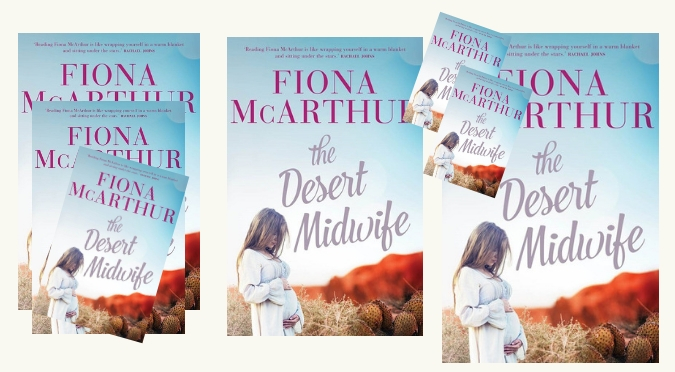 Out now
The Desert Midwife
by
Fiona McArthur
By Australia's renowned midwife and bestselling author of Mothers' Day, The Desert Midwife is a romantic drama about strong families, medical miracles and new beginnings
Read an excerpt below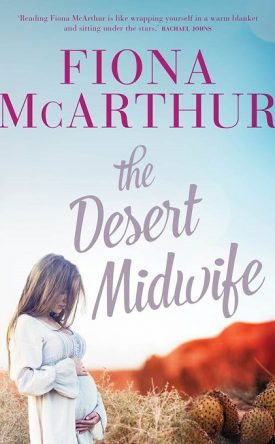 What if the love of your life forgot who you were?
When outback midwife Ava May meets Zac on a flight to Alice Springs, they tumble into a whirlwind affair. But an exciting adventure leads to a terrible accident, with shattering consequences. The couple who had so much going for them now find themselves with everything to lose.
Devastated, Ava retreats to her family cattle station to help salvage what she can of the critical situation. But at home on the drought-ridden farm, her brother is being pushed to his limits, and as his depression intensifies, Ava must step in to prevent another family tragedy.
Against the majestic backdrop of Australia's Red Centre, old dreams are shattered, new babies are born and true love takes flight.
Excerpt from The Desert Midwife by Fiona McArthur
Chapter One
Ava
Ava May watched the big guy she'd seen at Sydney Airport fill the empty seat beside her in the aeroplane.
She'd been drawn to his strong good looks, like every other woman in the lounge. She'd also been drawn to his hint of sadness. Her mum always called her on being too empathetic, too sensitive to other people's emotions.
She decided her new seat companion seemed to have recovered his good humour, though. As he sat, he glanced at her and gave her the kind of smile that made a girl feel foolishly frisky – even girls who weren't normally the frisky sort.
'I'm Zac,' he said.
'Ava.'
He nodded, then rearranged his seatbelt and snapped the buckle shut.
All the while his big shoulders encroached on her space.
She inhaled his unique scent – a heady mixture of citrus and something woodsy – and decided it was very sexy. Not that she sniffed blokes' chests often.
Without leaning towards him, she tried to catch another whiff and was rewarded. Niiice.
He sat back. 'Sorry about crowding you. It's unavoidable for someone my size in these small seats. Do you live in Alice Springs or are you visiting?'
'I live there sometimes,' she responded. 'Midwifery agency work. You?'
'Only for the next month.'
There was no explanation from him on which type of work. His brows drew together and she felt the wall slide into place. It clearly said: Keep out.
'It's nice to get away,' he said.
His long fingers waved at the window next to her and she decided he had piano player's hands. She'd always had a thing for men with long, elegant fingers, but maybe that was because she'd dreamed of being a dancer and had needed someone to play the music. Or perhaps most of the men she knew had battered, work- worn hands that could pull a nail from a fence post.
Something in his eyes hinted at that sadness she'd spotted before.
Work and sadness. A combination she understood well.
Midwifery could be the happiest and the saddest of professions, and then there were police, ambulance officers and doctors all out there putting their hearts on the line. She decided he was a policeman because she had trouble reading his face. Probably a detective. She could distract the detective if that was what he needed.
'Prefer not to talk about work?' She smiled at him and his eyes met hers. Maybe actually saw her for the first time.
'You're observant,' he said, making it sound like a compliment.
'It's my job.' She waved her hand dramatically. 'But I won't mention that again.'
He laughed and she had the feeling he hadn't laughed in a while. Suddenly, it was important to keep his good humour flowing and she set out to be funny and conversational. Something she normally let others do.
'My family have a cattle station four hours from Alice.' Her gaze brushed over his immaculate shirt and tie. 'You look like a city guy.'
'City born and boarding-school bred.' His tone took on an English accent. 'Political parents who travel a lot.' Then he frowned at himself. 'But that's boring. Does that mean you attended School of the Air?'
'Good guess. The cattle station, which is run by my mother and grandmother, is too far out of town for regular school.'
He shifted, angling towards her. He had a way of focusing his attention on her unlike anybody had before, and she could feel herself responding with an odd recognition of their connection. Weird.
'Learning from home instead of school,' he said slowly. She watched the expressions chase across his face, and was gifted a sudden, devilish smile that took ten years off his looks. 'I imagine it would be more relaxing than the dynamics of many children vying for attention from teachers. My schooling had moments that made me happy, but I'm afraid I hated most of it. I much preferred travelling with my parents.'
'Travel, eh?' She had never been outside Australia, but she could imagine it. 'We're not holiday-taking people. Sydney's as far as I've been. It's too far to go anywhere and there's always too much to do on the station. Though we have shed parties after muster and the off-road races my brother loves. And camel and
horse races.' She thought about that and was satisfied. 'We have fun at home when the work is done.'
He watched her face as if listening to her was the most amazing, fascinating experience in the world. He was too encouraging, and she could become just a little besotted with this guy if he kept looking at her like she was a rain cloud and he was a thirsty camel.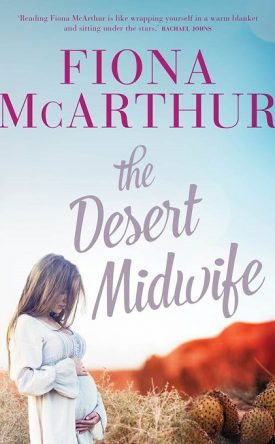 Buy The Desert Midwife
Fiona McArthur
Multi-Published International Bestselling Author
Good Medicine…rural/remote Australia…heartwarming romantic drama
Read more about Fiona, her books, and where to find her social media
Subscribe by email to receive our occasional blog posts 
and never miss a new book release!
Stay up-to-date on the latest Australian fiction releases and news