NEW RELEASE – The Cartographer's Secret by Tea Cooper
Published:
October 28, 2020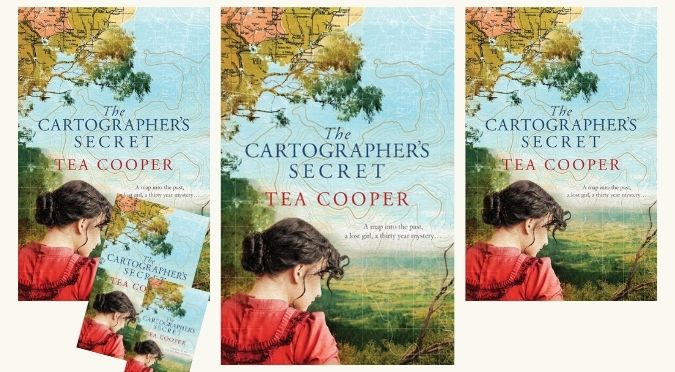 A young woman's quest to heal a family rift entangles her in one of Australia's greatest historical puzzles when an intricately illustrated map offers a clue to the fate of a long-lost girl. A mesmerising historical mystery set in the Hunter Valley from bestselling author Tea Cooper for readers of Natasha Lester and Kate Morton.
OUT NOW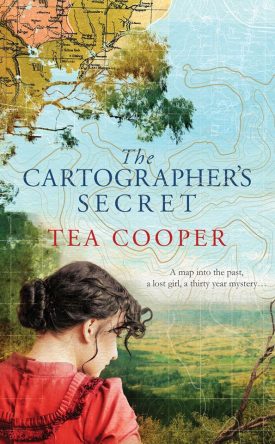 1880 The Hunter Valley
Evie Ludgrove loves to map the landscape around her home – hardly surprising since she grew up in the shadow of her father's obsession with the great Australian explorer Dr Ludwig Leichhardt. So when an advertisement appears in The Bulletin magazine offering a GBP1000 reward for proof of where Leichhardt met his fate, Evie is determined to figure it out – after all, there are clues in her father's papers and in the archives of The Royal Geographical Society. But when Evie sets out to prove her theory she vanishes without a trace, leaving behind a mystery that taints everyone's lives for 30 years.
1911
When Letitia Rawlings arrives at the family estate in her Model T Ford, her purpose is to inform her Great Aunt Olivia of a bereavement. But Letitia is also escaping her own problems – her brother's sudden death, her mother's scheming and her own dissatisfaction with the life planned out for her. So when Letitia discovers a beautifully illustrated map that might hold a clue to the fate of her missing aunt, Evie Ludgrove, her curiosity is aroused and she sets out to discover the truth of Evie's disappearance.
But all is not as it seems at Yellow Rock estate and as events unfold, Letitia begins to realise that solving the mystery of her family's past could offer as much peril as redemption.
Read an excerpt and read Tea's answers to The 5 Big Questions
Buy The Cartographer's Secret
A young woman's quest to heal a family rift entangles her in one of Australia's greatest historical puzzles when an intricately illustrated map offers a clue to the fate of a long-lost girl.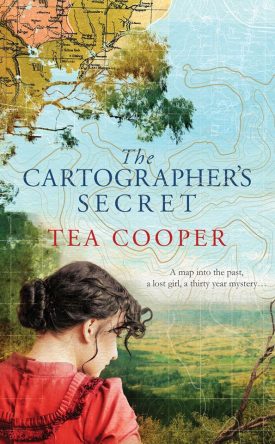 Excerpt from The Cartographer's Secret
by Tea Cooper
Prologue
Sydney, Australia, 1911
'Ladies, ladies. Your attention please. It is imperative that we take advantage of this opportunity.' An air of despair laced Mrs Booth's voice. 'Miss Fletcher is a very busy woman, her studio portraits are in high demand. We are very lucky to have her here today.'
The hands on the wall clock ticked their agonising way to two. By the time the women were herded into place it would be well past the hour Letitia Rawlings promised to be standing on the corner of George Street. The boat race started at three and she had to be aboard before the starter's gun.
Precious minutes lapsed while Miss Fletcher arranged every single member of the Women's Club, seating Mrs Booth in the centre, adjusting drapes, worrying about height, the set of elbows and the ability to remain silent and still. When she'd accomplished those major feats, she spent more valuable moments measuring the intensity of the light while a further argument ensued about who should sit next to whom.
Patience worn to a frazzle, Lettie turned to Mrs Booth and hissed, 'I really must leave. I have a prior commitment.'
'You cannot.' Mrs Booth clamped her hand firmly on Lettie's arm and held her steady, fixed her eyes on the camera and nodded. 'Continue, Miss Fletcher. We are ready.'
A further eternity passed until finally Lettie managed to offer her farewells and escape. She scanned the busy street searching for Thorne's pride and joy—his motor. The shiny green custom-built Model T Ford with its distinctive khaki roof was nowhere to be seen.
There was no sign of her brother in Pitt Street either which was hardly unexpected. If he'd waited he'd have missed the pre-start checks. Thorne always won the sprint and she usually made a fine showing in the ladies' steering race but she'd promised to attend the luncheon at the Women's Club. There had been several of her cohort from the Ladies Debating Society present and she hadn't caught up with them since university days. Now she wished she'd refused the invitation.
Clamping her hat over her unruly curls and dodging the crowds she bolted down the hill towards the Quay. The start line was just beyond Fort Macquarie Tram Depot. It couldn't take more than fifteen minutes. If she hurried she might have time to slip into her well-worn seat at the back of the boat before the race began.
The first glimmer of the harbour appeared between the buildings surrounding the Quay. Seven minutes until the gun. Even if she wasn't aboard she'd be there to cheer Thorne to the finish. Tucking her bag under her arm, she lifted her skirts and ran.
The ground shuddered.
A deafening explosion ricocheted from the buildings, thundered through her body and shook her to her core. And the sky lit up—an obscene ball of flame and smoke shot into the windless air. Jagged timber shards knifed towards the sky. Flames crackled and her ears rang, filling her chest with a strange, heavy thump.
A limp puppet-body arced through the billowing clouds. All-encompassing silence. No sound, no words, just an horrendous earth-stopping dread as the dancing blaze and floating debris mesmerised the crowd of onlookers.
And there in the benign waves lapping the small stretch of sand, a boater. Not a mark on it, the blue hair ribbon he'd pinched from her dresser that morning still pristine.
The gaping hollow in her stomach sliced its way to her heart and Lettie knew her beloved brother, Thorne Ludgrove Rawlings, was no more.
Tea Cooper
Australian Bestselling, Award Winning Author
Historical fiction – from the ocean to the outback
Read more about Tea and her books and discover where to follow her on social media
Tea answers The 5 Big Questions
How long did it take you to write the book?
I have no idea! I saw a copy of Ludwig Leichhardt's map of his first expedition in Wollombi Museum years ago and thought perhaps it could be the basis of a book but since the map covered Queensland and most of my stories are set in the Hunter Valley of NSW I dismissed the idea. Fast forward a few years and I discovered the reason the map was there … many of the wealthier settlers in the Hunter sponsored Leichhardt's expedition and that Leichhardt had spent a fair amount of time in the area. That's when I started to make a few notes. I wrote the first half of the story over about six months, and then the 2019 bushfires hit and I was a little side tracked! The second half of the story I wrote in about three months, but by then the research was completed.
What was the most difficult or complex aspect of writing your book? 
Without a doubt working out what was fact and what was fiction … the 'real life' character that the story hinges on was something or a charlatan and stretched the truth beyond fact and into fantasy! It made for some interesting reading and research!
What gave you the most pleasure when writing your book?
I always enjoy seeing the fictional characters come to life. Sometimes they have a mind of their own and decide to go down paths I haven't imagined and then when the story is finished I invariably realise that they knew right from the very beginning what they intended to do!
Are you nervous when a new release comes out?
Always terrified! The Cartographer's Secret is the seventh full length book I've written in the last five years and I still haven't learnt to control the rampant butterflies.
What's the best thing a reader could do if they enjoyed your book?
Tell everyone! Reviews are wonderful and all authors appreciate them but word of mouth is even better.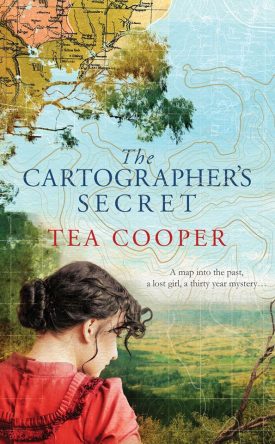 Subscribe by email to receive our occasional blog posts –

and never miss a new book release
Stay up-to-date on the latest Australian fiction releases and news